What finishes off a jeans outfit better than a pair of high top sneakers? Absolutely nothing! To spruce up your casual look, read on to know how to wear jeans with high tops by building various fashion forward looks.
A high top is a stylish form of sneaker that extends over the ankle. Often referred to as converse sneakers. Wearing a high top sneaker provides adequate ankle support, resulting in increased and improved mobility. However, the footwear has significance way beyond its functionality.
Besides providing comfort to the wearer, the high top has a special place in the fashion realm. It is a versatile shoe, which you can pair with a variety of casual and streetwear outfits. When worn with a pair of jeans, it perks up the outfit with its strong visual presence. High tops are available in a lace-up as well as slip-on though the latter is a bit rare.
What To Expect In This Article?
Journey of High Tops From Sporty Beginnings to Contemporary Style Element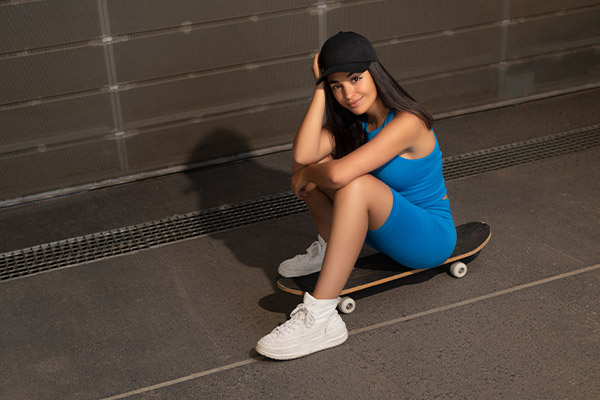 High top sneakers were introduced in the 1980s, basically as a functional shoe for basketball players. According to some other sources, the high top came into origin after being inspired by the ankle boot, which has the same design. Gradually, it paved its way from the basketball courts to the runway and made its mark as a stylish footwear option.
The shoe that was initially designed for the players evolved successfully as an expression of style. The main reason behind this popularity is the graphically robust and eye pleasing design of high tops. Before wearing them with any outfit, be mentally prepared for the high top to steal all the attention.
Jeans With High Tops: Contemporary Fusion for a Fashion Statement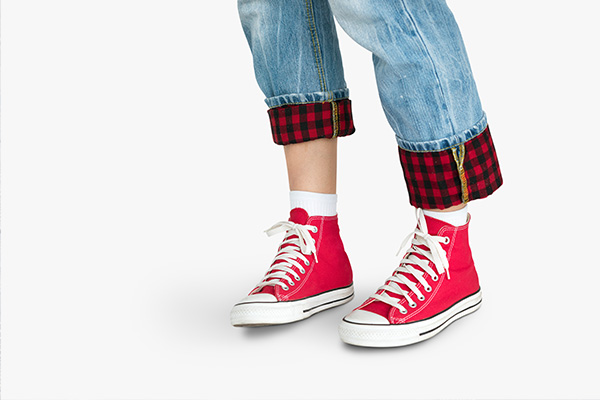 If we talk about the current fashion scene, the high top sneaker is considered the go-to footwear for all genders. Converse, Nike, and Reebok are the top brands that have come up with their own versions of high tops.
According to several men's and women's style experts, the high top sneaker is termed a flattering footwear that is casual, versatile and cool. You can pair them with different types of pants, jackets, and shirts for a voguish look.
The trendy fusion of jeans with a pair of high tops is fast becoming a foundation for stylish outfits in casual and streetwear style. It is a clever way to enhance a laid-back look or give a smart finishing touch to a street look. The trend is very wearable, letting you flaunt the look with several types of jeans outfits, be it the street style, preppy style, or the laid back style.
Styling Basics for How to Properly Wear High Tops With Jeans
Before we give you outfit suggestions and you start following them, read on to learn a few style fundamentals to keep in mind.
No For Formal Events: The high top and jeans look is appropriate for streetwear or casual wear only. Don't try to wear it to semi-formal or formal events.
Cleanliness Is Supreme: Keep your high tops clean for a fresh and well-dressed look. Dirty sneakers, even if they are a great design from a well-known brand, will give an unkempt look. This especially goes for white high tops, which need proper maintenance.
Pick The Right Jeans Length: Make sure the length of your jeans ends above the ankle. In other words, the slightly revealing skin between your sneakers and the hem of the jeans looks very neat and stylish. Roll up the pants to divert visual attention toward your high tops.
Always Wear Socks: Wear socks with your high tops to stay comfortable. You can go for no show socks for a neat look.
Fit Is Important For Comfort: Make sure your high-top sneakers are super comfortable and fit you right.
No Jeans Are Off-List: Slim-fit jeans, like those worn in business casual style, are the most appropriate when you want to create an eye-catching look with high tops. However, other styles of jeans are not at all prohibited if you style them correctly.
Pair With Leather Jackets: To elevate the look of the outfit, pair different types of leather jackets or other stylish jackets with your high-top + jeans look.
Check Out Our Different Types Of Leather Jackets
Outfit Ideas for Men With High Top Sneakers and Jeans
For men, the pairing of high-top leather sneakers with jeans is a great way to portray a bold and robust look. The outfits we suggest vary according to the type of jeans you are wearing. Each outfit will enhance your look with smart and sporty vibes.
Wearing Slim Jeans With High Tops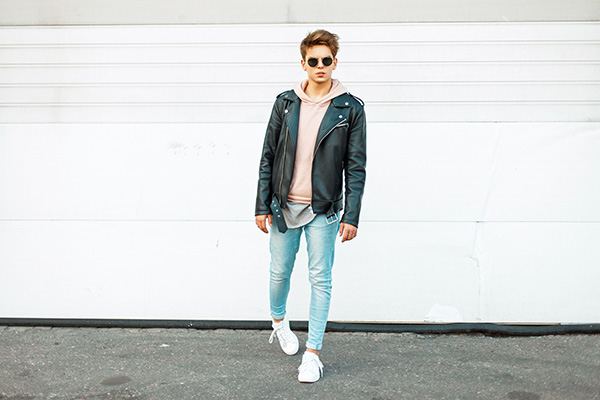 Straight, slim-fit jeans are the right choice to be paired with the high top sneaker. You can team a black slim fit jeans up with a solid colored crewneck t-shirt, and top it off with a black aviator jacket. This simple outfit is enough to turn people your way for a second glance.
Go with a blue slim fit jeans, a cream colored leather blazer, and a patterned button-up shirt in a dark hue for a slightly formal look. Pair white high tops with this pretentious ensemble. 

Wearing Loose Fit Jeans With High tops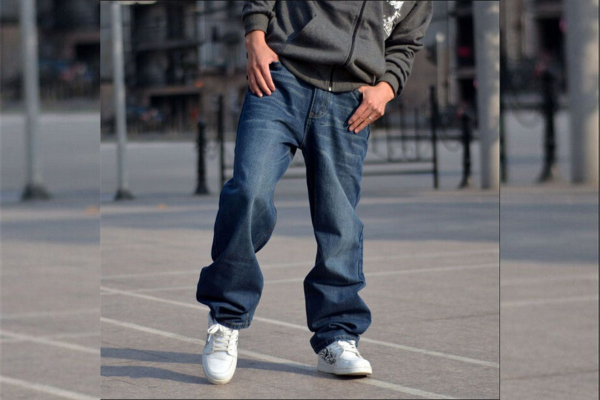 We strongly suggest avoiding loose-fitting jeans if you intend to make an aesthetic style statement with your high tops. But, if you take care of a few things, the pairing isn't completely banished either.
A slightly loose pair of jeans is ok, especially if it reaches the desired length. However, if the fabric of your jeans hangs loose on the high top, fold it neatly upwards. Doing so gives
the same visual appeal as to that of the slim fit jeans.
To build a praise worthy outfit, go for dark washed jeans and black and red high tops. Pair them with a white t-shirt and a classy denim jacket.
High Tops With Shorts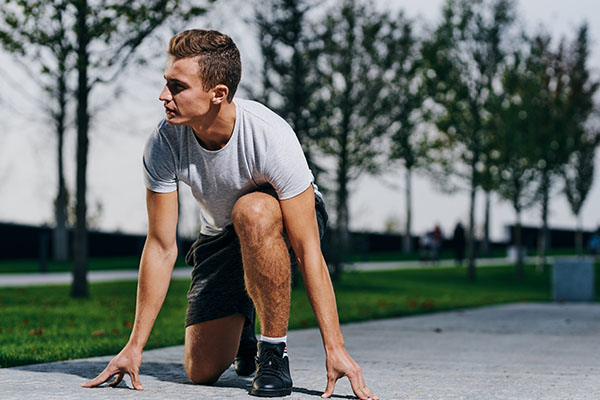 Denim shorts with high tops? It sounds a bit dramatic, but it actually is an excellent opportunity to show some quirky vibes with an athletic touch. It is also a way to show off those sculpted legs for which you worked hard at the gym.
For an outfit that is a class apart, choose black denim shorts and a black sweatshirt with white high top sneakers. You can also go for a hoodie style jacket to add some youthful vibes to your look.
Or, you can go for light blue denim shorts and a grey henley for a clean and put-together look. If you love the vivid style instead, go for a vintage t-shirt and a lightweight shirt jacket for a relaxed look. 
Outfit Ideas for Women with High Top Sneakers and Jeans
Wearing sneakers in high top style is currently a trend that fashion savvy girls love to follow. Quick browsing of a social media platform will tell you how this trend shapes the streetwear and casual style spectrum.
Wearing Skinny Jeans with High Tops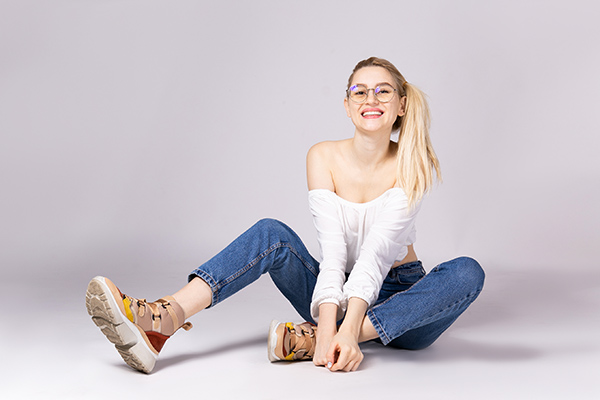 A must-have staple for most women, skinny jeans pair up perfectly with the high tops. Skinny jeans in black or blue color can be worn with a printed t-shirt, a cropped top, an off shoulder top, or a casual button up shirt for an elegant style. For the statement piece, go for a leather bomber jacket. 
The high tops you choose with a skinny jeans cropped top and a bomber jacket can be of a simple style in grey and white or a bit funky with a splash of bold colors. 
Wearing Baggy/Wide Legged Jeans with Converse High Tops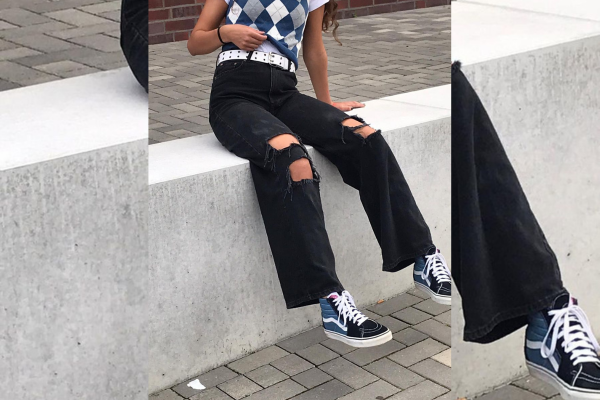 Relaxed, wide legged jeans are appropriate for warmer days. When opting for baggy style jeans, you can fold the hems neatly so that the outfit doesn't look unappealing. A better option is to try wide legged denim pants. Pair silk ruffled blouse for a dressy vibe and finish off the look with converse black and white high tops.
Wearing Cropped Jeans with High Top Sneakers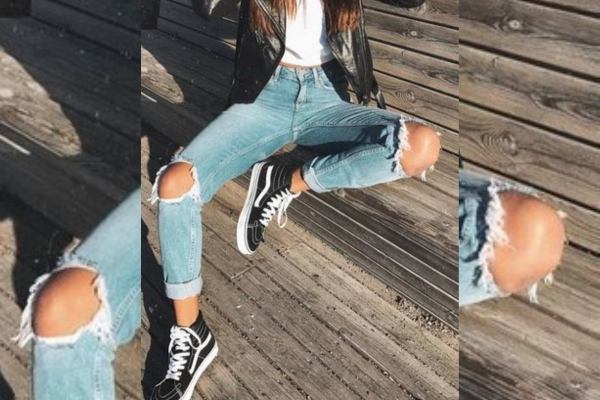 Try a black cropped pair of jeans and a white bandeau top with a distressed denim jacket for an edgy look. Almost any colored high top will go nicely with this outfit, but we recommend sticking with a plain white one.
Wearing Denim Sneakers With Jeans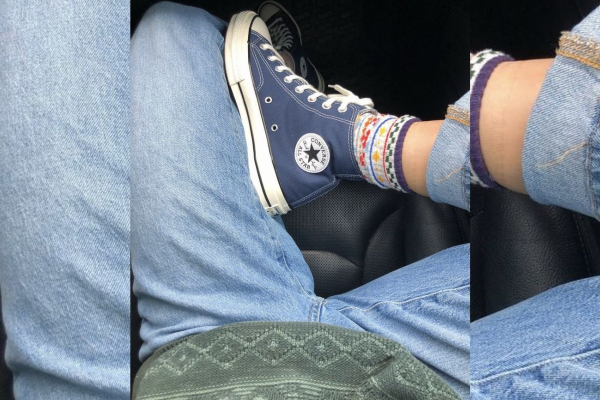 Denim high tops have their own class. Wear them over contrasting colored jeans, a black and white striped t-shirt, and a light woolen shrug, and you get a flattering yet chic outfit perfect for a lunch date with friends.
You can also team up a ripped blue jean, a halter-neck blacktop, and a maroon leather trench coat with the denim high-top sneakers for a captivating look. 
Wearing Mom Jeans with High Tops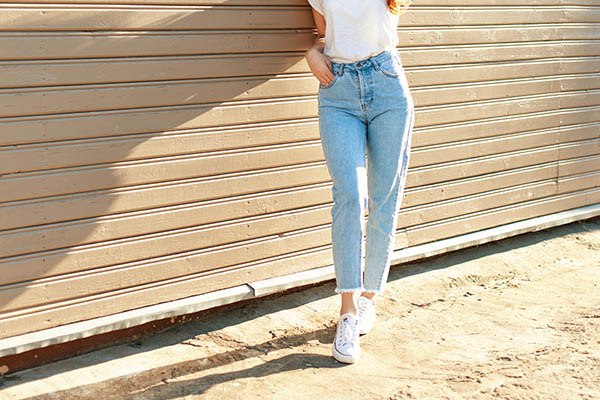 Let's not forget the ever-popular mom jeans. There are many types of leather jackets for women with a curvy bodies and a plethora of tops and shoes that can make up the stylish look.
When wearing a shapely mom jeans, opt for a black turtle neck, a brown café racer jacket, and a pair of red and white high tops for a trendy look.
FAQs – How To Wear Jeans With Jigh Tops
What Kind of Jeans Do You Wear With High Tops?
You can wear straight, ripped, or even cropped jeans with high tops, given they are in the slim fit style. Baggy jeans, especially ones with longer lengths, are not the right fit with high tops. But you can roll them up and see how they look on you in the mirror before heading out. 
Do High-tops Hurt Your Ankles?
High tops are designed to protect your ankles from sprain and other sorts of damage. However, there are studies that conclude that high tops may delay the muscle's response to turning of the ankle, making the area more prone to sprains. 
Do You Wear High Socks With High-tops?
High socks are a big no with high tops. Avoid socks altogether, but if you want to stay comfortable, go for no show socks. 
How Do You Easily Put On High Tops?
Most high top sneakers these days have a zipper on one side. When opened, this zipper makes it extremely easy to slide off your feet in the shoe. Else, you can loosen the shoe laces and easily wear your shoes.
Takeaway
The classic pairing of jeans and high tops gives you multiple style filled looks. The trend dominates both casual and street wear and is here to stay. All you need to do is to stick by the style fundamentals and carry the look with confidence