If a poll is conducted to ask what garment makes you feel at ease the most, the good old jeans will definitely win it!
We just can't do without our much loved denim pants. Don't we? So much so that we want to wear them even to work.
For those who find the idea confusing, wearing appropriate jeans to a workplace with a business casual dress code is totally acceptable!
If the dress code of a workplace is not strictly formal, it allows business casual for men attire. In this style, some elements from a casual wardrobe are incorporated in an elegant, dressy manner. As jeans are one of the most preferred pants for most people, their presence in the business casual wardrobe is not surprising.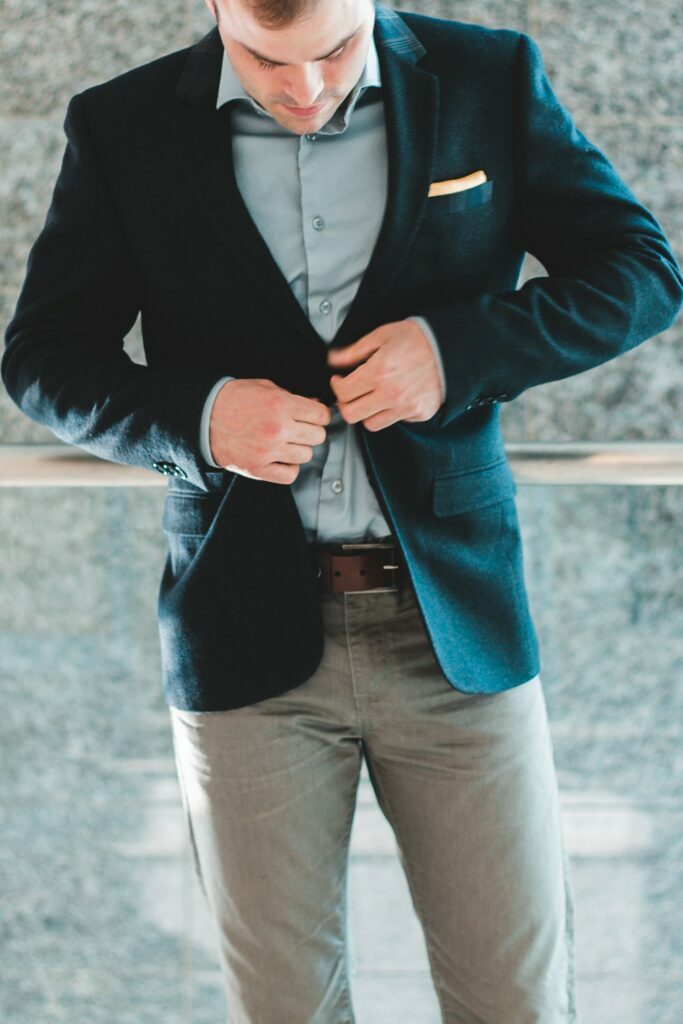 Goldman Sachs, a renowned finance giant, allowed its employees to wear jeans in the office in 2019!
More and more workplaces are now modifying the office attire rules and adopting the business casual dress code for employees. Owing to its popularity, ace designers and fashion brands are coming up with elements in the business casual style that pair well with jeans.
Jeans: The Go-to Essential for the Business Casual Dress Code
Jeans are a wardrobe staple that is a must in every man and woman's wardrobe. Nothing can make you feel at ease more than a comfortable pair of jeans. However, you cannot wear the same baggy pair of jeans that you wear on the weekends to work. You need to select appropriate jeans that provide some level of formality.
For instance, tailored jeans in a dark color like black or Prussian blue will help one portray a professional persona on occasions like client meetings or while giving a presentation.
Types of Workplaces Where Wearing Jeans Is Acceptable
Institutions like a bank, an accounting company, or a law firm won't allow business casual dress codes to their employees. However, some companies where the work is creative may allow business casual style where you can easily wear jeans. Therefore it is important to understand the culture of the company and know its dress code beforehand.
You can also observe what others are wearing, which will help you decide about the dress code of the company. If others are wearing jeans, then it's perfectly ok for you to wear them as well. Some companies also design an employee manual in which the dress code is explained in detail. Reading it will help you know whether jeans are allowed or not.
What Type of Jeans is Too Casual for the Business Casual Dress Code?
How you dress and the color, condition, and quality of your clothes hugely impact how others perceive you. Therefore, if you are allowed to wear jeans at work, you must pay attention to what kind of jeans will look professional.
However, unlike a formal dress code, where it is obvious what to wear, it is confusing to figure out what is appropriate for business casual. Even if you make up your mind about wearing jeans, there are still questions that may perplex you. 
For instance:
Are skinny jeans business casual?
Are ripped jeans business casual?
Or, Are High-waisted jeans business casual?
Although jeans make you feel at home, there are a few unspoken rules about the type of jeans that are acceptable in business casual looks. Here are a few quick dos and don'ts of wearing jeans with business casual attire. After that, we will lay down a few outfit ideas which will help you understand how to pair jeans with other smart elements like leather jackets and coats. 
To select the right pair of jeans for business casual, we suggest you to:
Choose jeans that are neat and clean.
Avoid ripped jeans at all costs.
Make sure the jeans do not have any embellishing elements like embroidery, studs, or metal pins.
The jeans should be hemmed properly
Avoid denim with fake distressed marks.
Avoid baggy jeans at all costs and learn how should jeans fit.
Choose jeans in a dark or neutral color with a minimalist design.
Trending Colors for Jeans in the Business Casual style
Besides black, are colored jeans business casual?
As mentioned above, the choice of color for jeans should be modest when you are wearing them to a workplace. Black and navy are your best bet, but you can also go for jeans in white, beige, grey, and brown. Khaki is also an appropriate choice.
If you opt for other colors, take inspiration from the outfit below. The woman is wearing jeans in a light shade of pink but matches the blazer to put together a decent monochrome look for work. You can experiment with the same by building a brown outfit for business casual style.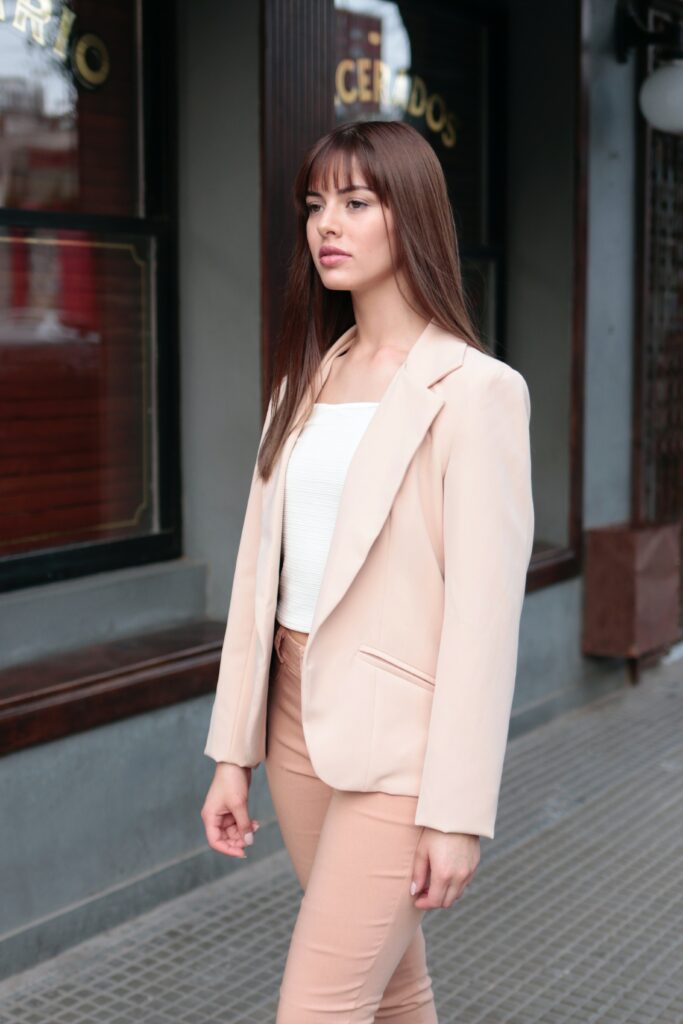 Pairing Work Appropriate Jeans With the Right Essentials
The possibilities are limitless when it comes to building business casual looks with jeans. Take out your best leather jackets, or get your hand on some stylish turtlenecks.
Make sure you have a nice pair of boots if you are a man, or stylish heels if you are a woman as they pair well with jeans. Up your accessories game by buying a cool pair of shades and wristwatches which will go well with business casual outfits.
Denim on denim is also an acceptable idea in this dress code. Make sure the denim jacket on men is paired with darker shaded jeans and white minimalist sneakers. As with a denim jacket for women, go for a fitted one with a black shirt and dark blue jeans. 
For men, sports coats or long coats in suede, tweed, or wool are a must as they go well with jeans. Polo shirts, button-down dress shirts and chambray shirts are the right choice with jeans.
As for women, formal blouses, turtle necks and casual dress shirts look perfect with jeans. Avoid tank tops and ruffled blouses. Your shoes also play an important role in your overall look, so make sure you wear closed shoes like flat pointed toes, ankle boots, or strappy heels to use with these outfits.
Business Casual Outfits With Jeans for Men
Now that you know what type of jeans you can wear to a workplace with a business casual dress code, now is the time to create classy outfits with them.
A black turtleneck and cream wool blazer are all you need with black jeans for a sophisticated business casual look. You can also opt for a suede or denim trucker jacket instead of the blazer for this look. Accessorize the look by choosing black derby shoes and a dress watch.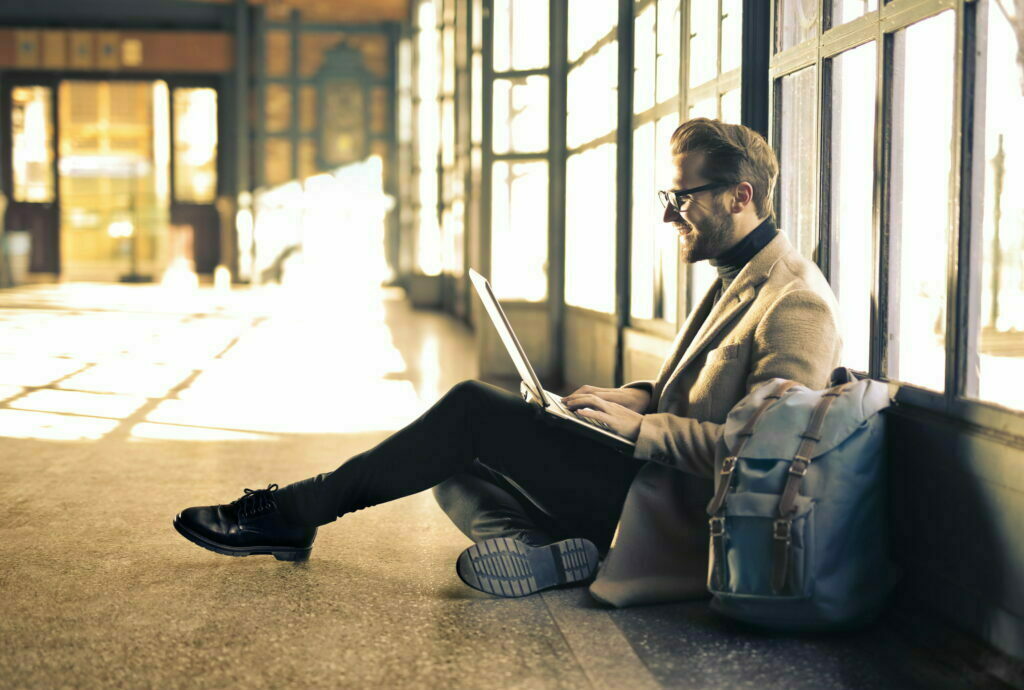 2. Got a pair of stylish blue slim fit jeans? Pair them with a black t-shirt and a long beige coat for a proper, refined outfit. The key to nailing this classy look is to opt for a coat that fits you impeccably.
3. The outfit inspiration falls under business casual style but is more appropriate for a travel look. Team up black jeans and grey flannel with a black leather trench coat. You can wear brown chukka boots to elevate the classy style.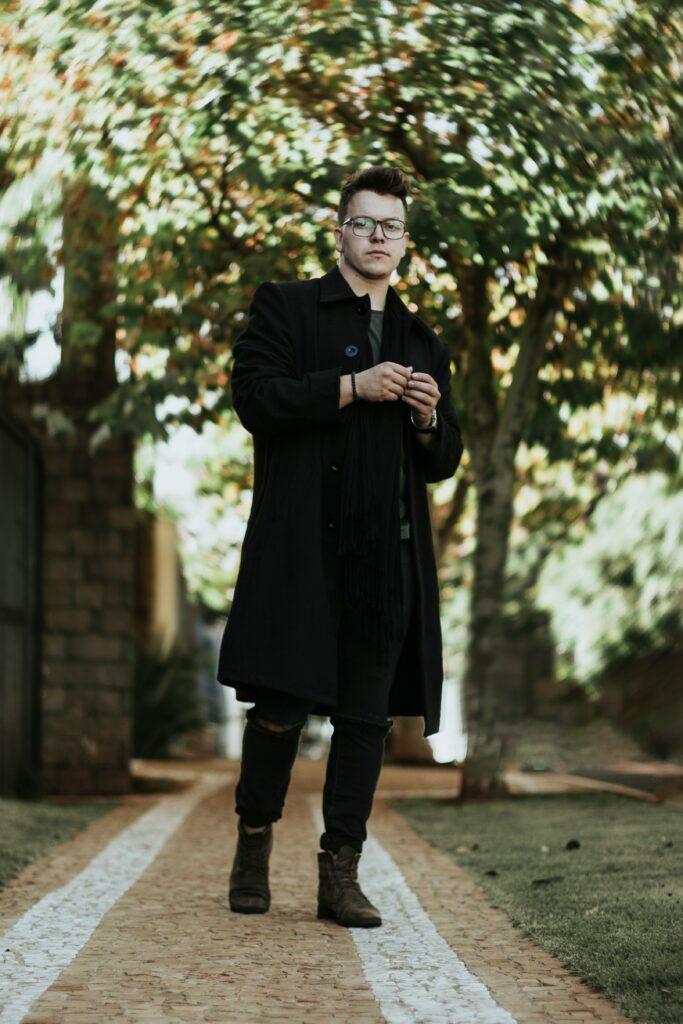 4. How urbane this outfit looks with a fresh pair of blue jeans and a striped t-shirt. Layer it with a voguish men's bomber jacket to build a trendy business casual look. The addition of black sneakers and a leather strap watch amps up the look to make you look like a million bucks.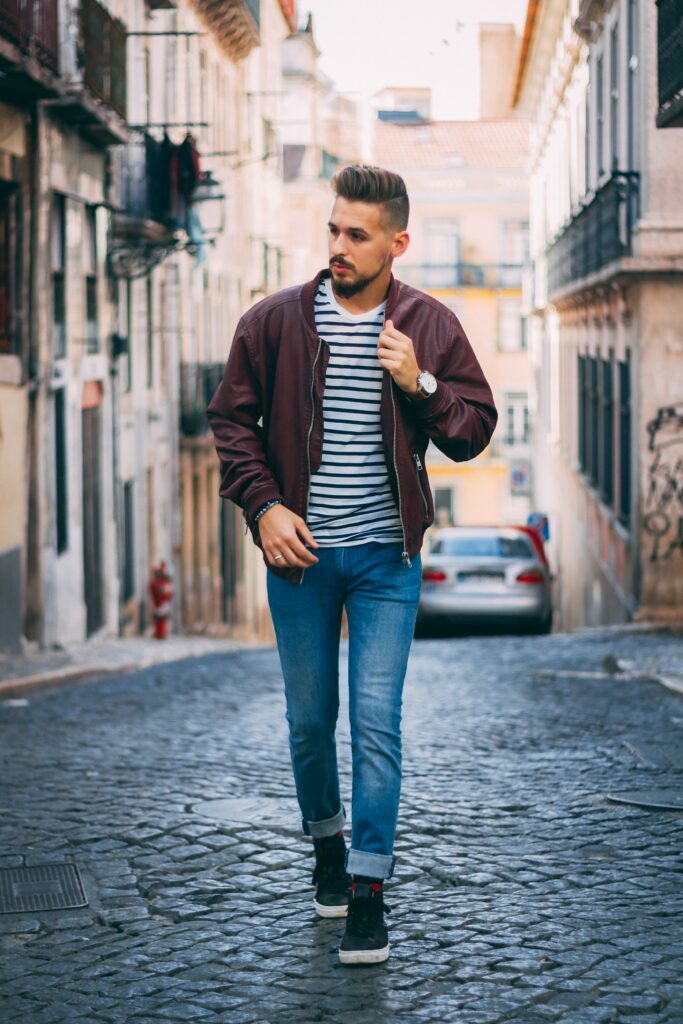 We talked about men wearing jeans to work and how they can pair them up with various other essentials. But, are jeans business casual for a woman too?
Read on to know how the female lot abiding by the business casual dress code can dress up using jeans.
Business Casual Outfits With Jeans for Women
Style black slim fit jeans with a salmon pink sweatshirt and a long black coat. Throw in knee high boots and a stylish leather tote bag to the look to create an elegant workwear outfit. The outfit is perfect for women with petite frames as it gives an illusion of a taller height.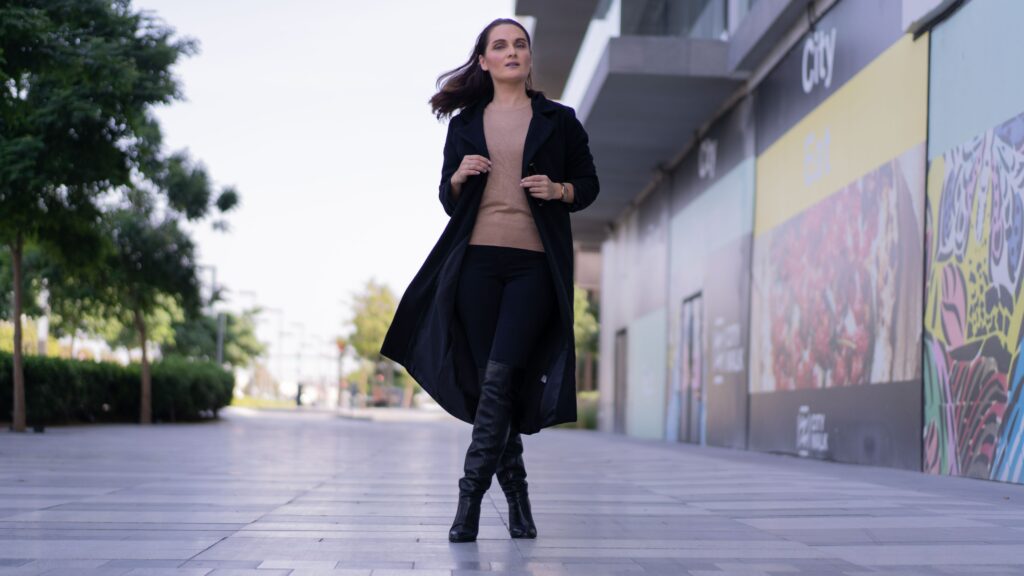 2. There are a plethora of chic leather jackets for women out there, and we strongly suggest you to buy one for your business casual outfits. Create an effortless look with blue jeans, a t-shirt, and a black leather jacket. On regular work days during fall and winter, this type of outfit will be suitable for you. Opt for black wedges or ankle boots for this look.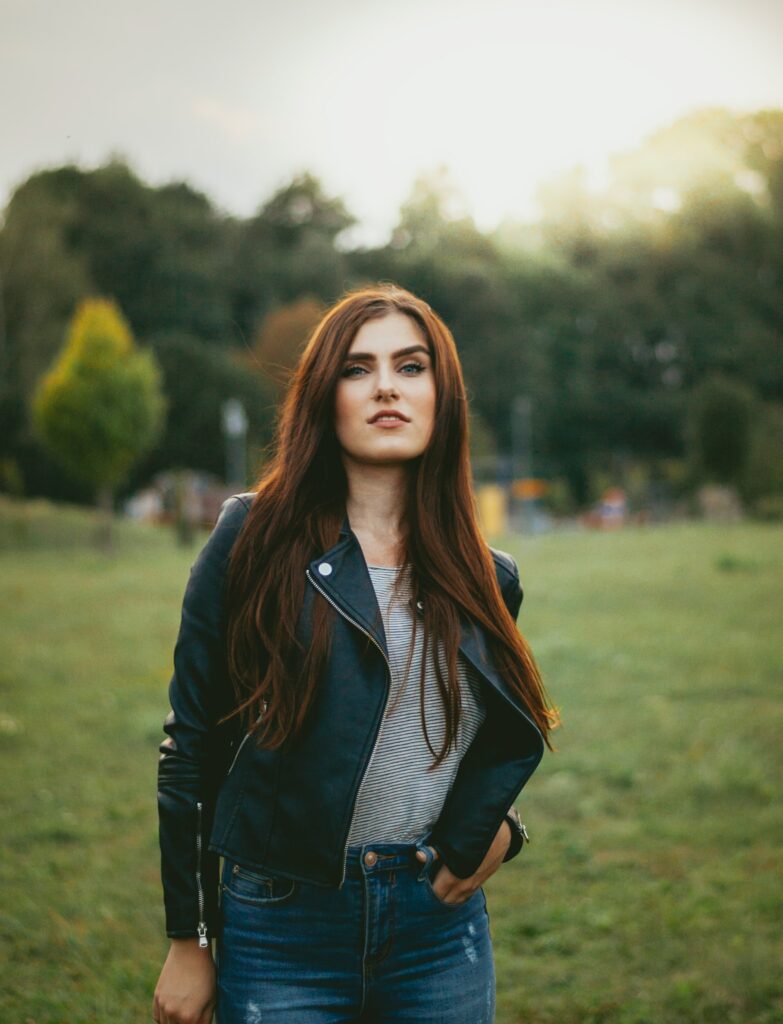 3. Formal blouses are the right choice for business casual looks, and you can easily pair them with jeans. Opt for a silk or chiffon patterned blouse with full sleeves and wear dark blue jeans with it. Your best leather vests can be used to layer such outfits so that the blouse details are not obscured. 
4. Go for the business casual travel look with black jeans, long-heeled boots, and a white blouse. Layer the outfit with a grey patterned blazer. You can use any different type of bags and handbag with this look that match with your outfit.
5. A white casual shirt can be tucked in high waisted blue jeans for a simple business casual look. To dress up the outfit a bit, opt for a cropped leather jacket for layering.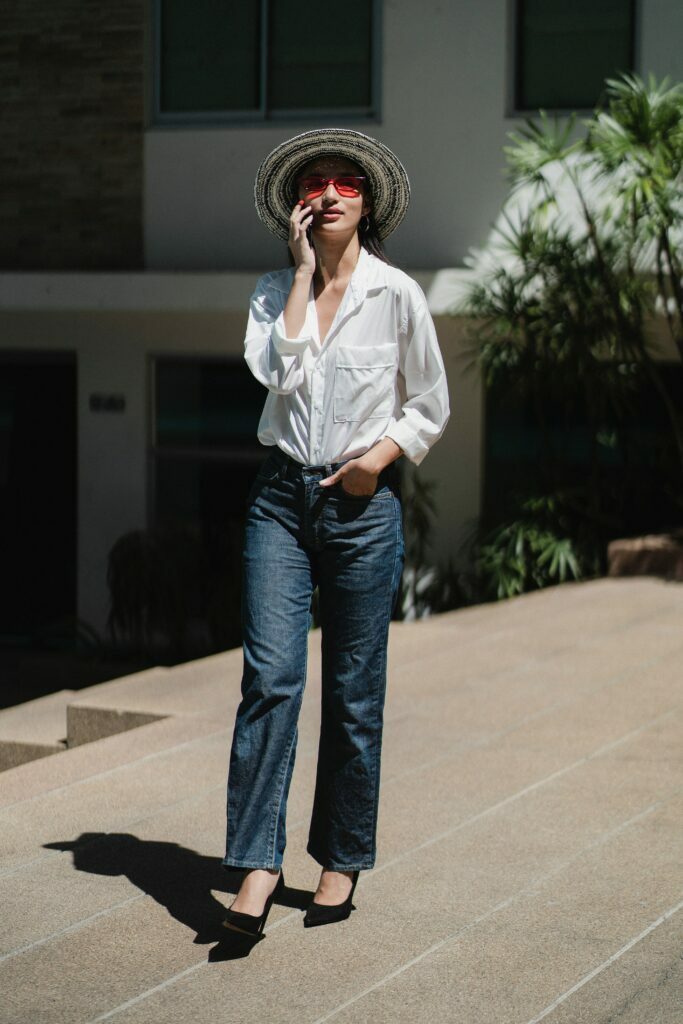 FAQs
Why Both Men and Women Prefer Jeans for Business Casual Attire?
Both men and women like to be comfortable at work. Jeans allow easy mobility and comfort, so why not opt for them if your workplace allows them? Moreover, jeans are a breeze to pair with several other garments, which saves the time that you spend thinking about what to wear today. You can wear it simply with a polo shirt or turtleneck and a jacket and still look dressed up.
What Type of Black Jeans are Business Casual?
Black is undoubtedly the best choice when opting for business casual jeans. Black signifies simplicity and professionalism and looks dressy and responsible. Choose jeans that are jet black, not distressed, clean, and tailored. Avoid black jeans that are too tight as they give a highly unprofessional appearance of leggings.
Do You Tuck In Your Shirt for Business Casual When You Are Wearing Jeans?
It is appropriate to tuck in your shirt when you are wearing jeans for business casual. A tucked in shirt will make you look spruced up and untroubled.
What Jeans Are Business Casual?
Jeans in dark or neutral shades with a tailored fit and clean design are befitting for the business casual dress code. Avoid ripped jeans and those that have any adornments like embroidery or pins. Also, do not wear distressed jeans and baggy jeans.
What Kind of Other Pants Are Business Casual for Women Besides Jeans?
Although jeans are perfectly fine for business casual outfits for women, there is still a need for other types of pants to build a variety of outfits. Wide legged trousers in neutral shades, linen or polyester pants in a slim fit or high waisted style are also a great choice besides jeans. You can even go for pencil skirts in cotton or wool fabric.
Are Black jeans OK For An Interview?
Unless you are sure that the dress code of the company is business casual, avoid wearing jeans for an interview. The safer options are chinos or flannels if the dress code is not completely formal.
Even if you are sure about the dress code and decide to wear jeans, avoid fancy, embellished jeans and never roll the hems up.
Conclusion: Are Jeans An Office Attire?
We hope that by now, it must be clear to you about when and where it is ok to wear jeans for the business casual style. It is an undeniable fact that jeans are the most preferred staple both for men and women. However, there are certain rules and regulations for wearing it to avoid an unkempt look. Abide by them by referring to this blog to portray a polished look at work.