Every fashion enthusiast feels nostalgic whenever a vintage trend resurges. Like many other trends that have been recycled, the denim-on-denim trend is undoubtedly the coolest. All the advice you need to build a double denim outfit without making it look like a uniform is right here. 
The comfortable denim fabric is made with cotton twill. The material is largely used to make jeans of all types, but the use is not limited here. Shirts, jackets, vests, skirts, and jumpsuits made with denim are hugely popular, and so are accessories like denim bags and shoes. Back in the 60s, the versatility of the fabric gave birth to the trend of teaming up with denim separates for a chic look. 
The Rebirth of Denim on Denim Outfits
While fashion gurus may have cringed over the idea of wearing denim over denim in the past, the trend is not considered a fashion taboo anymore. All over the streets of fashion capitals around the world, you can spot women sporting the double denim look in stylish ways. Wear the same colored jeans top and bottom, or team up denim clothing in contrasting colors, and no one will bat an eye. 
Contemporary fashion is all about inclusivity, with trends from the past and new ones snowballing into diverse phenomenon. Women go for different aesthetics and build outfits infusing their personal style into them. Among the plethora of these trends, wearing denim tops and jackets along with denim bottoms gives them multiple options to dress attractively. 
Denim staples worn together are a style that anyone can pull off in their own way. Also, we are not talking about particular seasons here, as this fashion can be on rotation all year round. Lightweight denim or chambray clothing is appropriate for spring and summer, while heavy trucker jackets and sherpa jackets from your winter wardrobe can be used with slim-fit jeans for the colder weather. 
How to Wear Denim on Denim?
Consider building denim on denim outfits as an art. The primary fact for your double denim look is that it falls under the neutrals category. Therefore, the need to break the monotony with shoes and accessories is vital.
Breathe life into your outfit by using bright colors for your basic clothing, such as t-shirts. Denim is available in shades of blue, white, and black, all of which go well with other hues. Using these soft or accent colors will also break up the denim look.
Besides denim shirts, jeans, vests, and skirts, you can also wear denim jumpsuits, sleeveless chambray tops, or half or three quarter sleeves shirts and shorts.
Fashionable Jean on Jean Outfit Inspirations
Fashion-forward looks with denim clothing are a game changer for your style. When different designs and washes of denim are paired together, you can ace this fashion. Remember that you want to portray an impressive style, not a poorly planned outfit. 
To create an outfit with cohesiveness, you can take inspiration from any of these casual and going out outfit ideas mentioned below.
Denim on Denim 90s Inspired Looks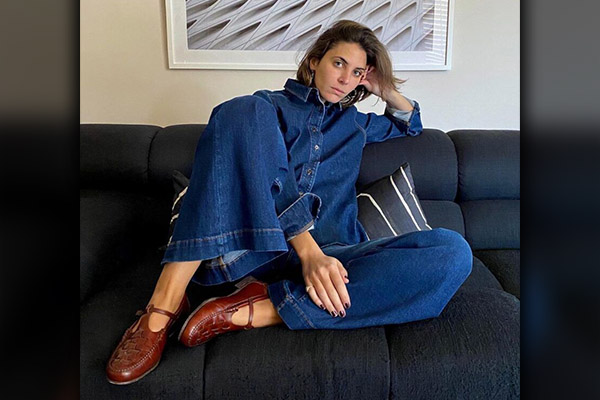 The denim-on-denim trend was raging in the 90s, with popular tv stars donning the look effortlessly. If you want to recreate the authentic 90s look with denim staples, go for baggy high-waisted stonewash jeans with a black t-shirt and an oversized denim jacket. Match the jacket and jeans for a retro feel. 
You can also pair your denim shorts with an oversized white t-shirt and a long denim jacket. This casual holiday outfit can be completed with chunky white sneakers.
Denim Shirt with Denim Jeans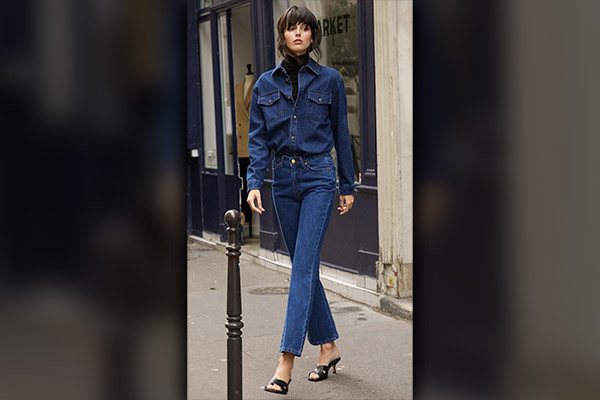 Wear a lightweight baggy denim shirt with mom jeans in a darker wash. The loose, light denim shirt will ward off the summer heat while making sure you are dressed up modishly.
You can also wear a denim shirt as an overshirt with a white T-shirt and ripped jeans. Brown boots will round off this look. 
Denim or chambray shirts can be a good foundation for a classy double denim look. You can simply tie the shirt on the front for a stunning look. To add some glamor to the look, layer it with a black leather jacket.
Wear a fitted chambray shirt with bootcut jeans and black pumps for a flattering look.
Pull on Denim Shorts with Denim Vest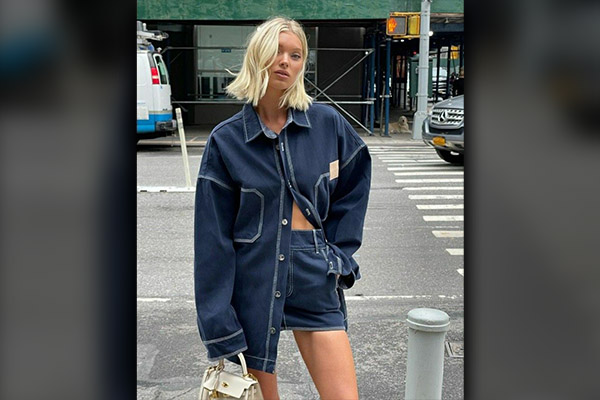 We will recommend a Los Angeles style double denim look for spring or summer days. All you need is to wear a long pink T-shirt or a peplum top over a matching pair of denim shorts and a denim vest and shorts. The look can further be elevated if you choose to wear a vest with frayed hems. Finish this cute outfit with white ballet flats and a baseball cap.
Or, go for a blue denim jacket and blue denim biker shorts combo and wear royal blue stilettos for a funky touch.
Denim Skirt with Denim Shirt Outfit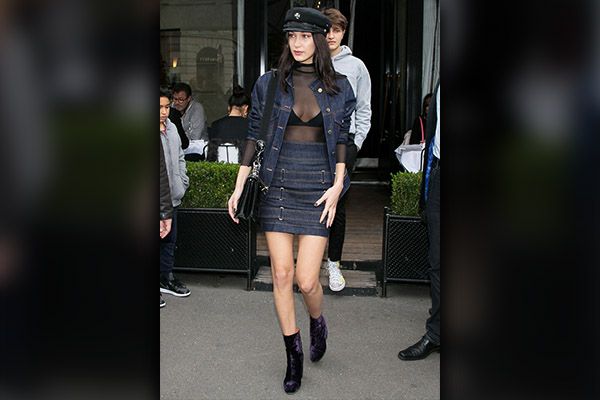 Denim skirts help in bringing together a feminine touch to the double denim trend, which is otherwise considered a unisex fashion. You can get your hands on a variety of denim skirts, ranging from short pencil skirts with button closures or flared midi skirts. 
Wear a chambray shirt tucked inside a denim midi pencil skirt. Portray a relaxed look by folding the sleeves of your shirt and leaving its top two buttons open. Carry this look with flair by using accessories like black cat eye shades and a small black purse.
You can also wear a beige long coat over an outfit featuring a denim shacket and a mini denim skirt for an elegant look.
Pull on Denim Jeggings with Belted Denim Shirt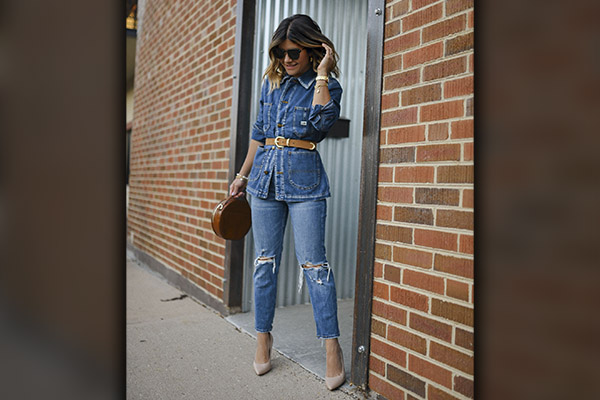 Denim jeggings are stretchy and comfortable fitted pants that you can wear with a variety of shirts and jackets. We suggest pairing denim jeggings with a belted long denim shirt in a complementary color. Opt for white tennis shoes for this chic outfit.
Create an elongating silhouette by wearing denim jeggings and a one-fourth-sleeved denim shirt. The same color from head to toe results in an unbroken look that makes you appear taller. Add a few more inches with beige pumps. 
Denim Jacket with Jeans and a White T-shirt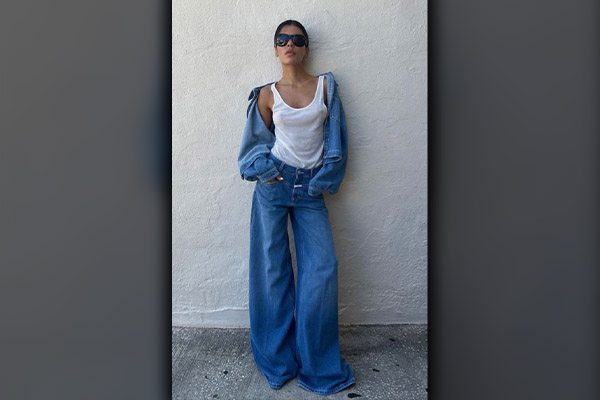 The original style for the denim-on-denim look is undoubtedly a blue denim jacket and blue jeans worn with a white t-shirt. Although the classic trio is stylish in its own way, we can add a bit of verve to it. Instead of a plain jacket, opt for an embroidered one to bring up the style quotient and make the outfit street worthy. Or, go for a studded denim jacket. As for the jeans, you can go for ripped ones in boyfriend style or bootcut jeans for a slimming effect.  
If you want to keep the denim staples simple, go for a graphic white t-shirt to add character to your outfit. Or, swap the basic crewneck for a lacy white top longer in length than the jacket.
Mismatched Jeans on Jeans Outfit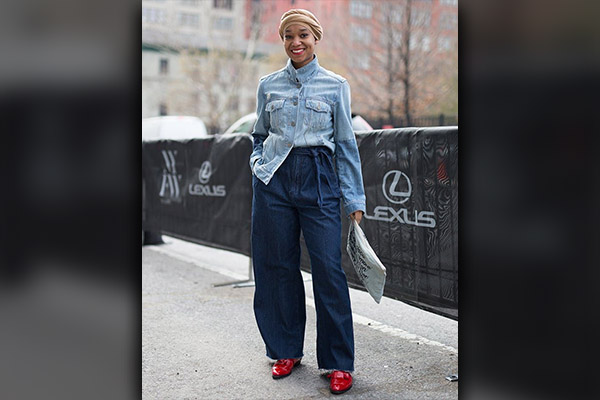 Going for entirely different colors for top and bottom wear is one way to create visually appealing denim on denim outfits. When doing so, try to keep the lighter color on top and the darker color on the bottom. You can also play with textures and go for a distressed/plain combo for both staples.
The all-denim looks best when broken with a non-denim item, such as a white t-shirt or white sneakers. When going for a head-to-toe denim look, never go for denim shoes and accessories, as that will kill the visual appeal instantly. Save your denim shoes and bags for other street-style outfits. 
A great mismatched denim outfit would be to pair ripped black jeans with a blue chambray shirt. Or, go for a white denim jacket over deep blue slim-fit jeans and a black T-shirt. Round off these looks with nude pointed-toe heels, a statement necklace, and a chic shoulder bag. 
FAQs
How should a denim jacket fit a woman?
The best denim jacket defines your curves and doesn't give a boxy appearance. It must not fall off your shoulders as it looks odd.  If you are going for an oversized denim jacket, try wearing a belt to pull off the look with grace. 
Can you wear denim on denim? 
Yes. Head-to-toe denim look is hugely popular these days, thanks to the a-list celebrities and fashion influencers who have recently been flaunting all denim outfits in various ways. Designers showcase trendy denim over denim outfits proving that the trend is not going to fade anytime soon. 
What's wrong with denim on denim?
Putting together a double denim outfit can go wrong if you do not pair the staples in complementing tones and different textures. Also, when matching your top and bottom denim staple, add a pop of funk or color with another clothing essential or your accessories.
Is it OK to wear jeans with a jean jacket?
The combo of a jean jacket and jeans is a safe one to rock. Make sure to use an attractive top as the foundation of your outfit. Choose the footwear wisely to up the glamor factor of this look. 
Are double denims 80s?
During the 80s, men and women frequently wore denim staples together to look fashionable. The pairing they created mostly matched ones with acid wash denim being hugely popular. The fit of the denim jacket and jeans was baggy, portraying a laid-back, comfortable style that was a forte of fashionable people of that era. 
Takeaway
The concept of wearing a denim staple with another denim staple may sound quintessentially gutty, but it is worth trying if you get the contrast right. It basically involves teaming up complementary shades and keeping the silhouette smart and flattering. Whichever denim-on-denim outfit you opt for, make sure it is comfortable so that you can carry this ongoing trend with absolute confidence and style.