One of the most loved items from retro fashion is making a comeback! Bootcut jeans are fitted on the thighs and subtly widen below the knee for a flared look. As the style trend gains approval from the masses, fashion savvy women everywhere are looking for ideas on how to wear bootcut jeans. In this blog, we will lay down several stylish bootcut jeans outfits with the right essentials for women.
The design of bootcut jeans makes your legs appear longer, which makes them a great choice for thin and petite women. However, tall women can also wear it in a low rise or cropped style for a modish look. Bootcut jeans are basically a fusion of two types of jeans, the straight leg and the flared jeans.
Bootcut jeans are an appropriate choice for women who usually wear boyfriend style jeans or mom jeans to accentuate their curves. It all depends upon wearing the right style of bootcut that suits your particular body type. Let us explore how you can create some trendy bootcut jeans outfits for women of all body types.
What To Expect In This Article?
How to Make an Outfit With Bootcut Jeans
The key to wearing bootcut jeans is to choose a silhouette that is flattering for your body type. To look taller, buy a size of jeans with an inseam that falls at least 1 inch above the shoes. Longer than that would need to be hemmed to fit appropriately. If you are already tall, try cropped bootcut jeans, which are 1 to 3 inches above your ankle. Cropped jeans in bootcut style can be worn with flat footwear.
Jackets and Shirts with Bootcut Jeans
According to the 2021 fashion trends, fitted tops, ruffled blouses, cropped sweatshirts, fitted petite leather jackets, and blazers are best suited with this style of jeans.
You can also style a solid colored t-shirt or a henley with a shrug for a comfortable casual look with bootcut jeans. Another idea is to wear a voguish peplum with these jeans for a pretty feminine look.
Shoes With Bootcut Jeans
One of the classic ways to style bootcut jeans is to wear them with boots. Make sure the color of the boots contrasts with the jeans for a smart look. You can choose a style of boots which reflect your personal style in the best way.
Sneakers, stylish flat shoes like ballet flats, gladiators, and jellies also make a complementing pair with bootcut jeans. Flat footwear makes your height appears shorter.
If you think about whether you can wear bootcut jeans with heels, then the answer is a big yes.
Bootcut jeans are usually paired with high heels for an appealing overall look. It isn't necessary to wear sky high heels to look taller in bootcut jeans. Medium length heels like wedges, kitten heels, and platform heels also make your legs appear longer.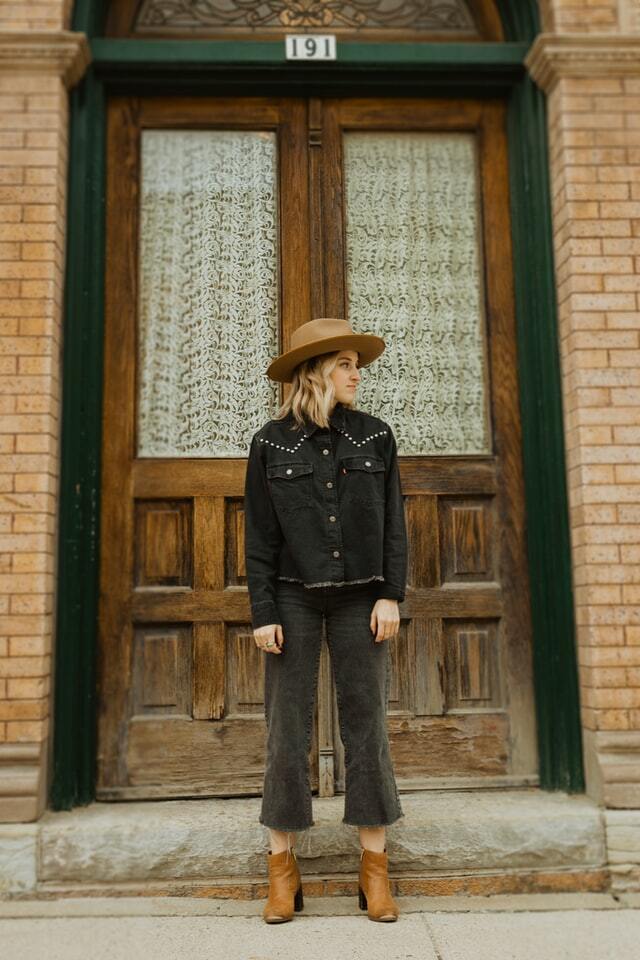 Bootcut Jeans Outfits 2022
Below is the best sartorial inspiration you could get for the 2022 bootcut jeans outfits. Keeping the inclusivity aspect in mind, we have covered the trending styles for women of all body types. These outfit ideas allow everyone to get the most value in style out of their bootcut jeans.
Black Bootcut Jeans Outfit
A very stylish black jeans outfit idea features a bold cropped t-shirt. You can pair a high waisted black bootcut jeans with a graphic cropped t-shirt for a simple yet highly fashionable look. This black outfit is perfect for enhancing an hourglass shape if you tie the t-shirt to reveal a toned midriff.
Pair chunky black sneakers with this outfit to add to the modern vibes.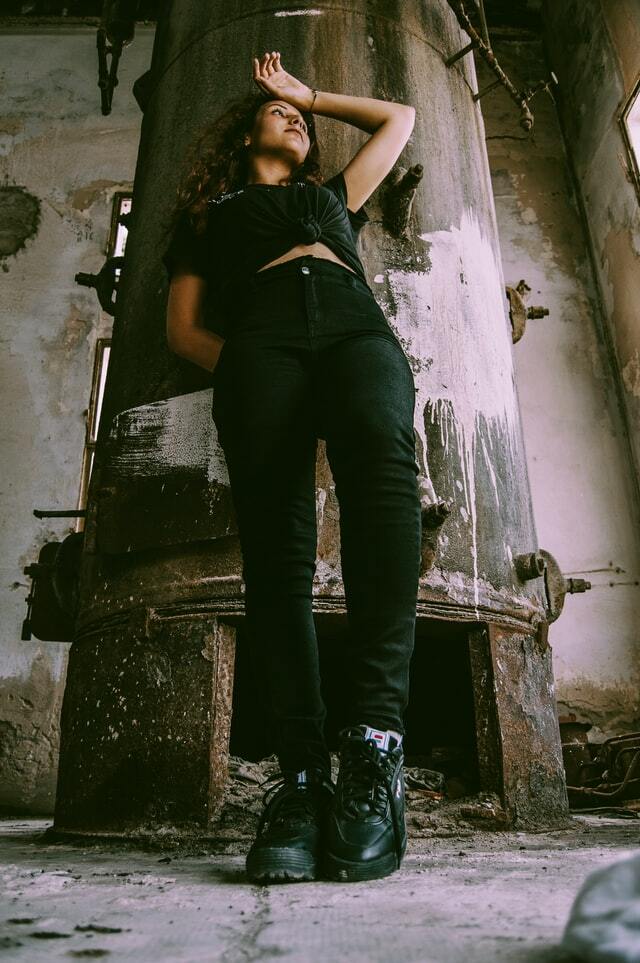 White Bootcut Jeans Outfit
White cropped bootcut denims, and a striped t-shirt can be a great combination on a casual day out. Layer this simple yet cool outfit with any stylish fall jacket, such as a yellow cropped quilted jacket. The simplicity of the jeans can be elevated into a sleek look by pairing white minimalist sneakers with this outfit.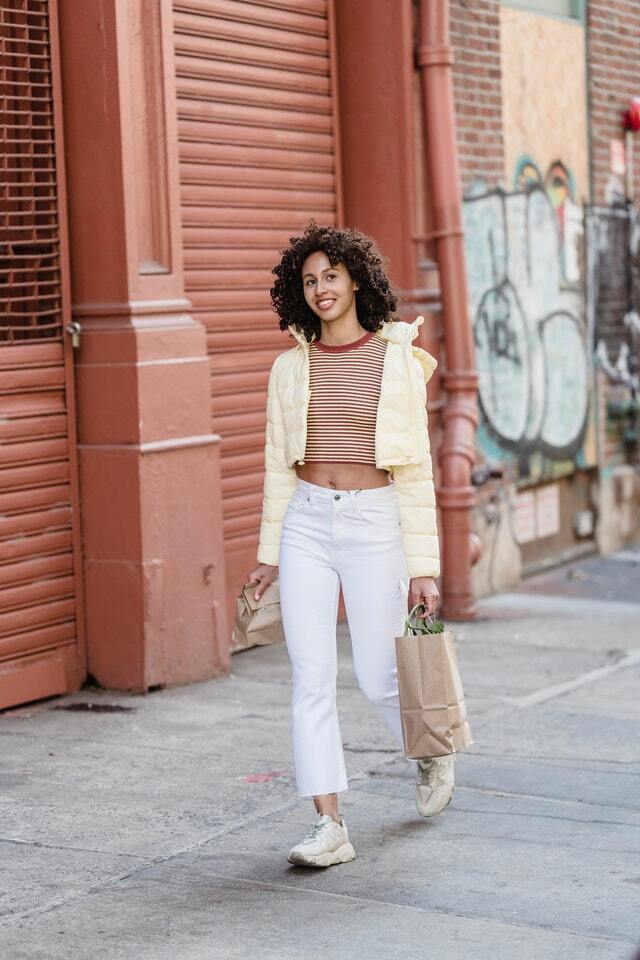 Blue Bootcut Jeans With Printed Top
Printed silk tops and tunics give a very chic style statement. Pair a nice printed top with blue bootcut jeans and finish off the look with black flip flops for a perfect beach look. Layer the outfit with a plain bolero jacket to make it instantly ravishing.
Bootcut Jeans With Turtleneck
For refined simple style, pair a black fitted turtleneck sweater over blue bootcut jeans. Add the swanky vibes to this look with a straw hat, a statement pendant, and black and white converse sneakers.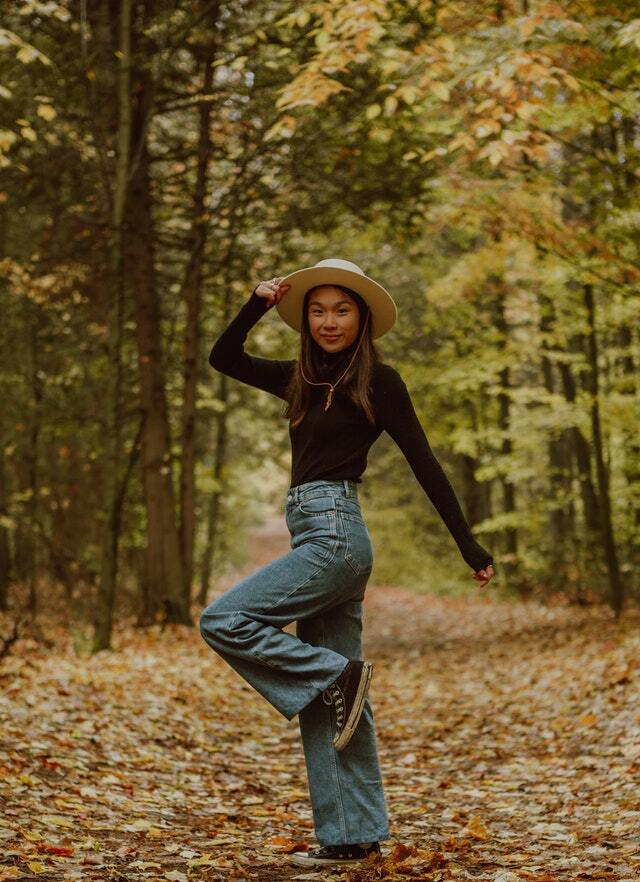 If you want to experiment with an oversized turtleneck, pair it with dark blue bootcut jeans and tuck the shirt in from the front for a stunning winter look. Brown ankle boots, hooped earrings, and a crossbody bag will add trendy effects to this look.
Cropped Bootcut Jeans Outfit
Another chic outfit suggestion for your cropped bootcut jeans is to pair a denim jacket with it in a darker shade. If your jeans are grey, pair a black jacket with them. Add a bit of fanciness to this attire with a hat and high heeled boots in tan color.
Bootcut Jeans with Off Shoulder Top
Want to look like a baddie? Pair a not-so-modest off shoulder top that is cinched around the waist with bootcut denims and high platform heels. Add to the baddie vibes with a glam makeup look of this ensemble.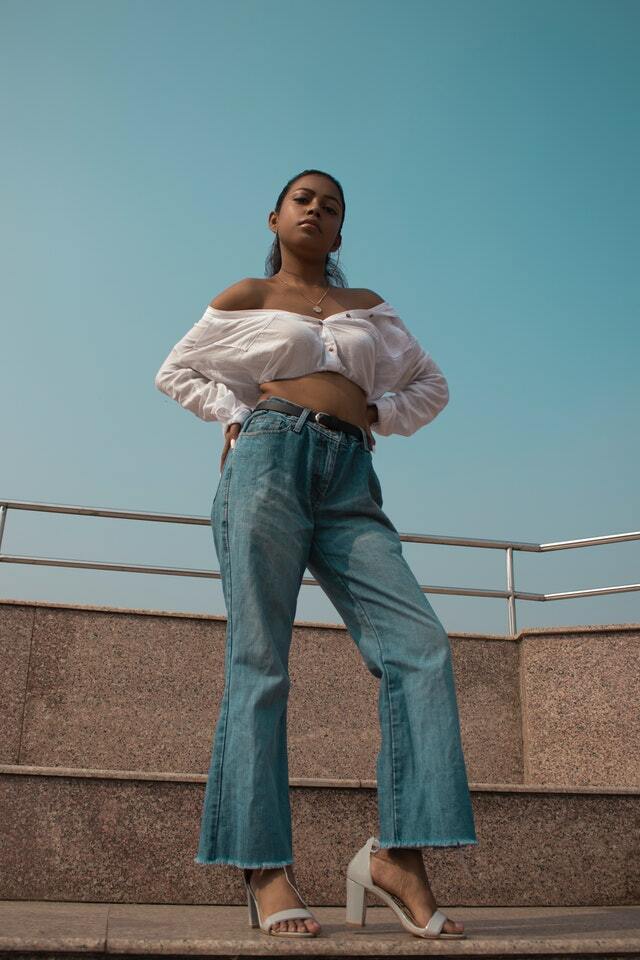 High Waisted Bootcut Jeans Outfit
A fitted white tank top is an absolute way to elevate the look of a high waisted deep blue bootcut jeans. Take this streetwear look up a notch with white ankle boots and metal bangles.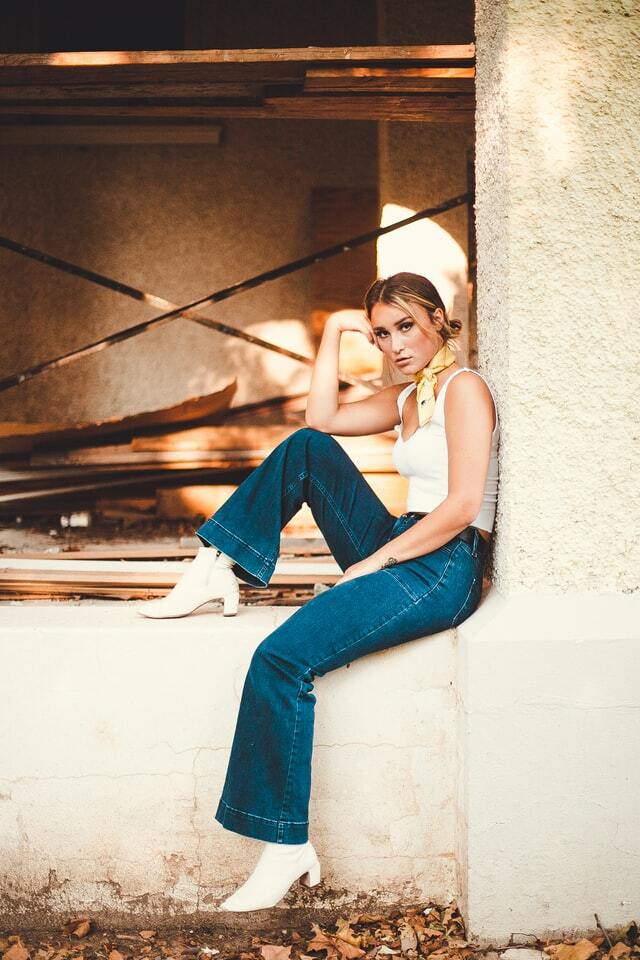 Outfit with Bootcut Jeans and Fitted Leather Jacket
Your collection of the best leather jackets can all be paired along with a fitted top and bootcut jeans. We recommend pairing a black biker jacket with bootcut jeans and a white collared shirt for effortless chic and edgy look.
You can also opt for black bomber jackets for women if you don't own a biker jacket yet. The leather jacket and bootcut denim combo is a perfect fall outfit that you can finish off with sneakers or Lita boots.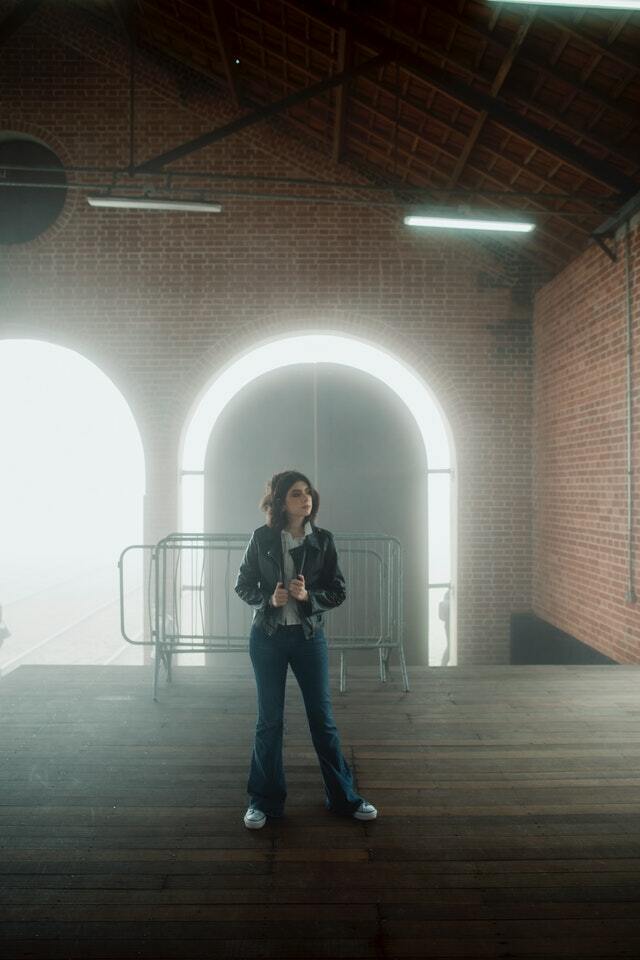 Cowgirl Boots with Bootcut Jeans Outfit
The typical cowgirl look features a collared shirt, a denim vest, bootcut jeans accessorized with cowgirl boots, and a cowgirl hat. This look, although from the retro style, is still a raging trend.
Introducing cowgirl boots on a bootcut jeans outfit will give it a stylish twist. if you like to show off the boots, tuck the jeans in. You can also add a fur bomber jacket to the equation if you plan to create this look for winter.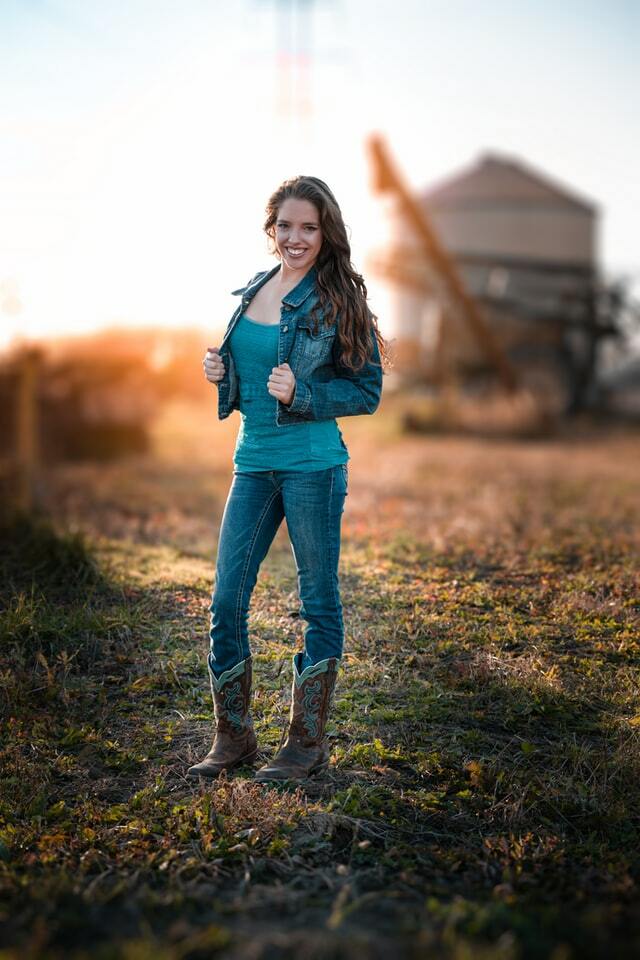 Sweater and Highwaisted Bootcut Jeans
For young fashionistas, bootcut proves to be a go-to clothing essential. Bootcut outfits for teenagers can be as simple as a sweater and high waisted cropped bootcut denims. Accessorize the look with a matching beanie and sneakers for the perfect fusion of cuteness and style.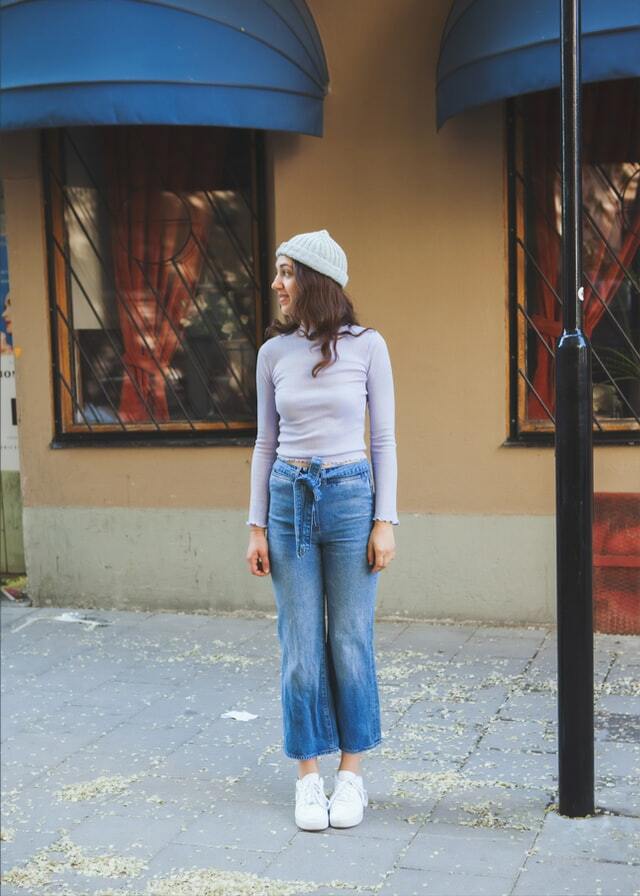 Want some classy ideas to use your stylish footwear with bootcut jeans? We have got you covered.

Bootcut Jeans With Sneakers
If your footwear collection features a number of sneakers in all colors, try pairing them with bootcut jeans for relaxed daily wear. White, black, and leather sneakers are all good ways to round off any casual look with bootcut jeans.
Bootcut Jeans with Ankle Boots
One more classic combination commonly observed in contemporary women's street style is ankle boots with bootcut jeans. They complement each other nicely. Ankle boots in any color will spruce up your outfits, making you channel your inner diva. Try matching your jacket or long leather coat with the boots for a cohesive look.
Blazer with Bootcut Jeans Outfits
Owing to their flattering style that enhances the height, bootcut jeans are a perfect garment to build classy business casual looks. And when we talk business casual, we cannot get away without the blazers.
Here are a few blazers with bootcut denim outfit inspirations for you. You can wear blazers over plain t-shirts, collared shirts, or turtlenecks and round off these refined outfits with stylish pumps.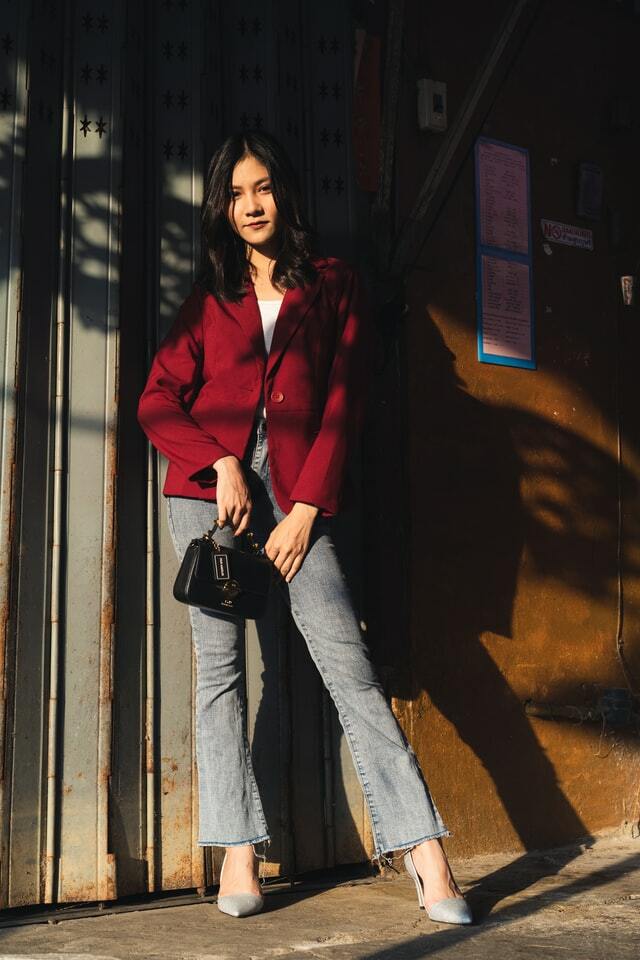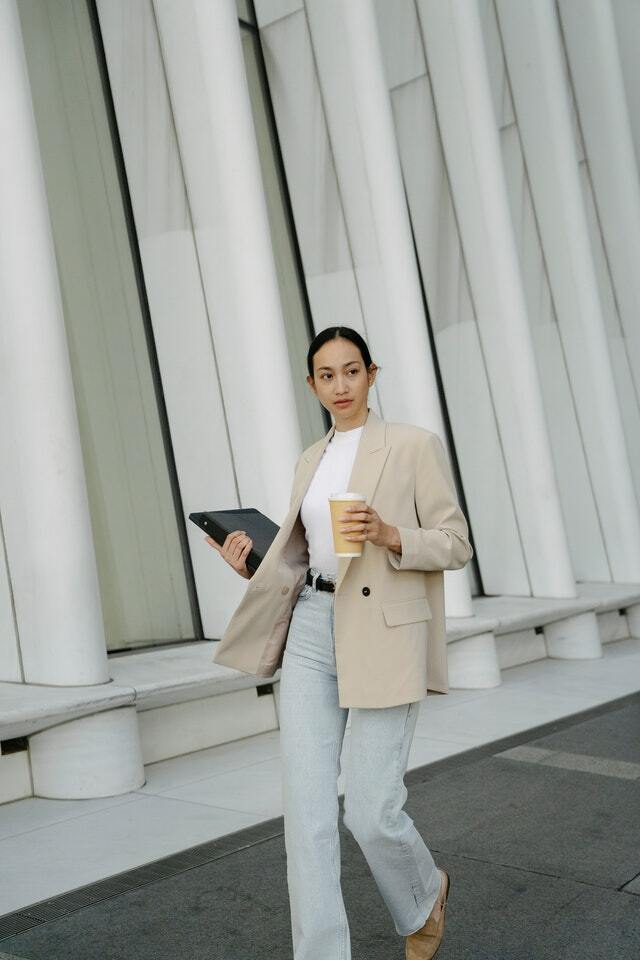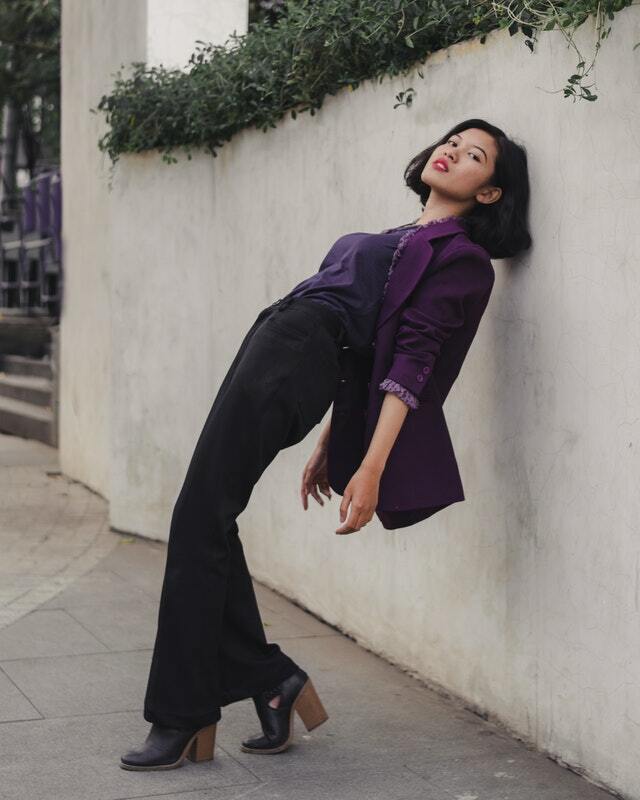 Casual Outfits with Bootcut Jeans
Some more laid back ensembles that score high on the fashion meter.
Pair a white blouse with frayed or ripped bootcut jeans. Add flip flops to the equation to complement the super casual style.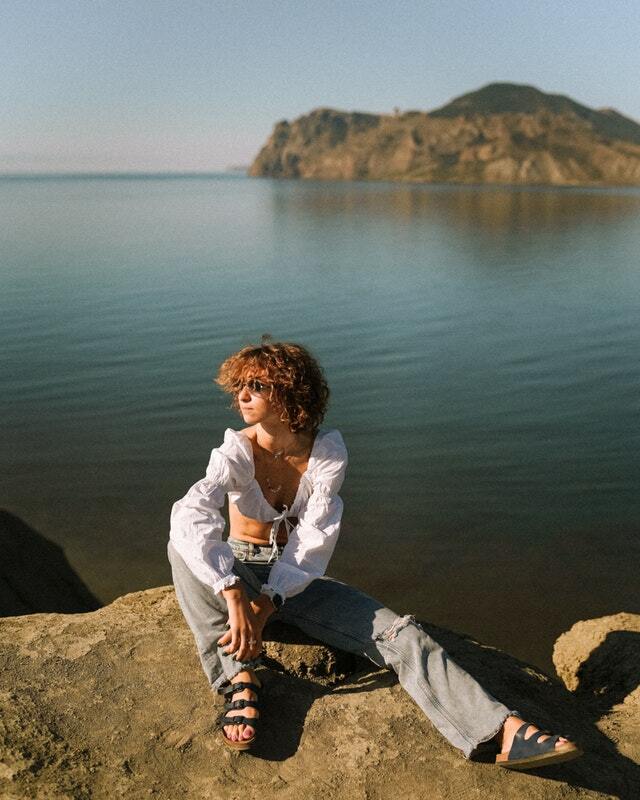 Up the fashion factor of a casual outfit with camo pants and a black tank top. Swap the loose camouflage pants with stylish bootcut jeans to turn them into a chic street style look.
Pair a white collared shirt or a tuxedo shirt with a faded cropped bootcut denim. Brown heels will complete the look effortlessly.
Try a silk half-sleeved blouse with washed bootcut jeans for a casual day-out look with a glam flavor.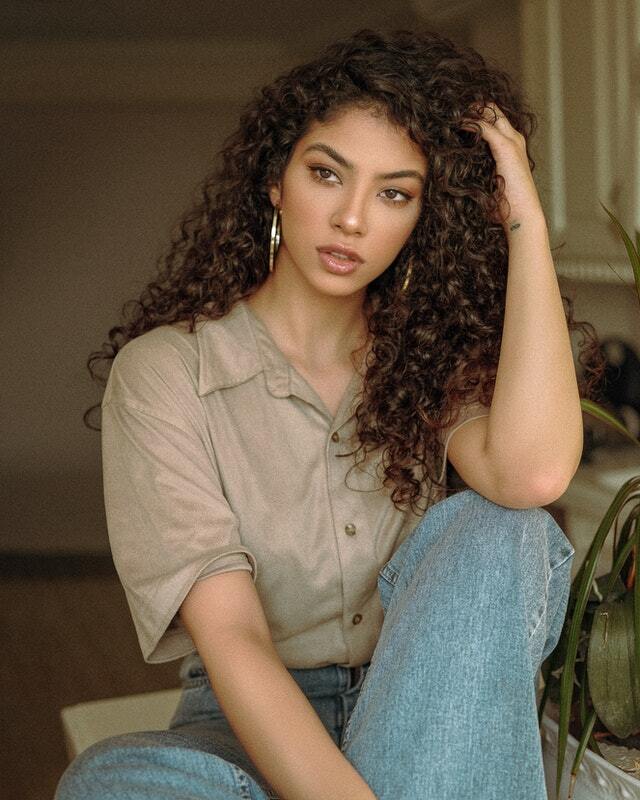 FAQs
Are Bootcut Jeans in Style in 2021?
From runway to street style, bootcut jeans outfits can be spotted everywhere these days. The styles of bootcut jeans trending this year are
Cropped jeans with frayed hems.
Low rise bootcut jeans worn with funky belts.
Jeans with embellishments on the ankles.
Bootcut denim with contrasting cuffs.
Jeans with intricate designs on pockets.
Bootcut jeans with contrast stitching.
Ripped bootcut jeans
Does Bootcut Jeans Make You Look Taller?
Bootcut denim is fitted from the waist to thighs and widens below the knee; they give an impression of long legs. Full-length bootcut jeans in high waisted style make you look taller.
What is the Difference between Flared and Bootcut Jeans?
The major difference between flared and bootcut style denims is that flared jeans are wider and looser bell shaped. Whereas bootcut jeans are slim fit on the thigh, slightly loosen at the knee, and flare out at thee bottom.
What is the Difference Between Straight and Bootcut Jeans?
Straight leg jeans are a popular style opted by women due to their simple and stylish look. They remain straight with a change in shape from top to bottom. On the other hand, bootcut jeans flare towards the end, looking like bell bottoms.
Why are They Named Bootcut Jeans?
The name bootcut jeans was given to this style to show that they can be paired with boots.
Can You Wear Bootcut Jeans with Heels?
Heels add to the appeal of bootcut jeans by showing their flared bottom clearly. Wearing heeled pumps, boots, stilettos, and strapped sandals is the right way to make sure you look great from head to toe.
What are Bootcut Jeans with Holes?
Bootcut jeans with holes are ripped style jeans that are trending high in contemporary casual fashion.
Conclusion
To nail the bootcut jeans style, make sure you get one in the right size. Our modern take on the iconic jeans from the 1960s will help you create outfits with the right essentials that will make you look absolutely stylish.