Some clothing essentials exude such refined femininity that you can undoubtedly list them on the top of the womenswear list. The bolero jacket is one of those. If you want the build a highly versatile wardrobe, it is a must have staple. If you are wondering what a bolero jacket is, read on to know about its origin, types and various ways to style it.
Bolero is simply a short cropped jacket traditionally without a collar but more structured than your regular shrug. It covers your arms, upper torso, and back, depending upon its size. The size of the bolero may differ, some having more coverage area than the others. It may also have a fastening element like a hook, button, or extra fabric that can be tied for added style.
The fabric usually used for boleros includes cotton, knit, denim or satin, silk, or velvet for fancy ones. You can even find leather and fur boleros to pair with your fall outfits.
It is a garment that you can simply wear over a dress, top, camisole, turtleneck, or evening gown. It gives a very stylish look besides providing the desired coverage and enhancing the body shape. Bolero can be styled in multiple ways, given what type of bolero you choose to wear.
Origins of a Bolero Jacket
Given the name of the Bolero jacket, which comes from Spanish and its design, we can clearly understand that it was initially influenced by the embellished cropped jacket of the Spanish bullfighting matador. Earlier known as Zouave, the bolero entered the womenswear arena after 1840.
After a hiatus, the bolero jacket was reinvented in the mid 20th century as a garment worn over women's dresses and tops. Yves Saint Laurent is the fashion designer who made the bolero a part of couture.
Fast forward to the current fashion scene; boleros are considered a dressier alternative to a shrug, which is basically a cropped cardigan. Bolero is now worn whenever you want to avoid layering your spring and summer outfits with a heavy jacket. It does provide warmth by covering the arms but isn't suitable for cold weather due to its short length and open style.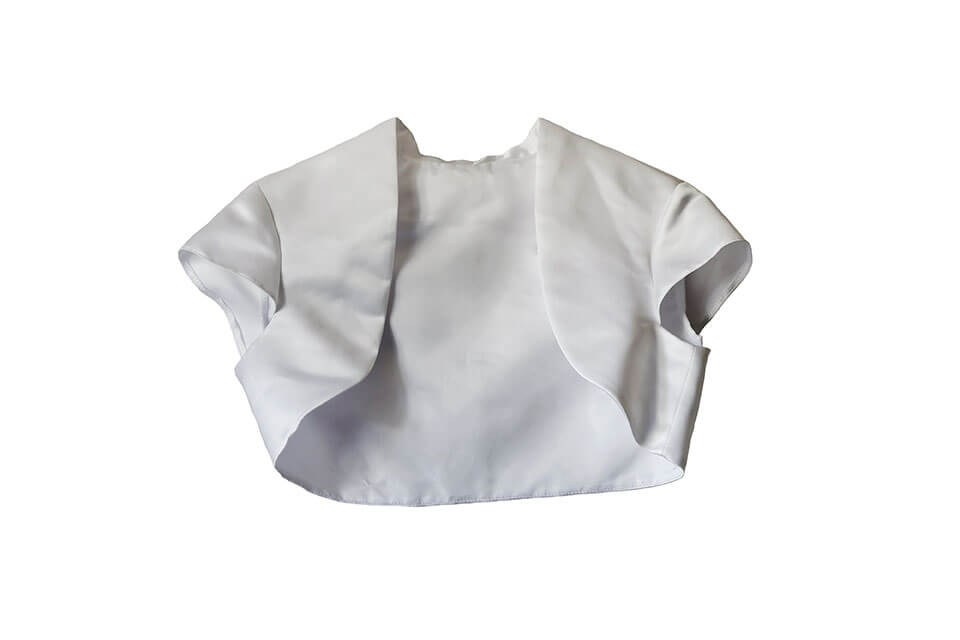 Bolero Styles
Due to their cropped and small design, boleros are more functional for styling purposes rather than keeping you warm. A bolero can add up the warmth when you are wearing a fur leather or knitted bolero over a warm garment such as a heavy sweater, a turtle neck, or a ribbed full sleeved top. Else, it is mostly a heavy jacket substitute for spring and summer when you want something less heavier than a fleece jacket.
Sometimes, the bolero comes in handy when you need to look modest during a formal or religious event. If you are wearing garments like an off shoulder dress, a tube top, or a skimpy halter-neck, the bolero gives you an option of covering up as and when needed.
You can buy a neutral shaded bolero if you want to pair it with multiple outfits. Select the design, length and material of the bolero depending on how and when you plan to wear it. The bolero can be as simple or as dressy as you want.
Here are a few bolero jacket types that you can get your hands on.
Dressy Bolero Jackets
When formal occasions like a wedding, a farewell party, or even a highly anticipated dinner date come up, nothing gives you an extravagant statement other than an embellished bolero jacket. Even if your dress or gown is made of plain net, satin, or silk, the bolero will add dressy vibes to it besides giving you the ideal figure.
Many brides opt for a bolero jacket with their bridal dress. The reason why the bridal bolero is highly popular is that it shows all the intricate embroidery but can be taken off when the bride wants to relax for the party after the wedding.
Dressy boleros also make an elegant combination with halterneck dresses or blouson dresses.
Bolero Sweaters
Bolero sweaters are a versatile staple for casual and semi formal wear. The solid colored knitted and cropped jacket pairs well with outfits with black jeans. Also, it looks good on pencil dresses. For a style that inspires everyone, go for a beige pencil dress and a stylish black bolero sweater. Round off the look with black pumps.
Bolero Shrug Cardigan
Bolero cardigans closely resemble the shrug but differ in style. The bolero shrug cardigan is a bit more structured, allowing you to dress up your casual looks like a basic turtleneck with a ripped jeans outfit. Try a hipster look by wearing your bolero cardigan along with a polka dot dress and sneakers. Accessorize your look with thick rimmed glasses.
Long Bolero Jacket
Some boleros come with a more extended cut, giving more coverage than a regular one. The extra length is at the back, often going below the waistline. This style is well suited for formal purposes like with a dress shirt and pants or a fitted blouse with palazzos. An idea for a cocktail attire could be a combination of a flared satin short dress, sleek trousers, and an embroidered long bolero jacket.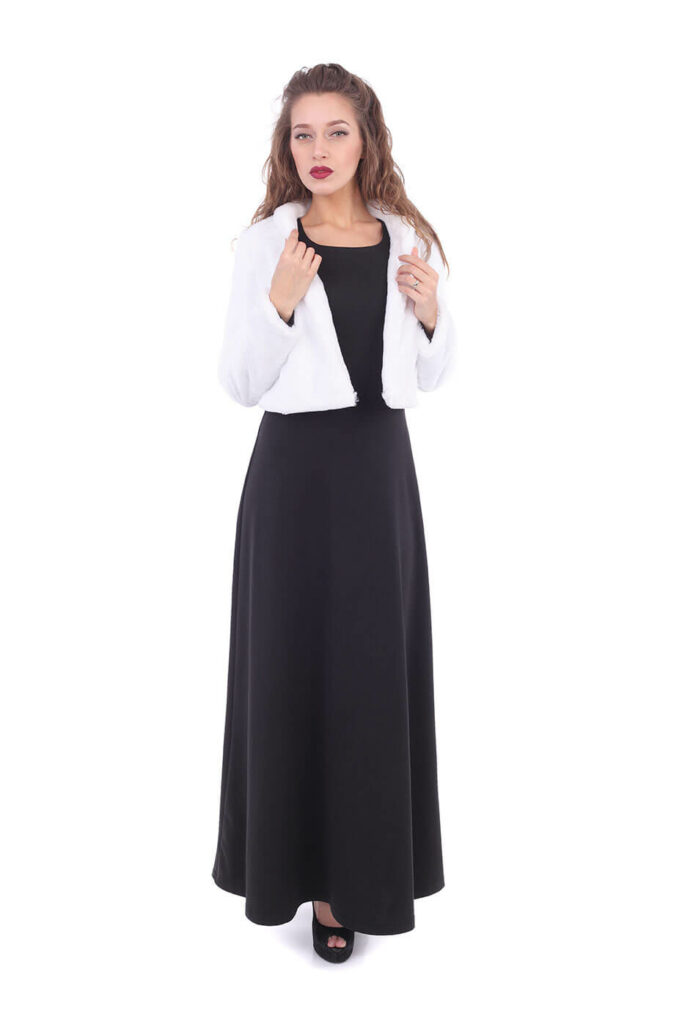 Cropped Boleros
Another style of bolero that looks very trendy is the cropped bolero jacket. In this style, the jacket flaps are shorter, which ultimately reveals the shirt you are wearing. Cropped boleros are a great way to jazz up any kind of look. Pair a long v neck t-shirt and ripped skinny jeans with a sequined cropped bolero for a high fashion look. Add details like a crochet beanie, statement rings, a beaded neck chain, and brown ankle boots.
You can also try the vsco girl look by pairing a loose cut t-shirt, pleated skirt in a pastel color, and a funky cropped bolero jacket.
Bolero Coat
The bolero coat is simply a coat that is cropped and open on the front. The bolero coat can be worn with semi formal and formal outfits to add some voguish flair to them. Team up a blue bolero coat and a black cocktail dress and round off the simple yet stylish attire with black t-strap heels.
You can also go for a red satin bolero coat and wear it over a white maxi dress for a stunning look.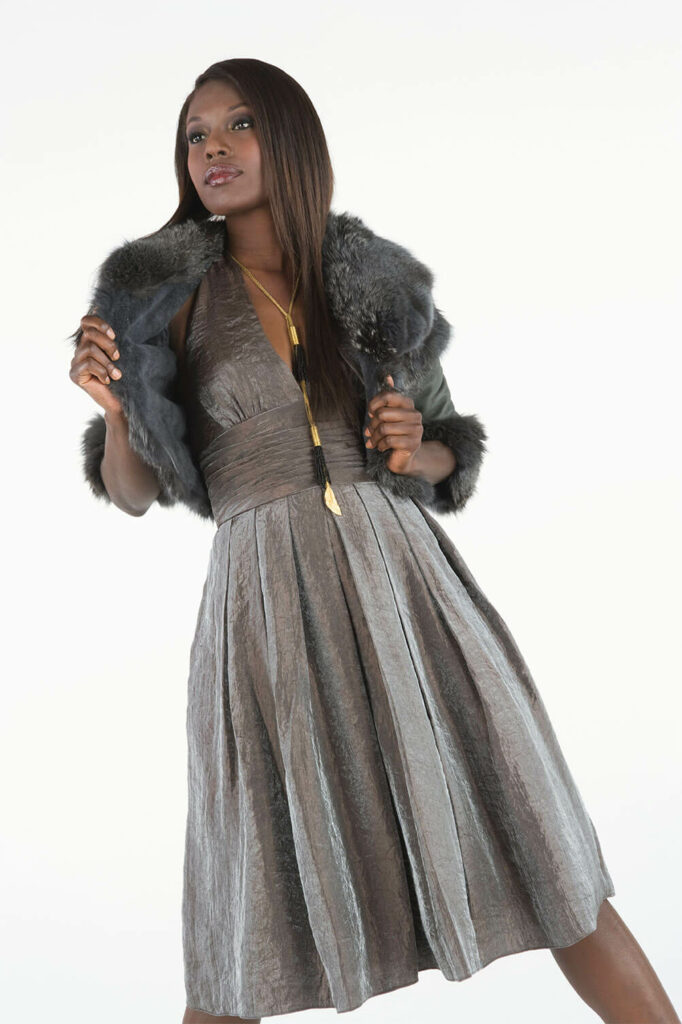 Long Sleeve Bolero Jacket
Boleros with long sleeves are very useful for times when you need to add a lightweight layer on a mildly cold day. They cover your arms completely without concealing your look. They are also used to add contrast to an otherwise dull outfit like a fur bolero with long sleeves that can lift a plain sweatshirt or a turtleneck. 
Bolero Leather Jacket
Do you feel the need to amp up your style game? The simplest way to do so would be to get your hands on a leather bolero jacket. It is a cropped leather jacket that you can wear over casual and streetwear outfits for a chic look.
Wear your leather bolero over a plain white camisole and a pencil skirt for a bold style statement. Or, create a sassy look with a black tube top and faux leather pants and don a tan leather bolero jacket with it.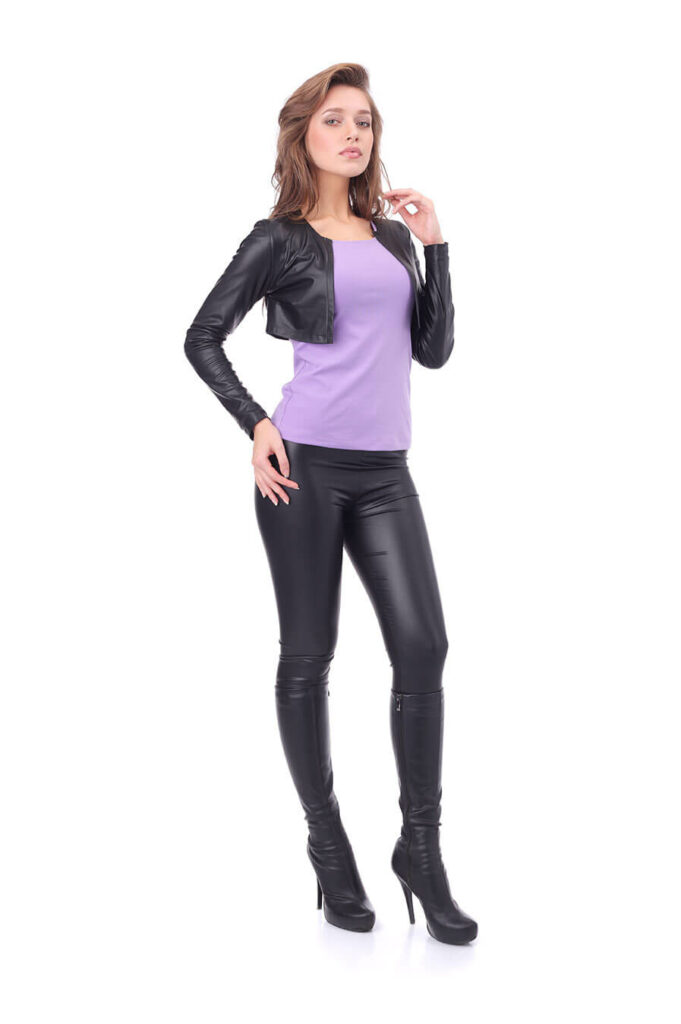 Bolero Vests
A bolero without the sleeves is no lesser in style. Get a bolero vest in a bold color like green, red, or blue, and wear it over neutral outfits like an all-black look or a light grey ruffled blouse paired with a boyfriend or mom jeans.
Shrug vs Bolero
These days, shrug and bolero are terms that are pretty much used interchangeably. However, the fashion conscious lot knows that both garments differ in style.
The first difference between the shrug and bolero is the structure. Shrugs don't have sharp shoulders and a clean cut design like boleros. Shrugs are cardigan like garments mostly available knitted. Whereas the bolero is made using slightly dressier fabrics like satin.
Boleros are not always very expensive, but high quality boleros come with a lofty price tag. On the other hand, you can get a shrug or even a pack of multiple shrugs for a fraction of that amount.
It is good to opt for bolero in a lightweight material so that you can easily wear them in summers and warmer days of spring. Boleros instantly transforms a simple dress or jeans and t-shirt outfit and helps conceal body flaws such as heavy upper arms. Go for matching boleros, especially with your dresses, for a fashion forward look.
F.A.Qs
How to Make a Bolero Shrug?
For quick style fixes, you can make a bolero shrug at home by yourself. Take a knit cardigan and turn it inside out. Mark the area from collars to the upper torso in a curve using the tailoring chalk. With the help of scissors, cut along the marks. Make sure the area covering the back aligns with the front (you can keep it according to your choice also)
Once the cutting is done, you can sew the edges for a neat finish. Try to wear it over a pencil dress for a chic look.
How does a Bolero Enhance Your Figure?
There are several styles of the bolero jacket, and all work towards enhancing an hourglass silhouette. As they are cropped, they enhance the waist and add a structured appeal due to its shoulders which are occasionally padded. This hourglass illusion is achieved via the extra volume added to the shoulders and upper torso.
Conclusion
Now that you know what a bolero jacket is, you can play with a variety of prints, colors combos, and embellishments to dress up your outfits in the best possible way. This little piece of clothing will definitely be a highly versatile addition to your wardrobe.