Black jeans are a garment mostly regarded by people as being too basic. Rather than believing that everyone owns a pair of black jeans, you can think of it as one of the most powerful style staples in your wardrobe packed with versatility and style. Learning what to wear with women's black jeans in creative ways will help you banish the notion that it is just a mundane clothing staple.
Black denims are a wardrobe staple no fashion savvy woman can live without. Whether you are scrolling your social media feed or going for a casual walk, you can spot women wearing black jeans in various styles.
When it comes to building outfits, black jeans let you unleash your creativity and let you portray your personal style with confidence. Your confusions regarding what shirt to wear with black jeans for females or what shoes to wear with black jeans are put to an end with our detailed outfit guide.
What To Expect In This Article?
Building Black Jeans Outfits for Women: Taking Your Style Game Up a Notch
Since its invention, jeans have been a significant part of all 20th-century fashion eras. Their design evolved from a loose-fitting style to a skinny style, although the choice of fit is diverse in contemporary fashion.
There were variations in the colors of the jeans, as well as different washes such as Stonewash and Acid-Wash. Now it is easily available in multiple styles like ripped, faded, or stonewashed to cater to your style needs.
Every woman has at least one style of black jeans in her wardrobe, which she can use to build interesting outfits in many styles.
It is always good to have clothing essentials in neutral hues to make outfit pairing easier. The color of black jeans gives you an ample choice to partner them with other staples. Even edgy items with a distinct style, such as capes, satin tops, and asymmetrical jackets, can be easily paired with a nice pair of denim in black.
Let's answer the question, what to wear with black jeans for women by categorizing different clothing items.
What Shirts to Wear with Black Jeans for Women?
Adaptability is the forte of black denim so that you can team it up with any kind of t-shirt, dress shirt, fashionable blouse, and sweatshirt. Neutral colors like white, beige, and grey work well with black jeans, but you can also use different colored shirts like yellow, red, blue, maroon, brown, and purple.
Black jeans and a dress shirt combination looks sleek, so you can pair your jeans with shirts in different colors and patterns. Some examples are a blue striped dress shirt, a pink and black floral print dress shirt, or the plain white dress shirt.
With our outfit suggestions in this blog, you can see what tops to wear with black jeans. As black emphasizes the colors it is paired with, it is a great way to draw attention to that chic new top that you just bought.
If you have black stone wash jeans, you may want to know what to wear with stonewash jeans to bring up the style quotient. Solid colored tops, like oversized red, mustard, and navy sweaters and poncho tops, white fitted t-shirts, and flattering tops like tunics and peplums in dark colors go well with black stonewash jeans.
What Jackets to Wear with Black Jeans for Women?
Quite often, women find it hard to pair their jackets with their outfits. But when it comes to black jeans, teaming up a variety of jackets becomes a breeze. Whether you own a neutral shaded long coat, a neon softshell jacket, or own one of the best leather jackets for women, black jeans go with all seamlessly.
What Shoes To Wear With Black Jeans for Women?
Black denim is a blessing for fashion-loving divas who love to flaunt their footwear collection. While looking voguish itself, black jeans will enhance the look of your stylish boots, sandals, pumps, and flats even more.
Black heeled sandals and peep-toe pumps look absolutely stylish with black jeans. You can also wear neutral-colored long boots, ankle boots, knee-high boots, and canvas shoes with them. Also, black jeans with high tops are a go-to combination for a street-style statement.
When in doubt, simply go for black belle flats with your jeans for a simple, no-fail look.
Black Jeans Outfit ideas to Cater to Every Fashionista's Style Needs
Below are some trendy women's black jeans outfit suggestions covering various styles so that you can easily pick a style for yourself the next time you need to get ready.
What to Wear with Black Jeans in Street Style?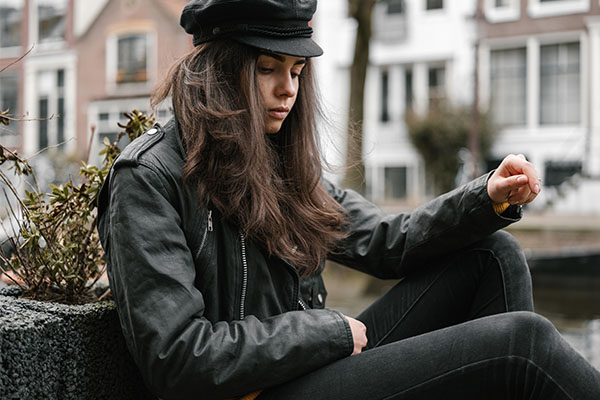 Let's talk about the style that dominates contemporary fashion for all ages, the Street Style!
Emerging from the streets of urban centers worldwide, street style is a fashion style followed by all these days. Nailing the contemporary street style with black jeans is easier than you think. Here are a few black jeans and street-style outfits for women.
Black Motorcycle Jacket with Black Jeans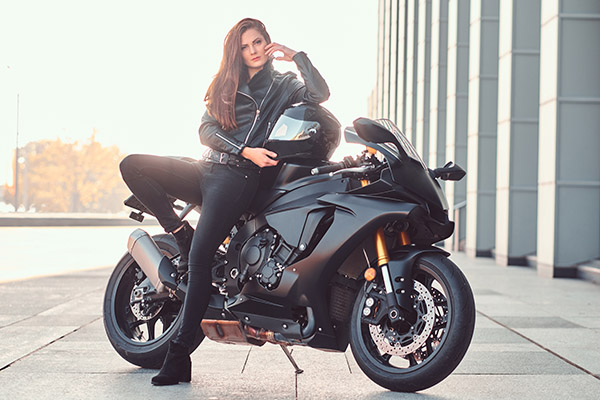 An all black look never disappoints, so try wearing a women's black shirt and jeans to woo the onlookers. You will be amazed at how effortless it is to put this glamorous look together. Team up a black t-shirt and slim-fit jeans in black. Use one of the best women's motorcycle jackets to layer this outfit, preferably a black biker jacket. Add a pair of black wedge heels to this look, and round it off with a stylish leather backpack.
Styling the Black Jeans With a Plaid Shirt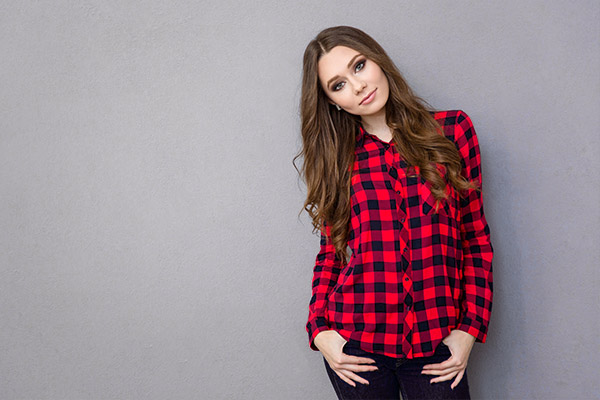 Build a chic, figure-flattering look with a white fitted tank top and black ripped jeans. Layer a red and black plaid shirt over it for a stylish touch. You can leave the shirt unbuttoned or secure it with a swanky belt. Enhance the look of this outfit with black platform heeled boots, a quilted shoulder bag, and a loose curls hairstyle.
Simple and Chic With a Brown Tank Top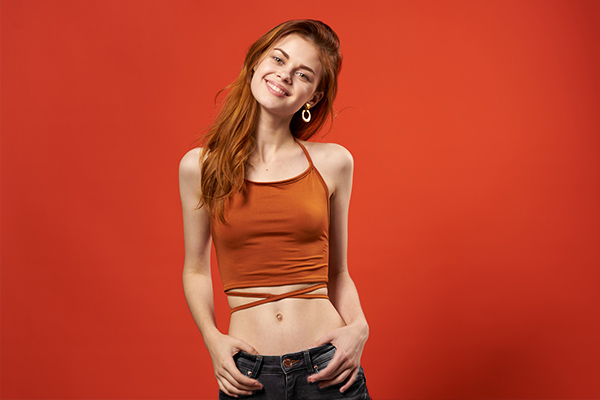 Got a pair of modern ankle length black jeans? Create a classy brown outfit with it to give a visual treat to the onlookers. Pair a brown tank top with black ankle length denim pants. Add a pair of brown t-strap heels to this outfit. In the end, complete your look with a matching beanie and a bling statement necklace.
Oozing Out Style With Black Jeans and a Cropped Jacket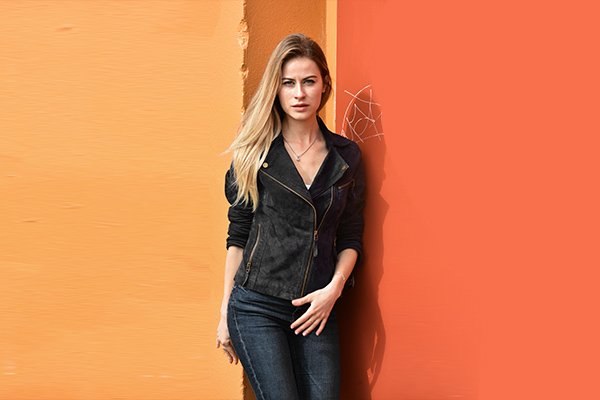 Cropped jackets are trending high these days. They make you look like a gorgeous fashionista. They are the first item you think of when deciding what to wear with black skinny jeans for women to look chic. Pair a bold red t-shirt along with a cropped leather jacket and skinny jeans. Balance the gorgeous look with black Chelsea boots and a chic flap bag.
Sassy Look With a T-shirt Dress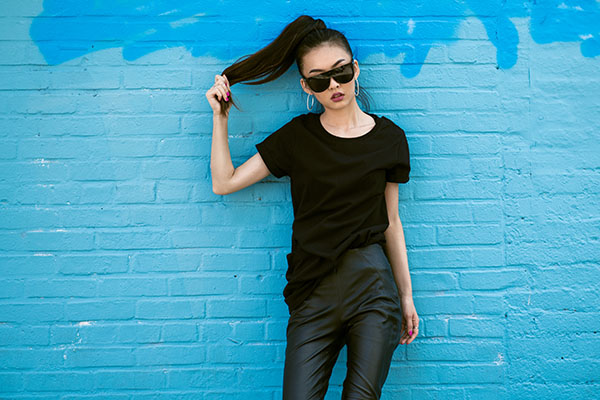 Just like sleek leather pants, black jeans also go well with thigh high boots. You can simply don a t-shirt dress with a trendy belt along with black washed skinny jeans. Now all you need to do is put on your thigh high boots, and you are all set to inspire everyone around.
What to Wear with Black Jeans in Smart Casual Style?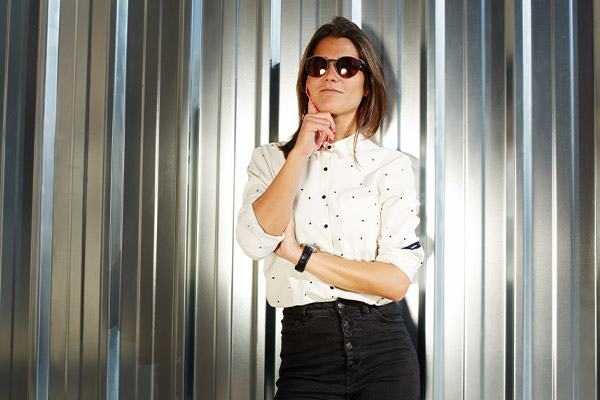 Black jeans are also considered a smart casual staple for women, thanks to their dark color and neat look. Beware: don't wear ripped style jeans to an occasion that calls for a smart casual dress code.
Always go for an appropriate slim fit or straight dark jeans. This rule also goes with the business casual style, where the level of formality goes further up. Various black jeans and dress shirt combos can be styled with blazers and cardigans for a neat appearance.
Elegant Look With a Blazer and Black Jeans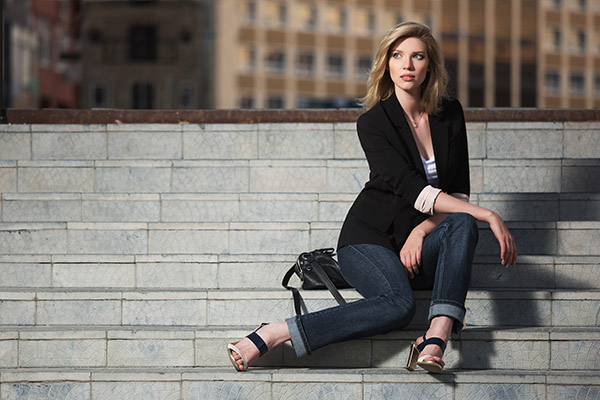 To create a graceful yet stunning all black outfit, pair a black blazer with black slim fit jeans and a black v-neck t-shirt. A black leather tote bag and a stylish pair of sunglasses will add more elegance to this smart casual women's black jeans outfit.
White Shirt with Black Straight Jeans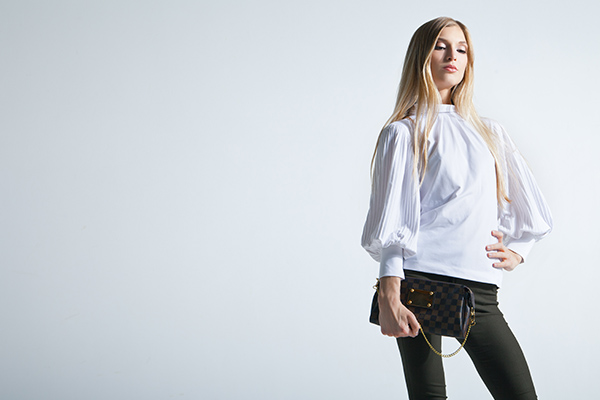 Combine a white button down shirt with black straight jeans for a fabulous look. Elevate the dressiness of this outfit with black pumps and an elegant black clutch.
What to Wear with Black Jeans in Casual Style?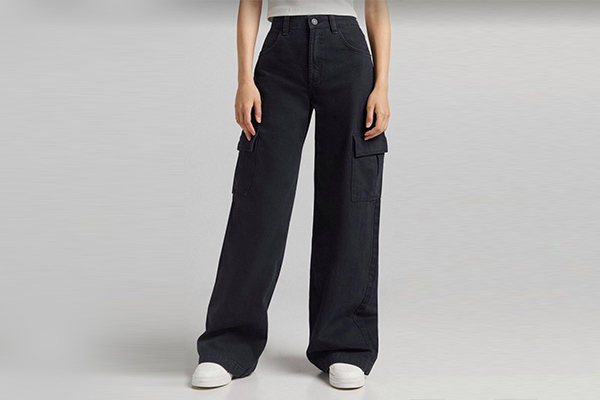 While we have talked about the more dressed up styling of black jeans up till now, that doesn't mean it can't be dressed down. Baggy style, distressed, faded and flared black jeans are certainly suitable for casual wear. Here is how you can rock the black jeans in the laid back, weekend style.
Nailing the Denim on Denim Look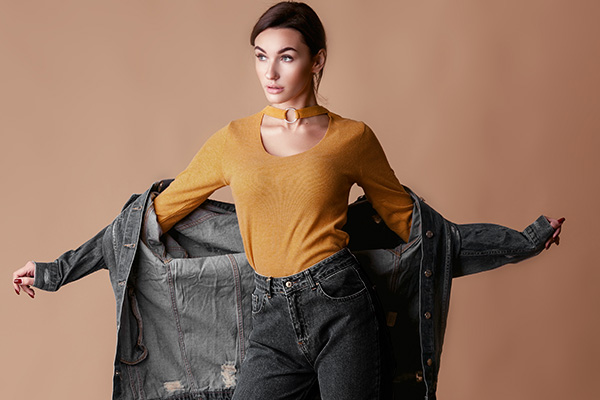 Pairing a white tank top with a blue denim jacket and faded black jeans is one of the most comfy outfits. Besides being effortless and comfortable, the denim jacket and jeans look can be dressed up with accessories like a neck chain, metal bracelets, peep-toed heels, and a stylish handbag.
Warm and Cozy Look with Sweater and Black Jeans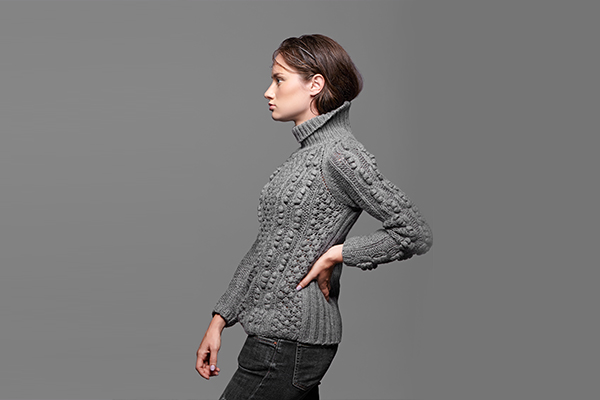 Create a relaxed ripped jeans outfit by teaming up a cream sweater and ripped black jeans with filled holes. You can go for those excessively torn ones with this outfit for a true laid-back feel. Finish the look with a messy bun hairstyle and black ballet flat shoes.
Elevating the Style with a Burgundy Jacket and Jeans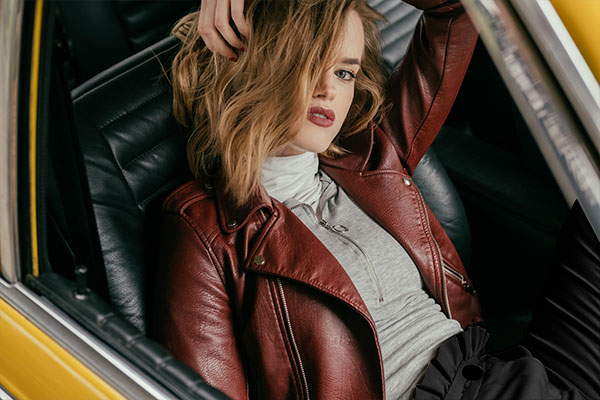 Talk about a perfect casually stylish women's black jeans outfit for fall and winter. We suggest you a fabulous combination of a white and black striped t-shirt, black stonewashed jeans in a slightly loose fit, and a burgundy leather jacket. Brown cowboy boots will round off this look perfectly.
What to Wear with Black Jeans in Hipster Style?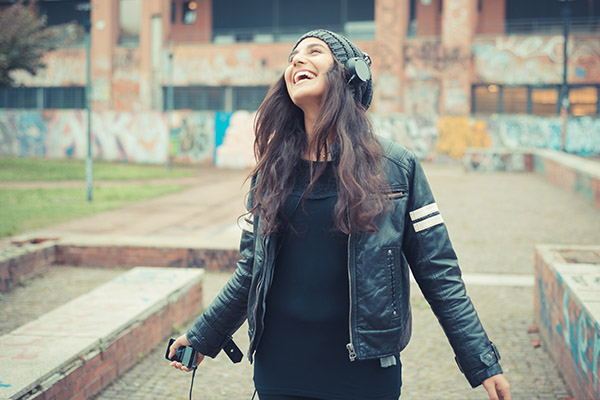 Modern hipster girls choose specific kinds of clothing and accessories for their looks. For instance, women's leather jackets, flannel shirts, oversized hoodies, high-heeled boots, and big round glasses, to name a few. For the fashion-savvy girls looking for a female hipster look with black jeans, here are two of the most effortless styles for your inspiration.
Off Shoulder Top and Fedora with Black Jeans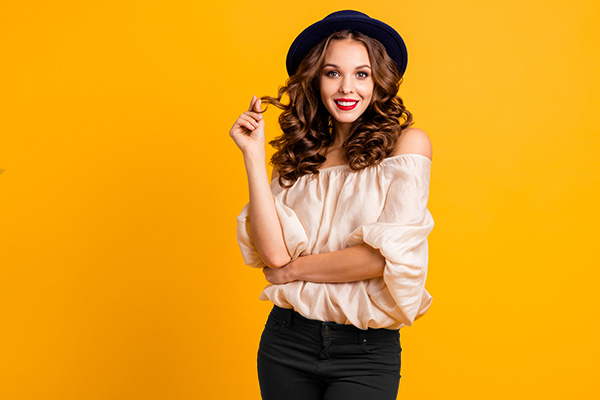 Recreate outfits with tops in different styles with black jeans, and make the look authentic with proper accessories. For instance, a fedora is considered an iconic hipster hat. Wear your black jeans with an off-shoulder top, and accessorize the ensemble with a choker necklace, and a brown fedora hat. If you want to know what shoes to wear with women's black jeans for a hipster style look, just go with black ankle boots.
Black Jeans with an Oversized Hoodie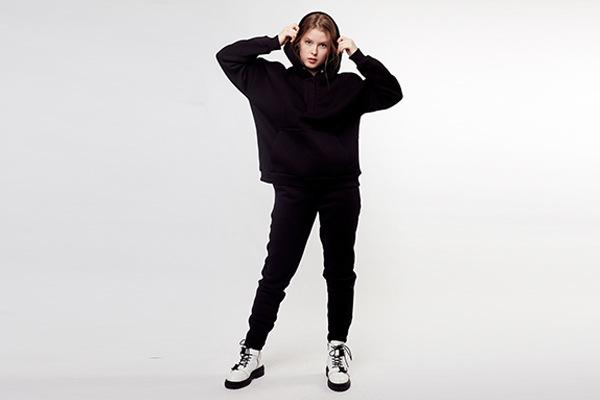 Skinny black jeans and a long t-shirt paired with an oversized hoodie is an exceptionally trendy outfit for girls. Wear high-heeled combat boots and thick-rimmed glasses for a true hipster touch.
What to Wear with Black Jeans in Modest Fashion?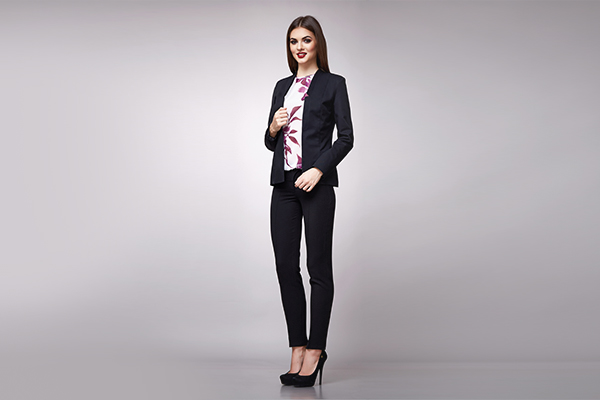 If you are into modest fashion, use your black jeans to create graceful looks that will get you a lot of genuine compliments.
Drop-Dead Gorgeous with a Mini Dress and Black Jeans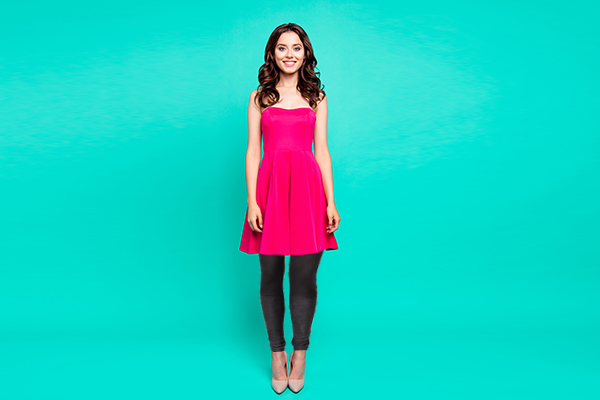 Build an envy-worthy outfit with a light pink flared mini dress and black straight jeans. Grab your petite leather jacket to layer this outfit. The footwear option that is the most appropriate for this look is a pair of black converse sneakers. Bring up the flair by pairing a stylish frame bag with this outfit.
A Classy Poncho Top Paired with Black Jeans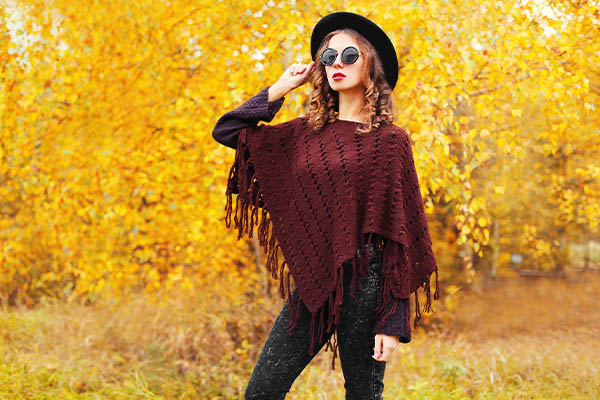 If you are looking for different types of tops to wear with black jeans, poncho tops are a good option. They are a very classy way to portray style. You can look modest yet trendy by wearing a grey poncho top with black slim-fit jeans.
If the poncho top is not something you think you can pull off, go for a basic t-shirt, leather jacket and scarf instead. Wrap the scarf in a way that falls gracefully on your upper body. Finish the look with nude kitten heels and a crossbody bag. 
What to Wear with Black Jeans if You are a VSCO Girl?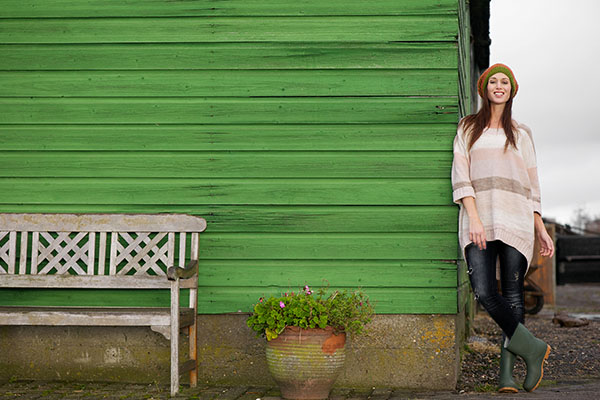 Are you interested in the raging VSCO girl trend on social media? The aesthetic is named after an image editing app. VSCO girls wear a lot of pastels, and oversized t-shirts and use particular elements to help distinguish them from others, like cropped tops, hydro flasks, and crocs.
Cropped T-shirt with Black Jeans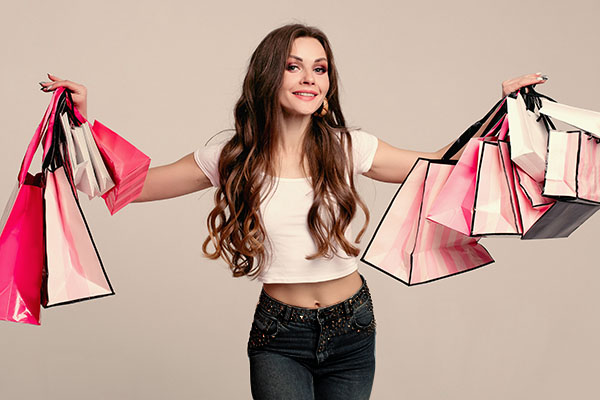 Pair a pastel pink cropped t-shirt along with ripped black jeans for a quick VSCO style outfit. Add unique touches to your look with stylish sunglasses, necklace, and hooped earrings.
What to Wear with Black Jeans in Baddie Style?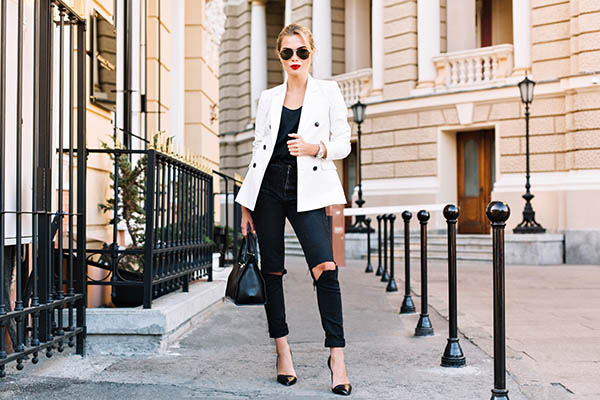 One more subculture trending these days heavily on social media is the baddie style. Baddie girls personify glamor and current fashion trends. This style, too, has specific essentials that are adopted by baddie girls like denim shorts, ripped jeans, matching two pieces, sneakers, and false lashes. Here are some outfit suggestions for women who wish to adopt the baddie style with black jeans.
Glam Up With Black Jeans and Hoodie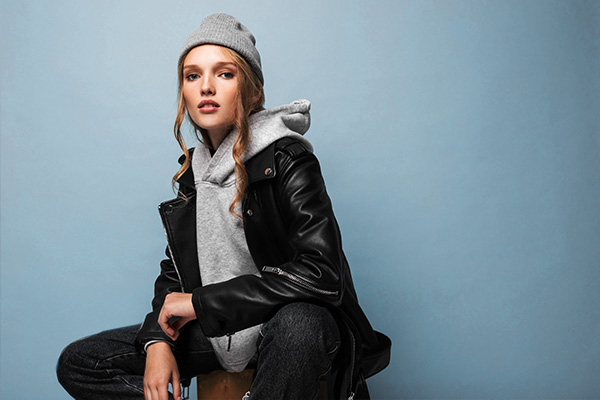 Build a distinctive baddie outfit by pairing an oversized hoodie with high waisted ripped black jeans. Add the glamor to this look with big hooped earrings, a sleek bun hairstyle, and the classic baddie makeup look with thick brows, glossy lips, and big eyelashes. Wear stylish t-strap sandals or sneakers to round off the look authentically.
Bootcut Jeans with a Ruffled Top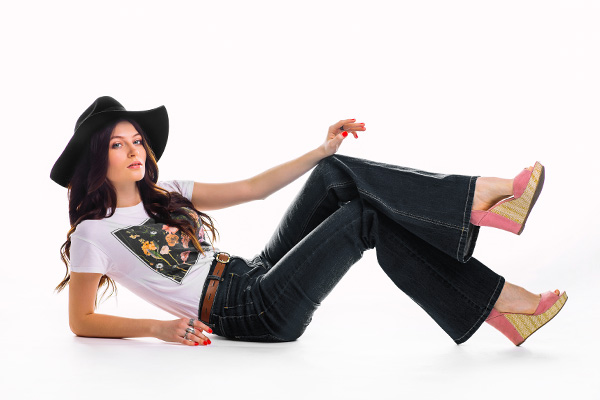 Another quintessential baddie look can be created with a stylish ruffled off shoulder top and black bootcut jeans. Introduce a pair of suede ankle boots into the equation for a chic look that is hard to ignore. Make sure your hair and makeup game are on point.
Takeaway
Black denims are a wardrobe mainstay, but the valid question is, what to wear with women's black jeans? To sum up, building outfits with black jeans is definitely a no-fail task due to its versatility. The fact that it looks good on every body type adds to its qualities, making it a preferred choice of most women.
Our black jeans outfit ideas will surely be an inspiration for you. Follow them whenever you need to get ready to make a particular style statement, and let your girl pals do the same by sharing this blog with them.