Leather jackets are meant to make a statement; they have other jobs apart from keeping you warm and comfortable. In simpler terms, leather jackets enhance your personality and serve as an extension of yourself. Despite being such a significant part of your wardrobe, quality leather jackets for women are incredibly difficult to find. More so, they are exceptionally difficult to style.
Of course, there are a couple of tricks that can be applied to make a leather jacket work but there are so many technicalities that must be considered. These essential considerations include the frame and height of your body, the color and material of the jacket, and the occasion you're dressing up for.
Petite frames are some of the most challenging body types to style. Some would argue that they are the easiest considering they're thinner and fit the stereotypical beauty standards, but that's not entirely the case.
What are petite leather jackets?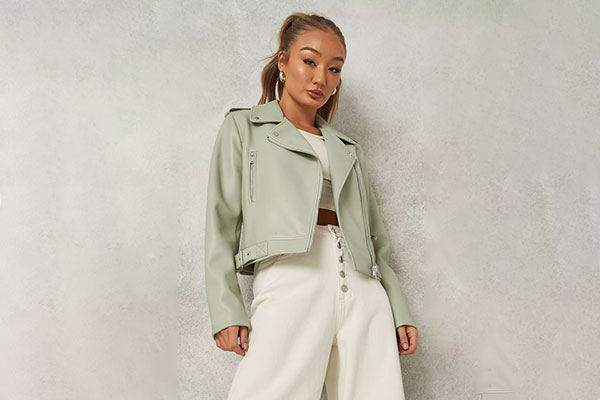 Before we go on to explore the ways to style a petite leather jacket, we must first discuss what petite leather jackets really are. Typically, a petite leather jacket is smaller in size and slightly more fitted than the norm. It comes with an exaggerated slim fit cutting that is ideal for petite body types.
Anyone below 5 feet and 4 inches can be considered petite. Basically, these jackets are designed for short-heightened individuals; to suit their standard size. Such leather jackets are not supposed to be wide-framed or ill-fitted from the arms. Simply put, petite leather jackets are made to fit smaller frames. You can always find XS or smaller sizes – these are the ones made for petite body types.
The purpose behind petite leather jackets is to appear lean and fit; and for that, you must know how to style them perfectly. And the good news is that you can find qualitative petite leather jackets from many companies like The Jacket Maker!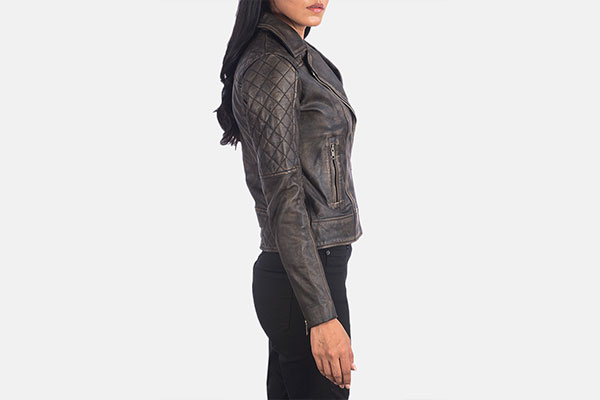 The Jacket Maker is the one place where you can find the best leather jackets for women and extra petite frames. They specialize in offering bespoke leather jackets, ensuring their inclusivity and reliability.
Generally speaking, leather jackets come in all shapes and sizes but not everyone is capable of carrying them well. But you don't have to worry about that since we will guide you in this article and teach you how to style a petite leather jacket like a professional.
Ten Ways to Style a Petite Leather Jacket
Let's get on with the list; the actual reason you clicked on this article!
Pair A Neutral Petite Leather Jacket with a Striped Tee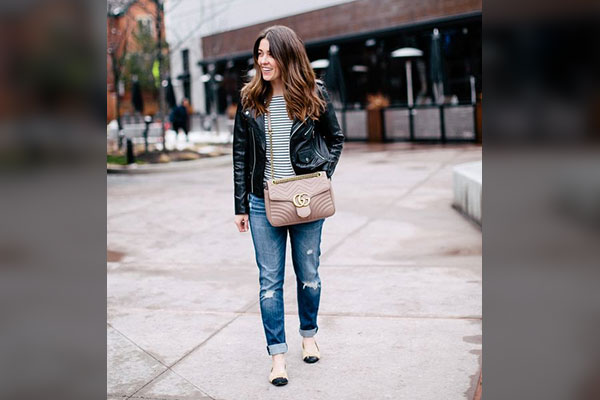 This is the easiest way to look tall as well as lean! This is an easy look to achieve; all you need is a basic striped tee and pair it with either a brown or a black leather jacket that will allow you to achieve more of a neutral look. You can wear a similar shade of jeans along with it and complete the look with pointed heels.
A Neutral Petite Leather Jacket with a V Neck Blouse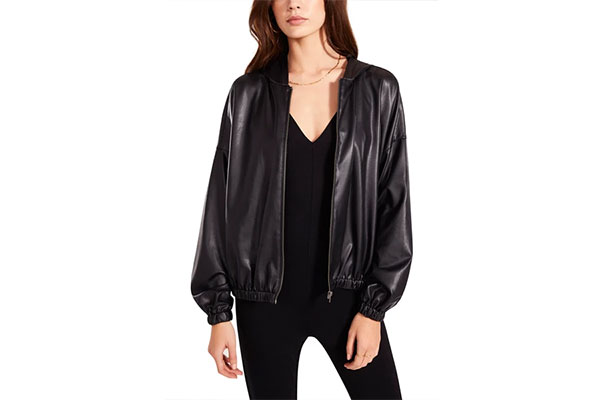 There is no better way to dress business casual than by wearing a basic white V-neck blouse with a petite brown leather jacket. You can even wear a printed blouse if you like. Also, the best way to style this look is by wearing ankle jeans and adding a hint of print by wearing either printed heels or by carrying a leather printed shoulder bag.
Black leather with a Flared Dress
If you're going for a sophisticated look, wear a blush pink mini dress with a petite leather jacket, preferably black. You can go for suede ankle strap rounded toe heels with this outfit to make it more feminine and stylish. Always wear the same colored shoes as your jacket. You may also wear a black leather trench coat with a mini dress; this is an interesting way to look tall in a trench coat considering the petite frame and short height.
White Tee, Skinny Jean,s and a Black Petite Leather Jacket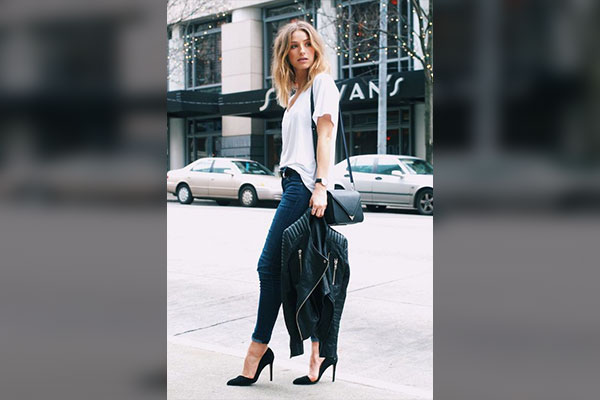 This is yet another smart and casual outfit that you can wear while you're out with friends. Simply pair a white tee with a petite black colored leather jacket with a matter slim cut. You can tuck in the t-shirt in blue skinny jeans, preferably ripped and cuffed. Keep it stylish by wearing pointed-toe flats with it.
Ribbed Sweater with a Petite Leather Jacket
This is a cozy outfit that can be worn on business outings as well. You can wear a grey knit sweater with a black leather jacket. Accessorize it with a knit scarf and ankle boots. Also, make sure you wear cuffed and ripped jeans to complete the look.
Striped Dress and a Black Petite Jacket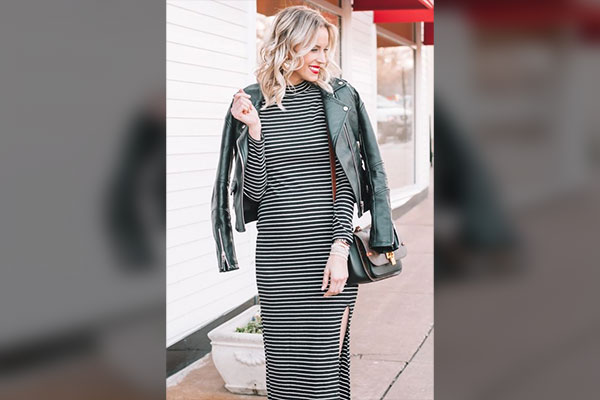 Mini dresses look great on petite frames. Always carry a striped dress with a black petite leather jacket as it makes you look taller than usual. You can add a scarf and wear it with neutral grey suede ankle boots.
All Black Outfit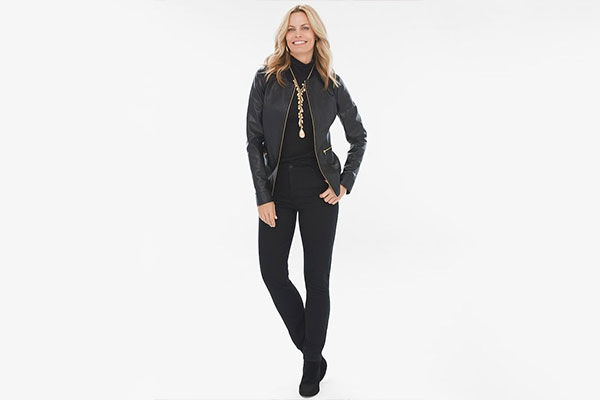 You wear black every time you feel you have nothing to wear. It makes you look tall, ladylike, and exceptionally beautiful. Pair a petite black leather jacket with black skinny jeans and a black tee. You can wear a brown platform heel but it's better to pick a black one to complete the look. Accessorize it with a statement necklace or your favorite wristbands or a watch.
Wrap Dress and a Black Petite Leather Jacket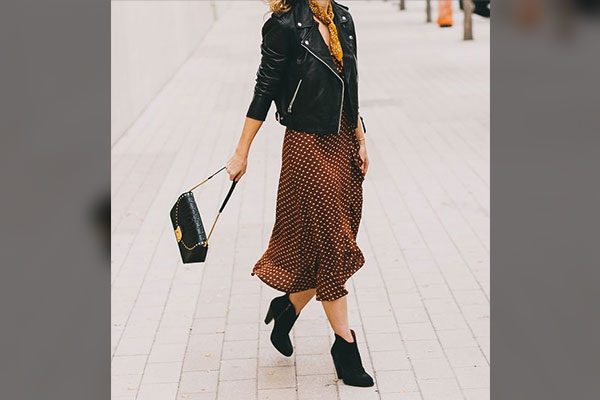 If you want a revenge dress, this is the one to go for! Wear a lighter-toned grey fitted wrap dress, go specifically for a dress with an asymmetrical design. Pair this dress with a petite black leather jacket. Always complete the look with matching ankle boots.
Floral Swing Dress with A Petite Black Leather Jacket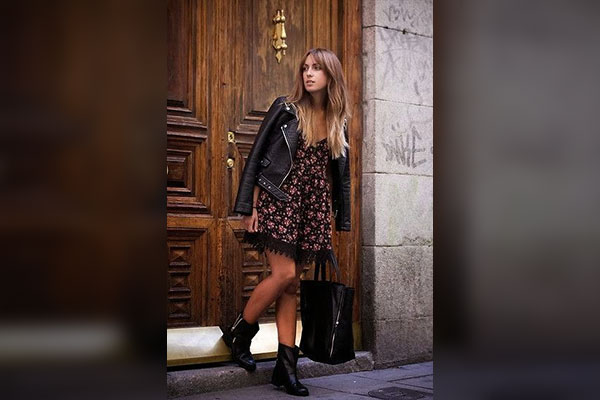 Black color is perfect for all moods and occasions! Give an edge yet girly vibe by wearing a breezy and colorful dress with a petite black leather jacket. You can either wear kitten heels with this dress or black suede Chelsea boots.
Bright Neon Tee with Mom Jean and Petite Leather Jacket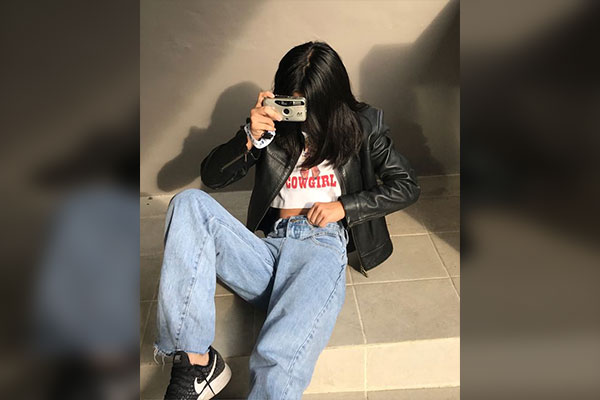 This is a rather youthful and upright outfit; the kind of dress you need to cheer you up on a bad morning. Late to class? Go for the ultimate street fashion by grabbing blue mom jeans that move perfectly up your waistline and pair it with white converse and a neon printed tee and a black leather jacket.
Where to find XS petite leather jacket
You can find a good quality XS petite leather jacket from any store. However, if you want a bespoke leather jacket – usually the right way to dress petite frames – go to The Jacket Maker!
What length of leather jacket is for a petite frame?
Usually, individuals with heights below 5 feet and 4 inches are the ones with petite frames. They usually go for small or extra small sizes. Furthermore, it's better for them to get bespoke or customized leather jackets as the fitting appears more natural and more appropriate. 
In Conclusion
You can style petite leather jackets in multiple ways. You can dress down by wearing it with mom jeans or dress for business by wearing it with a plain white collar shirt. It's all about what you're feeling on that day and where you intend to go. And always remember, black can never go wrong!