If you see business casual as your workplace dress code and find it hard to decipher what this means, you're in the right place. Figuring out dress codes can be tricky, especially when adding a work environment to the mix. Your corporate attire decides how your boss and colleagues see you and set an impression that is hard to forget.
Additionally, if you're able to crack the code to your workplace dress code, then getting ready from Monday-Friday won't be a problem; you can easily rock a classy work wardrobe. So, if you want to know more about business casual outfits with inspiration, then we're here to help you all the way. Ultimately speeding up your morning routine and upgrading your work wardrobe.
Here is our dress code guide for business casual outfit ideas for females. Let's go!
What To Expect In This Article?
What is Business Casual?
While you don't often see business and casual in the same line, the modern need to break the shackles of conventional formal attire has led to the invention of a classic business casual dress code.
Although the term can vary between different workplaces, the main idea is to remain smart and crisp without seeming overly formal so that you can work in more relaxed attire. Consequently, you don't have to wear a full black suit, but still, aim for a refined look so that you don't seem disinterested or too informal.
Seasonal Business Casual Attire
We will show you different outfit ideas where you can mix tailored and traditional pieces with more easy-going and fashion-forward items. But, first, let's help you master some top women's work outfits:
Summer + Spring Business Casual Attire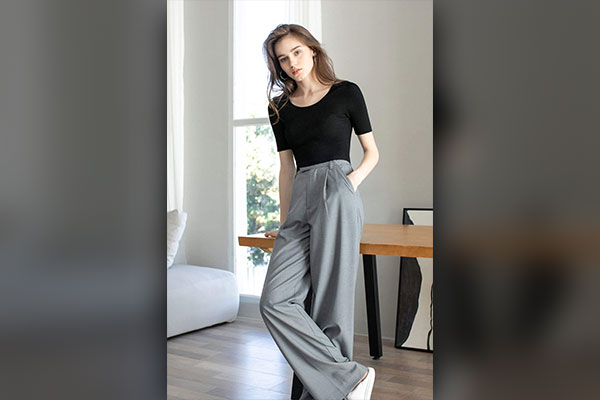 Putting together a classic summer business attire can be tricky because it's hard to beat the heat while pulling off an appropriate appearance for the office. However, you still have some excellent outfit ideas if you look into them.
This season, go for light, breathable materials like linen, cotton, or silk in softer colors like pastels for a fresh yet polished appearance. For example, pair a powdered blue button-down or top with dark blue pants or a skirt and sleek blue heels. Avoid going for slim-fitting jeans or pants because this can generate heat and make you feel uncomfortable.
You can also inculcate some color with a shiny silk scarf with contrasting colors like forest green or burgundy, or go for some bold prints and patterns to pay tribute to the lovely spring outfits for women. Finally, finish your look with a smartwatch, and put on some light, minimal makeup to seal the deal.
Winter + Autumn Business Casual Attire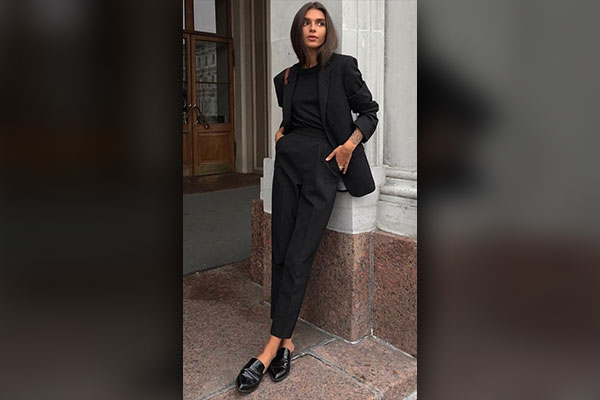 These are always fun to style because you can pair them with so many different fabrics and textures and also add some layers for more depth and style. Make sure you choose warm tones, like long sleeves and knitted sweaters, to make you feel warmer.
For example, pair a beige turtleneck top with black pants or a sleeveless dress, and put over a coat or blazer to rock a classic, timeless fall office outfit. You can also add some fun lament to your outfit by teaming up a printed top with a monochrome blazer and pants to achieve a winning compromise between formal and casual.
If you're not comfortable with dark, bold colors and patterns, stick to neutrals and pastels, which are all the rage in the fashion industry. Accessorize with matching scarfs, mufflers, and a statement chain, and complete your look with nude makeup to rock a classic office winter work outfit.
Business Casual Outfits
Now that we've discussed the seasonal attires let's go over the outfit items separately to give you a clearer idea of what falls under business casual. Here are some cute outfits for women:
Women Business Casual Tops
Shirts / Blouses
There are two main styles for business casual shirts: quintessential cotton wear or more ladylike silk or breathable synthetic design. If you opt for a cotton shirt, select colors like white or pastel blue and keep the general look overpowered with soft and pastel colors. On the other hand, if you pick a silk shirt, do not shy away from adding a pop of color or some catchy prints and patterns to elevate your outfits.
If you don't want to stick to everyday shirts; then, we have some excellent blouse outfit ideas. For example, you can go for keyhole blouses, button-downs, and tank tops. Pair these with a timeless matching skirt and blouses to dress up your outfit. If your shirt is all sheer, wear a camisole underneath.
Jackets / Sweaters
Even if you have quality heaters inside, opt for appropriate jackets for the distance to and from work because they immediately elevate the outfit and give a polished finish. Go for a classic leather jacket or a bright navy blazer and pair it with a simple white shirt and matching pants to flaunt a polished, smart, and elegant look.
If you're a sweater kind of gal, go for sweaters because they prove warmth, but they also appear smart and add a fun element to your wardrobe. You can go for primary fashion colors with sweaters and contrast with intricate designs and patterns to add depth. Then, pair them with matching pants or skirts as tops, or layer them over shirts and dresses.
Business Casual Bottoms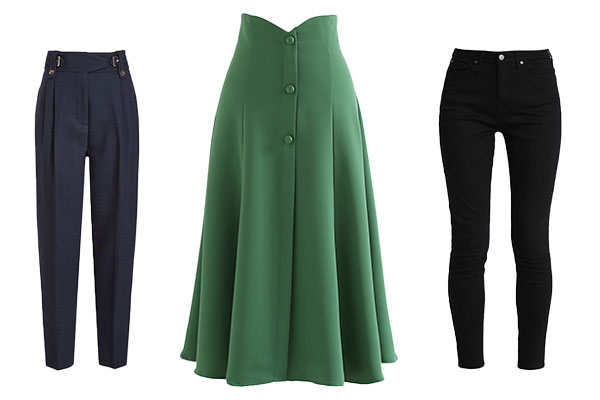 When it comes to bottoms, women have a plethora of options to choose from.
Pants
The first is the classic pants, which can be wide-leg, straight, cropped, or even slim, depending on your style and climate. Next, choose a pair of trousers in a neutral shade like brown, black, or tan, or you can go for darker colors like burgundy or navy with a simple print.
Skirts
Next, try incorporating some classy skirts into your attire to make your wardrobe more chic and versatile and nail the corporate look in complete style. When picking a skirt style, go for a well-fitted, black, or neutral pencil skirt and pair it with any white, black, or printed top. Make sure the length is according to the dress codes, and there is an appropriate slit as well.
Jeans
Against all odds, jeans also make it to the business casual bottoms as long as you consider an appropriate color and make sure they are well-polished and neat. Select slim-fitting or skinny style black or dark-wash jeans and team them with a bright top, a classy overcoat, and elegant shoes. Ensure your jeans don't have any rips or frayed hems because that will look untidy and not corporate appropriate.
Business Casual Dresses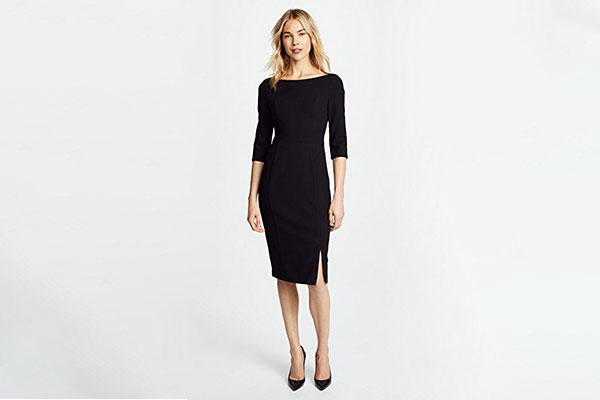 Although most women prefer pants and skirts, a dress can add a lovely feminine diversity to your wardrobe to make you stand out. Go for an A-line, pencil, or wrap design that fits your body well and adheres to the dress code guidelines.
For example, you can go for a light grey sheath dress with simple patterns to add more depth and pair it with black pumps or heels for a taller appearance. Team this up with a light cardigan or a statement necklace to make it more exciting and show more of your style. You can even go for a monochrome black dress that will speak volumes and is a winner amongst the classy all-black work outfits.
Business Casual Shoes
You can choose from various options regarding business casual shoes, including stylish kitten or block heels, fantastic yet comfortable loafers, brogues, ballet shoes, and classic vintage boots ideal for winter.
Whichever you pick, make sure they're comfortable and of appropriate height, especially for interviews and busy days where you have to wait for hours and walk-in confidence. Avoid going for embellishments or studs because they can look over the top, and even if you do, make sure they are minimal and paired with a relaxed outfit.
Important Tips to Remember
Invest in affordable and quality basics that can be worn all year round.
Make sure the hemline is around the knee, and the neckline is not too deep
Go for neutral colors like black, blue, white, and navy, and contrast them with patterns or a vibrant accessory.
Complete your look with low heels, dressy flats, and delicate accessories.
Avoid too casual like ripped denim jeans or t-shirts, and don't go too formal with a full suit.
FAQs
How many work outfits should I have?
Instead of going for whole outfits, invest in 2-3 pants and different shirts and blouses and mix and match to create different outfits. Also, buy 2-3 blazers in neutrals and matching shoes to be more versatile. 
How to dress like a businesswoman?
Go for intelligent, crisp, well-ironed fabric and monochromes like black, navy, white and beige. Choose dress pants or a pencil skirt, pair these with heels or boots and accessorize with a smartwatch and bag. Avoid ripped jeans, casual shirts, and basic flats. 
What to wear to work, women?
Adhere to dress codes. If it's strictly formal, go for suits, dress pants, and shirts. If it's business casual, choose button-downs, blouses, skirts, and pants. You can add smart accessories and light jewelry to elevate the look. 
The Bottom Line
The Business world is changing, and so is the fashion associated with it, so you must know the basics and style the outfits appropriately. Consider the techniques and tips mentioned above to create your aesthetic business casual attire and flaunt innovative looks every day.
Make sure you comply with the rules and find a nice balance between formal and casual when selecting an outfit. Incorporate some fun yet elegant accessories for a more refined look, and stick to the basic fabrics and colors. Good luck styling!