The continuously evolving women's fashion trends have always been shaping formal looks based on certain etiquette as well as the culture of the time. Quite a blur are the days when there were strict rules regarding every aspect of what women could wear in a corporate environment. Picking up on fashion trends, we can clearly see that office wear is more stylish than ever. The modern trendy corporate attire is all the rage as more and more workplaces are allowing a business casual dress code.  
The contemporary corporate outfits allow women to express themselves with their clothes while looking tidy, professional, and presentable. Women of today can stay comfortable and still look sharp as they juggle their personal and professional responsibilities. Women's business casual dressing and modern style boost their confidence even more. In its true sense, modern corporate attire equals dressing for success.
If you have landed on this blog, chances are you have already heard the buzzword "modern corporate attire." Read on to know how The Jacket Maker decodes the business casual for women's style and what suggestions and business casual outfit ideas for women we have for you to nail this look.
What To Expect In This Article?
What is Modern Trendy Corporate Attire for Women?
Modern office wear for women leans towards a relaxed vibe, but that doesn't mean you show up at work wearing ripped jeans or sneakers. The key to nailing this trendy look is to maintain a neat appearance while wearing pieces that are voguish as well as comfortable. Dress shirts, blazers, pants, skirts, and elegant patterns in neutral colors are usually used to create these ensembles.
Reflect Your Personal Style with Women's Business Casual Attire
One of the best things about dressing up in women's business casual attire is that it lets you express your own style. It is all about striking a balance between your line of work, professional demeanor, and your dressing sense.
If you are an executive, you need to inspire those under you and keep that assertive bearing. But, if you are a member of a team, you need to portray your reliability and seriousness towards work. Women in the creative fields can portray their artistic flair via their business casual clothes. Or, if you are going for an interview, you need to impress the recruiter and reveal your value to them.
To sum up, every trendy corporate outfit of yours has an undertone of your personal style.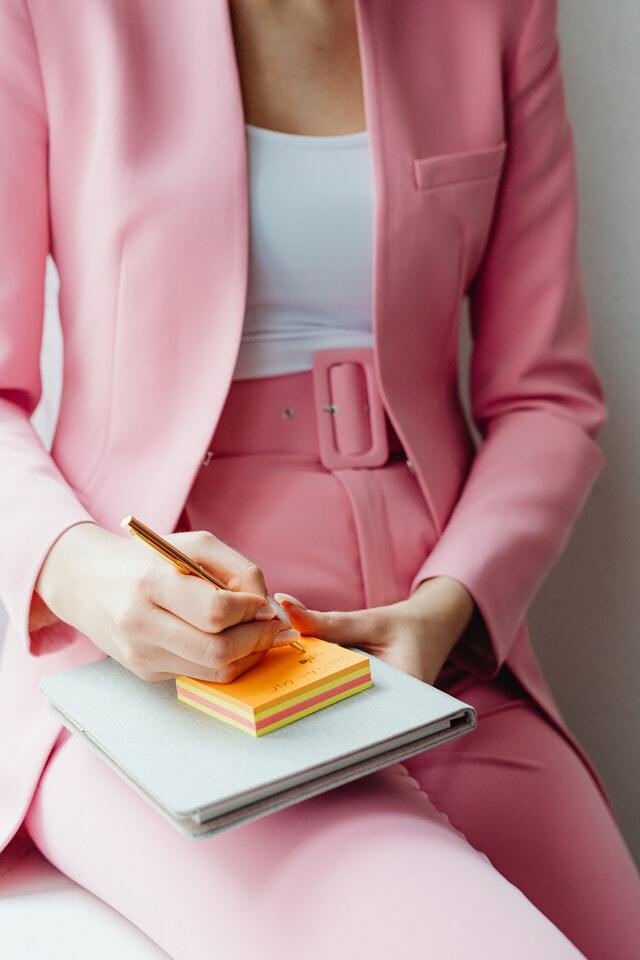 To decide what you can wear to work, the first thing to take a look at is the organization's written dress code. If your's don't have any, don't get confused while trying to decode the women's business attire. Usually, observing the employees on your interview day will give you a fair idea of company culture, and the dressing do's and don'ts.
For instance, women may be wearing jeans, but only dark, straight-leg ones. After some initial hints, you can unleash your fashion creativity to come up with trendy looks that abide by the dress code of your organization be it formal, business, or smart casual dress code for women
If you are already an employee and have the liberty to switch to fashion-forward office wear for women, consider building your wardrobe with the basics mentioned below.
Wardrobe Basics for Women's Modern Trendy Corporate Attire
Structured is the key! Make sure whatever you wear, from shirts, blouses, jeans to jackets, have a structure for that neat look.
Avoid fabrics such a rayon that may hamper the well-dressed appearance. Instead, go for worsted wool, gabardine, silk blends, and linen. You may experiment with twill and corduroy as well.
The colors hold much importance in work clothes for women. Sticking to neutrals like white, beige, brown, grey, and navy is usually the norm. You can buy some shirts and tops in pastel colors and occasionally wear a pastel pink or maroon leather blazer for a change. For a powerful style statement, don a yellow women's leather biker jacket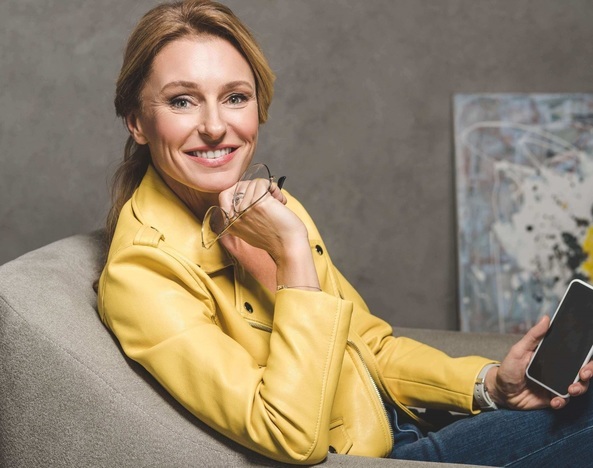 Make sure that if you choose to wear textures and patterns, they are moderate. Shiny, sheer fabrics, and vivid colors are to be avoided.
Go for business casual dresses that are tailored and have an appropriate length.
We suggest opting for long-sleeved blouses and shirts. Also, your pants should reach your ankle.
Jeans are the epitome of comfort, and there is nothing better if you can also wear them with your professional clothing. However, only trendy style jeans that go with this style are straight leg or slim fit jeans in dark colors.
Business casual skirts are never higher than the top of the knee cap. They must allow easy movement.
The most appropriate footwear with business professional attire are pumps. Flat, kitten heeled, or high heeled, match them with your bag for a neat, harmonious look.
Corporate Attire 2021: Professional Outfits for Women
To demystify the modern corporate attire, here are some great outfit suggestions to help you nail this style with absolute confidence.
Grey Trench Coat Outfit
Certain garments give an authentic professional look. The trench coat is one of them. Just a simple black dress shirt and black jeans outfit can be elevated with a grey trench coat. Opt for a black belt, black ankle boots, and a low bun hairstyle to finish off the look.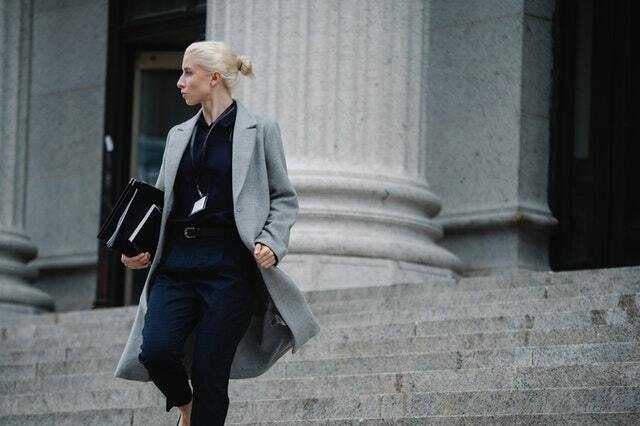 Patterned Blazer Outfit
A sure shot way to add the professional lady feel to a look is to wear a plaid blazer. Make sure the pattern is conservative so that the outfit looks elegant.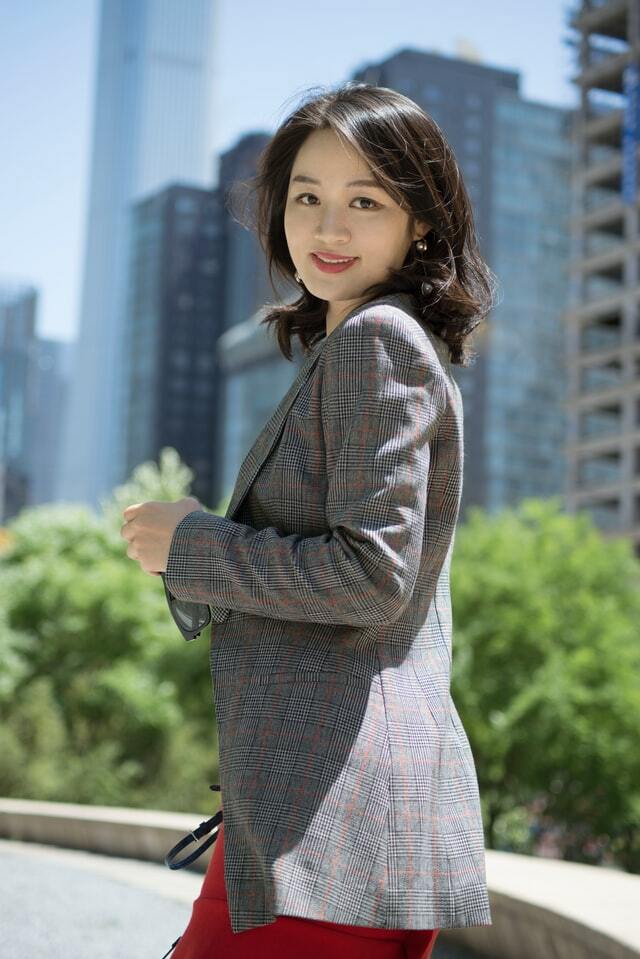 Striped Shirt with Pants
Wear a striped black and white shirt with black pants. Accessorize this look with a pendant necklace, studs, and a nice dress watch for a feminine appeal.
Black Blazer Over a Turtleneck and Dress Pants
There is nothing a black blazer can look bad with. It complements all outfits, including this one with a red turtleneck.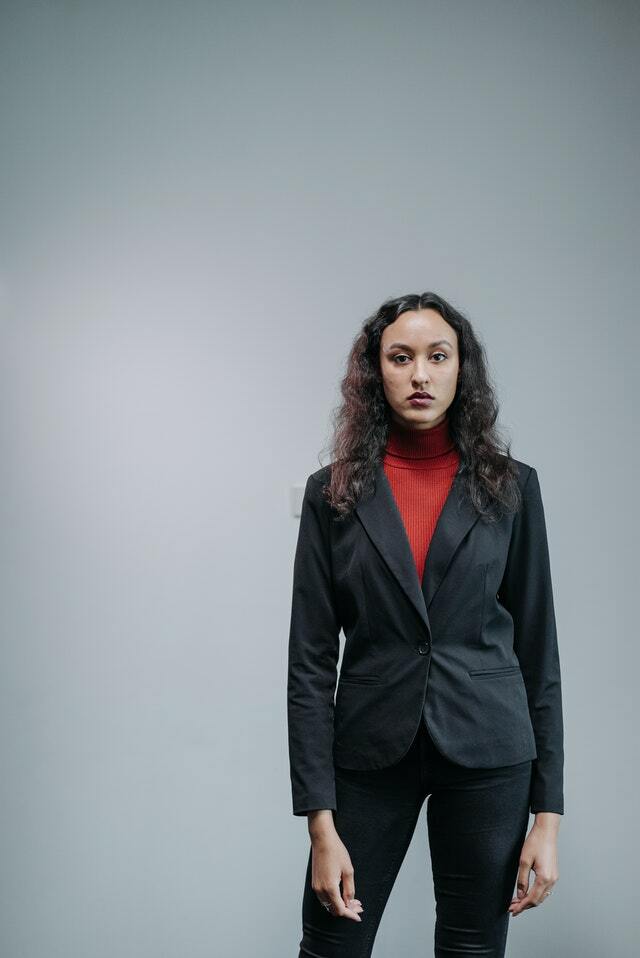 Striped Pants with a Trench Coat
The trench coat comes again. This time, paired with a white shirt, grey blazer, and brown striped pants. A black tote bag and matching heeled pumps will round off the look perfectly.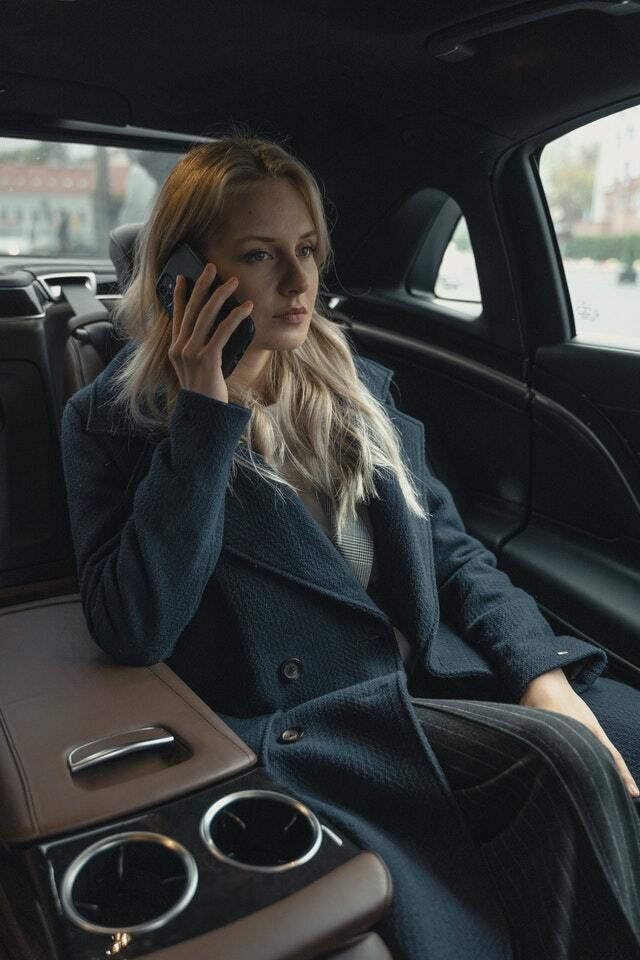 Pastel Color Top with White Jeans
A simple way that inclines towards a slightly more casual style is a pastel top paired with white jeans. Make sure the top you wear is plain and match your footwear with it.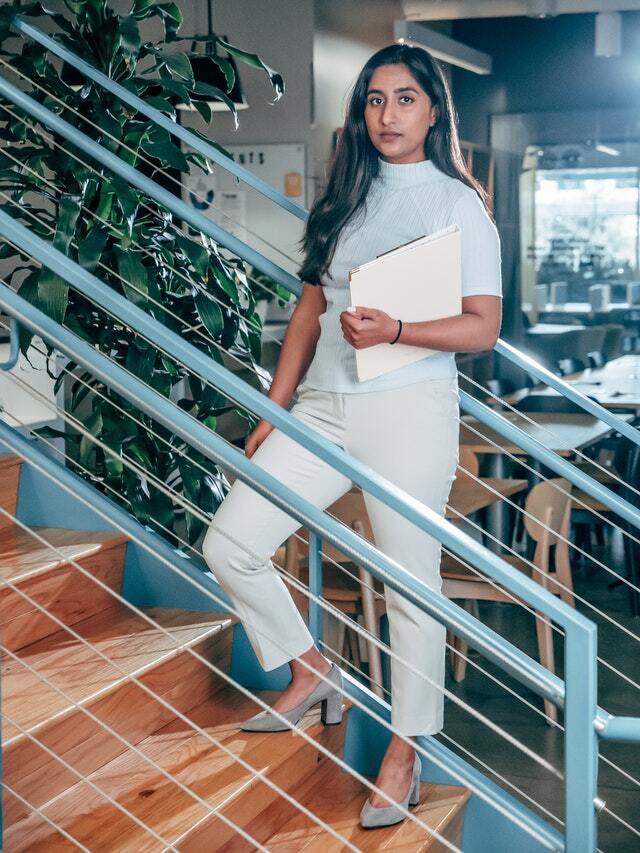 White Blouse with Black Pencil Skirt
A skirt and a blouse is a classic women's work outfit. Pair a white full sleeved blouse with a decent design for a neat look.
Business Dress With a Blazer
A white tailored dress reaching your knees can be a great option for the business casual style. Pair it with a dark blazer for a corporate look.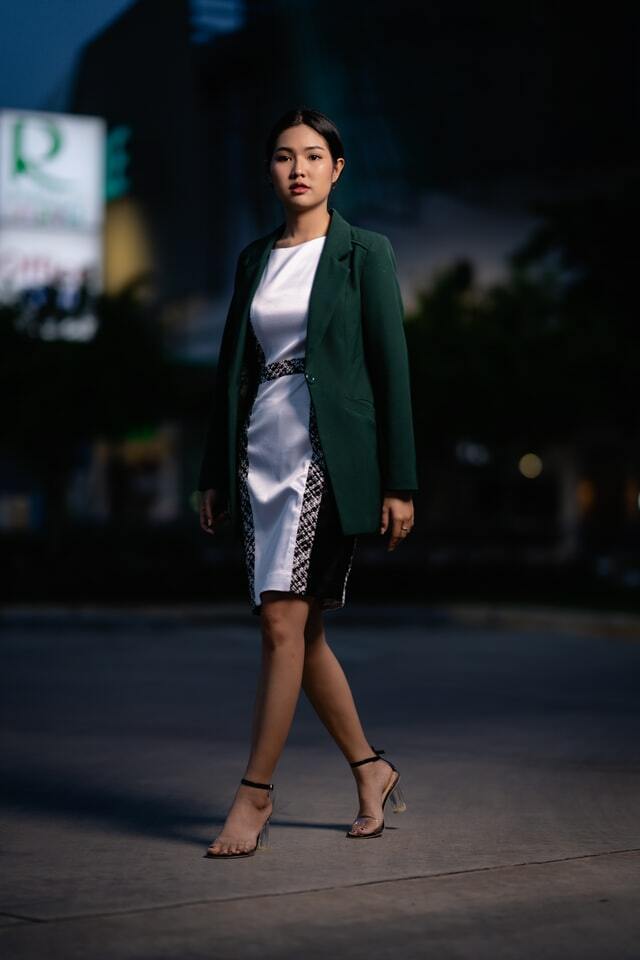 Tips for Fashionable Women's Business Attire
Women's workwear is quite a diverse fashion category, but it surely has certain rules. Following these tips will make sure you are heading the right way in terms of women's business casual style.
For your corporate outfits, avoid sheer or tight fitted clothing. Jegging, fitted tank tops, skin-tight mini skirts are considered inappropriate.
Do not wear low cut blouses. Remember that work is not the place to wear revealing attire as it hampers the professional demeanor.
To layer your outfits, you can choose modest fall jackets such as coats, plain biker jackets, simple suede moto jackets, blazers in neutral and dark colors. Jackets with a simple design can boost your business casual look, given they fit you right.
Trench coats are another simple and elegant option for layering professional attire when the weather gets chilly. Opt for grey, black, or brown trench coats.
Cardigans and sweaters are the perfect mid layers for your outfits. A nice plain cardigan over a business casual dress looks very elegant.
Go for solid colored collared shirts in light colors or dark neutrals like navy, grey, and brown. Stripes are acceptable, but narrow ones look neater.
Every item of clothing should offer ease of mobility. Restrictive clothing makes you uncomfortable, which directly impacts your performance at work.
The Secret to Round Off Your Professional Clothing With Elegance
For a working woman, modest accessorizing is the key to finishing off her day-to-day looks with a flair. Keep your accessory game up to add personal touches.
You can wear minimal jewelry to elevate your look. Small pendants in a delicate chain, ear studs, fine bracelets, and rings all look good, provided you match or contrast them correctly. Minimal silver jewelry is the perfect way to upscale an all black outfit.
Wristwatches are an integral accessory for business attire for women. You can wear dress watches with a silver or leather belt. When heading out for a meeting, don't forget your sunglasses.
For shoes, go with black, white, or nude pumps or heeled ankle boots for a classic style. You can use several types of bags like tote bags, shoulder bags, and clutches, but make sure they match your shoes.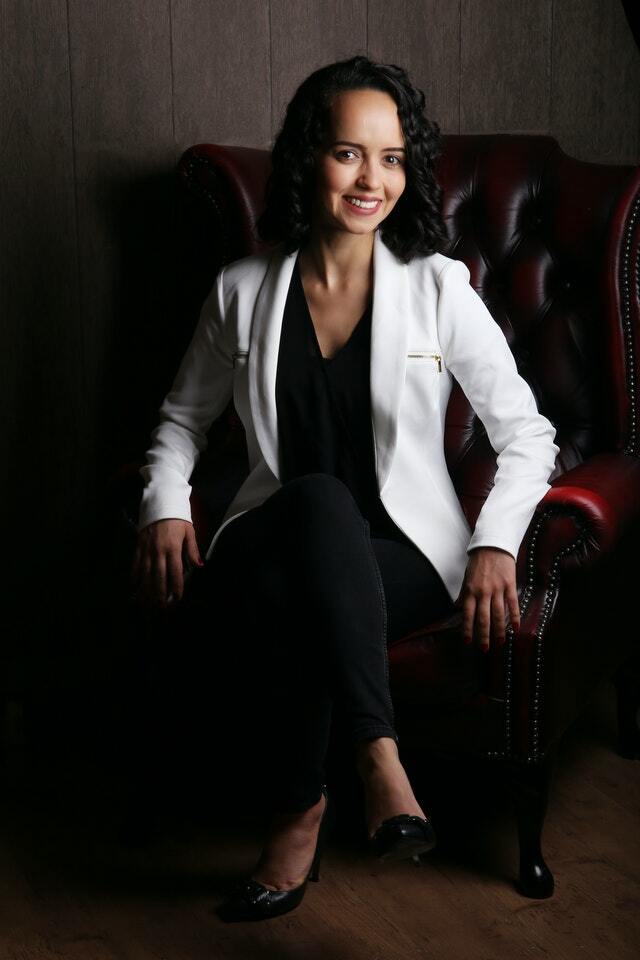 FAQs
What Should Female Executives Wear?
Just like the female bosses of today are no less in terms of professionalism and success, they are also nowhere lesser in style than their male counterparts. Female executives wear respectful clothing, including well fitting pantsuits, dress shirts, wide legged pants, and blazers. They wear high heels and make sure their accessorizing is on point, which makes all heads turn whenever they show up at the office.
What is Business Formal Attire for Women?
Business formal dress code is a step up from business casual, where you are not allowed staples that lean towards a laid-back style like jeans and even the best leather jackets for women having a casual appearance. Along with pantsuits, skirt suits are also a part of this highly formal dress code. Only conservative colors like brown, grey, navy, white, black, and beige are considered appropriate.
What Should be Avoided in the Modern Trendy Corporate Attire?
Although the modern corporate dress code is synonymous with business casual, which allows several casual items, unstructured and pretentious clothing is to be avoided. You must keep in mind that your look is sophisticated and not gaudy. A women's leather jacket or in fact any other jacket with studs, ripped or distressed jeans, overly ruffled blouses, and fancy shoes are not allowed in business casual attire for women.
What are the Best Colors to Look Professional?
Neutral colors look best for professional clothing. Even if you choose another color, choose a shade that leans towards a conservative style.
What Colors are Considered Inappropriate for Professional Attire?
Business casual translates to chic work clothes, but that doesn't mean you should appear overly confident in orange, purple, and fluorescent green. Vivid colors give a very unprofessional look which is not what you should strive for at work.
What Clothing Items are Considered Inappropriate for Profesional Attire?
Graphic t-shirts, cropped tops, tube tops, low cut blouses, and tank tops are considered inappropriate for business casual. Also, joggers, flared jeans, embellished skirts, shorts, and trousers are a big no. Avoid anything that portrays a laid back style or gives street vibes.
Furthermore, the type of workplace is also something to consider. If your workplace is high on casuals and even sporty in some cases then that can indicate which route to take when dressing for work on a daily basis.
What to Wear to an Interview?
When you get that much-awaited interview call, the first question that pops is what and what not to wear to an interview. Different companies and organizations have different rules on what is allowed. Unless you observe the company culture via social media posts and a visit to the place itself, there is no chance to have a clear understanding of what would be the right outfit. Here is a brief guide for dressing up elegantly for an interview.
Dress the part that you aim to bag. Higher positions call for a step up in your outfit selection. Remember, it is always better to overdress than look unprofessional while being underdressed.
Confidence is your weapon. The best way to pull off a formal look is to be certain about your dressing.
Stick to the safest options, like a white shirt and blue blazer with navy slacks. Or, wear a white shirt and black pencil skirt along with black pumps.
Groom yourself. Get your hair done in a neat, manageable hairstyle without any accessories. Make sure your nails are an appropriate length and avoid nail paint on the interview day.
Takeaway
We have laid down the modern trendy corporate attire blueprint for you to take and nail this style like a true professional. With this elegant and classy style, you can be your best self at work and reap the benefits of the confidence it gives you. Also, with your immaculate dressing sense, you will inspire others at your workplace, which adds bonus points to your reputation.