There are times when we need a break from the fitted garments that we usually wear. Even if skinny jeans are not uncomfortable, wearing styles like straight leg jeans would feel like a relief. When the desire for the same surfaces, you can refer to this blog post on how to style straight-leg jeans so that you do not compromise on looks while being comfortable.
Women usually play it safe by going for widely popular denim styles like skinny jeans, slim fit jeans, and even boyfriend jeans or mom jeans. But wearing the same kind of jeans becomes boring after a while, which calls for a gear shift in style.
Enter straight leg style jeans! It is a denim trend that you must try. Why? Because not only can straight jeans be paired with a variety of tops, shirts and leather jackets for women, but it also looks flattering if your style is on point.
We will explore the dos and don'ts of wearing straight leg jeans, their types, and some fabulous outfit ideas. But first,
What To Expect In This Article?
What Are Straight Leg Jeans?
As opposed to skinny jeans, straight jeans have a consistent width starting from top to bottom, which is why they appear straight. They are usually full length, and fall a bit above your shoes. Straight leg jeans don't taper towards the end. Instead, they are fitted in the waist and hip area, giving a streamlined effect.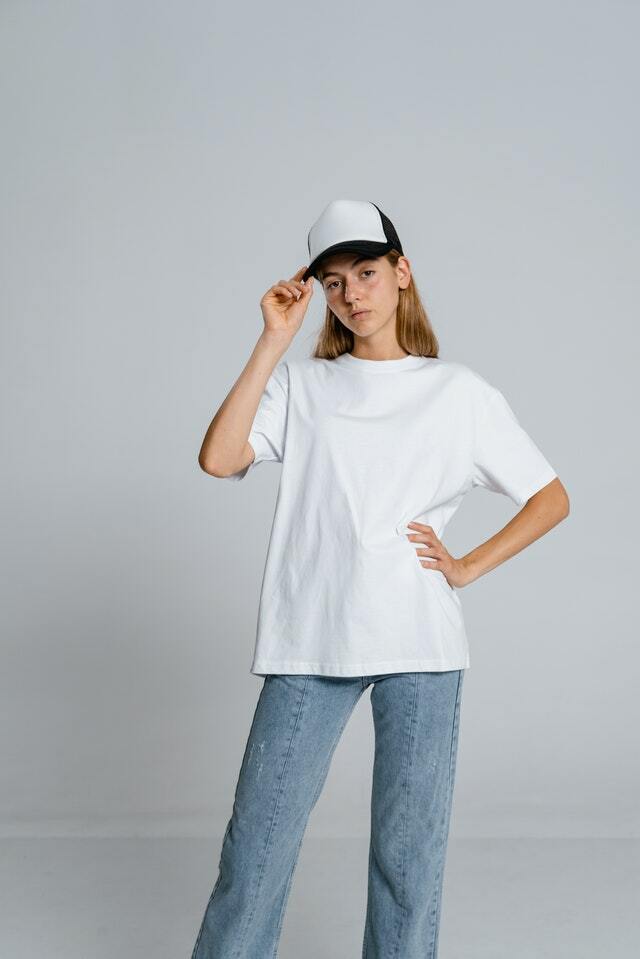 The fit of the straight length is flattering and complements outfits in all shapes and styles.
There are different types of straight leg jeans that you can try. They can be slim fit straight, baggy straight, or they can be high waisted for your street style looks. Low waisted jeans are casual and can be paired with tank tops and t-shirts.
You can find both full length or cropped style straight jeans easily. The hem also varies as some women prefer a neatly folded hem while others want a chic look with a raw hem.
Best Non Skinny Jeans?
If you wonder about the best non skinny jeans which look good on all body types, it is definitely the high waisted, full length straight leg jeans. They reach the narrowest section of your waist, accentuating the waistline and making those curves look attractive.
How to Wear Straight Leg Jeans?
Keep a few tips in mind while styling your straight leg jeans.
Ensure the proper length of your jeans. It should ideally reach your ankle or a bit higher. Never go for straight jeans longer than the ankle as it gives an ungroomed appearance. Also, if your jeans are too short, they may look like capris.
Go with lighter shades of jeans for your casual looks, but stick to dark hues for the dressier styles.
The best way to style straight jeans is to accentuate your legs' length. For this, try tucking in tops either completely or a bit from the front.
If tops are shorter in length and you are wearing high waisted jeans, you can tuck them partially.
Full blouses, t-shirts, or camisoles can be completely tucked in. This will give emphasis to the waist and enhance your curves.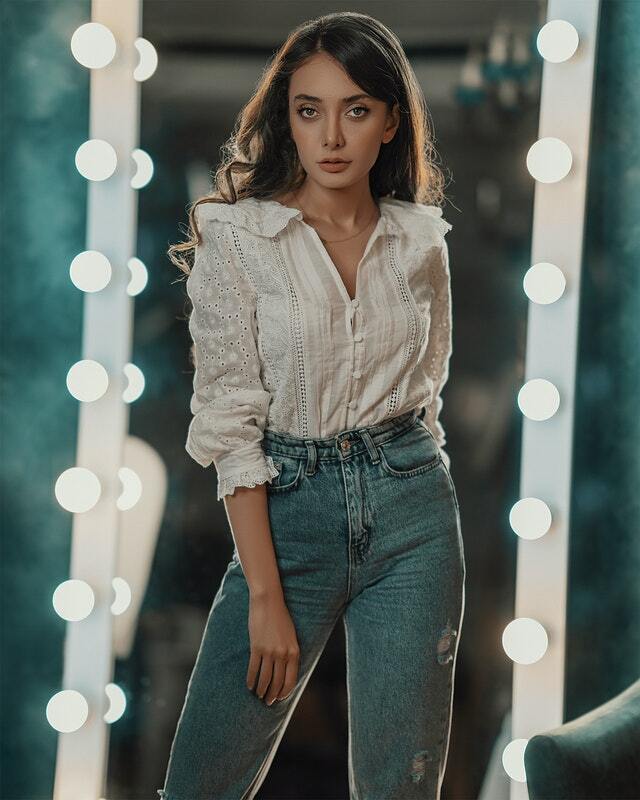 You can also try a bodysuit along with high waisted, wide legged straight jeans
jackets are the game changer in straight jeans style. Incorporate motorcycle jackets, shrugs, fleece jackets and trench coats in your outfits. 
Choosing the right footwear is crucial as well. Make sure you pay attention to selecting shoes that are appropriate according to the length of the jeans.
Your accessorizing should be on point for you to rock the straight style jeans look. Wear classy belts on low waisted jeans, and mix and match neck scarves, watches, jewelry, and different types of bags to upscale your looks.
Straight Cut Jeans vs. Tapered Cut Jeans
In tapered jeans, the fit around the ankles is fitted, which gives a very stylish look. Examples of tapered jeans are skinny and slim fit jeans.
On the other hand, straight cut jeans are wider around the ankles and fitted at the waist. Not being fitted doesn't make straight jeans a less stylish option, though, as you can pair it as we advise to create a figure flattering look.
Straight Jeans Outfits
Bless the streamlined fit and comfort of the straight leg jeans, it can be paired with just about anything. Whether you have a nice new flared top or a sweater, pick the straight jeans to complete your look.
As explained above, make sure to pick the right length and fit of your jeans to nail the look. Unless you are looking for a laid back or baggy look, a properly fitted pair of jeans is vital to put together your whole ensemble.
Here are some outfit suggestions with a few styles of straight jeans.
Wide Legged Straight Jeans Outfit
Make a grunge style statement by wearing a black tube top with wide legged straight jeans. Put on an oversized red and black plaid shirt and black and white converse shoes to add authenticity to the look. Make sure you don't go for a fitted garment in this look.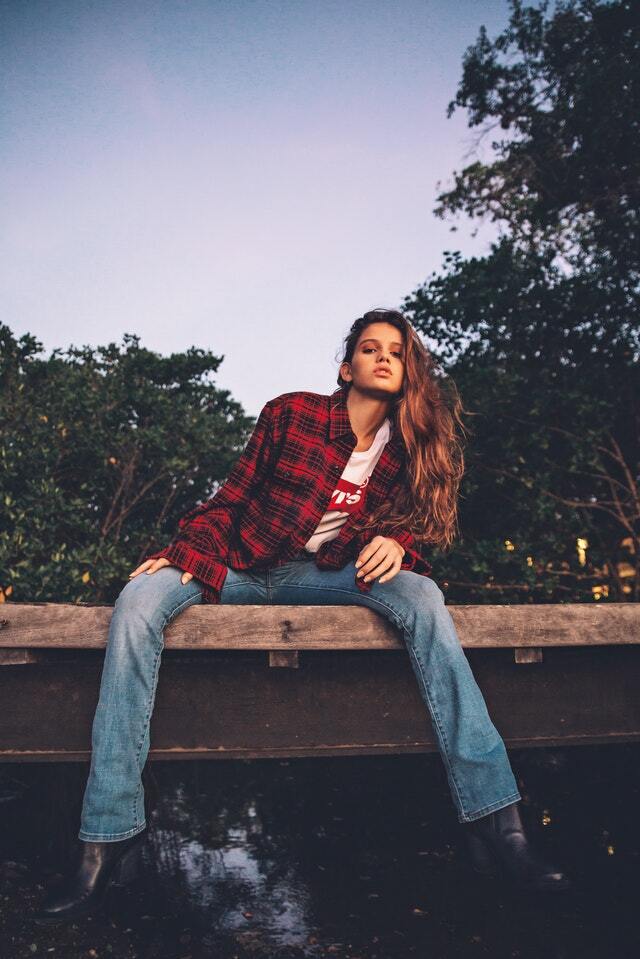 High Waist Straight Jeans Outfit
Straight jeans with a high waist give you ample opportunities to create fashion forward looks in every season. You can rock it in summer with a breezy cropped top or pair a variety of splendid fall jackets with it.
Pair a brown cropped turtleneck with high waisted straight jeans and a white fur bomber jacket. This look can be upscaled with an addition of a chic shoulder bag and ankle boots. 
You can also wear a matching beanie with this stylish winter look.
Cropped Straight Leg Jeans Outfit
For an irresistibly stylish look, pair a navy blue cropped straight jeans with a white button down shirt. Layer the outfit with a peach unstructured blazer and complete this ensemble with a peach clutch, pointed stilettos, and a delicate silver watch.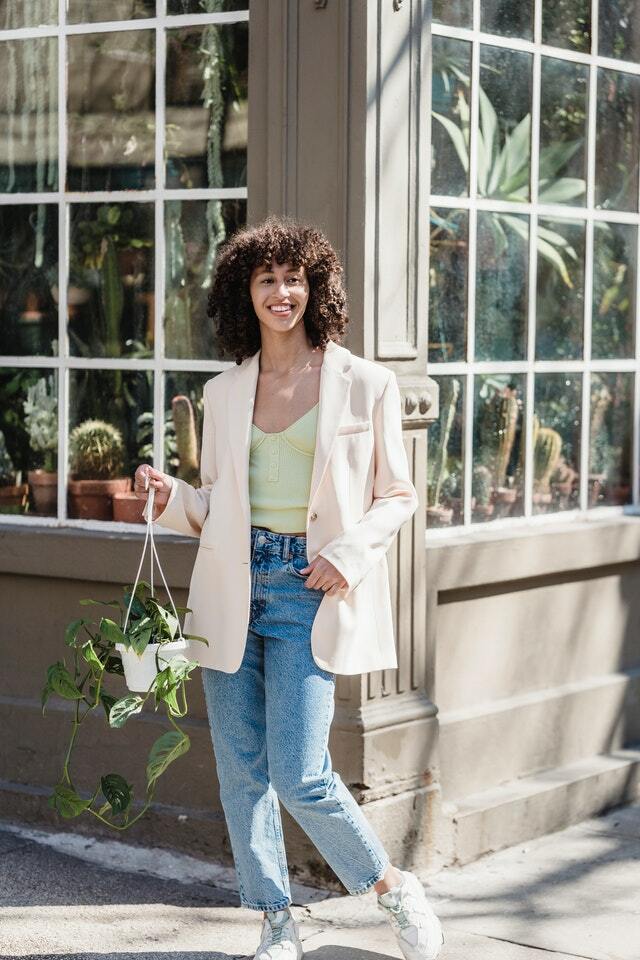 Black Straight legged Jeans Outfit
There are several ways to put together a women's black jeans outfit, but what we suggest is sure to take the style quotient upwards.
Wear a white off shoulder blouse with puffed sleeves and a cropped hem along with black straight fit jeans. Pair black t-strap heels to elevate the dressiness of the outfit. Add a beige straw hat and a stylish black tote bag to finish this cute and elegant look.
What Shoes to Wear with Straight Leg Jeans
It is impossible to nail the straight jeans look unless your footwear game is correct. Here is the list of footwear that enhances every ensemble without compromising style.
White Sneakers
White sneakers are considered everyday wear for a reason. Like with most clothing staples, they work with straight jeans as well.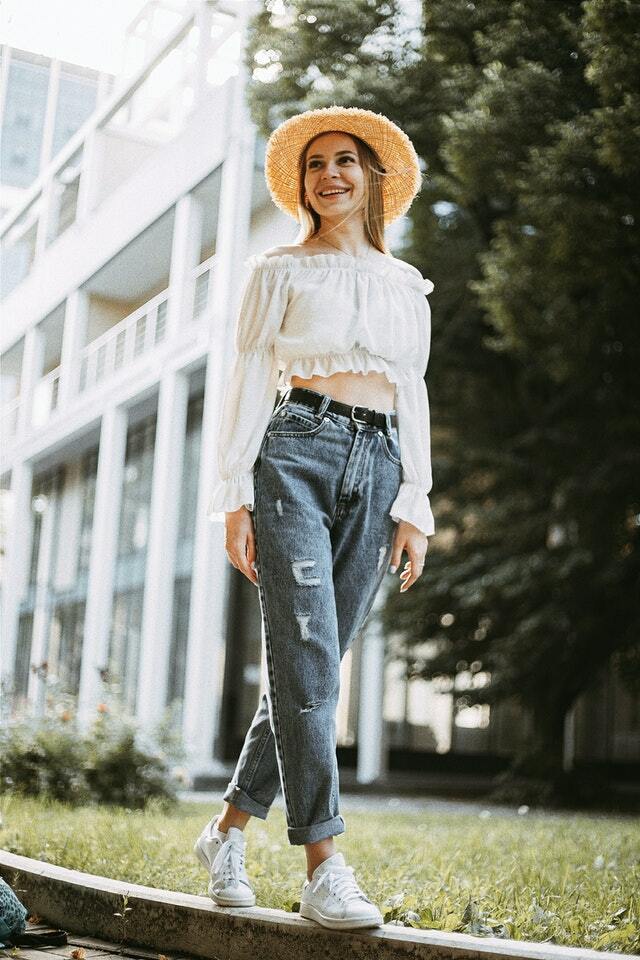 Converse Sneakers
White sneakers are not the only type of sneakers that lend their versatility to multiple styles. You can also wear straight jeans with sneakers of other types. Opt for converse black and white sneakers with straight jeans outfits that are casual. They are a good option for travel looks as well.
Pointed Toe Flats
There is something about pointed footwear and straight jeans that gives off a beautiful feminine appeal. You can rock the jeans and pointed flats with casual as well as smart casual outfits.
Loafers
Have a thing for effortless, laid back looks that can be pulled off even during day outings? Pick a pair of brown women's loafers whenever you are wearing your light blue straight jeans.
Stilletos
For women who cannot imagine bringing down their voguish appeal, pairing stilettos is the right way to complete a straight jeans outfit.
Pumps
When in doubt, slip on pumps in nude tones to pull together a look that is a bit on the dressier side of the style spectrum.
Heeled Boots
To add to the elongated illusion, boots with high heels are the best option. You can choose boots with chunky high heels for a bold look or go with stylish ankle boots with pencil heels for that ultra feminine appearance.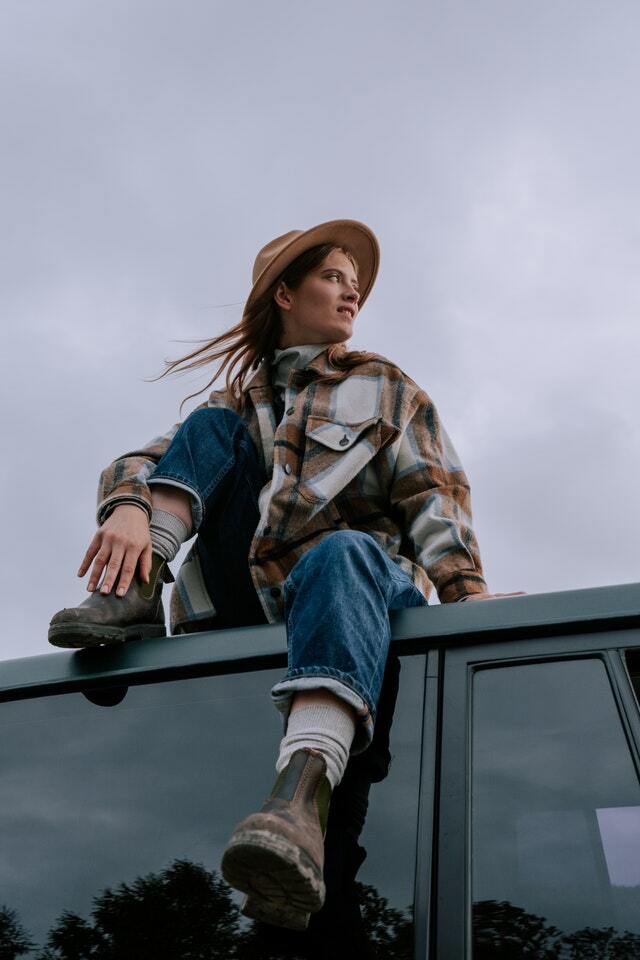 Flip Flops
Pair your straight jeans and a pretty tropical print top with flip flops to hit the beach with style. Flip flops make a chic pair with straight jeans that you can also try on occasions other than a picnic or vacation.
Strapped Sandals
If you have put together a street style outfit with straight jeans, strappy sandals are a good choice of footwear that will give you a break from commonly worn high heels and boots. Go for black, golden or silver sandals with a light lustre to complete your look.
FAQs
Do Straight Leg Jeans Look Good on Everyone?
From tall models who walk on the ramp wearing straight jeans to plus size and petite divas rocking the cropped or wide straight jeans, we have seen it all. To say that only specific body shapes can wear straight jeans would limit its versatility.
The good thing about straight jeans is that they make the legs appear longer and define the waist if they are high waisted.
However, it's a fact that women who benefit the most with this style are those with an hourglass figure or an apple shaped body as the straight jeans look the most graceful on such shapes.
How to Style Straight Leg Jeans with Short Legs?
One of the most stylish ways to rock straight jeans with short legs is to choose cropped high waisted jeans and pair them with an oversized sweater in a bright color. You can tuck the sweater in to elevate the chic look. Opt for pointed toe heels or ballerina shoes to round off the ensemble.
Where Should Jeans Hit at the Ankle?
Ideally, the straight leg jeans should touch your ankles, but they can be slightly shorter as well. Avoid going for a very short length or anything that goes beyond your ankle.
Are Straight Leg Jeans in Style 2021?
It is true that straight jeans give a vintage sort of look, but aren't we loving vintage these days? Straight jeans are definitely in vogue this year, and you can create fashion forward looks with them.
What Can I Wear with Ripped Straight Leg Jeans?
There are multiple ways to put together a ripped jeans outfit with style. Team up a fitted white cropped top with icy blue ripped straight jeans to create a baddie style outfit. Infuse high heeled pumps, hooped earrings, and glam makeup look to rock the style with flair.
Conclusion
To build a well rounded wardrobe, we reckon exploring straight leg jeans besides skinny jeans. The style is a perfect blend of modesty and a flattering look. You can try our suggestions and pair your straight jeans with a variety of staples and create eye pleasing looks with them. Not only will it look visually appealing, but you will find it much more comfortable than the spray-on type styles that hinder mobility.