Grunge style is associated with clothing and accessories worn by members of hugely popular Seattle musical bands in the mid 1980s. The flannel shirt, baggy jeans, and the converse shoes may be the first staples that come to mind when we think of Grunge fashion, but it is way more than that. The style is comfortable and unpolished, imitating the same elements that the grunge musicians used to wear. 
The Grunge style is usually followed by people who like to go against the norm and want to express their individuality via their carefree style.
What is Grunge Style?
There are several genres of fashion, each giving a particular kind of statement. But the thing which makes Grunge aesthetic different from all is that the style contradicts mainstream fashion and aims to stay low key and not make a statement. It combines not-so-dressy elements usually found at the thrift stores and creating unkempt looks with disheveled hair.
Read on to know how the Grunge style originated and how it influences contemporary fashion.
History of Grunge Fashion
The Grunge style has evolved in the span of the last four decades. From its origin in the 1980s to the aesthetic we see today in contemporary mainstream fashion, the grunge clothing trends rose and fell.
80s Grunge Style
In the 1980s, most rock music bands from Seattle popularized the slouchy looks. Their band members became popular among the rock music fans, giving birth to a style statement that is still all the rage. Giving less attention to the silhouette, these musicians often wore outfits that were oversized and shabby yet equally stylish.
Kurt Cobain was considered the Grunge style idol. It was he who made the everyday essentials like the flannel shirt, baggy jeans, oversized sweaters a part of mainstream fashion. Even with this kind of clothing that should have been an understatement, Kurt made his mark as an influential icon in both the music and fashion industry. 
A part of his style statement was the uncombed, greasy hair, which was adopted by other grunge musicians and then the masses who followed the grunge style.
Grunge style is basically androgynous, with the same styles and elements for both men and women. However, with the evolution of the style, grunge women started wearing staples like fishnet stockings and plaid skirts, which added to the edgy, vintage style. Kurt's wife was the major inspiration for grunge women. Her baby doll dresses, tights, combat boots, and dark makeup became quintessential for grunge women's aesthetic. 
90s Grunge Style
The popularity of grunge fashion was augmented when ace designers made the first Grunge inspired collection in 1993. The ensembles he designed included flannel shirts, printed dresses, slips, and  Doctor Martens. 
The trends from the original grunge fashion were becoming popular, and the oversized jackets, baggy jeans, plaid shirts, and graphic tees went mainstream in that era.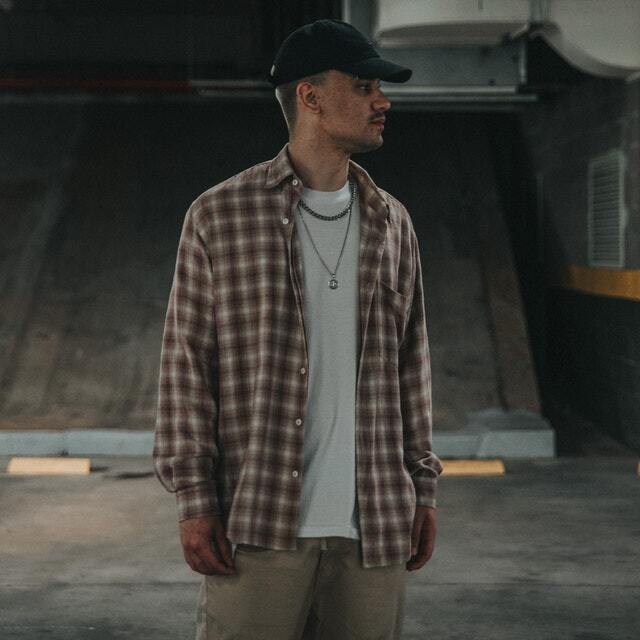 Modern Grunge Style
The grunge style inspired the collections with elements like oversized silhouettes, plaid, and floral prints. 
Today, grunge is all the rage among the young generation who imitate the style with a modern touch. The Grunge aesthetic is immensely popular on social platforms where a plethora of fashion influencers share their looks wearing modern iterations of the style.
One can see eye pleasing plaid shirts, stylish jeans, best leather jackets, and much more under the grunge aesthetic these days. 
How to Master the Grunge Style?
To master the Grunge style, you firstly need to let go of the paradigm fashion standards like a clean style, tailored fit, and matching crisp clothing staples. You can find the grunge staples at a thrift store or brands that sell clothes specific to this genre. To get started, here are the grunge fundamentals:
Fit
Grunge style clothing is mostly oversized and baggy. The sole purpose for the loose fit of garments was to de-emphasize the silhouette. Jackets, coats, sweatshirts, hoodies, and plaid shirts worn by the grunge musicians were never well-fitted and gave the appearance of thrift clothing.
Graphic T-shirts
T-shirts with band names, quotes, and graphic elements are one of the must haves for grunge boys and girls. This is their way of showing their admiration for a certain band. You can get vintage band tees from thrift stores or shop from the brands that sell vintage inspired tees.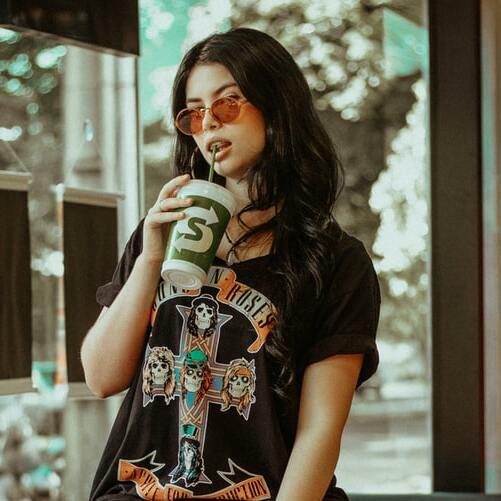 Ripped Baggy Jeans
Ripped jeans are an iconic rock fashion staple, so it is natural to see the same in grunge inspired clothing. The carefree vibes of the ripped jeans in a baggy silhouette give the true feel to your grudge outfit.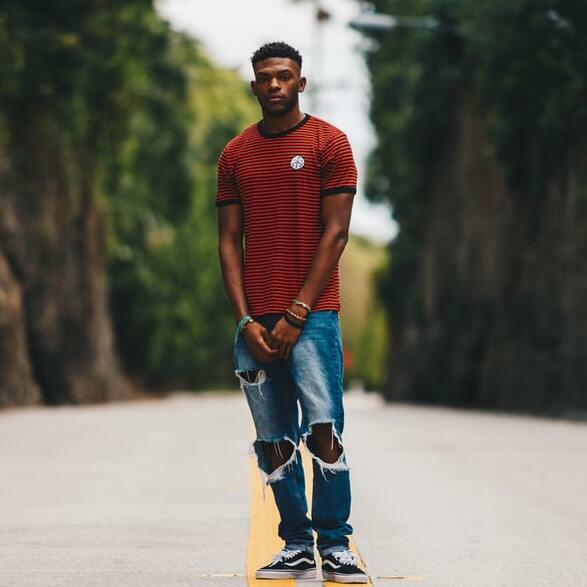 Plaid Flannel Shirts
Since the origin of grunge clothing, plaid flannel shirts have been a part of it. The band musicians wore it over black or white graphic t-shirts. Else, you could see the flannel tied around their waist if it was too hot to wear them. To date, flannel shirts are a must have for the grunge wardrobe, and they can be styled in multiple contemporary ways.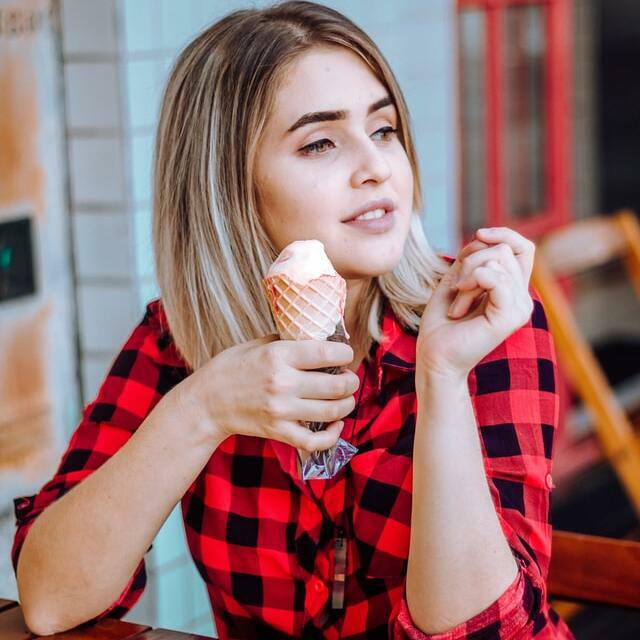 Oversized Sweatshirts/Hoodies
Baggy sweatshirts and hoodies give the grunge inspired look when you are building a fall or winter outfit in the grunge style. Moreover, they are very comfortable, providing you an excuse to follow the grunge style.
Leather Jackets
Double rider jackets or stylish black Bomber jackets are a must have for those grunge street style looks. Band members of the grunge music bands layered their outfits with edgy black leather jackets. 
Denim Jackets
A staple for your grunge fall outfits, the denim jacket is classy and comfortable. Your denim jacket should be loose fitting to reflect the grunge style. You can even go a level up and customize your jeans jacket by adding some studs and spikes to it.
Military Parka Jacket
Among the different types of jackets appropriate for the grunge style, the oversized military parka is something that exudes the true feel of the grunge style. It is the perfect jacket for those grunge style messy winter looks.
Distressed Denim Shorts
Jeans shorts, the ones that are faded and distressed, can be used to build some gorgeous grunge inspired looks.
Converse Shoes
Kurt Cobain's go-to footwear was the black and white converse shoes. Since then, the shoes have become iconic to the grunge style.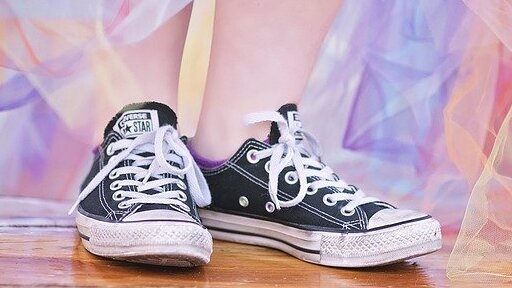 Black Leather Combat Boots
The heavy duty combat boots give the rockstar feel that takes the wearer back to the grunge music era.
High Waist Pleated Skirts
Back in the 90s, skirts became popular in the grunge style. The short, pleated skirts were paired with tights with holes in them. It gave the baby doll dress silhouette. The edgy skirt outfits are still popular, especially for the currently popular Baddie style.
Stockings
There are numerous types of thigh high stockings to choose from when building a cute grunge style outfit. The most popular style is the fishnet stockings.
Beanies
Knitted skull cap beanies are a popular grunge accessory that can be worn to give a statement.
Bandanas
Bandanas have always been a cool way to accessorize a grunge style look. You can tie it like a headband or like a scarf to secure your disheveled locks.
Grunge Hairstyle
Grunge hair is messy, sweaty, and unwashed. Kurt Cobain inspires this unkempt look. Designers stated that his hair was like that due to the fact that he was too lazy to wash it with shampoo.
Over the years, dyed hair also became a part of the grunge aesthetic. Girls and boys inspired by the grunge fashion dye their hair in various colors to portray the 90s hairstyle vibes.
Grunge Makeup
Grunge aesthetic makeup is more of a modern twist to the grunge aesthetic. The look consists of dark smokey eyes, smudged eyeliner, matte skin, and dark lipstick. The heavy eyes and bold lip color mimics the grunge women style from the 90s. The lip colors mostly used for this look are black, burgundy, brown, and dark purple.
Grunge Accessories
To finish off the grunge look, you can go for some chunky leather bracelets, studded backpacks, choker necklaces, or black fedoras.
Grunge Aesthetic Subcultures
The standard grunge style is heavily influenced by the Seattle rock musicians. However, variations in the aesthetic emerged as the trend was popularized and people of varying backgrounds adopted the grunge lifestyle. The credit goes to fashion designers as well, who interpreted the grunge aesthetic by combining it with other trending styles. Below are just a few.
Boho Grunge Style
The interesting fusion of the bohemian style of the 70s and the grunge essentials from the 90s, the boho-grunge is a subculture that epitomizes the carefree attitude. The boho grunge outfits are a mix of ethnic prints, bohemian charm, and messy grunge vibes. An example of the style amalgamation is a floral top with a black pleated skirt and fishnet stockings. The look can be finished off with dangly boho chic style earrings and grunge hair.
Punk Grunge Style
Punk style is a bold aesthetic with lots of piercings, big hair-sprayed hairstyles, tattoos, chunky jewelry, and dark makeup. Combine these with the quintessential grunge staples like a plaid shirt, graphic t-shirt, and ripped jeans, fish-net, distressed finish and you will end up with a punk grunge look that is raw, intense, and edgy to the core.
Hippie Grunge Style
Another fusion of two retro styles, the hippie grunge subculture basically uses the hippie staples like a long skirt or jumpsuit and pairs it with a flannel tied around the waist. You can also don a denim jacket and finish off the look with grunge accessories like a bandana or a choker necklace.
Vintage Grunge Style
Using retro clothing and accessories of grunge style gives you vintage grunge style. These items will either be handed down to you by your parents and grandparents, or you may find something worthy at the thrift store.
Boxy vintage leather jackets, slip dresses, Doctor Martens, and ripped stockings are some of the staples from the 90s that will help you pull off the vintage grunge aesthetic with an edge.
Dark Grunge Style
A fusion of the gothic aesthetic with grunge is termed as dark grunge or the back grunge aesthetic. In this style, you will see all black outfits with elements from gothic subcultures, like short and long black dresses, lots of lace, velvet and chiffons mixed with grunge style ripped tights, combat boots, dark makeup and old-world hairstyles. Not to mention matching gothic jewelry influenced by vintage design. 
Soft Grunge Aesthetic
Soft grunge teams up softer elements like a light shaded plaid skirt, a ruffled white top, and some edgy pieces like a black biker jacket, leggings, or thigh high stockings. The pastel or neutral colors of these outfits make soft grunge a gentler aesthetic.
Grunge Outfit Inspirations
Here are a few outfit suggestions if you aim to channel your inner carefree attitude with the grunge style.
Men's Grunge Fashion Outfits
Pair a black graphic t-shirt with red flannel and frayed jeans in a baggy style. Put on a pair of edgy leather boots and a fedora hat, and your grunge look is ready.
Opt for ripped jeans, an oversized hoodie, and a pair of converse shoes to mimic the true rock star vibes.
Put on a black and white striped Breton and pair it with your denim jeans and grey faded jeans. Accessorize the look with a bandana and a neck stacked with chains.
Women's Grunge Fashion Outfits
Team up a white tank top, a plaid skirt, and patterned sheer leggings for a feminine but edgy look. Doc Martens and leather bracelets will make this outfit a bit more grunge look.
Go for a black graphic t-shirt and black denim shorts for a truly grunge look.  Put on a pair of converse shoes to add more vintage vibes to the look.
An outfit with a band t-shirt, black leather skirt, and a black biker jacket is sure to turn heads. Amp up the look with dyed hair and grunge makeup.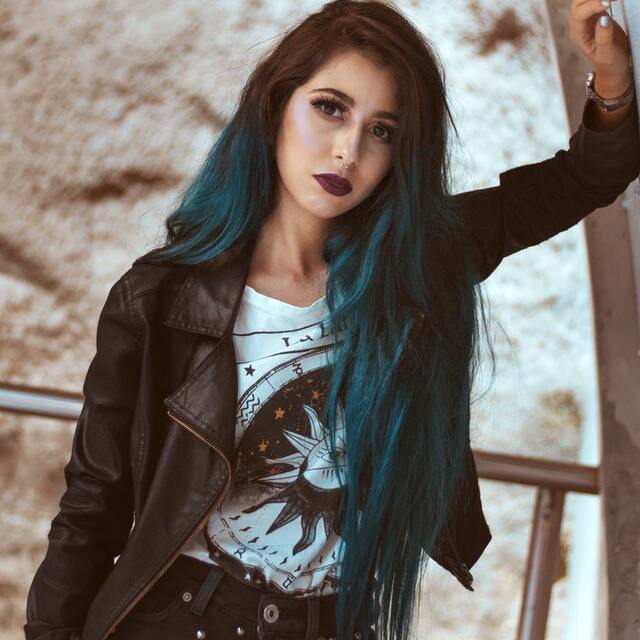 FAQs
How to Get the Long Grunge Hair Style?
The grunge hairstyle began trending after the band musicians left their long, unkempt hair open during concerts and public appearances. To get the same effect on your hair, use a salt spray after washing it.
Additionally, use a matte paste on your hair for a naturally stringy look.
How Do I Look Grunge?
The grunge look is generally messy, giving the vibe that you don't care about general style rules. Incorporating the above mentioned elements in a laid back way will help you look grunge.
How Do You Grunge Up a Girly Dress?
Wear a girly dress along with ripped leggings, laced up boots, and grunge makeup to give it a grungy feel. If you have a feminine top, pair it with tattered jeans, a snapback, and converse shoes for an instant grunge outfit.
Takeaway
If you want to try the grunge style, follow these guidelines to rock the look in the most authentic way. Remember that the core of grunge aesthetic lies in going against the norm, which is why you need to choose staples that are comfortable and exude nonchalance. Opt for the accessories, hairstyle, and makeup that are exclusively grunge to finish off the look with authenticity.