For as long as they've existed, double rider leather jackets have been a clothing item that oozes cool and are incredibly functional. Also contrary to what the name suggests, a double-rider leather jacket is not just for people who regularly ride bikes or have any form of interest in bikes. Anyone can wear them at any time and at any place they want.
But why would anyone want to wear double rider leather jackets if they don't have anything to do with motorcycles?" You ask. Well, the short answer would be to get a unique look that is not provided by any other design of leather jackets. 
Excellent in their own rights, but most of the traditional leather jackets are often very straightforward and devoid of any unique, eye-catching features, which is ideal if you are building a simplistic and minimalist wardrobe, but not so much if your focus is on a unique style.
This is where the rider leather jackets come to our rescue. The good news is that we've taken the legwork out of the process for you by bringing you a curated list of some of the best double rider leather jackets for men in 2023.
Best Double Rider Leather Jackets Under $500
We here at The Jacket Maker understand the appeal of a biker jacket and appreciate its role in men's fashion. That's why we are offering high-quality handmade jackets at a price that is accessible to as many people as possible. Below is a list of nine of our most famous biker jackets and riding leather jackets for men, categorized into sections based on their primary color.
1. Furton Black Double Rider Leather Biker Jacket
First on our list is the shiny Furton Black Leather Biker Jacket, and there can't be a better example to show the style one of these jackets can bring to your wardrobe. It offers all the characteristics that make a double riders jacket unique and fun to wear.
You can pair a black double rider leather jacket with all-black outfits for the classic stern biker look. Or, you can wear it over a plain colored t-shirt as the accent piece of your attire. The sky's the limit when it comes to styling with this leather jacket.
2. Vincent Black Double Rider Leather Biker Jacket
Want to wear a similar design as the previous one, but don't enjoy as much shine? Then check out the Vincent Black Leather Biker Jacket. Once again, the unique design and fancy composition of this piece of men's rider leather jacket is its selling point and provides a look that is exclusive to this type of jacket.
This jacket is a bit on the shining front, not very attention-grabbing, and has some of that tough-guy vibe to it. You can complement its looks by pairing it with darker colors, like grays and really dingy blues. Rustic and weathered-looking colors work like a charm and blend in nicely with the jacket, creating a proper theme around your outfit.
3. Allaric Alley Distressed Leather Biker Jacket
As far as leather garments are concerned, the distressed look is one of the most exceptional and unique. It gives an air of luxury and comfort without being overly shiny or standing out more than needed. And if you are interested in this kind of aesthetics, then the Allaric Alley Distressed Black Leather Biker Jacket is for you.
Men's leather biker jackets, in particular, hold a special niche in the market for being so distinct from others. People expect at least a little sheen from leather, but these distressed jackets shatter the notion and boast a look that is mate and in line with the modern trend of material design and matte colors. 
4. Raiden Brown Double Rider Leather Biker Jacket
If you are not a big fan of black leather jackets, or you already own one, then why not give the second most popular color, brown, a chance. The Raiden Brown Leather Biker Jacket is a key example of the opulence and style a brown riding leather jacket can bring to your daily outfits.
This jacket is made from genuine cowhide leather and is processed with a pull-up finish. Pull-up finish is renowned for its ability to stretch over time, and this stretching causes the area of effect to get lighter in color. This phenomenon gives your jacket a history and tells a story of your life with it throughout the years, and due to the nature of this effect – the stretch marks that your jacket gets would be unique in the whole world.
5. Noah Brown Leather Double Rider Biker Jacket
While staying on the topic of men's brown leather jackets, let's take a look at the Noah Brown Leather Biker Jacket. It has everything a good leather rider jacket should have while also boasting a very distinctive dark brown color. This color is remarkable because it is not fresh looking while also avoiding the rustic and dingy look.
In terms of styling this jacket with different outfits, you have great flexibility in the department of blacks and greys. Everything in that ballpark looks lovely with this jacket and blends like a charm with it. But that is not your only option. Another popular styling method is to go in the opposite direction and pair this one of our best men's brown double rider jackets with white and other lighter colors. Going this route will grant your jacket the honor of being the center point of your outfit and make it stand out as an accent piece.
6. Alberto Shearling Brown Leather Jacket
Let's take things on the other end of the brown spectrum of riding leather jackets and talk about the polished and warm Alberto Shearling Brown Leather Jacket. The first thing about this jacket that will catch everyone's eyes is its lavish and confident color. It proudly boasts a fresh brown color with a varnished look to it.
The outside of this leather jacket double rider is made out of sheepskin leather, which is lined perfectly with faux fur to give it that antique appearance. A look of the times when sheepskin was inverted to create a jacket with actual sheep fur on the inside that provided the warmth needed to survive in extremely cold environments. Besides their fascinating history, Shearling jackets are renowned for their warmth and comfort, and this double rider leather jacket is a champion in both of those fronts.
7. Danny Quilted Brown Leather Biker Jacket
The next on our list is the distinctively eye-catching and attention-grabbing Danny Quilted Brown Leather Biker Jacket. This is another one of those pieces of clothing that fit perfectly in modern fashion. The main selling point is its color and the pattern it holds, which is different for every jacket we make. The word "unique" is not even enough to describe how this particular article of men's upper wear separates itself from the rest.
There is an underlying beauty in its chaotic color pattern, which is enhanced by its unconventional hue which is a mix between grey and brown. You don't see anything like it on the streets, so wearing one will set you apart from the crowd in an instant. In terms of what matches well with it, you can try on almost anything and create your own modern art-inspired outfit. As a side note, ripped black or grey jeans fit this double rider leather jacket's aesthetic flawlessly.
8. Armand Maroon Leather Double Rider Biker Jacket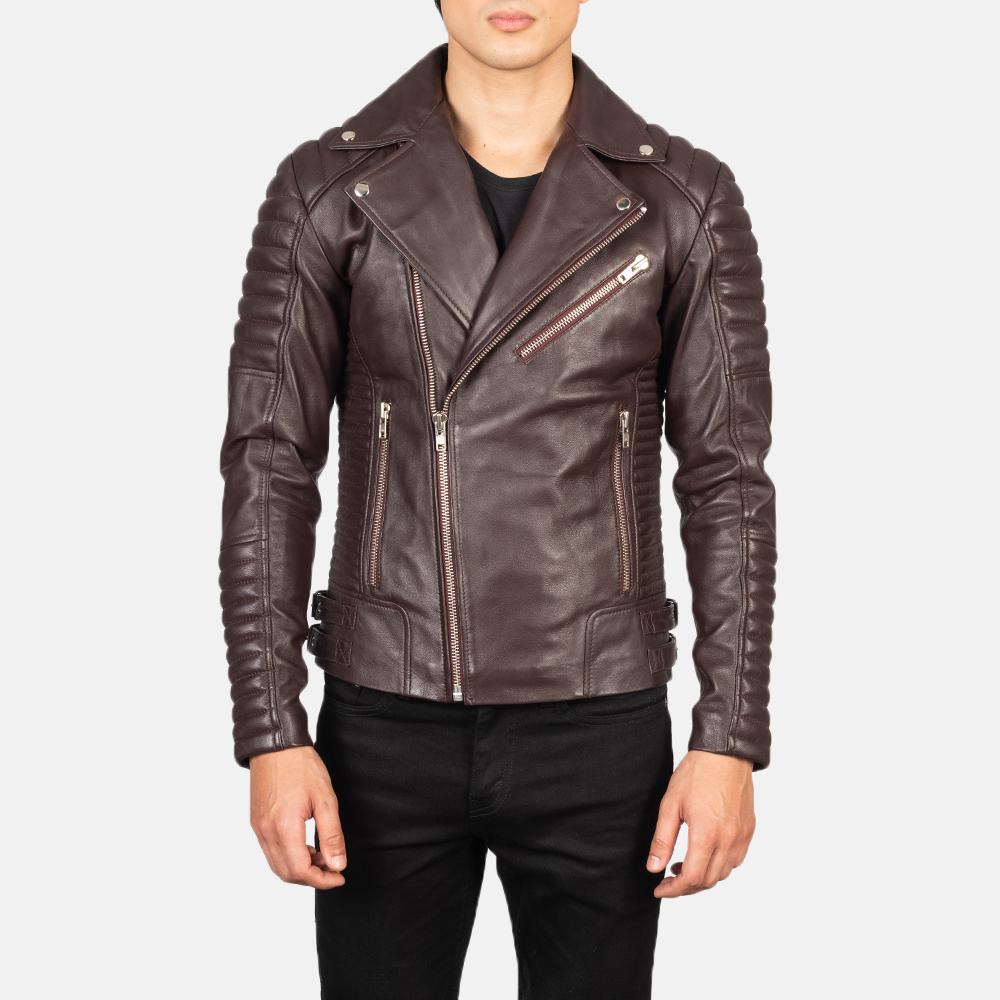 An exceptional padded jacket in a unique dark maroon shade with a sculptural look, Armand Maroon features a tried and true double rider silhouette with a twist. With quilted accents on the side panels and the diamond quilted details on the lower back panel, this jacket has an appeal seldom found in leather jacket rider uses for utilitarian purposes only.
Crafted from full-grain sheepskin leather, Armand is tough in the looks but soft and supple when worn. The semi-aniline finish highlights the natural grain of the leather and allows it to age beautifully simultaneously providing ample protection. The waist adjustment straps ensure a fit that feels right in the moment—snug or loose, it all comes down to your preference.
9. Black Studded Leather Biker Jacket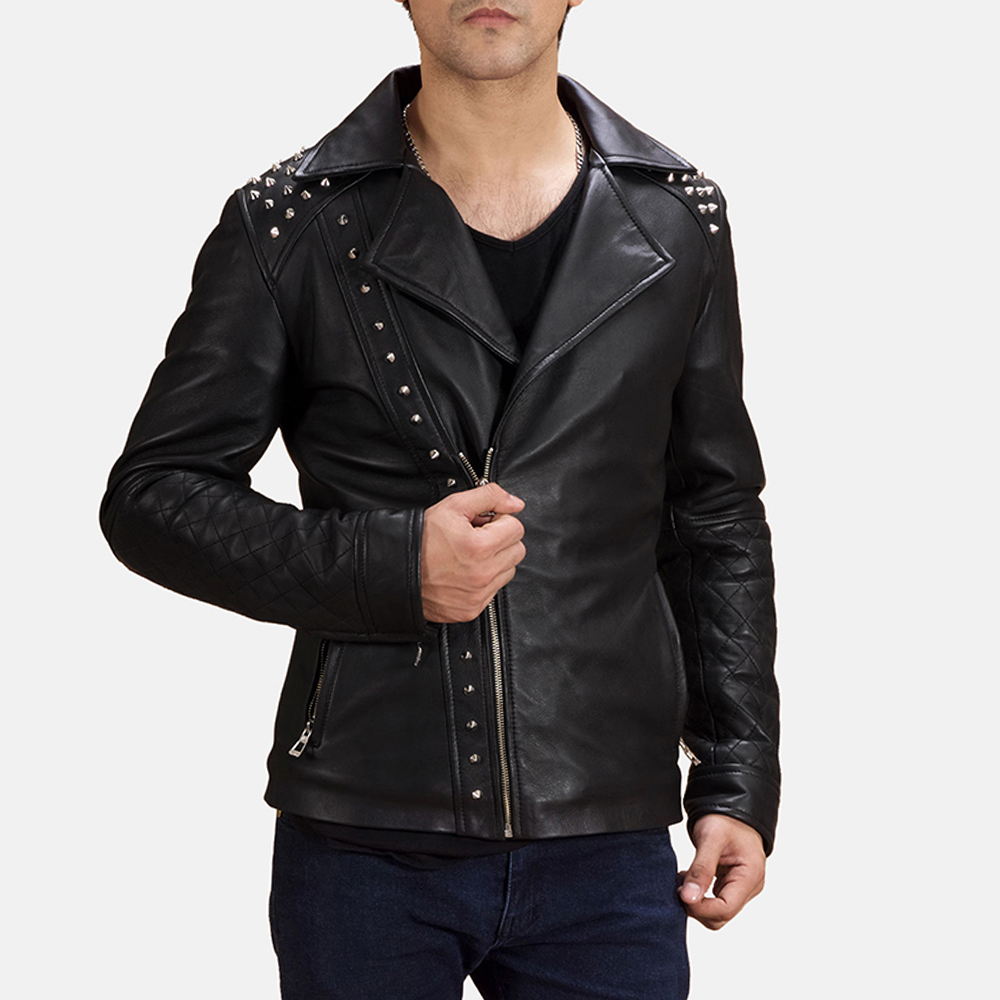 Give your outfits a high dose of attitude with this black studded leather biker combining the rebellious essence of punk rock fashion and the bravado of a classic double rider biker jacket. Adorned with silver-toned metallic studs on the front & back yoke and along the front closure contrasts flawlessly with the black leather of this one of the best men's biker leather jackets you will ever come across.
The black studded leather biker jackets score high when it comes to details. Diamond quilted details on the back and sleeves make it more fierce and visually attractive. The soft sheepskin leather and exquisite sturdy hardware, ensure that it offers comfort and ease of wear, anytime and every time.
Concluding Best Double Rider Leather Jackets For Men
The symbol of the motorcycle community turned into a fashion staple, the double-rider jacket is a time-tested essential. We at The Jacket Maker not only stick to the classic OG double-rider jacket but have also re-imagined it in different ways to bring you an assortment of the best double-rider leather for men that has something for everyone.
We also offer an advanced measuring and size determining tool, as well as a variety of different sizes to fulfill everyone's needs. But if the predetermined measurements do not represent your fit, or you want something tailor-made to your specific requirements, then we also offer a custom motorcycle jackets service.
By using our bespoke service, you can get in touch with one of our talented designers and design every aspect of the jacket. You can choose the fabric or leather type, colors, styles, and every feature that will appear on your jacket.