Although jeans are a must-have item in every woman's wardrobe, skinny or slim-fit jeans are no longer the only choice in present-day's fashion. You can have a nice break from these usual jeans with styles like boyfriend jeans or mom jeans of yesteryears that have made a comeback. In this blog, we will dive deeper into comparing boyfriend jeans vs mom jeans to help you make a better choice according to your style.
There are several questions that may pop up in one's mind when going for unique styles like mom jeans or boyfriend jeans. You may wonder whether these styles are currently in fashion? Whether they flatter your figure? Or, are they only appropriate for casual wear, or can you build a streetwear outfit with them?
Don't worry. After reading the entire blog post, you will have your answers besides having a clear standpoint on what type of jeans you should go for.
What is Mom Jeans?
Mom jeans are one of the most comfortable types of jeans for women that has a simple design. It started trending way back in the 70s when women felt a need for jeans that flatter the feminine figure while being comfortable. The mom jeans then came into being with a high-waisted style, which quickly gained popularity, especially among middle-aged women.
Design
The design of standard mom jeans has a high waist to make the thighs and back appear flattered. The jeans fit slightly loose around the hips and thighs but taper towards the end for a modest style. Mostly, you will see mom jeans with a stretchable waist which makes them super easy to wear.
The hem of the mom jeans is above the ankle. It's up to you whether you want to fold the hems for a more casual look or let them stay as it is. The back pockets of the mom jeans are longer than regular jeans, which gives an illusion of a flatter back, a highly needed feature for curvy women. The proportioned look it gives enhances your overall appearance.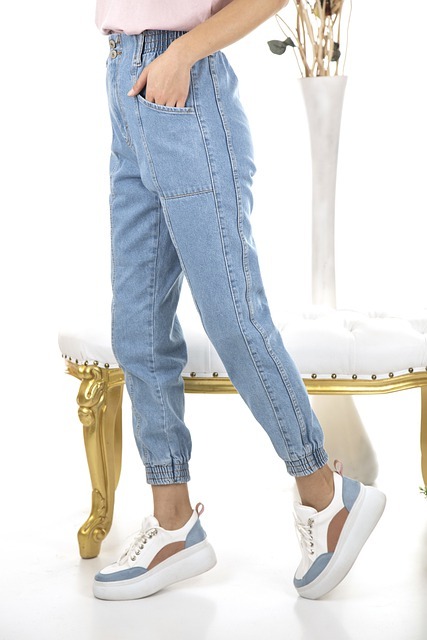 Mom jeans are very practical due to their clean design, modesty, and comfort. They are made with high-quality denim, unlike the usual thin skinny jeans fabric. The denim for mom jeans is evenly dyed, giving a subtle sophistication.
Mom jeans stayed in and out of trend during various eras of fashion. But the fact that mom jeans are super comfortable and portray a modest style makes it evident why it has sprung back into contemporary fashion. It isn't uncommon to see celebrities and social media influencers wearing mom jeans these days.
Types of Mom Jeans
The style and designs of mom jeans vary depending on diverse body types.
Mom jeans are typically high-waisted, but here we are talking about the type where the waist goes almost above the navel. It is meant to be high enough to be fastened at the narrow part of the waist. This style looks good on women with pear-shaped bodies. They can style it with a petite leather jacket or a cropped top.
Mom Jeans with Tapered Legs
Apart from the curvy design around the thighs, the legs are a significant part of mom jeans that decides how comfortable it is. You can get a tapered style if you are short-heighted as it creates an elongated illusion. This style is also suited for women with a curvy body type to make their midsection appear shapely.
Mom Jeans with Straight Legs
Sometimes, we require a bottom somewhere between skinny and baggy jeans. On occasions like these, go for straight-fit mom jeans. This style is suited for almost every body type. It is highly comfortable due to its fit that allows you to move freely.
Besides varying structures in mom jeans, you can get decked up in embellished mom jeans like embroidered ones or fuse an edgy style with ripped mom jeans.
What is Boyfriend Jeans?
The name of this style tells us that it is simply a men's style of jeans that became a trend in women's fashion. Screen legend Marilyn Monroe is credited with bringing the boyfriend jeans trend into women's fashion in the 1960s. It is said that she was spotted wearing it on the sets of her movie Misfits. Following her footsteps, many celebrities started to opt for the relaxed, slouchy style that was a break from the skinny, feminine style of jeans.
Design
Boyfriend jeans come in the realm of baggy clothes style with a low waist, straight cut, and a comfortable fit. Despite its slouchy, oversized appearance, boyfriend jeans look very stylish. The length of the jeans reaches beyond a woman's ankles, so it is usually worn with the hems folded.
The comfort of boyfriend jeans is due to their long-cut legs and roomy size, making them perfect for the laid-back style. Although you can find boyfriend jeans in a slimmer fit that matches contemporary style standards, the authentic one is baggy and relaxed.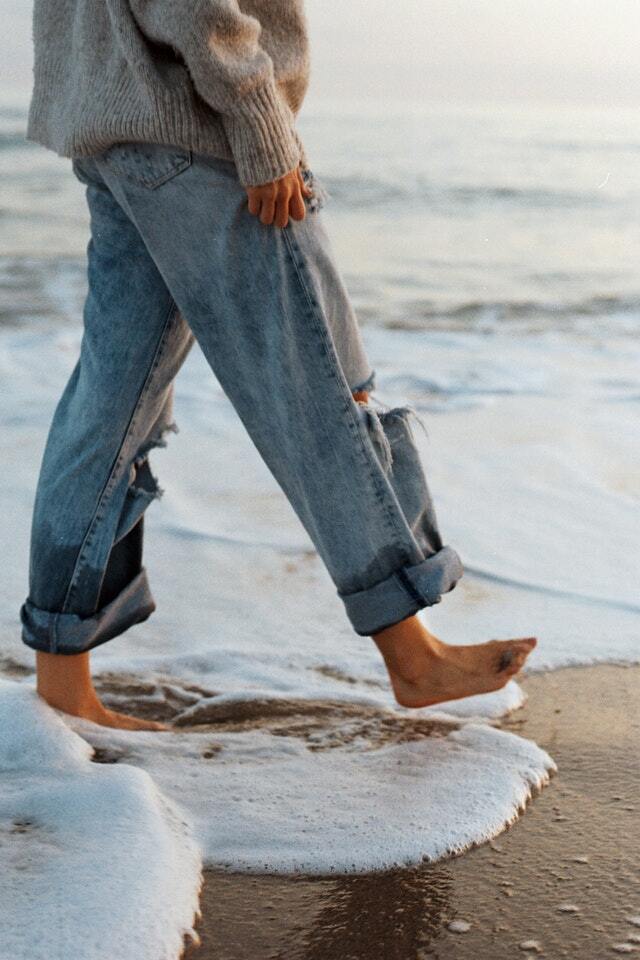 Types of Boyfriend Jeans
As mentioned above, new iterations of boyfriend jeans have come into being to suit the current fashion needs. Besides the original baggy boyfriend jeans, there are several other styles and designs available.
Rips on the jeans are considered a sought-after style in modern-day fashion. You can create some stylish ripped jeans outfits with boyfriend jeans.
To conform to the feminine style, boyfriend jeans are available in an ankle-length style that doesn't need to be folded. You can choose the length according to your preference. Short-cut style boyfriend jeans can be tapered for a sleek fit or straight fit.
For thin and petite women, skinny-style boyfriend jeans are a good option. The slimmer, tapered version is appropriate for the feminine cut and style.
If you want to try a looser fit than regular jeans, you can get your hands on baggy-style jeans. The baggy jeans will be your best friend when it comes to putting together laid-back outfits.
Masculine Style Slouchy Jeans
For women who have bigger thighs, go with the original boyfriend jeans. They have a slouchy silhouette which makes you appear smarter.
Difference Between Boyfriend Jeans vs Mom Jeans
The boyfriend jeans vs mom jeans comparison have two points of commonality: their casual style and comfort. Otherwise, both styles are different in many design aspects.
Structure
Mom jeans are more fitted than the boyfriend jeans and hence do a better job at flattering the feminine body structure. The legs of the mom jeans are usually tapered, while those in the boyfriend's are slouchy, giving more space for legs.
Waist
One of the basic differences between mom jeans and boyfriend jeans is that mom jeans are high-waisted. The waist, usually elasticized, goes up to the midsection and serves the purpose of hugging the curves. On the other hand, boyfriend jeans sit on mid to low waist and are not stretchy.
Length
Mom jeans are found in a regular and cropped length, but they don't fall below the ankles. While boyfriend jeans are longer. Women wearing boyfriend jeans roll up the cuffs, which adds to its chic style.
How to Style Boyfriend Jeans
Although boyfriend jeans are unisex style, there are various ways one can style them for an uber-chic feminine look. You can build a variety of casual and street-style outfits.
T-shirt and Boyfriend Jeans Outfit
The T-shirt jeans combo is a no-fail one when you need to dress up casually. A white boat neck style t-shirt with dark blue boyfriend jeans makes a winning combo. You can elevate this gorgeous attire with a brown women's leather jacket in vintage style or a canvas jacket.
Complement your basic outfit with accessories like hooped earrings, and round off the feminine look with strappy heels.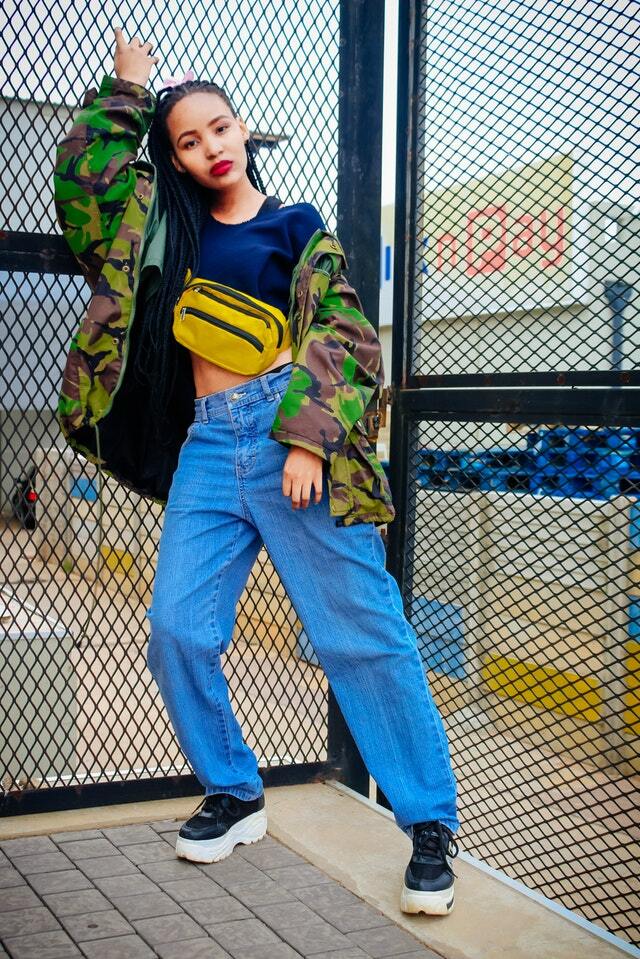 Blazer with Boyfriend Jeans
Fashion gurus recommend wearing a tailored blazer with boyfriend jeans to add a refined touch to the otherwise laid-back look. Oe, you can add some luxe to this outfit by opting for a leather blazer. choose straight-cut jeans with this outfit. You can go for a trendy v-neck top or a blouse for this look and integrate chunky white sneakers into this look.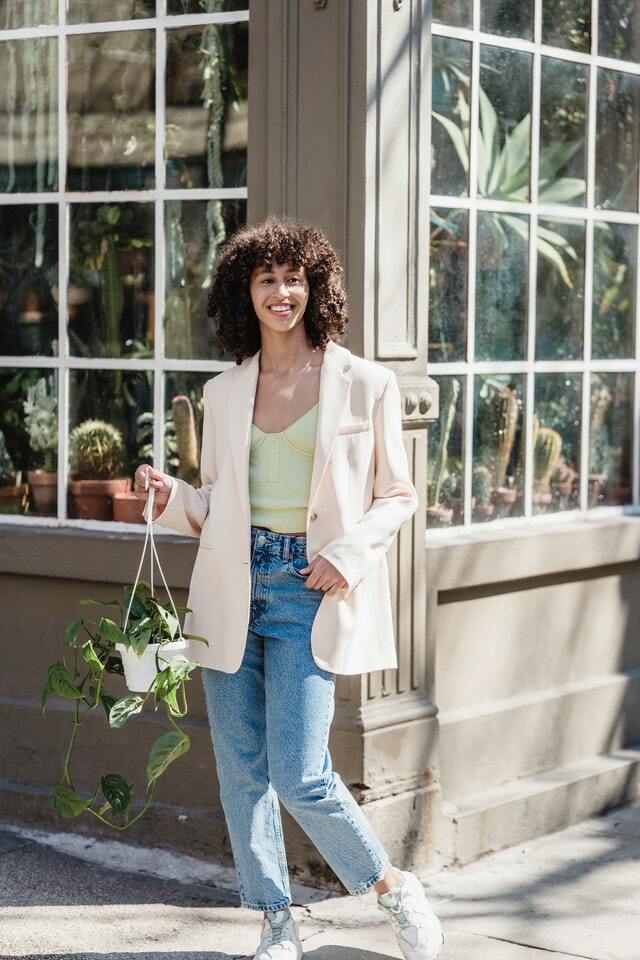 Feminine Style Blouse with Boyfriend Jeans
Pair a nice ruffled blouse with your boyfriend's jeans for a glamorous look. A blouse with old-fashioned puffed shoulders looks very classy with these types of jeans. Complement this look with flat ballet shoes.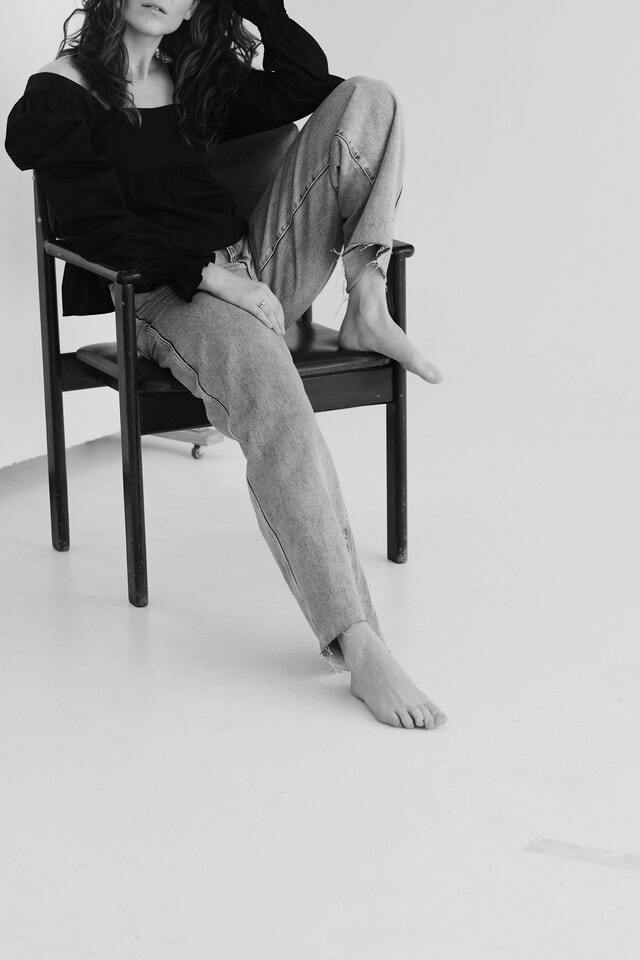 Trench Coat and Boyfriend Jeans
If your boyfriend denims are in a shade of brown, you have an opportunity to create an attractive brown outfit. Pair a dark brown high neck and a tobacco boyfriend jeans. To layer, this outfit, pick one of the best trench coats for women that complements this elegant outfit. For the footwear front, go with suede ankle boots.
Leather Jacket and Boyfriend Jeans
There are numerous varieties of jackets that you can wear over boyfriend jeans. Firstly, choose a tight-fitting top that balances the baggy style of the boyfriend jeans. Next, go for a feminine jacket, like a burgundy leather jacket or a fur jacket. Round off the look with high-heeled pumps for an extra feminine touch.
Oversized Sweater with Boyfriend Jeans
A very classy way to wear boyfriend jeans is to pair them with an oversized sweater. Go for a sweater longer in length to give a flattering appearance.
How to Style Mom Jeans
Mom jeans are not an outdated retro fashion anymore. They are back in the spotlight, thanks to their figure-flattering style, and you can see famous divas wearing it with a modern style. Cropped tops, tucked in sweatshirts, belts, sneakers, and ankle boots are usually paired with mom jeans to add flair.
Mom jeans are highly versatile. Pairing it with various types of shirts, blouses, and jackets is a breeze as their high waist and fit make them less casual than the boyfriend jeans. Here are a few suggestions to style mom jeans.
Black Chiffon Blouse with Mom Jeans
Pair a stylish black chiffon blouse with black mom jeans for a refined look. This black jeans outfit can be styled with a silver statement necklace and strapped heels for a trendy street style look.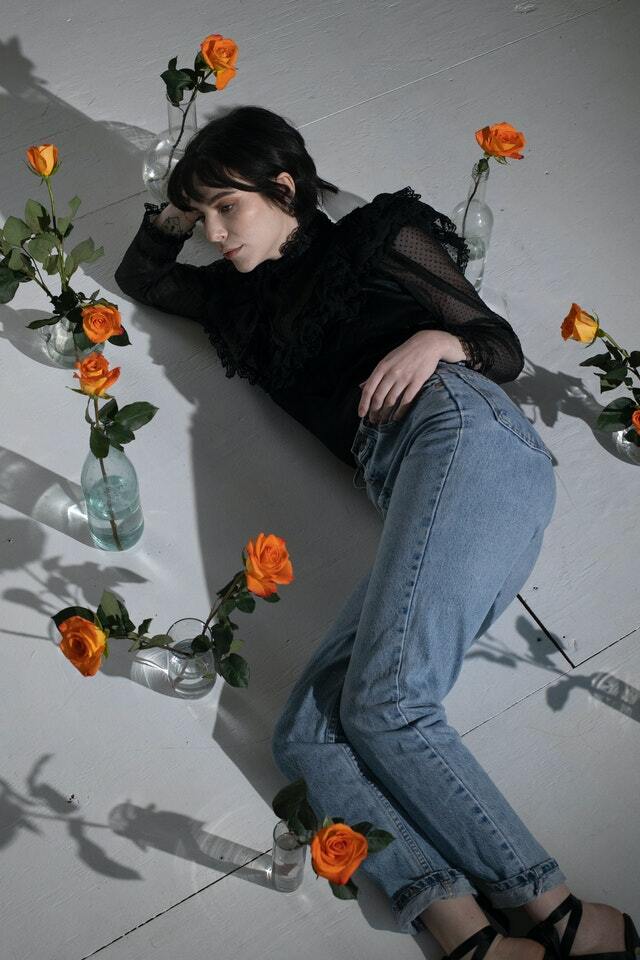 Denim Over Denim
Another look you can nail is to team up a vivid colored cropped top with mom jeans and a denim jacket in the same shades. Denim jacket outfits are all the rage these days as they are simple to put together besides looking chic. You can play around with the prints and colors of the top in these outfits, depending upon when and where you will wear them.
Spaghetti Strap Top with Mom Jeans
For a simple look that enhances your curvy figure, go for a stylish spaghetti strap top with high-waisted mom jeans. If you need to layer this outfit, opt for a plus size leather jacket. Finish off the look with a pair of gladiator sandals to add some elegance to your look.
Crewneck Sweater with Mom Jeans
Did we just mention again that styling mom jeans are effortless? Just team up a grey crewneck sweater with blue mom jeans for a chic casual look. Add some vintage-style jewelry to rev up this simple outfit, and go with kitten heels to complement the fabulous look.
White Buttoned Shirt with Mom Jeans
Another easy way to put together a mom jeans outfit is to pair it with a simple white shirt. Several types of fall jackets for women can go well with this basic outfit, like a biker jacket or a suede trench coat.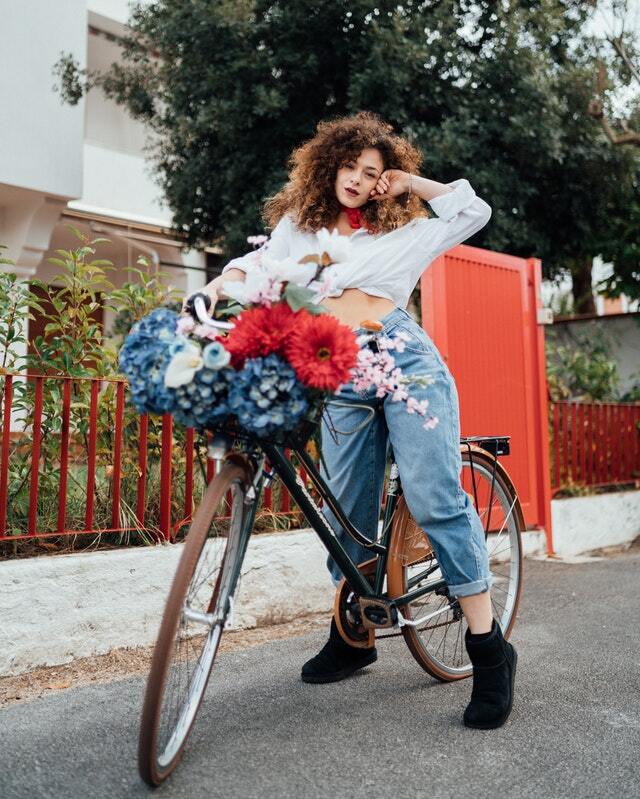 Californian Style Cropped Top With Mom Jeans
One of the most uncomplicated ways to wear mom jeans is to pair them with a cropped top. You can go with a bold color top for a playful style or don a simple white one with light blue mom jeans to mimic the Californian style.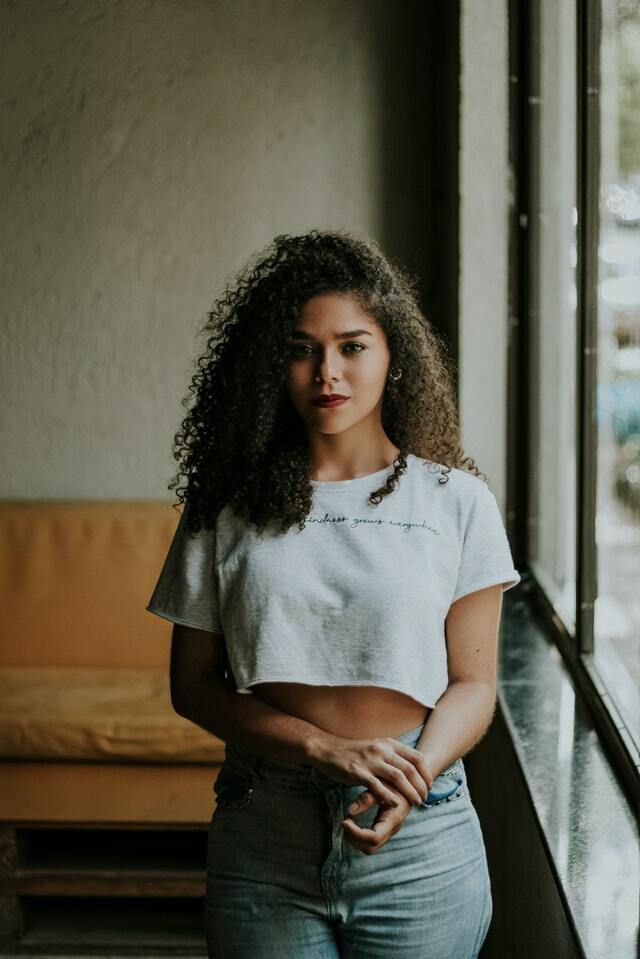 Choosing the One That's Right for You
What type of jeans should you pick when you need to choose between boyfriend jeans vs mom jeans?
Both styles provide optimum comfort while looking stylish, so choosing one that suits your body type is better.
Mom jeans are easily styled, plus they fit nicely around the waist. This feature makes them more shapely as compared to boyfriend jeans. Avoid wearing mom jeans if you are very skinny, as they will look too big.
Boyfriend jeans have a baggy cut. The generous denim fabric around the legs makes this style appropriate for petite and curvy women.
FAQS
Are Boyfriend Jeans Meant to be Baggy?
The original style of boyfriend jeans that Marilyn Monroe started wearing was baggy, but that doesn't mean you can only wear oversized boyfriend jeans. Contemporary style standards have paved the way for sleek fits in boyfriend jeans, and they can be worn in less baggy and even skinny forms these days.
Do Mom Jeans Make You Look Fat?
Mom jeans are a garment that flatters your figure by giving the illusion of a slimmer waist and an elongated back. If you wear the right size, mom jeans will not make you look fat.
Conclusion
Our detailed comparison boils down to the fact that both mom jeans and boyfriend jeans cater to different body types. Whether the versatile mom jeans suit your style or you choose boyfriend jeans, both will help you build stylish casual and street style ensembles. But, whatever style of jeans you choose to wear, make sure it is comfortable, and you feel good while wearing them.