When it comes to contemporary fashion, men and women from California undoubtedly know how to rock the laid back style with the right stuff. This makes everyone wonder how do people dress in California so effortlessly and yet steal the show with their style.
Fashion trends from California inspire fashion conscious people around the globe. The reason for the California fashion being so popular is that it is just what everyone desires: effortlessly casual, laid back, yet absolutely stylish. Free spirited Californians confidently carry themselves in relaxed ensembles, often adding beachy finishing touches to their looks.
The state of California, also called the Golden State, experiences diverse weather conditions. The variety in temperatures and the fact that California is a multicultural epicenter give rise to a medley of fashion trends. The outdoor loving Californians build outfits using elements that can be worn all year round. Anyone looking for a precise answer on how to dress like a Californian should take clues from the uninhibited persona of fashionable Californians. They certainly have a flair for trendy and vintage essentials to create ensembles that are comfortable and cool.
If you are planning a trip to the West Coast anytime soon, now is a good time to learn how to dress in California. And who says visiting there is the only time when you can go for California style clothes and the popular California fashion trends? You can just go through this California fashion tell-all and get inspired to recreate the looks of fashionable men and women from the Golden state.
What is California Style Fashion?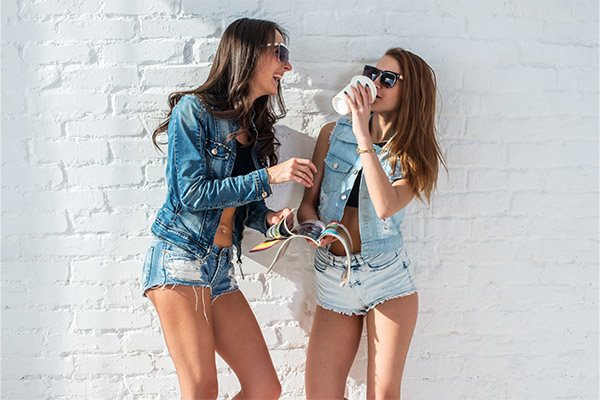 California clothing style strongly depicts youth, energy, and appealing looks. You can see a hint of beachy vibes in the stylish clothes. Another thing that illustrates the Californian's tendency towards their history is the addition of vintage style in their clothing. 
Hollywood celebrities heavily inspire the California style. They confidently adopt trends in fashion that incline towards the true essence of the California aesthetic. However, whatever staples they pair up, nonchalance is the crux of their style fundamentals.
What is California's Casual Dress Code?
Precisely, we can describe the California style as laid back and voguish. Even while wearing super comfortable staples, the hot guy from the West Coast or the Cali girl gives stylish vibes. It's evident that denim is integral to the California casual dress code, both in the bottoms and upper wear.
If you still wonder what to wear in California, you have many options of breezy fabrics, and layers of sheer clothing. Sneakers are another frequently spotted casual footwear trend on the streets of California.
Bohemian Style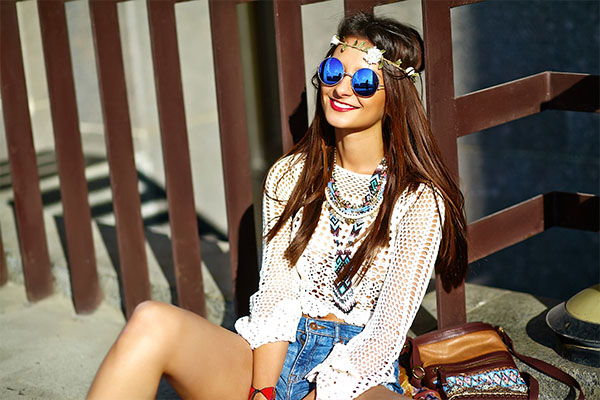 Affordable boho clothing is the California casual dress code for many natives. Boho chic style is actually considered the hallmark of the southern California style. It is all about mixing up vintage elements in an unstructured, laid back manner. A typical bohemian style for women may be a paisley top paired with gypsy skirts, or vintage t-shirts and yoga pants for men. Not to mention lots of beaded accessories, strappy footwear, hobo bags, and more. 
Hipster Style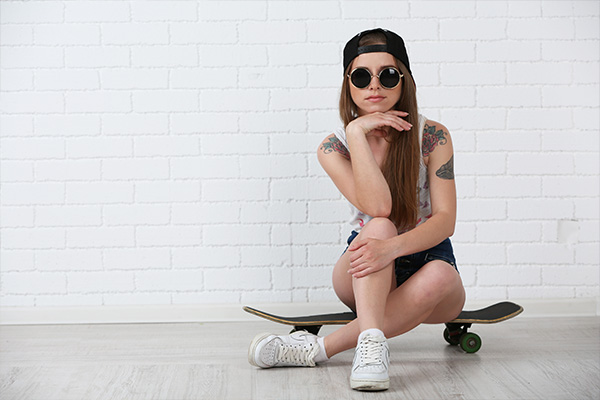 Spotting the quintessential hipster style look is not uncommon on the streets of Californian cities. California hipster style includes outfits built with oversized sweatshirts, denim shorts, big sunglasses, and cowboy hats. Patterns, both bold and intricate, are frequently used by those who follow the hipster style.
Jackets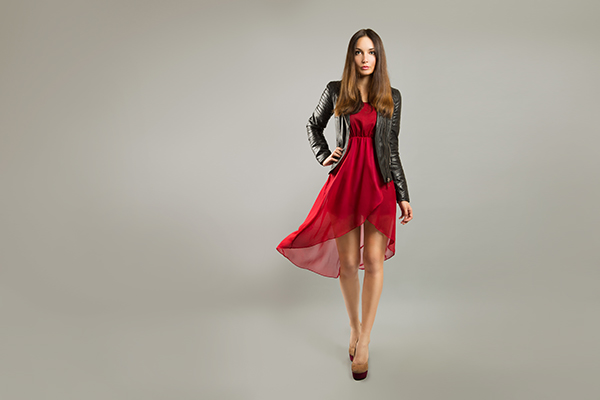 California is notorious for the generosity of the sun, but it may get chilly in the evening. Also, it is understood that the weather can't remain warm and coastal all year round. Therefore, the use of stylish jackets to layer those laid back outfits is very common.
If you explore the options for what do people wear in California to layer their outfits, you will notice that they prefer trendy pieces that still fall within the category of classics. From the best aviator jackets and denim jackets to lightweight fleece and trucker jackets, the options are abundant when it's time to add a warm, comfortable layer in pure California style. 
Fabrics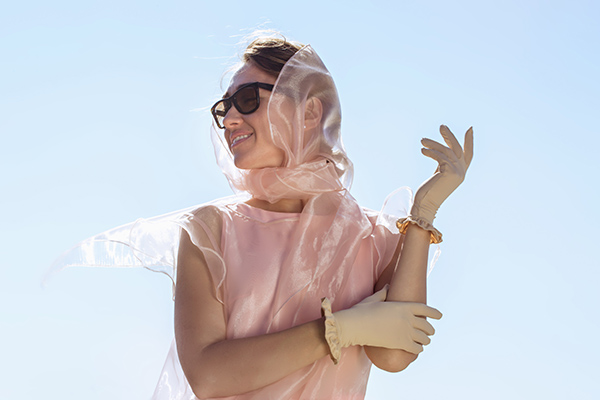 Finding how do Californians dress wouldn't be complete unless you get the hang of the fabrics that they are used to. Lightweight fabrics are the best option for most places in the state of California where the weather is sunny and warm. Go for breezy, comfortable fabrics like chiffon, cotton, or linen which allow the skin to breathe and stay cool.
Colors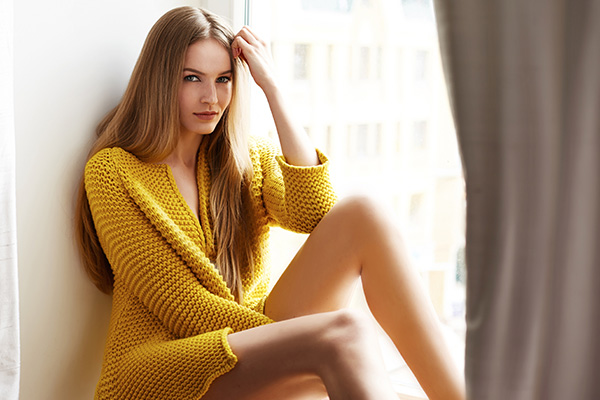 Choose bright, happy colors to reflect the true Californian spirit. Whether it is to add a slight color pop to an earthy outfit, or to create a vibrant look, go for hues like yellow, pink, or orange.
For girls, pairing bold colored tops with neutral color bottoms is a classic Cali style.
West Coast Style Men's Clothing: How to Dress Like a Californian Guy?
The query of how to dress in the California guy style is certainly on every fashion loving man's mind. They definitely slay the casual style like no other. You can spot many Californian men wearing fitted t-shirts or hoodies with slacks, or denim, giving off urban vibes.
Men's California style comprises basic wardrobe staples to create outfits, making sure to add a vintage looking element, or bold designs and patterns for the upscale Cali look. Patterns like tie and dye, multicolor stripes, and logos and quotes of favorite music stars and bands are loved by Californian men. 
All White Look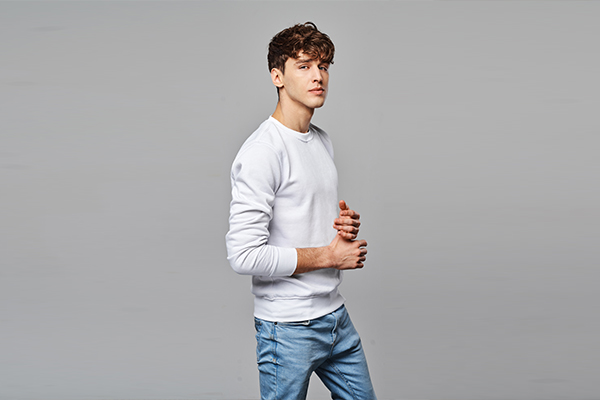 White on white makes you stand out from others. Besides looking stylish, this look also exudes minimalism. White hooded sweatshirts or cotton shirts over a trouser or jeans look simple and pure. Hollywood A-listers from the Bay Area are often spotted wearing this style.
Plaid Flannel Shirt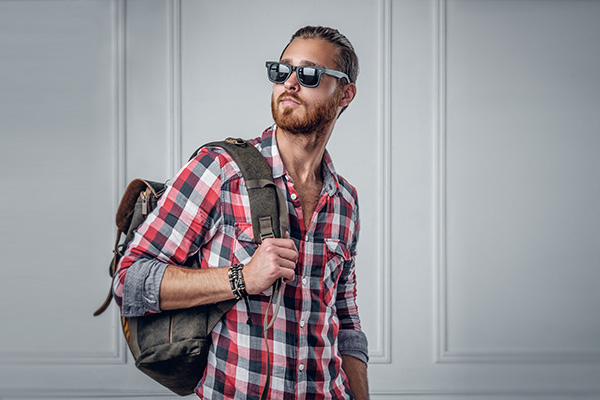 There is something very casual, yet extremely classy about the plaid flannel shirts which makes them a frequently used staple for Californian style clothing. Pair it with a white t-shirt and dark washed denim for a cool look. Put on a beret or an ivy cap for added style to this look.
Chambray Shirts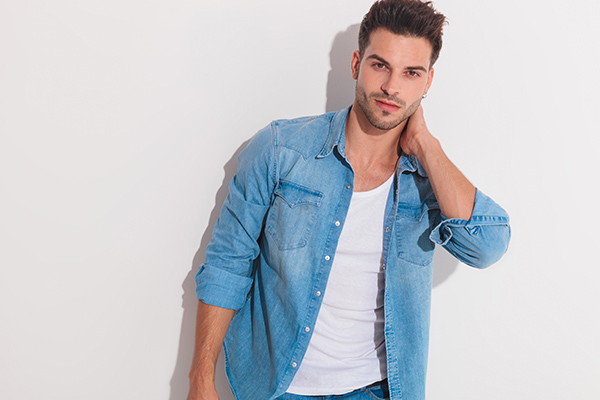 When you ask what do Californians wear most frequently, the prompt answer would be all sorts of denim. Californians adore denim, and what is the best way to display their love than wearing lightweight chambray shirts in hot weather?
Wearing a light blue chambray shirt with slim fit grey jeans is the best way to replicate the California men's style. It would give the perfect laid back look with a hint of ruggedness.
Jackets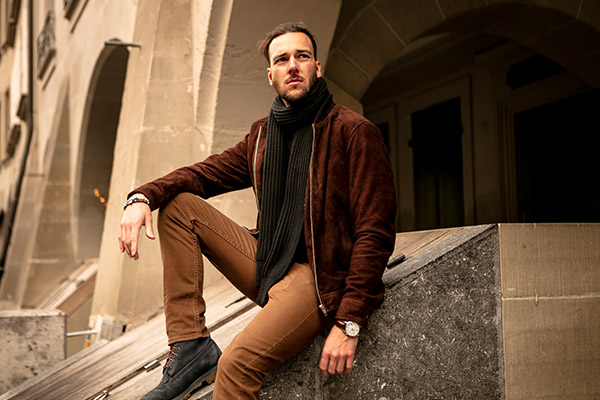 Timeless yet voguish is the catchphrase when it comes to the outerwear in California clothing style for guys. When the air turns from warm to crisp, a classy suede jacket, or a lightweight fleece jacket will be the most comfortable option for layering. 
Jeans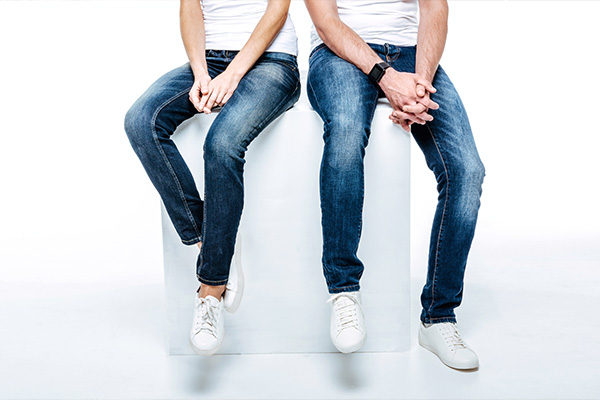 West Coast guys' favorite type of pants is definitely the jeans, making it obvious why the California street style is incomplete without them. They like to wear distressed denim, straight cut jeans or ripped jeans in dark blue, black and charcoal grey colors.
Shorts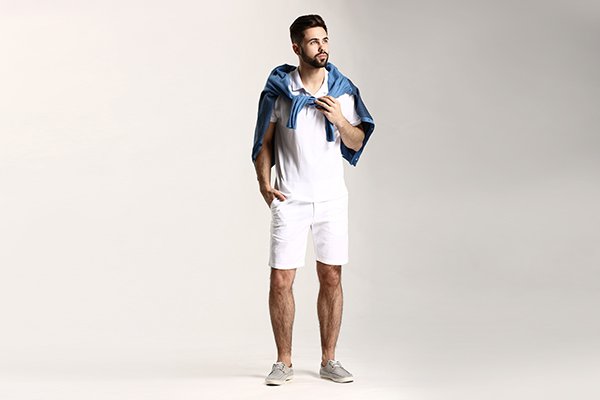 How can the relaxed and casual wardrobe of men from California be complete without some stylish pairs of shorts? You can pair them with button down shirts, t-shirts, and Henley shirts. The most versatile shorts, when considering California style for men are blue denim shorts, white cotton shorts, and grey twill shorts.
Graphic Tshirts (Vintage Inspired)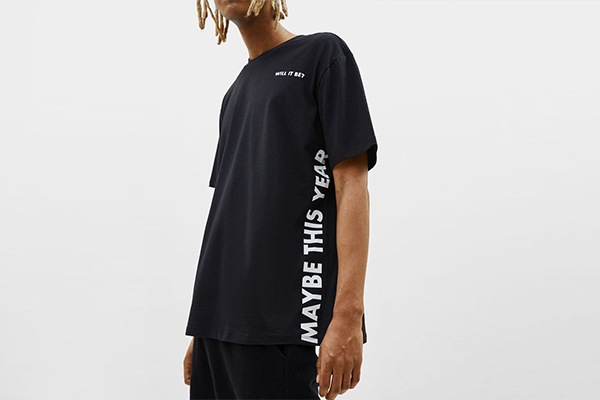 Vintage tees are an integral part of the California man's clothing style. You can check out thrift stores for great vintage finds or shop from brands that are selling vintage style t-shirts
Sneakers
Sneakers are considered the paradigm footwear in Californian fashion. Get yourself a super comfortable pair for your dashing looks.
Athleisure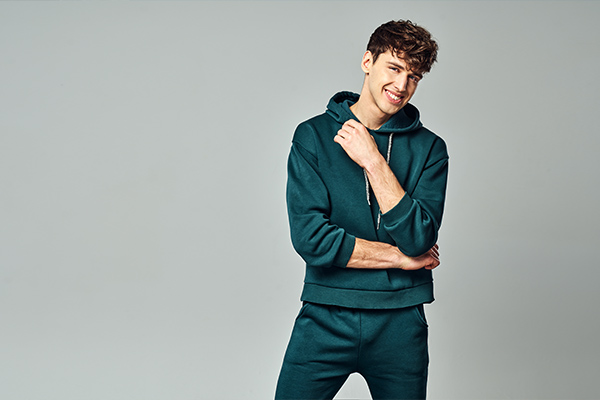 Californians are big enthusiasts for healthy living, so seeing them focus on athleisure outfits isn't surprising. For men's California style, the essentials for athleisure wear are fitted trainers, pullover hooded sweatshirts, or yoga pants in bold patterns.
Smart Casual Style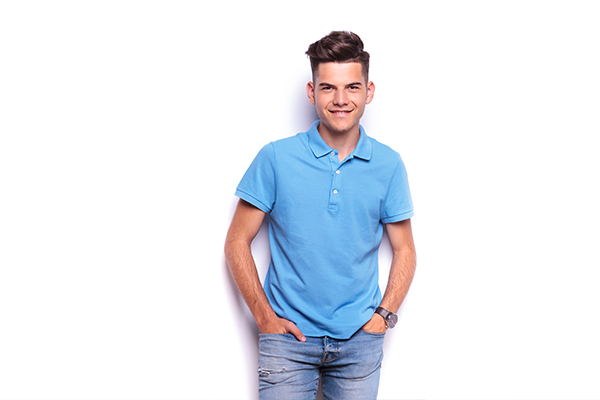 For Californian men, smart casual style mainly consists of looks incorporating polos or button downs with chinos (both pants and shorts). You can layer them with linen or seersucker blazers and Sports Jackets.
West Coast Style Women's Clothing: How to Dress Like a Californian Girl?
Wondering how to dress in the Californian girl's style? The sartorial choices of fashion savvy Cali girls are just perfect somehow. The Californian girl style consists of beautiful chic essentials, beachy hair, tan skin, and attractive accessories.
The look is generally simple, but the vibes added via this style make even a casual sundress look absolutely eye pleasing. This effortless flair makes the world look up to the west coast girls for fashion inspiration.
Loose and Fit Combo
One of the style trends followed by Cali girls is pairing a loose staple with a fitted one. This style creates a figure flattering silhouette and is a great way to stay relaxed while looking like a diva.
Inspiration from the 70s
The penchant for vintage style strongly reflects the fashion in California. Specifically, the California aesthetic is inspired by the 70s trends. If you want to learn how to dress like a Californian with a 70's flavor, incorporate elements like mini halter dresses, and flared high waisted pants in your closet to achieve this look. Vintage style t-shirts are also quite a popular fashion in California.
Floral Prints
Californian girls love floral prints. You will see dresses, blouses, scarves, and even wide legged pants in the true Californian style floral prints.
Cropped Tops
Crop tops are considered an identity for true California fashion. Pair them with skirts, wide legged trousers, jeans, and denim shorts for a carefree yet feminine look.
Cropped Sweatshirts
Women from the West Coast prefer cropped sweatshirts with hoodies to build comfortable outfits in fall and winter. You can wear these stylish sweatshirts with jeans, jogger pants, or leather skirts.
Tank Tops
For those bold and beautiful Californian girl looks, go for tank tops in dark colors.
Tunics
Tunics in silk or chiffon are another ultra feminine staple for women residing in the Golden State. The breezy, lightweight tops are dominant in California street style as they keep one cool and comfortable in the warm climate.
Mini Dresses with Trainers
One of the most common sights in LA, San Francisco, or San Diego streets is women donning a sultry short dress along with trainers. The short flowy dress is considered the quintessential California dress style.
Matching Two Pieces
You can create a baddie look by getting yourself a matching set of trousers and tops. Go for bold colors such as green, yellow or red for a youthful look.
Sailor Trousers
Sailor trousers are wide legged, high waisted trousers that you can pair with a blouse, a crop top, or a chambray shirt.
Kimonos and Cover ups
A lot of Californian fashion revolves around beach outfits. Splendid beachwear is mandatory for the Southern California style. Women use bright colored kimonos or cover ups over their gorgeous swimsuits, nailing the SoCal look. Floral prints are typical for these staples.
Straw Hats
To complement the beach looks, women wear straw hats that protect them from sunshine and are considered a stylish fashion accessory.
Leggings With Bold Patterns
Like Californian men, women too are obsessed with athleisure wear. They like to wear tank tops and workout leggings with bold patterns to reflect their fun yet health conscious side.
Jackets
You will find many California divas wearing the best leather jackets for women. Also, as they adore staples made of denim, the denim jacket too is a highly preferred choice for outerwear.
Accessories
The go-to accessories for Cali girls are sneakers, heeled sandals, ballet flats and ankle boots. They use hooped earrings, layered or statement necklaces, a stack of silver bangles, and nature pendants for a glam look.
Makeup Look
The standard Californian girl makeup look is a contoured, glowing face with winged eyeliner, brown eyeshadow, and nude lipstick. The looks may vary according to the time of the day and occasion.
Branching Out to the LA Fashion
Los Angeles is home to many popular faces, making it a fashion hub of California. Even regular people walking down the streets have fashion forward looks. The LA street style is hence worth following.
LA people wear various Californian costumes described above with varying cuts and silhouettes. You will spot lots of flared denim, flat sandals, and blazers. They make them appear stylish with unique designs and the use of trendy accessories.
What is the Difference Between Californian Fashion and Arizonian Fashion?
Both Arizona and California are hot regions. Most of the fashion in both states gets influenced by the weather, and residents prefer a cool and laid back style. However, there are a few differences that set them apart.
Firstly, Arizona is hotter than California, which means there is abundant use of lightweight dresses and shirts. Arizonian fashion uses earthy tones like brown and orange a lot. Also, there are ethnic elements frequently seen in Arizonian style clothing, like Aztec prints and suede fringes on accessories.
There is a difference in length of the outfits as Arizonian women prefer longer silhouettes like maxi dresses while those in California prefer short skirts and shorts.
FAQs – California Fashion
How Do People Dress in LA in December?
In December, the temperature in LA may go down to 50 degrees Fahrenheit. It is wise to keep some warm jackets in your wardrobe. Leather jackets that fit you right, hoodies, cardigans, and trench coats are good options that will come in handy.
LA People also like to add inner layers when it is too cold. You too can do so by wearing cardigans or hooded sweatshirts to keep you warm and snug. Get a woolen scarf as well for lightly covering up yourself in winter.
What Do You Wear in California in the Winter?
Along with your regular jeans and t-shirt combos go for some knitted ponchos, down jackets, or cardigans to protect yourself from the mildly chill season. 
What to Wear For Clubbing in LA?
While going to a club it is wise to keep things not too formal so that you can feel relaxed. Go for dark blue jeans, a black t-shirt, and a brown biker jacket if you are a guy. For girls, a dressy outfit created by pairing a pencil dress and a black racer jacket is perfect for clubbing. Finish off the look with high heeled boots. 
What Should I Wear in Malibu?
Stylish swimwear is an integral part of southern California's style. When visiting Malibu, make sure you stock up on some funky swimwear and some beach outfits including a sundress, a bodysuit with shirts, and accessories like a hat, sunglasses, and flip flops.
How to Look Like a Californian Girl?
To replicate the Californian girl look, try experimenting with beachy hair and tan skin. You can use a salt spray to get the beachy hair effect. Californian girls also have a lot of piercings, so you can try getting those as well. They have tan skin and a toned body which can be achieved through regular workouts.
Try adding lots of sheer layers in a laid back way to create California-style outfits.
Takeaway
Following the California fashion is the best way to experience what it is like to live the Californian spirit, which is casual, carefree, yet absolutely voguish. The style followed in the Golden State is so relaxed that fashion savvy men and women take inspiration from it. It is recommended to change your looks according to the varying weather conditions of California.