Women over thirty are often bombarded with advice on what they shouldn't wear. It's more like pulling the breaks on your fashion sense, with only a few types of clothes tagged appropriately for a certain age. As a matter of fact, there are so many ways to wear those seemingly improper clothing essentials, such as crop tops, in a stylish way. We will dedicate this blog post to crop top outfits that women over thirty can easily pull off stylishly. 
At The Jacket Maker, we endorse inclusivity, which shapes our perspective that fashion should never be age-restricted. The Thirties are the time to shine and defy all age-shaming norms by wearing whatever you love. Chic garments like crop tops are by no means limited to teens. If you style it in the ways that we are about to tell you, you can definitely look stylish. 
What To Expect In This Article?
How to Wear a Crop Top in Your 30s?
Although dressing styles for all ages differ, being in your thirties doesn't mean that you cannot look or feel fabulous. While a teen would follow trends and aesthetics in a carefree manner, a grown-up woman's style would lean towards subtlety and sophistication. She can wear whatever she wants in a way that doesn't feel outlandish or revealing.  
Among all types of shirts and tops for women, crop tops are a must-have for your spring/summer wardrobe. If you are in your thirties, go for ribbed, full-sleeved, or elasticated tops for an elegant look. Other styles of crop tops may be button-down blouses, striped tops, tops with ruffled details, or square neck blouses with balloon sleeves. 
While you can choose bright hues like red and yellow, neutral-colored tops are your best bet for a graceful look. Pair your black, white, beige, brown, navy blue, or cream-colored crop tops with dark-colored slacks and blazers. Another idea for a neat-looking outfit with crop tops is to match it with your pants. 
What to Wear with Crop Tops after 30
Every woman has a different style as well as different body types. Styling the crop top primarily depends on both of these factors, especially if you are a grown-up. Keep in mind that your goal is to create a stylish silhouette and that you are looking for a classy look rather than replicating a teenager look. 
The first thing you need for creating crop top outfits is high-waisted bottoms, such as jeans, slacks, skirts, or other types of pants. High-waisted bottoms give the perfect look with crop tops as they cover most of your midriff besides giving an elegant, flattering silhouette. With these pants and skirts, either your waistline would be concealed, or a very little part of it would be showing. 
Crop Top Outfits for Women In Their 30s
Crop tops are very easy to pair with a variety of clothing essentials. Having a few of these in contemporary and classic styles will add versatility to your wardrobe. As a mature woman, you can try any of the following combos which are very much in trend these days.
Cute Summer Outfits with a Crop Top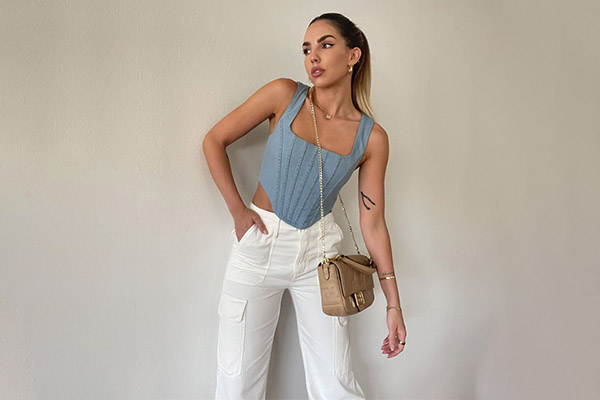 Summer is the perfect time to flaunt that fit body that you have maintained till now. But even if you have a rectangle shaped body, or curves that you proudly own, wearing a crop top is a great idea to beat the summer heat. You will only need to keep the desired silhouette for a flattering illusion.
Pair a pastel pink cropped button-down shirt with white capri pants for an elegantly chic look. Wear white platform heels with this ensemble and accessorize it with a delicate neck chain and some boho-style bangles. 
For a casual summer look that can be pulled off both indoors and outdoors, is a coordinated loungewear outfit. You can opt for a blue soft cotton cropped T-shirt with matching joggers. When going out for a casual walk or meeting a friend, style this outfit with black pumps, a black handbag, and hooped earrings. 
Crop Top Outfits with Skirt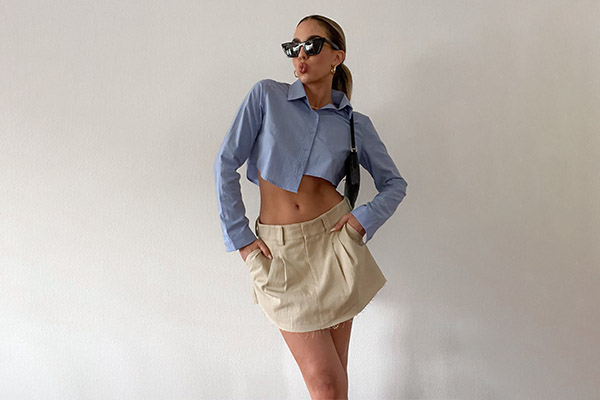 The combination of crop tops and skirts gives a very flattering look. Wear a white off-shoulder crop top with a high-waisted chiffon floral skirt to build a perfect spring outfit. You can style this look with white t-strap heels and shining ear studs to make it fit for a party. 
Or, try a boatneck crop top in a bright color like blue, pink, or orange. Pair it with a brown leather mini skirt in an A-line silhouette. Make sure your skirt is high-waisted. Elevate this outfit with brown suede ankle boots and a brown tote bag.
Another idea is to wear a black flared midi skirt with a cropped button-down shirt in white color. You can use a black and white printed shrug with this outfit to upgrade the style quotient, and round off this look with black platform heels.
Crop Top with Sweater Outfits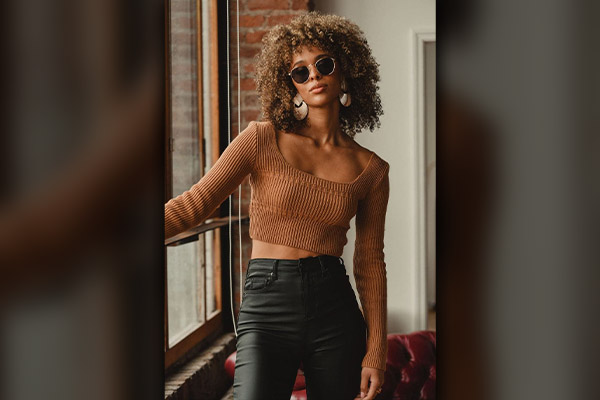 In early spring, you can wear a cute cable knit cropped sweater over your top and pair it with skinny jeans and boots for a ravishing look. Add some more warmth to this look with a beanie.
Over a black turtleneck ribbed crop top and beige corduroy pants, wear a stylish fall jacket like a suede shirt jacket, or a long oversized cardigan. Wear black ankle boots with this outfit.
Sweatpants and Crop Top Outfits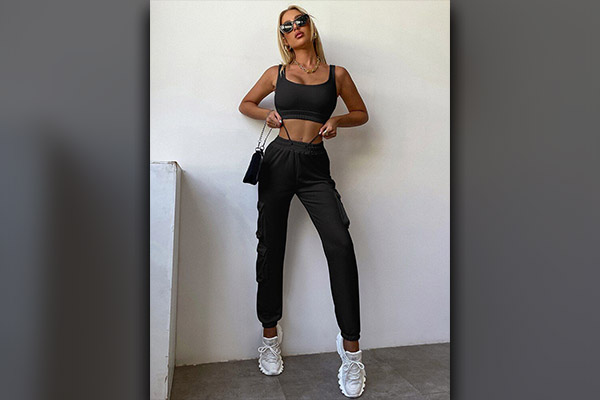 If you are one of those women who love wearing sweatpants apart from the comfort of your home, the outfit suggestions are just for you.
A beige cropped t-shirt and black flared sweatpants is a chic and casual combo that you can wear for running errands. On a day when winds turn chilly, layer this outfit with a puffer jacket. To dress up this outfit for a lunch date, wear black t-strap kitten heels with it and carry a black shoulder bag.
You can also create a simple, no-fuss look with a knotted white t-shirt and black sweatpants. Black ballet flats and a beaded necklace will complement this look perfectly.
Cute Crop Top Outfits with Jeans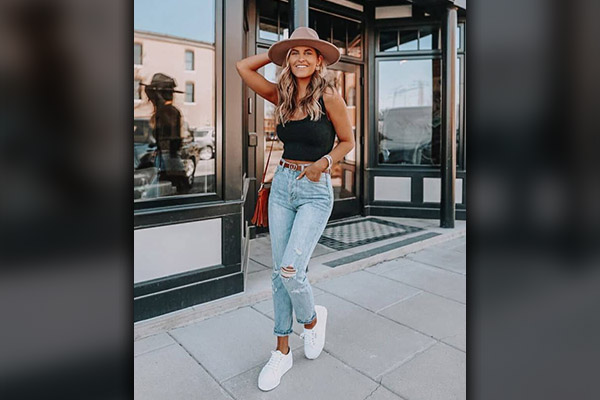 Jeans and crop tops are a basic day-to-day combo that can be worn in different ways even after you turn thirty. Team up pretty crop tops with several types of jeans like boyfriend jeans, mom jeans, bootcut jeans, or ripped jeans. 
For a flattering look, pair bootcut jeans with a white cropped top. Layer it with a baggy denim jacket for a classy double-denim look. White slip-on vans and a stylish pair of shades will round off this look with perfection. 
You can also try a combination of a yellow crop top with baggy mom jeans. Brown leather wedge sandals will add up the style meter reading for this look.
For a model off-duty inspired look, you can wear denim overalls with a cream crop top. This ensemble is worn by popular celebrities and supermodels as it gives a very stylish look besides being comfortable.
Baddie Outfits with Crop Top and Ripped Jeans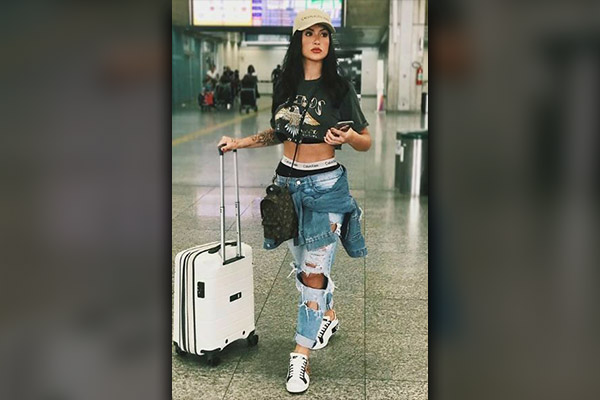 Being a baddie means the crop tops in your closet will be on constant rotation even if you are thirty-plus. Wear a black sports-style cropped top with ripped skinny jeans and add an extra dose of style with a lace top. Wear black stilettos with this look and do a soft glam makeover. 
Baddies wear a lot of matching co-ords. Choose a crop top and skirt in the color of your choice and elevate this ensemble with shiny pumps and hooped earrings. Top off this look with a leather bomber jacket if you need to layer up.
A black tube top, blue ripped boyfriend jeans, and a black and grey cropped plaid shirt is other baddie-inspired outfit idea that you can try. 
Crop Top Outfits with Shorts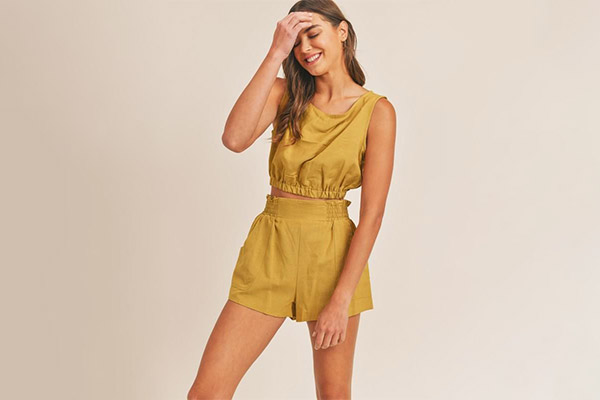 Show the world that your style sense is fabulous by wearing shorts and crop top combos in a variety of ways. For instance, beige shorts paired with a white crop top may be a very common outfit idea, but you can add a unique touch to it with a floral-printed kimono. Style it further with white pumps and a boho-style bag.
Longer shorts work better for graceful looks. Team up long denim shorts with a horizontally striped tank top. Elevate the ensemble with a beige knitted scarf around the neck and Converse sneakers.
High Waisted Pants and Crop Top Outfits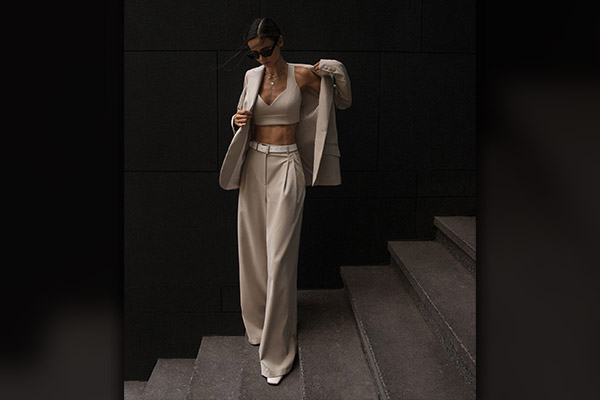 High waisted pants are the perfect clothing essentials to wear with a crop top if you have entered your thirties. Also, as high-waisted pants are on the trend forecast this year, it is wise to keep a collection of these in your wardrobe. 
Build a neat look by wearing a black crop top with mustard high-waisted pants and a beige trench coat. 
You can also wear a black frilly crop top with brown high-waisted flare pants for an effortlessly flattering look. This look is very easy to create but can be a perfect look for a party held in the daytime.
Casual suits paired with a basic crop top are a great way to dress down a polished work outfit. But you can add a twist to this look by going for a leather blazer instead of a classic cotton or wool blazer. The right way to nail this look is to go for an off-white halterneck crop top, black jeans, and a long black leather blazer.
FAQs
Can I wear a crop top in the summer?
Yes. Crop tops are the ultimate summer tops that you can pair with chiffon skirts, lightweight denim, and slacks for a cool and casual look. 
Are crop tops still trendy?
Whether you are scrolling social media, exploring street styles of fashion capitals around the world, or just watching the models on a ramp, crop tops can be seen everywhere. With the arrival of spring/summer 2023, we can see that this top is not going obsolete anytime soon. In fact, it is now worn in multiple ways to add a chic factor to your look.
How do you wear a crop top with jeans?
As basic as it sounds, there are multiple ways to rock the jeans and crop top look. You can go for slim-fit jeans with frayed hem and pair them with a white button-down cropped shirt. Or, you can go for black skinny jeans and pair a multicolor gypsy top for a dressy look. 
What are the fashion trends for 2023?
Here is a list of 2023 fashion trends that will help you build contemporary outfits all year round:
-Microfloral prints
-High-rise jeans
-Mini skirts
-Tennis skirts
-Leather vests
-Denim on denim look
-Oversized sweatshirts
-Blazers in vivid hues
-Leggings
-Puffy-sleeved tops
-Crop tops
-Platform heels
-Striped patterns
Can 30-year-olds wear crop tops?
After you turn thirty, there is no need to give away those pretty crop tops of yours. However, the way you used to wear them will be changed as you root for elegance. Pair neutral-colored crop tops with high-waisted jeans or maxi skirts for a nice look. Layer your crop top outfit with crochet ponchos, kimonos, sweaters, cardigans, or blazers. 
Conclusion
As you age, your fashion sense evolves. But that shouldn't pull the reins on your outfit creation by limiting what you can wear or not. Garments like crop tops, when worn in the right way, can give you a variety of chic looks as we have suggested above.