Even when they are off duty, uber-stylish models are the ultimate fashion inspiration for every fashionista out there. These ladies rule the fashion scene with their immaculate sense of style and take social media by storm with every new outfit they are spotted wearing. Before you think it is impossible to dress like a fashion model, read on to know some chic model outfits that you can recreate easily.
Models go under heavy styling and often carry uncomfortable outfits for the ramp. When they are off from work, they make sure that they don't try too hard to build outfits. Mostly, they are dressed like absolute baddies. And on some occasions, they look extremely casual and laid back.
Read on to know the basics of dressing like models.
How to Dress Like a Model
We can not help but marvel at how the top contemporary models dress. Everything from their clothes, footwear, accessories, and makeup just seems perfect. Even for off-duty appearances, there may be a whole team behind dressing up models. But pulling off similar outfits is neither expensive nor is it impossible. 
There are a few basic things to consider when dressing up like these divas. Firstly, you need to determine your body type. After that, you need to comprehend how models mix and match clothes to build outfits. Select appealing clothes, mix and match them up as the models do, and you will see that your style sense is gradually improving.
What Do Models Wear? Staples for Model Style
Models opt for comfy clothing essentials that are no lesser in terms of style. In fact, a proper model outfit is the perfect fusion of convenience and style that shows hints of your personal style.
Below are the chic staples and accessories that models usually wear.
Shirts and Tops
The types of shirts and tops that models go for are probably already there in your closet. Even if you don't have them, you can easily get them from any clothing store without having to search for them exclusively.
Tank tops are a must in every model's wardrobe. A white or black tank will form the base piece for a variety of street-style looks. Tube tops, off-shoulder tops, and halterneck tops are also quite popular choices as they give a highly feminine appeal. You will also see a lot of models opting for graphic tees to show their quirky side. 
If we notice the types of shirts worn by models, we will mostly see oversized plaid flannels, black and white button-downs, and shackets. Many models rock men's shirts with absolute confidence. 
Knitwear
Knitwear gives these fashion icons a great chance to experiment with layering. They sometimes create simple, chic outfits with oversized hoodies or chunky knit sweaters. Or, they might be seen strutting around the streets in basic ribbed turtlenecks worn with skirts or trendy bootcut jeans. Another type of trending staple that models usually use to layer a basic outfit is a v-neck cardigan in a baggy fit.
Jackets
One of the must-have layering pieces for model outfits is jacket. Whether they are fall jackets or heavy winter coats, models just can't do without them. Every model is aware of the supreme style statement that a leather jacket gives. They go for basic black and brown leather jackets in high quality, as well as denim jackets and blazers. 
To look flawless, go for jackets that fit you perfectly. Consider getting your jackets custom-made. You will see models wearing studded leather jackets with their outfits, so you can also consider investing in one of those. 
Besides the usual jackets, stylish coats are also very well a part of the basic wardrobe of any model. Trench coats, duster coats, and parka coats give an exclusive look.
Jeans
To see what jeans are currently in style, take a look at what the key faces are wearing these days. Skinny ripped jeans are on constant rotation in a model's wardrobe. Along with these, boyfriend style or mom style jeans are seen regularly. For dressier street looks, these divas often don stylish bootcut jeans and cropped girlfriend jeans. 
Pants
Deviate from your usual jeans sometimes like the models do and opt for faux leather pants, classic pants, culottes, or track pants instead.
Shorts
Blue denim shorts are a must-have for every model. They can be used for a chic and bold look even while you are just walking around your dog.
Skirts
For edgy outfits, go for mini leather skirts. For a laid-back casual outfit, go for a chiffon midi or maxi skirt with a baggy sweater. 
Dresses
There are numerous types of dresses to consider as models wear them in different styles. But to be concise, go for a cute slip dress as it is a versatile choice. Other than that, a bodycon dress that reaches the knees, a floral midi dress, and a plain maxi dress in a bold color are also good options.
Footwear
Usually, you won't see models wearing high heels when they are off duty. They rather go with sneakers or boots for the much-desired comfort. And as sneakers are so versatile, they will go with the majority of outfits.
To mimic the way models dress, you can also go with moccasins, loafers, ballet flats, or black combat boots.
Accessories
Models know that accessories can be a game changer when dressing up in casual clothes. They give a trendy touch to your look and are a great way to make a statement.
Sunglasses are the first thing you need for the model look. Go for the wayfarer, aviator, round, or cat eye styles.
Cute handbags will also have a nice impact on your appearance, and so will dainty jewelry which the models usually wear.
Street Casual Model Outfit Ideas
Here is a rundown of the best outfit inspirations from the top models.
The Edgy Biker Jacket Outfit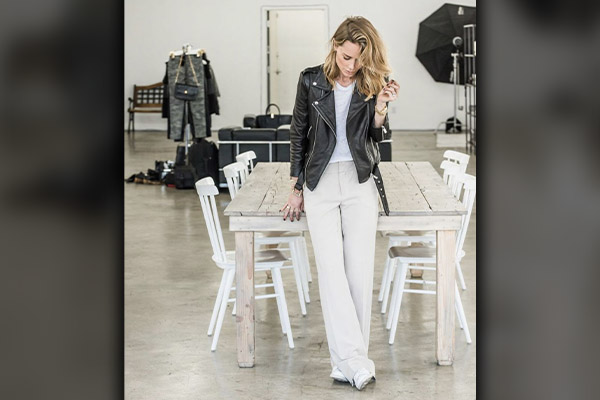 All black is a classic look. Even more, if you create it with an edgy biker jacket over a dress. Wear your custom-made biker jacket with a velvet bodycon wrap dress to look like a fashion model. Simple ways to enhance this look are wearing wayfarer shades, carrying a stylish handbag, and opting for black pumps as the footwear choice.
Chic Blazer and Straight Fit Jeans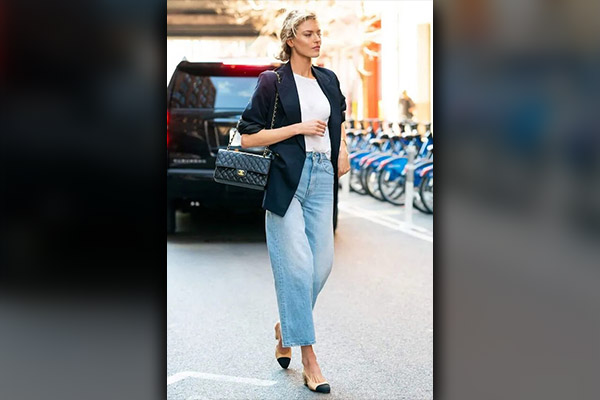 With their effortless style, models teach us how to rock simple staples with elan, just like this checked grey blazer. Worn over light-washed slim-fit jeans and a silk camisole top, the blazer looks fabulous. Accessorize the look with a silver neck chain with a pendant, low heels, and a small statement purse. 
White Dress with a Leather Coat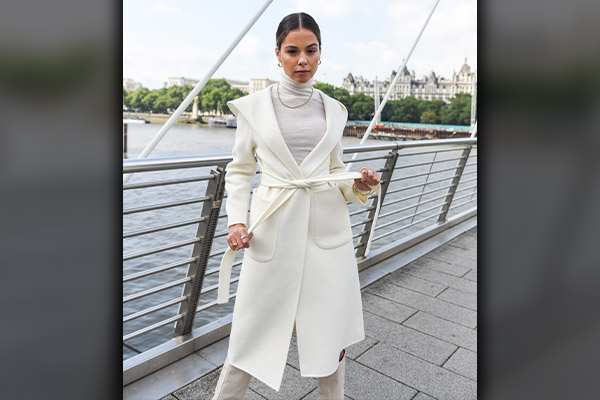 Who knew a tan leather trench coat could look so stylish? It is the best way to add the sleek, dressy vibes to a simple off-white dress. Brown square-toe heels and a matching shoulder bag are the perfect finishing touches for this ensemble.
Tank Top with White Track Pants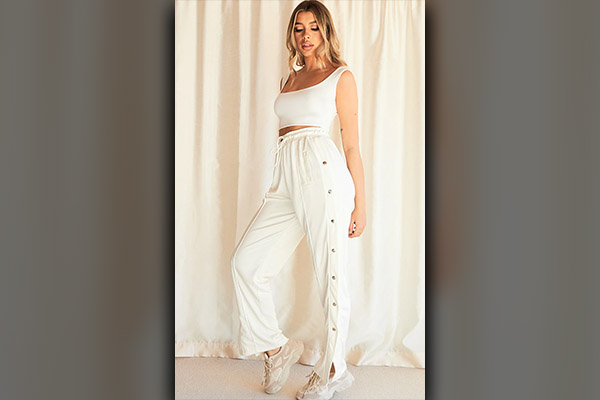 The model is nailing the black and white street casual simply with a black cropped tank and white sweatpants. To add some more style to this look, use dainty gold jewelry and white sneakers.
The Bomber Jacket Over a Black Shirt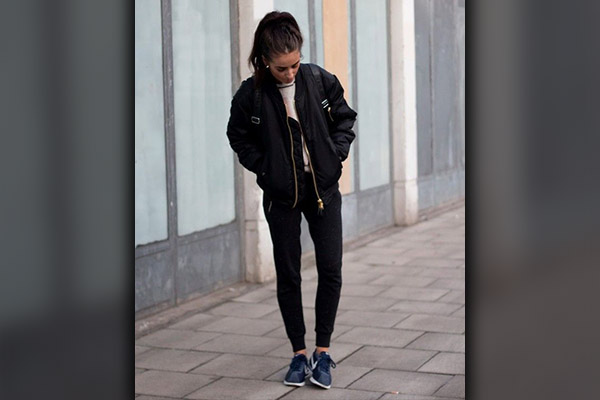 You can never go wrong with a bomber jacket outfit as it is one of the favorite choices of top models. 
Take clues from this black bomber jacket outfit which is put together using an oversized black shirt. Pair it with faux leather leggings and use a black sweatshirt as a mid-layer. Wear a cool bomber jacket as the top layer of this edgy ensemble. Black lace-up boots and a chic black bag will round off the look. 
Oversized Cardigan Outfit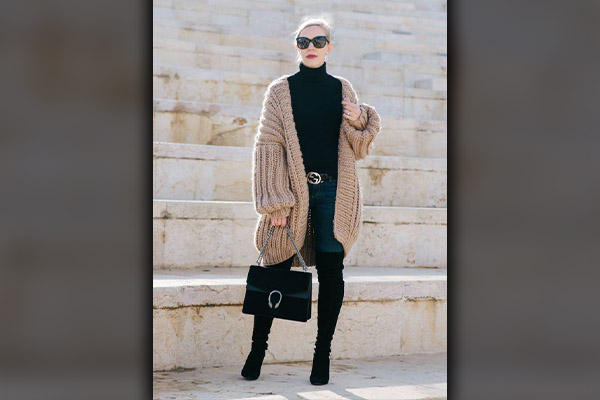 You will frequently see models pulling off the baggy clothes style with absolute verve. Take, for instance, this cute oversized cardigan. It looks very stylish though it is layered over simple straight-leg jeans and a white tank top. Adding flair to this ensemble is a pretty necklace, hoop earrings, and a red leather bag. Opt for high-top sneakers with this outfit.
The Denim Jumpsuit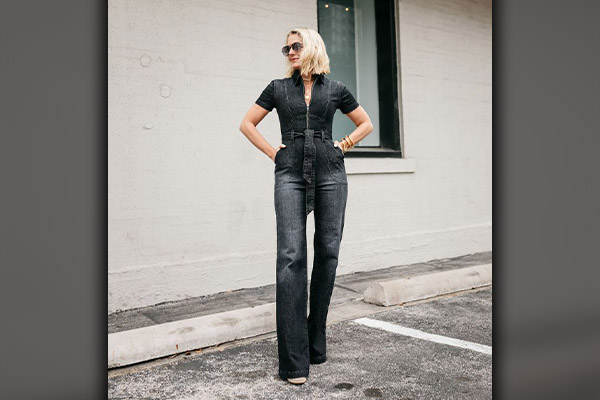 A denim jumpsuit is the ideal clothing staple to look effortlessly chic. Many supermodels nowadays pick it up as their go-to choice for street casual looks. A well-fitted denim jumpsuit paired with sneakers and some gold bracelets is the right way to triumph in the style game. 
Tips on Dressing Like a Model
All over our social media feeds, we see off-duty models owning the streets with their hard-to-ignore outfits. By looking closely, you will see that there is nothing extraordinary as they are just your basic staples paired together. So what makes these looks so appealing?
The key to dressing like a fashion model is to pair chic staples and give trendy touches to your ensemble. Your clothes should fit you properly and you must pay attention to the details like your hair and makeup. 
Here are a few tips to decipher the dressing style of models for you.
Mimic the model attitude. Show the world that you are confident enough to pull off an attire with ease. Practice a good posture and be bold.
Make sure the clothes fit you perfectly. When taking inspiration from models, you can see how well their clothes fit them.
Mix and match patterns and textures. Never shy away from experimenting with unique clothing.
Pair up loose and fitted garments for a fashion-forward look.
Try matching your jacket with your pants and wear them over a white tube top.
FAQs
What Clothes Do Models Wear?
Models usually opt for comfortable and stylish-looking pieces and pair them up creatively, often exuding their personal style. Oversized sweaters, short dresses, ripped jeans, leather jackets, and tank tops are a few of these staples that models frequently wear while they are off the ramp.
Why Do Clothes Look Good on Models?
Models dress according to their body types. They choose clothes that conceal a straight silhouette and enhance their curves. Their posture and confident attitude is the secret behind rocking any type of outfit.  
What Jeans Should I Wear to Look Like a Model?
To recreate the way models dress, try ripped skinny jeans or high-rise girlfriend jeans. For sleeker looks, go with straight-leg jeans and slim-fit jeans in dark colors. 
What Should I Wear to Look Like a Model?
Model outfits are nothing unusual as they just team up chic, trending basics and carry them with a bold style. You can wear a simple floral dress and layer it with a biker jacket and look like a model if you get the attitude right.  
How Do I Look Like a Supermodel every day?
Models manage to look flawless as there is a team of professionals to style them. Their grooming is top-notch, and so is their physique. If you wish to look like models, there is much to take care of other than replicating their outfits. Be consistent in your skincare, hair care, and hygiene. Build a mode-inspired wardrobe by choosing high-quality staples. Lastly, get appropriate accessories to go with your ensembles.
Conclusion
Gone are the days when the only source of fashion inspiration were magazines and fashion shows. Notable names in the modeling industry have come up with their sleek and chic off-duty styles which are very practical and easy to pull off for anyone. Using the outfit ideas from our guide, you too can recreate cute model outfits.