Some garments elucidate the bygone eras of fashion while still managing to be a much-wanted trend in this age. Among such pieces of clothing is the slip dress from the 90s. There is no denial of the laid-back feel and the seductiveness of the slip dress.
However, there are ways to further add an appeal to it. Let's explore how to style a slip dress with jackets and other staples for a classy style statement.
What To Expect In This Article?
Slip Dress Fashion
Before we start talking about what jacket to wear with slip dress we should actually be knowing about slip dress fashion. The slip dress is basically an upper half that is a corset with straps and a bottom half that is an A-line dress.
The spaghetti straps and the plunging neckline or the cowl neck style make it look slinky, while the silhouette gives it an unmatched elegance. Lace details on the bust and hemline make the slip dress even more appealing.
It is a highly versatile piece, allowing fashionable divas to wear it casually or as a going-out outfit with confidence.
When we talk about its versatility, there can be hundreds of ways to wear it. From wearing it along with dainty jewelry and fashionable heels to layering it over a basic t-shirt, the options are endless. You can simply get your hands on an amazing women's leather jacket and wear it over your slip dress.
The slip dress can be short, long, with a deep neckline, or a slightly higher one. Select one and make an outfit out of it depending upon the weather and also your mood. Another great feature of the slip dress is that it feels wonderful due to the use of silky fabrics like satin, charmeuse, or silk.
Slip Dress With Jacket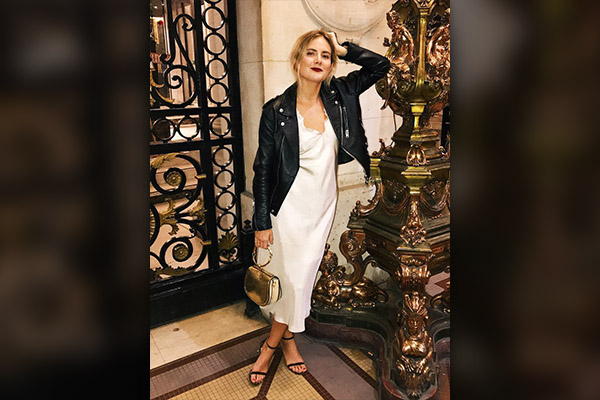 Opting for a jacket for slip dress does need a thought or two. With a slip dress ensemble with a jacket, you can be sure of two things. One is that there is an edgy, rocker touch to your outfit.
And the other is that you are covered up and ready to brace for the chilly weather while scoring high on the style meter. Although there are a plethora of jackets that you can wear with your slip dress, trying it with a leather jacket gives a vintage vibe that is hard for anyone to ignore.
Apart from the leather jacket, you can try layering your slip dress with a peplum jacket and style the outfit with pointed-toe heels, and a statement necklace. Or, wear a casual denim jacket with a light pink slip dress for a casual stroll during the day. The jacket over slip dress can always be your go to outfit, you just need to put some thought in it.
Slip Dress With Blazer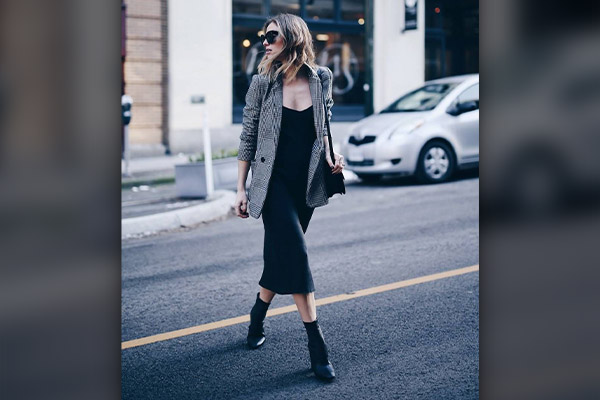 Blazers come to the rescue when you require a modest touch and a contemporary flair to your basic staples. When the scale of formality needs to be up, try wearing a light-colored blazer over a dark slip dress. Complete your look with ankle boots, a classy shoulder bag, and shades.
Another outfit idea is to wear a hot pink blazer over a black pencil slip dress. Black knee-high boots will look great with this outfit.
Another way to layer the slip dress with style is to wear an oversized sweater or a shrug over it.
Short Slip Dress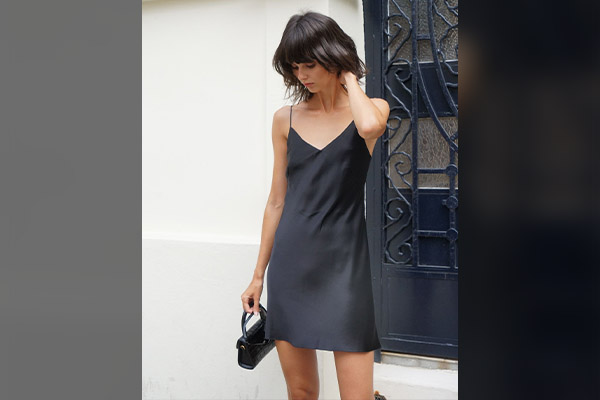 Trench coats for women are the most fashion-forward way to add sophistication to a short, alluring slip dress. You can wear a slip dress with leggings and layer the ensemble with a leather trench coat. Round off the look with high-heeled pumps, a matching satchel, and sunglasses.
Sheer Slip Dress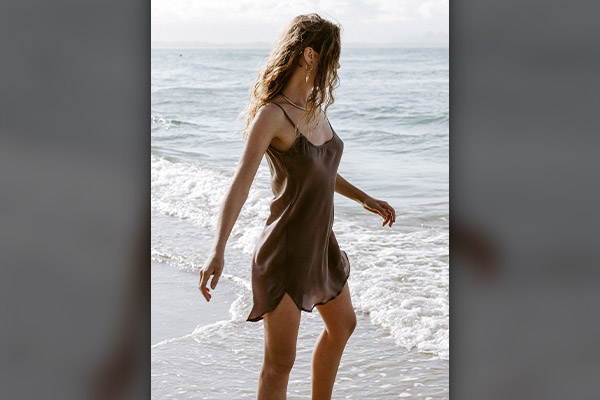 Sheer slip dresses are a raging trend. Many popular celebrities have been spotted wearing them. Try a sheer one with a kimono for a comfy beach outfit that doesn't fall low on the seductive appeal.
How to Style a Satin Slip Dress?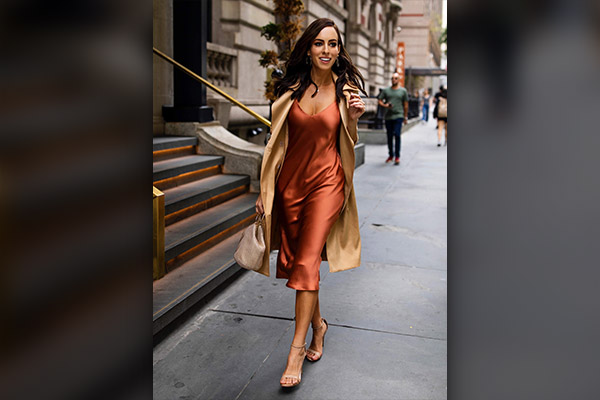 The silky satiny feel of a slip dress made with satin is the epitome of luxe. Pair it with a matching fringed shimmery shrug to elevate its opulence. You can add some extra bling with golden heels and delicate jewelry to this ensemble.
How to Style a Velvet Slip Dress?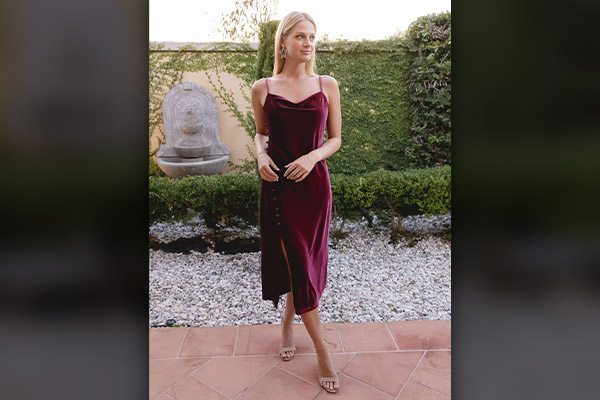 Velvet is very warm and soft-to-touch fabric which makes it perfect wear for the cooler days of fall. Wear a green velvet slip dress over a black turtleneck and finish off the look with black strappy heels.
Red Slip Dress Outfit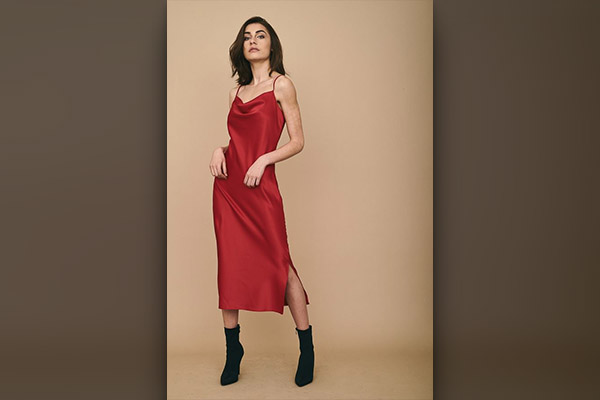 Nothing can match the sultry appeal of a red slip dress. It might have a basic look, but it can do wonders to portray you as a ravishing diva wherever you go.
You can style a red slip dress in two ways. Either dress it up by layering it with a black leather jacket and a scarf around the neck. Or, wear it with a red shimmer sleeveless cardigan and red rhinestone ear studs for a cocktail party look.
Black Slip Dress Outfit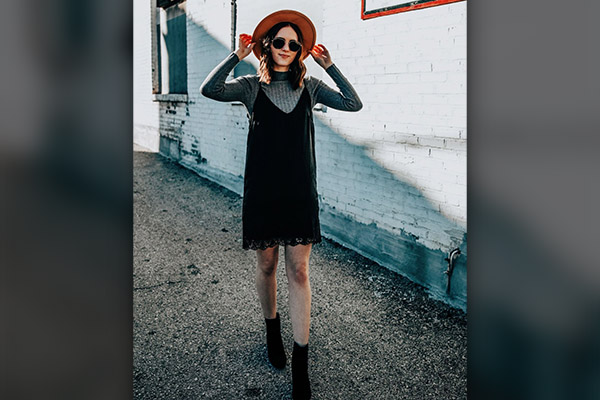 You can ooze out style just by wearing your basic black pumps along with a short black slip dress. But you can look equally attractive by wearing a grey long coat
over it. The effortless elegance of the black slip dress makes it a wardrobe mainstay.
Slip Dress Outfit Suggestions
Want some more slip dress outfit ideas that you can actually pull off? We have got you covered (with a variety of outerwear maybe?)
How to Style a Slip Dress for Summer?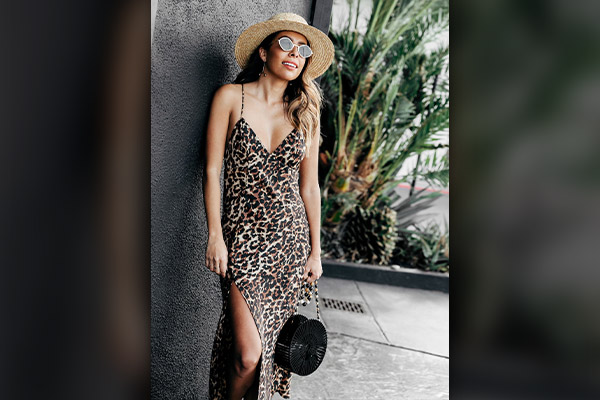 The revealing design of the slip dress makes it an ideal summer/ spring wear. But if you fear sunburn on a day out, it's better to wear the dress over a lightweight t-shirt. This casual and fun look can be rounded off with white sneakers.
On the days when there is less than usual sunshine, flaunt the slip dress with strappy flat sandals and wavy hair.
How to Style a Slip Dress for Fall?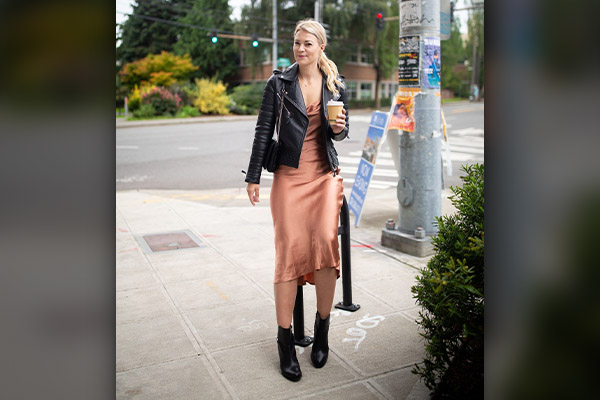 If you live at a place where fall comes with a significant drop in mercury, your best bet would be to layer your slip dress over a full-sleeved t-shirt and those cozy fall jackets for women. A warm trucker jacket is a great option for a navy blue slip dress. Throw some knee-high boots in the mix and you are done.
You can also create some sensational looks with long coats worn over your slip-dresses. Once in a warm interior, you can just take the coat off and still look amazing.
Try a chic combo of a brown biker jacket over a metallic grey slip dress and finish off the look with brown suede ankle boots. Style your hair in a side fishtail braid for added poise. 
Casual Slip Dress Outfit Ideas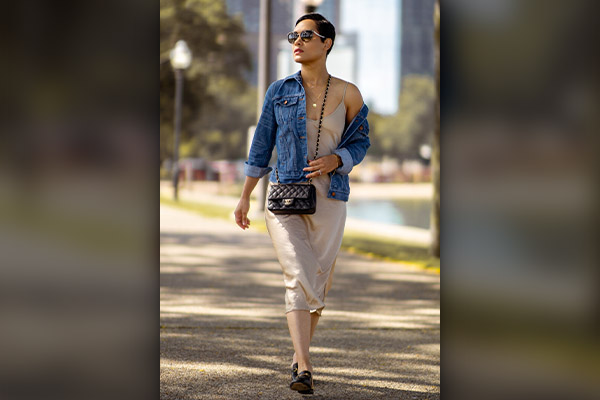 A good thing about slip dresses is that it is as easy to dress them down as it is easy to dress them up. The use of staples like graphic t-shirts, shrugs, lightweight jackets, and casual footwear can help you style the elegant slip dress in an informal way.
For a cool and casual look, don a denim jacket over your white slip dress and round off the ensemble with funky flip-flops.
Wear a patterned slip dress with a plain black bolero and kitten heels for a cute and trendy look.
How to Style a Slip Dress for a Wedding?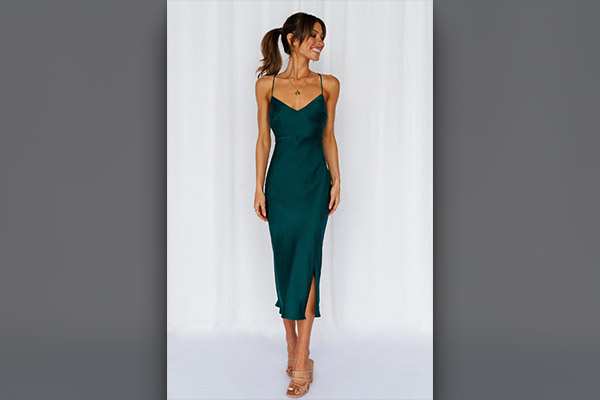 Paired with the right footwear and accessories, you can wear a slip dress at a wedding.
Choose a slip dress with a thigh slit and wear it with complementing jewelry and a neat bun hairstyle. A pair of golden or stilettos and a matching clutch will give you a splendid look.
A short satin slip dress in a neutral hue is also appropriate for a wedding. Create a glam makeup look, beachy waves hairstyle, and accessorize with a bling shoulder bag and heels to enliven the festive feel.
Street Style Slip Dress Outfit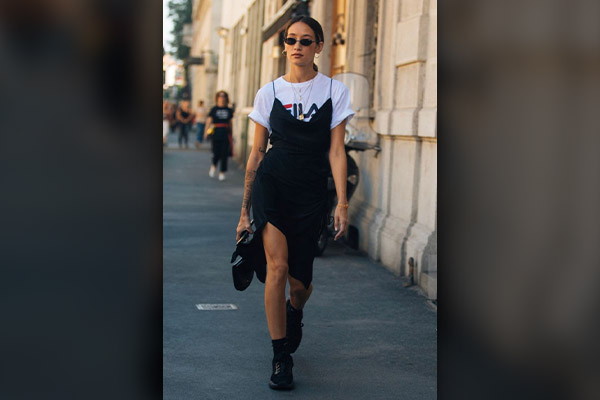 If you are still thinking about what jacket to wear with a slip dress while you dress all dapper then add street vibes to your slip dress with a cafe racer jacket and white sneakers. Bring up the style with wayfarer style shades and neck chains.
Another street-style outfit with a slip dress features a stylish coat over the dress. Layer a grey long coat over a white t-shirt and a black lace slip dress. Gladiator sandals and a sling bag will finish off this look with perfection.
Pair a brown baggy cable knit sweater with a brown silk slip dress for a cozy look. Put on a pair of black high top boots for a quirky look that translates into high end fashion.
FAQs – How To Style A Slip Dress
How Do I Style a Slip Dress?
Firstly, you need to consider the length, style, and fabric of your slip dress. A short, silky slip dress can be worn over a turtleneck and leggings and styled with long boots, bracelets, and a high bun hairstyle. For a slip dress that is long and more towards a formal style, wear it with a bolero jacket, stilettos, and a classy clutch to feel party-ready in an instant. You can also use a mid-length black slip dress for a grunge-style leather jacket outfit and pair it with chunky-soled black shoes.
Are Slip Dresses Classy?
There is no doubt about the fact that if worn right, a slip dress takes your style meter reading up. It makes you look very elegant and appealing. The addition of outerwear of the right kind adds to the chic factor. All it takes is to try outfits that will perfectly portray your personal style. 
Do Slip Dresses Make You Look Thin?
As slip dress has a figure-flattering design, they definitely make you look thinner. Their silhouette accentuates the waistline and gives an appearance of a shapely figure. The use of silky fabrics like silk makes the dress drape smoothly, which means there are no unsightly bumps or gathered fabric. 
What Accessories Go with a Slip Dress?
A fur stole carried along with a slip dress is not the only way to give an oomph factor to your look. Try different types of shrugs (short and long), shawls, scarves, hats, and stylish footwear to make it look streetwear approved. Jewelry, makeup, and hair can be a decisive factor in your slip dress outfit, so don't feel scared to go for elements that will enhance the look. 
What jacket to wear with slip dress?
If you want to wear a slip dress with jacket then think about all the types of jackets that would go well with it. You can always opt for a leather biker jacket to go with your slip dress. Or if you want to go for a coat, pick a trench coat. 
What jacket to wear with cowl neck dress?
If you want to keep it a bit casual then a baggy denim jacket would look great. It would add an edginess to your look. 
Conclusion
No more the classy slip dress can be categorized as only a synonym to a negligee. You can see from the outfit suggestions above that it can give you a variety of looks and can be layered with almost anything. From now onwards, you can consider the slip dresses in your closet a perfect way to dress up or down whenever you feel like putting less effort into getting dressed.
You can add many types of jackets to wear with slip dresses. Then what are you waiting for, pair them up and style them, rock the party you are going to!