There are some staples that are so useful when it comes to balancing a casual and formal look. The blazers are one of those. Less structured than a suit jacket and way more polished than any cardigan or a fall jacket, any woman's wardrobe is incomplete without a blazer.
Women wearing blazers slay all sorts of trendy looks, be it a casual chic outfit, a smart casual look, or a street inspired ensemble. Read on till the end to learn all about building classy blazer outfits for women.
While it is evident that you can instantly add a crisp and refined look to your outfit with a blazer, it is certainly not limited to that. It's a highly versatile staple that can be styled casually with day to day jeans and t-shirt outfits, dresses, tops, skirts, and a lot more.
What To Expect In This Article?
What to Wear with a Blazer?
In menswear, blazers are often worn as a substitute for coats and suit jackets to add a sophisticated feel to an otherwise casual outfit. On the other hand, blazers for women come in an array of styles around which you can build all sorts of looks.
Different colors, prints, cuts, and fabrics of blazers help you slay wide ranging looks. You can build blazer outfits for everyday looks, smart casual looks, and dressy looks for parties.
Black, navy, brown, and cream blazers give you a range of styling opportunities. However, white is the most versatile blazer color for casual, smart casual and fashionable street style outfits. Besides all kinds of blazers in solid colors, you can go for patterned blazers as well. Striped, checked, and houndstooth pattern blazers give you multiple stylish blazer outfits for women.
Single breasted, double breasted, and plaid blazers are the most popular. If you are looking for a cute blazer, consider a peplum or waterfall blazer which are a fairly new addition to the variety of female blazer styles.
Styling a blazer doesn't require well thought sartorial expertise. You can build a women's classy blazer outfit by choosing a foundation piece such as a shirt, a sweater, or a dress in complementing colors.
Choose bottom wear wisely, ranging from classy slacks, mini and midi skirts, and jeans. You can even go with shorts for a trendy and chic style. Wear your blazer over these, and adorn it with accessories you like.
Casual Chic Blazer Outfits for Ladies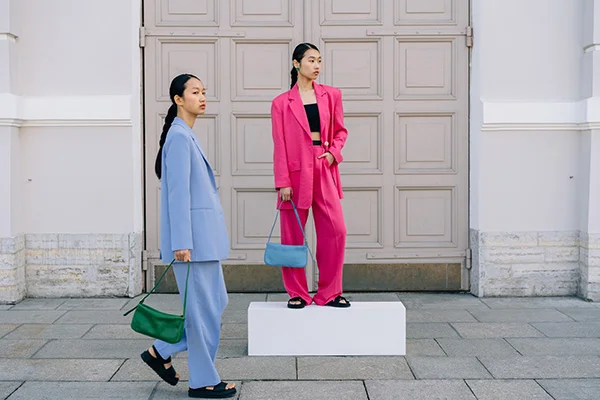 Before you get your hands on a new blazer, we suggest checking out your wardrobe for the colors, silhouettes and fabrics you mostly wear. Although blazers in white, black, beige, light pink or gray colors are the most versatile, it doesn't harm if many of your clothes go with a bright hue. You can build many awe inspiring looks with neutral outfits by pairing them with printed and textured blazers.
Have a look at the following blazer outfit ideas, which you can try depending upon the level of formality.
Casual Wear Blazer and Jeans Outfits for Women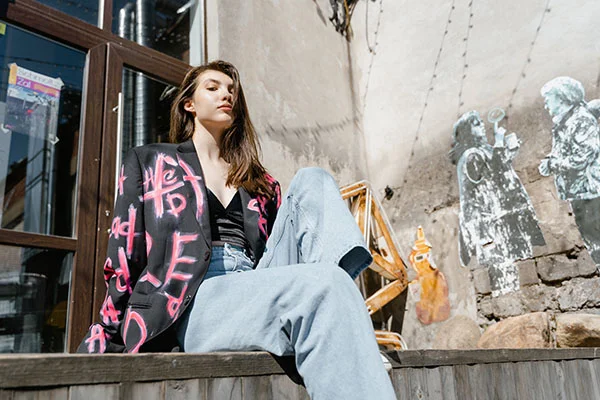 The basic jeans and white t-shirt look may be the most comfortable, but it sometimes feels mundane. If you want to spruce up the look, layer it with a blazer. Most often, a black blazer will complement all colors and styles of jeans. It is hands down one of the best women's blazers to wear with jeans.
Our first outfit suggestion would be a chic pairing of a white cropped t-shirt and acid wash slim fit jeans. Wear a black unstructured blazer over it to level it up in an instant. Round off this trendy yet classic 3, women's blazer outfit with black pumps, a sling bag, and a silver necklace.
You can also bring up the style factor of a gray tank top and black sweatpants with a hot pink blazer. This off-duty women's blazer outfit is a comfortable choice for casual meetups. You can wear matching hot pink platform heels with this outfit.
Another way to add style to simple gray jeans and black henley pairing is to wear a brown plaid blazer over it.
Blazer Outfit Ideas with Shorts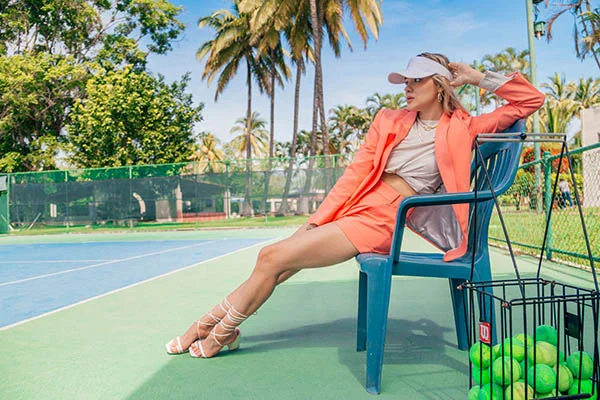 The fusion of the casual and bold style of shorts along with the sleek factor of blazer is dominating streets this year. This combo would keep you relaxed while you slay it with absolute confidence.
Show off your legs with beige shorts and a blue tank top. Add some off duty model style touch with a tartan plaid blazer. For footwear, go with plain white sneakers to finish the look on a casual note.
You can also try a tie and dye elasticated top with frayed denim shorts and top it off with a pastel pink peplum blazer. This outfit is casual at its best with a touch of funk, which allows you to look amazing.
Cute Blazer Outfits with Skirts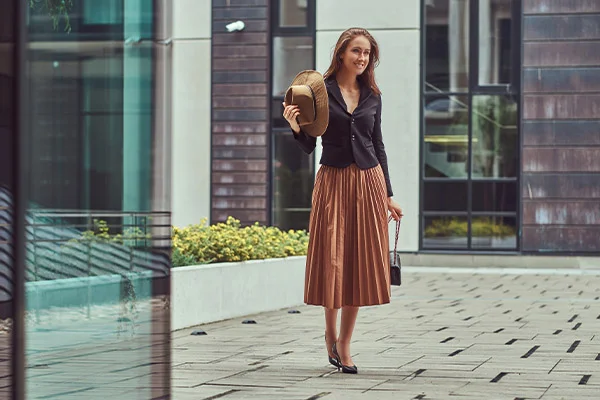 On your top with skirt outfit, swap your leather bomber jackets with a nice blazer to upgrade an otherwise common look. You can pair a burgundy double breasted blazer with a leather pencil skirt and a flounce sleeved top. Finishing touches on this blazer outfit can be burgundy shoes and a soft glam makeup look.
Another women's blazer outfit which you can try is a flared, buttoned denim skirt with a frilly top. Wear a green twill blazer with it and tie the whole look with strapped flat sandals.
Oversized Blazer Outfit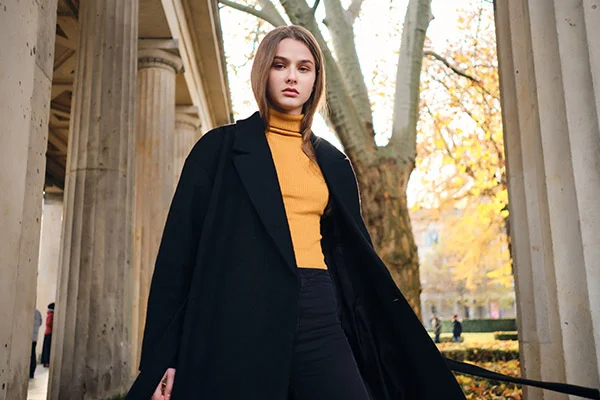 The fashion of oversized-everything is at peak nowadays, and that includes blazers too. An oversized blazer can be a statement piece to layer outfits with a body hugging silhouette.
Oversized blazer outfits bring out the lazy fashionista within you. Try a flattering combo of a burnt orange henley with brown flare pants and layer it with a black oversized blazer. This look defines a true chic style, which you can elevate further with a pair of black peep toe heels.
Another ensemble to try is a red mini dress along with a black and white houndstooth blazer in an oversized fit. This bold and sassy look completes beautifully with black and white patterned pumps and a black shoulder bag.
You can also build an outfit using an oversized blazer with jeans for women. Be as comfortable as you like with a gray blazer over a white hoodie and blue bootcut style jeans. This laid back blazer outfit provides you an additional layering for the cold season.
Styling the Trendy Yellow Blazer for Women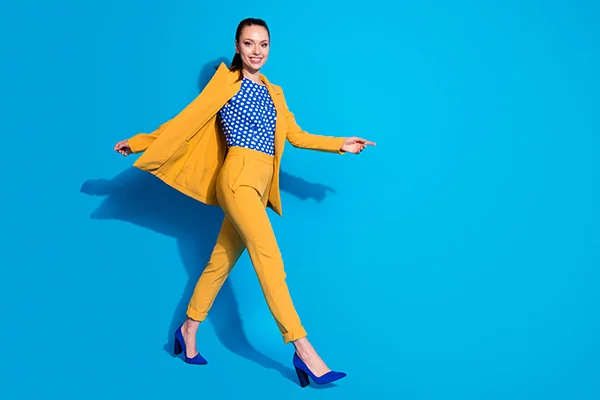 The color yellow tops the chart for the most trending colors for 2023. This vivacious hue comes in a lot of shades, and prints look specifically beautiful on it. Adding a bright yellow, a pastel yellow, or a mustard yellow blazer to your outfit will be helpful for times when you are looking for some much needed attention. 
A combination of a white tank top and black and white striped culottes are the perfect outfit on which a yellow blazer would sprinkle some charm. Try bringing up the details of your outfit with a black silk scarf and black square toes heels. The look is quirky, fashionable, modern, and very comfortable simultaneously.
Invest in a yellow waterfall blazer for your wardrobe to add variety and some swanky blazer outfits for women. We suggest a purple bodycon dress along with the yellow blazer to build an eye pleasing combo.
You can also create a pretty pencil skirt outfit with the help of a blazer. Team up a chiffon ruffled top, pencil mini skirt, and knee high boots.
Styling a Blazer for Smart Casual Looks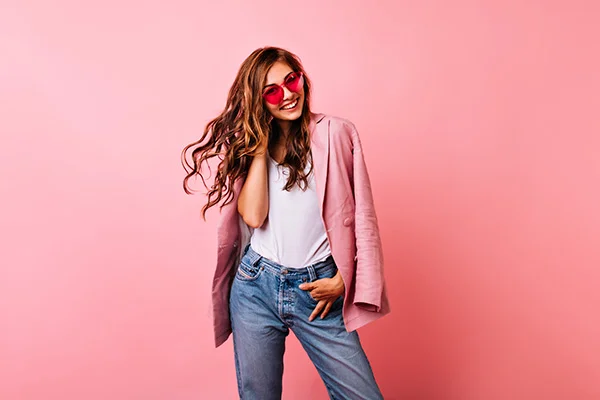 We know how blazers are a simple solution to a refined look. Smart casual style for women is incomplete without different types of fitted and long blazers. A long blazer outfit would streamline the silhouette and give you an elegant look.
Our top pick for a dressy look is to create an all white outfit. Team up a white button down shirt, off white culottes, and a white blazer. This chic yet polished look will make you look like a million bucks at work or when you need to show up at an important interview. Complete this sharp look with white t-strap heels and a printed shoulder bag.
A black pencil dress is itself a voguish staple. When you wear a gray peplum blazer over it, a generous dose of style is infused, which makes every one be in awe of your refined look. Wear this outfit with black stilettos.
Pair an army green turtleneck with black slacks that taper at the ankles. Add a camel colored blazer to the ensemble. For an added touch of elegance, wear brown strapped sandals with this look.
Street Style Outfit With Blazer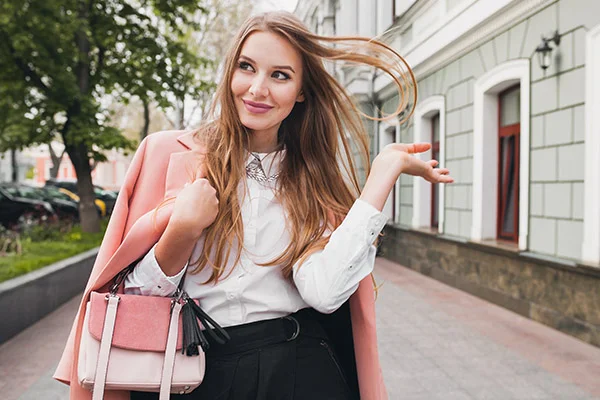 Street style with blazers is all about cool, edgy, and chic outfits with a fusion of contemporary trends and classic staples with a touch of your personal style. As blazers are not as warm as jackets and cardigans, they can be a perfect layering option for spring, summer, and lesser cold days of fall. All types of blazers for ladies can be paired along with trendy pieces like skirts, dresses, and jeans to build street approved looks.
The combination of a white buttoned shirt and a plaid blazer is a fail proof one that can be carried well by women having any type of body. The plaid blazer is incredibly versatile, allowing you to curate several blazer with jeans for women outfits. For a chic look, wear ripped girlfriend jeans with this outfit.
Or, go with a stunning look by wearing a blue chiffon fishtail midi dress along with a beige blazer and beige pumps. This outfit is elegance personified, but you can also add street vibes to it with statement jewelry and cat eye style sunglasses.
You can also create a classy blazer outfit for women with a voguish jumpsuit and a linen blazer. Pair a black cowl neck jumpsuit with a striped linen blazer for a voguish look. Wear black stilettos to ooze out some more style, and accessorize the ensemble with hooped earrings.
Give an edge to your simple crop top and printed slacks outfit with a burgundy blazer, and finish off the look with brown heeled ankle boots.
FAQS – Classy Blazer Outfit Womens
How should a woman wear a blazer?
With blazers, you can look stylish while staying relaxed. Pair your blazer with all sorts of shirts, trousers, flare pants, skirts, different types of dresses, and trending jeans. Accessorize your outfit with appropriately, unleashing your fashion sense. 
How do you style a blazer night out?
Your evening soirees can definitely feel even better if you wear blazer outfits with it. An incredible idea to dress up for a night out is to wear an embellished black blazer over an a-line maxi dress.
Is it OK to wear a blazer with jeans?
Blazers with jeans outfits are a highly popular trend. You can go for low rise jeans, tank tops, and unstructured blazers in appealing colors to rock the jeans and blazer look.
What do you wear over a blazer?
If the weather calls for additional layering, you can wear a trench coat over a blazer. You can also go for other types of coats and outerwear, given they don't clash with or conceal the blazer completely. 
Which color of the blazer is best?
If you have to choose a single color for blazers, we suggest wearing a white one as they go along with many other wardrobe staples. You can also go for a black single breasted one as well for added versatility to all kinds of looks. 
Conclusion
Put aside your confusions on how to wear a women's blazer. Given the versatility of this garment, women have lots of flexibility when it comes to styling it. Blazers have been released from the confinements of formal wear and brought into mainstream fashion now. They add a refined touch to your outfit.
Therefore, you can come up with a classy blazer outfit for women that grabs attention and keeps your style high with casual, smart casual, and street style looks.