Derived from blue and red, the color purple symbolizes loyalty and a regal attitude. In the world of fashion, purple is an enigmatic color that exudes power and confidence. Due to its soothing appearance and strong vibrancy, purple is associated with femininity.
The color is often associated with rarity as it is hardly ever found in nature unless it's subdued and tamed. You can create gorgeous outfits in purple color; using methods of color blocking or the same color scheme.
Pairing the color purple is often deemed difficult because the wrong shade can easily ruin the outfit. In fact, even when you're going for an all-purple outfit, accessorizing is essential because one wrong step can make the entire look flat.
Shades Of Purple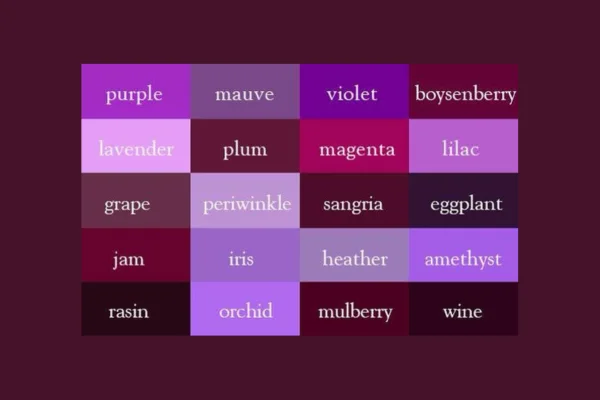 The color purple is a world of its own with many undertones and variations. From violet to magenta to mauve and lavender, there are so many shades and undertones of purple that you can use in your outfits to create a dimensional and nuanced look.
If you're looking for something bright and light in the shade, you should go for magenta, but if you want a shade with a deeper hue, violet is the one to go for. Wisteria, mauve, orchid, lilac, iris, and periwinkle are some of the lighter shades of purple, whereas eggplant, midnight, tyrian and plum fall under the darker shades.
Purple Clothes And The Color Wheel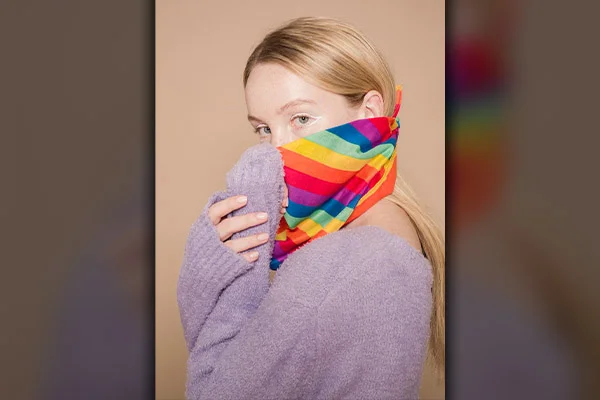 Color coordination is a critical aspect of designing an outfit. One has to pay attention to the undertones, pigments, and shades to create looks that stand out and look elegant. According to the theory of the Color Wheel, colors that stand opposite to each other are complementary colors, meaning they look great when paired with one another.
Keeping this theory in mind, the colors that are opposite to purple are yellow, orange, and green. All three of these shades are rich and have deep undertones to match the intensity of the color purple. Thus, if you're wearing a ravishing set of leather pants and cropped leather jacket, go for an orange or yellow color when deciding on the tops underneath the jacket.
Not to suggest that you're only restricted to these three colors when creating outfits in purple color; but whenever you're confused and don't know what to pair with what, this should be an easy rule to stand by.
Colors That Look Tacky With Purple Outfit
Although there are no right or wrong answers in this case scenario, there are a couple of shades that might not complement purple, especially when designing an outfit. It's mostly dependent on personal preference and choice, but many times the wrong shade of white and blue can go off. And it's not just the colors; sometimes, certain prints could look a bit out of place, like the leopard print.
What Colors Go With Light Purple Clothes?
It's usually best to avoid lighter shades by pairing them opposite light purple clothes because that can easily create a washout look and that is not good. For example, if you wear a beige top with different types of skirts in purple, it could seem a bit off. At the same time, if you opt for a darker nude brown top with a purple leather skirt, you can pull it off quite nicely.
What Colors Go With Dark Purple Clothes
Let's just go with one rule; it's best to avoid pairing the same shades together. If you are wearing purple shorts, you should ideally look for a lighter tone of either the same color or a contrasting shade with a matching undertone. Wear a plum shade biker jacket with baby-pink skinny jeans and a cotton tee. 
Purple Color Outfit Ideas
It's fairly easy to style purple color outfits only if you don't get intimidated by the intensity and royalty of this color. Experiment with this color and whenever in doubt, use contrasting colors. There are so many different types of shirts that one can use to create adorable and fun outfits in purple.
Purple And Red Outfit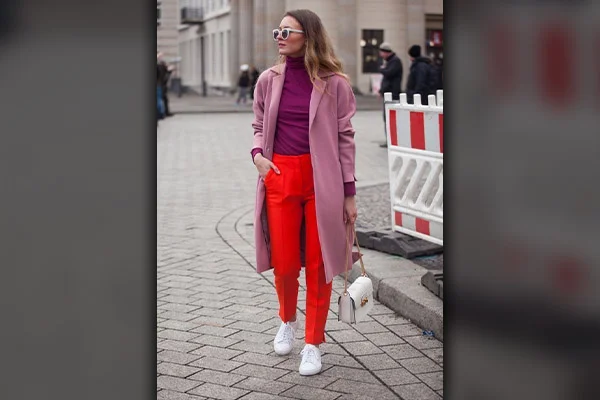 Purple is derived from a mixture of red and blue. Thus, in most cases, this combination looks effortless. With the right planning, you can look stylish and chic. Wear a dark purple turtleneck with customized straight pants in red. Add a mauve trench coat along with white sneakers, aviators and handbag. That's it; you're good to go!.
Purple And Black Outfit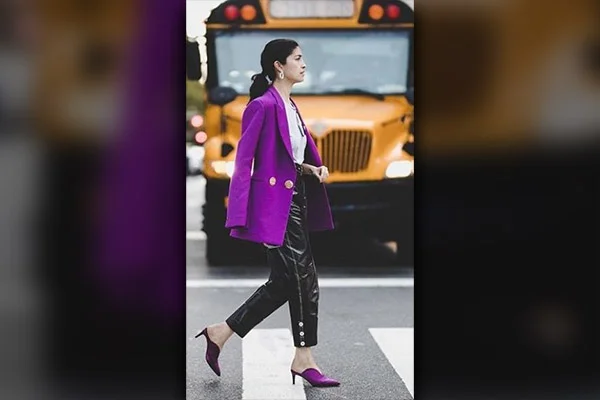 The right tone and vibration can make or break a look. Create a gorgeous look using baggy black leather pants with metallic hardware and an oversized plum blazer, and matching footwear. Add a grey cotton tee underneath, and you're good to go.

Purple And Brown Outfit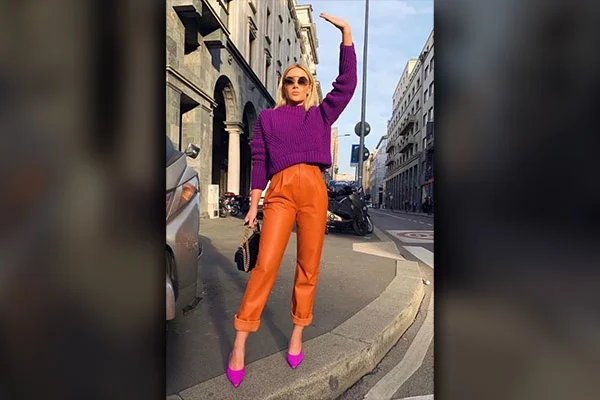 There is nothing more trendy and contemporary than high-waisted straight ankle-length leather pants. If you're going for a brown and purple combination, you have to highlight both shades. Choose a tan brown color for the bottoms and a lavender shade for the cropped knit sweater. Play with the footwear and choose a lighter shade for the stilettos, something that leans more towards pink and cooler undertones.
Purple And Beige Outfit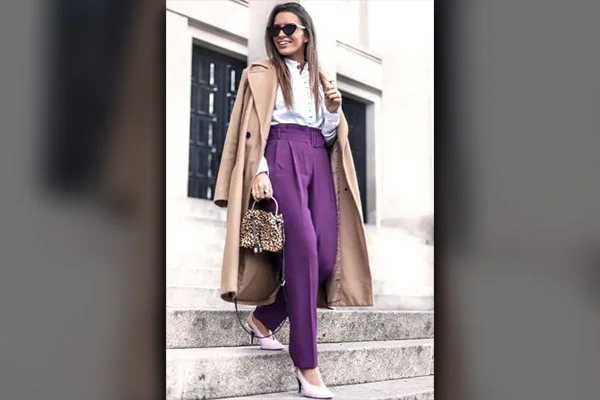 Wear violet high-waisted pants with a white collar shirt and drape a beige trench coat over your shoulders. A leather blazer can also be used instead of a coat. You can add an element of funk by adding a leopard print bag to the look, along with black aviators and pale pumps.
Purple And Blue Outfit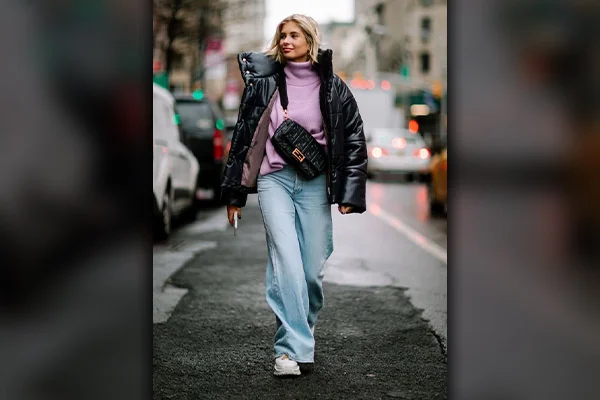 There's nothing more smart and casual than loose straight-cut blue jeans with an oversized lilac turtleneck and a black leather puffer jacket. Add a pair of white sneakers and a black leather bag, and you're good to go.
All Purple Outfit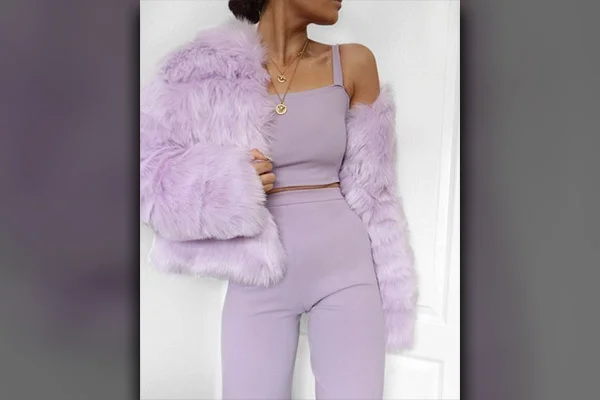 Use the same tone of purple, and a matching fur coat, and add a couple of gold studs and necklaces, and you're ready to party.
What Colors Go With Lavender Clothing?
Pink, yellow, golden, and brown are some of the colors that look incredibly good with purple clothes. Hence, it's best to find undertones that are cool but shades that stand opposite to purple in the color wheel. 
Does Purple And Black Match?
Yes, purple and black clothes look really good together. You can match these two shades and create an edgy and sophisticated outfit in a matter of seconds. 
Does Pink Go With Purple Clothes?
Pink and purple are really great together. You can choose an bomber jacket in plum shade and keep the rest of the outfit pink. 
Which Colors Do Not Go Together?
Usually the colors with the same undertone can fall a bit flat. For example, if you pair a white biker jacket with a baby pink top, it can wash out your entire face and make you look tired and plain. 
In Conclusion
It goes without saying that color coordination is key to creating outfits that are fashionable and trendy. Purple is a luminous color that exudes power and royalty, so you don't want to tame it down. Instead, take it up a notch and add glitter and glamor to your look.
Checkout Our Best-Selling Collection