The world of women's fashion is massive. There are thousands of different styles to choose from. Granted, a lot of these styles are condensed within certain geographical locations and cultures, but a lot of them are pretty universal. Only a few, however, are as versatile as a white blazer.
The sheer number of outfits that a white blazer can integrate into is crazy to think about. You'd struggle to find a type of shirt that doesn't look good under a white blazer. The best part about this is that a large majority of these compatible shirts don't just look okay; they look downright majestic. Even something as basic as a plain white t-shirt becomes a fashion icon as soon as it's under a well-fitting white blazer.
What To Expect In This Article?
White Blazer Fabrics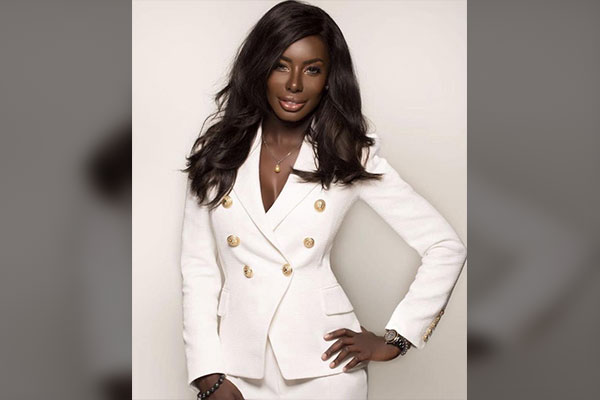 Not all women's white blazers are the same. There is enough variety within the white blazer market to satisfy every need and preference. This diversity is thanks to two major factors, and one of them is the fabric of the blazer. These are the most popular options.
Cotton Fabric
Cotton fabric is one of the most reliable materials to choose from. It feels amazingly soft while also providing adequate durability. Cotton is also fairly breathable and lightweight. Though, the best part about cotton fabric blazers is that it almost never wrinkles. You can just grab it out of your closet and wear it; no ironing is needed.
Woolen Fabric
If cotton is the ultimate blazer material for summer, wool is the right choice for winter. It is exceptional at heat retention. Even a thin woolen blazer will keep you noticeably warm. The biggest reason to choose a white woolen blazer is that it insulates you from the cold without its weight wearing you down.
Velvet Fabric
In terms of thickness and breathability, velvet is in the middle of cotton and wool. However, practicality is not the reason to choose velvet, as that reason is its chic look. Velvet blazers are the fanciest of them all without looking tacky or over the top. The soft exterior also feels amazing to touch and gives you an angelic glow.
Leather
Leather is quite an unusual material for a white blazer. But, it does suit perfectly well alongside many jacket styles, including a plus-sized jacket. Having said that, a well-crafted white leather blazer is a beast on its own. Even though it follows the same design principles as regular fabric blazers, it is still extremely recognizable. The subtle sheen of leather makes it stand out.
Types of White Blazers
The first way to categorize white blazers is with their construction material. The second, and arguably the more important categorization, is with the types of white blazers. These are the ones to choose from.
Standard Blazer
The standard blazer is what comes to mind when someone thinks of a blazer. It is essentially a suit jacket, which is casual and considerably easier to style. You can pair these with almost anything, and they will work flawlessly. It is also perfectly suited to be used in professional settings like a business meeting.
Waterfall Blazer
If the standard blazers are too basic for you, and you need something a bit more extravagant for day-to-day wear, then the waterfall blazer is the way to go. You can choose between a long or a short waterfall blazer, and both have a place in your wardrobe. The short one, in particular, is closest to being a must-have. Pairing it with a pair of leather pants takes your casual fashion game to the next level.
Lace Blazer
Lace blazers are, without completion, the most unique of the white blazers. It's shaped like a regular blazer but is made entirely out of sturdy woolen lace. These work best in the summer when you want something fancy but also don't want to be sweating profusely. Despite their interesting design, these are surprisingly easy to style. You can wear them over almost any summer outfit, and they will add a new flair to it while completely enhancing the entire vibe at their best.
Peplum Blazer
Most types of blazers are straight. Even the elaborate lace blazer is cut straight. This leaves a giant gap for outerwear that accentuates the natural curves of a woman's body. Luckily, the peplum blazer is here to fill this role perfectly. A white peplum blazer looks fantastic on light blue bell bottom jeans or even with dresses. You also don't have to worry that much about the shirt, as this blazer would attract all the attention.
White Blazers for All Day & Everyday
Now that we have a better understanding of what blazers for women are, how they became popular, and what options you have, it's time to focus on outfitting. Here are a few daytime looks with a white blazer.
Casual Look — Laidback White Blazer Outfit Ideas
Casual is the easiest style to pull off with a white blazer. Just wear a standard white blazer over a pair of blue jeans, a colorful tight-fit t-shirt, and you're ready to go. If you want to wear something a bit more stylish, then swap out the t-shirt for a tube top.
The key to pulling off a casual look with a white blazer is to balance the outfit. Do not let the blazer steal the spotlight. Use colors to your advantage, and don't be afraid of experimenting with different cuts.
Corporate Look — Using White Blazer Outfit Ideas for Inspiration
Corporate attire can be a bit tricky due to dress codes. So, make sure you're following the dress code of your workplace before you style your white blazer.
That being said, a standard white blazer looks majestic on a blouson dress. The contrast between the colorful dress and plain white blazer is phenomenal without looking over the top.
On the other hand, if you want to wear something a bit cozier, then look no further than a pair of white pants with a white turtleneck and your trusty white blazer. This all-white outfit is minimalistic but exceptionally attention-grabbing.
Street Style Look — Immaculate White Blazer Outfit Ideas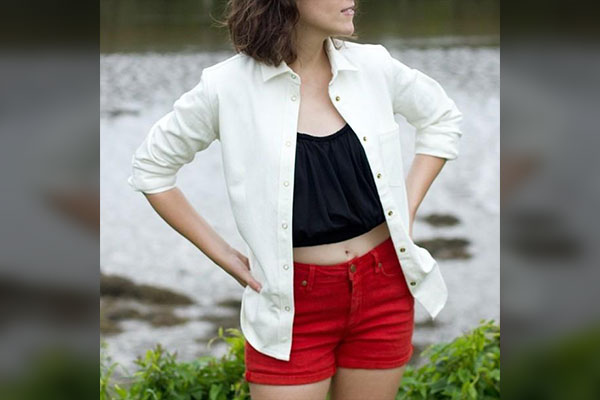 Street style is one of, if not the most interesting part, of women's fashion. It's super popular and trendy, yet defining it with a single example is not possible. Everyone has their personal style as a permanent component of street style as well.
For some, street clothing is all about freedom; and a white blazer with a pink sweater and a pair of blue denim shorts is all you need to capture this vibe.
On the other side of the coin are women who perceive street style as a chance to wear something methodical and well-put-together. A great example of this would be an outfit that consists of a pair of ripped black jeans, a white ruffle-front shirt, a cream cardigan with a white blazer. You can also take out the cardigan if the weather is a bit hot, and this outfit will exude the same presence.
White Blazers Outfit Ideas for Evening
So, you dressed up for the day, got to work, made the commute, and now it's evening time. If your end goal for the day is to just get home and relax, then taking off your blazer and shirt and swapping them out for a hooded sweatshirt is the best idea.
But, if you're expecting company or going out, these are the outfits you should try.
White Blazer Outfit Ideas for Date Night
Dressing up for a date night is extremely stress-inducing. There are so many little things to worry about that you often forget about the big picture.
The key to looking marvelous on your date night is to be confident in what you wear. Do not don an outfit that you're not comfortable wearing. You might not think that this is a big deal, but it will be visible.
As for recommendations, pairing a white blazer with black leather pants and a black button is an elegant choice. Another equally stunning date attire would be a black V-neck, over a plaid short skirt, knee-high maroon boots, and a flat blazer to tie the whole look together. You can add details to your look with accessories like leather handbags, jewelry, and wristwatches.
White Blazer Outfit Ideas for Girl's Night
Hanging out with the girls is all about comfort and relaxation. You do not want an uncomfortable piece of clothing getting in the way of your fun time. Keeping this in mind, a floral dress with a white blazer is the ultimate choice.
However, if your girl's night is at a party, then you need something a bit more lavish. Something along the lines of tight-fit black jeans, black and white striped shirt, and the white blazer. Bright red lipstick is the final piece of the puzzle here. If worn correctly, this attire is worthy of being on a fashion runway.
White Blazer Outfit Ideas for Family Time
Spending time with your family requires clothing that is between the super relaxed attires and the extremely chic ones. You do not want to come across as overdressed, especially if it is just a get-together and not an event like Christmas. However, you also don't want to look lazy and boring. Nailing this balance can be tricky, especially the first few times, but it is not impossible.
Dresses are your best friend here. Simple solid colors are great if you don't have any time for further stylization. But if you do have the time, matching your patterned dress with the accessories like your bag and doing the makeup accordingly will elevate your fashion game to the next level. Besides, the white blazer with a dress will help balance the outfit if you accidentally go off course.
Frequently Asked Questions
Can you wear heels under an office blazer?
Yes, you can wear heels under your office blazer attire. Just make sure that your workplace allows heels and that you're comfortable wearing them for a long period of time.
How to prevent a white blazer from getting dirty so quickly?
Wearing white on a regular basis is not easy. They are super easy to stain, and they look awful even if just a little dirt gets on them. The only way to keep them clean is to be aware of your surroundings. Keep your distance from people who are eating, and do not sit in dirty chairs. Opting for a white leather blazer would also help immensely as they are super easy to clean.
Can you wear a white blazer over flannel?
Yes, you can. In fact, the white blazer will contrast fabulously against the colorful flannel. Just ensure that the fitting on the flannel is not too loose.
What shoes go with the white blazers?
The choice of shoes is entirely dependent on the rest of your outfits. If you're wearing something urban with jeans and t-shirts, then white sneakers are a solid choice. If you're wearing the white blazer with a dress, then heels are the way to go, and so on.
Are white blazers even in style?
Yes, they are not only in style, but their popularity is rising by the day. More and more women are starting to understand the potential of these stylish blazers.
Can you wear leather pants under a leather blazer?
Leather pants under a leather blazer look lovely together. These are also the perfect choice if you want to wear all black.
Do blue shirts work with white blazers?
Blue shirts are the top shirt color for white blazers, right alongside white and black. Particular shades of blue like cyan blue, however, are in a league of their own.
Conclusion
The world of women's fashion is vast. There are so many styles to choose from. However, if these many options make you feel anxious, don't worry. If implemented correctly, you can wear a white blazer every day without it getting boring and repetitive.
The only thing you have to do is open your horizons and give unusual combinations a chance. You'd be surprised by the sheer quality of outfits you can craft with a single white blazer.