Whether it is shielding us from the cold or adding a classy vibe to our outfit, leather jackets do so much for us. Not to overlook their variety and versatility, which makes them an integral part of our wardrobes. This blog post will lay down everything about the women's leather jacket aesthetics.
What To Expect In This Article?
Basic Styles of Leather Jackets for Women
Leather outerwear is a significant part of the realm of womenswear. Any other material cannot beat the class of a lustrous, well fitted leather jacket. Wearing your leather jacket spices up even a basic outfit. Depending upon the type of leather and the jacket's lining, they can be worn all year long.
Before we dive into the leather jacket styling, let us briefly enlist the classic and trendy styles of these jackets. Read on to know what types of leather jackets can be a part of your wardrobe.
Biker Jacket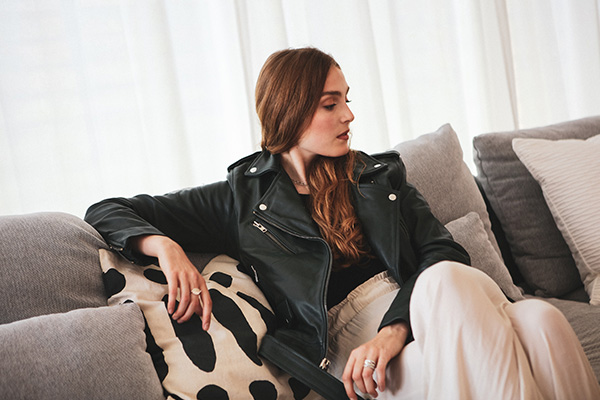 A classy black biker jacket comes to mind whenever someone says leather jacket. It has many subtypes. From a jacket with a band collar and front zipper to the edgy double rider jacket with asymmetrical zipper and notch lapels, you can opt for any type.
A biker jacket can be worn over dresses, different types of shirts and tops, and even jumpsuits.
Bomber Jacket
The women's leather bomber jacket has a boxy silhouette with a cinched hemline, front zipper, and ribbed collar and cuffs. The sporty design makes it a comfortable layering option. Wear it with jeans and white t-shirts, skirts, and many other women's fashion staples.
Shirt Jacket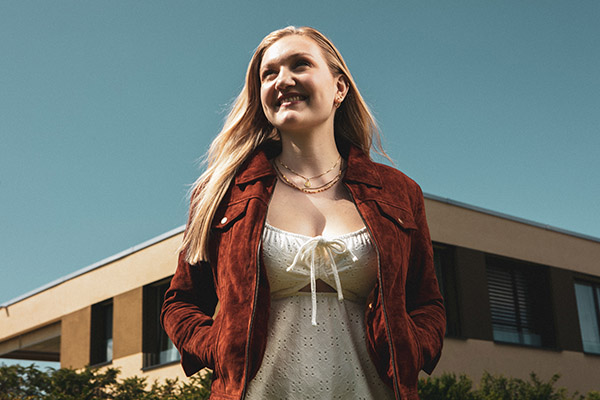 Women with an inclination towards the normcore style can go for a simple leather shirt jacket. It is a loosely structured jacket with button closure and shirt collar. Wear a brown shirt jacket over a off-white shirt and a black A-line skirt for a modest look.
Shearling Jacket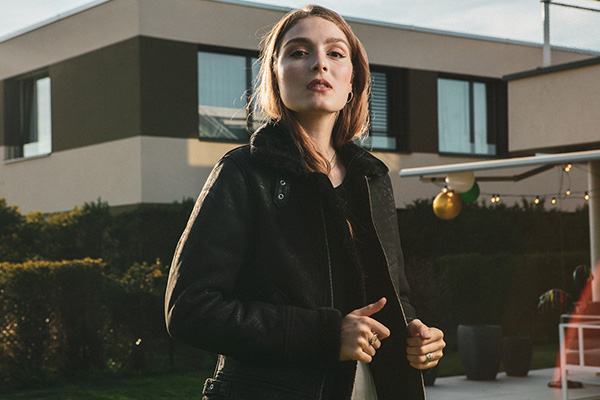 The warmth of a cozy shearling jacket is unmatched. It is crafted from sheepskin, with a wool lining. This type of jacket takes your winter style to new heights as it gives a classy look.
Cropped Jacket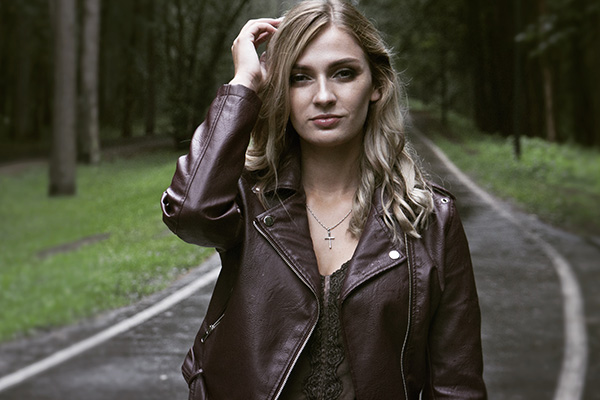 Cropped leather jackets are a raging trend. They can be styled with flattering tops and dresses for a trendy look. They give a glamorous appeal to any outfit.
Blazers and Coats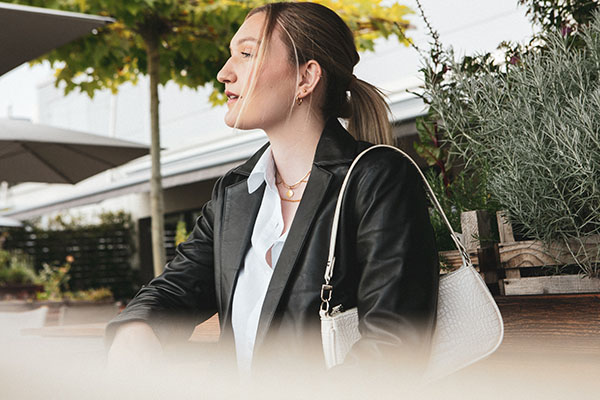 Leather blazers and long coats look incredibly stylish and are not by any means any less in terms of versatility. Both leather blazers and coats give a refined look.
Besides these preferred and popular styles, leather jackets can be categorized based on their colors. They can have embellishments too. Fringed leather jackets and vests are distinguished styles.
Jackets with various kinds of embellishments like studs, spikes, patches, and embroidery are considered high fashion staples. Recently, bolero jackets made of leather are also gaining popularity which instantly uplifts an outfit.
Getting the Right Jacket to Nail the Leather Aesthetic
The first and the foremost prerequisite to successfully pull off the leather jacket aesthetic is to pick a jacket that ticks all the boxes for suitability. Whether it's the silhouette, color, or the style of the jacket, it should reflect your personality and put you in the best light.
An ill fitting jacket that goes against your specific style is not worthy enough to be used in a leather jacket aesthetic outfit. Here are a few things to consider when you are set to portray the jacket aesthetic with flair.
Premium Quality Leather for the Aesthetic Jacket
Before anything else, you must pay attention to the type of leather that you want to go for in your aesthetic leather jacket. You can make a selection based on the types of animal skins, leather finishing, and leather grade.
Going for the highest quality leather is paramount to ensure a perfect look. We at The Jacket Maker use cowhide, sheepskin, and other types of high quality leather to make jackets that would last a lifetime in your wardrobe. Apart from that, we use the best finishing type that would work for you so that you can keep creating aesthetic leather jacket ensembles.
You can also opt for the suitable grain of leather as that holds prime importance for a jacket to be of good quality. Go for full grain or top grain leather jackets to nail the leather jacket aesthetic with an unparalleled style.
Go for Suitable Lining Material for Your Aesthetic Leather Jacket
Choosing an appropriate lining material for your leather jacket is highly important. The weather conditions of your area (or if you are travelling somewhere) might require a specific level of warmth.
If you are looking for a lightweight jacket to layer your outfits, go for polyester, fleece or cotton lining. But if you want a heavyweight piece to shield you adequately, go for fur or quilted lining.
Pull off the Leather Jacket Aesthetic with the Perfect Fit
We can not emphasize enough on how vital is the correct fit of your leather jacket. A close fitting jacket is your best bet to look fashionable, letting you portray the leather aesthetic in diverse ways. However, a fit too tight will hamper the effortless look.
As it fits right, the jacket allows just enough room for layering without making you uncomfortable. This gives you the confidence to slay the leather jacket aesthetic. The sleeves of your jacket should end till the top of your wrist, and the length should be till your belt.
Rock the Leather Jacket Aesthetic with the Right Style
Choose a leather jacket that closely matches your personal style. If your style is minimal and classic, go for slim fit cafe racers or bomber jackets. You can even lean towards a subtle, put-together look with the leather coat aesthetic, and opt for a chic leather blazer with your outfits.
If you proudly flaunt an unabashed style, and wish to ooze the fashion forward vibes with your jacket aesthetic, go with edgy moto jackets and leather jackets with studs, spikes, and embroidery.
Women inclining toward the bohemian fashion or the cowgirl style can choose fringed leather jackets, and leather vests with their ensembles.
Pick the Color of Your Aesthetic Leather Jacket
If we acknowledge color psychology, the color of your clothing has a profound effect on your appearance. Each color gives specific vibes, and your leather jacket, being the star of the show, definitely grabs the attention with its color.
Going the classic route, you can go for the black leather jacket aesthetic, or the brown jacket aesthetic as these are the easiest to style with most of your clothing. Black leather aesthetic signifies confidence, power, and prestige, giving you a highly enthralling look.
On the other hand, the brown jacket aesthetic makes one appear dependable, congenial, and reliable. Your black or brown leather jacket will be a highly versatile piece, letting you create a range of fall/winter outfits.
While the neutral hues like black, brown, and even beige and navy blue are undoubtedly easy to pair, you can also count on other colors to nail the leather jacket aesthetic. For instance, the red leather jacket aesthetic is hugely popular, primarily due to its eye-catching quality. You can also go for blue, green, yellow, pink, and many other colored leather jackets to diversify your streetwear looks.
Slay the Leather Jacket Street Style With Various Detailing
While picking the ultimate jacket for your leather jacket aesthetic outfit, look for jackets with splendid detailing to give a top notch look. You can go for quilted leather jackets, studded jackets, leather jackets with contrasting colors, and many other designs. You can even go the bespoke route and customize your jacket with detailing that goes well with your personal style.
How to Style a Leather Jacket? Building a Leather Jacket Aesthetic Outfit
Unlike their utilitarian beginnings, leather jackets are no more a garment worn only for protection. Although they got the seal of a fashion forward staple decades ago, they are still much loved. Initially made for men, these timeless jackets found their way into every fashion savvy women's wardrobe.
There are so many ways to style these timeless jackets and feel confident. Keep them in regular rotation by wearing them over your casual and street style outfits. A leather jacket outfit is perfect for times when you are in a hurry. All you need is to don a splendid leather jacket over any kind of dressing, and you are good to go.
For spring and summer, leather jackets can be paired with lightweight blouses and shirts along with jeans and skirts. They also go well with all kinds of dresses. For the colder season, leather jackets can top layers of clothing like sweaters, hoodies, or sweater dresses. A variety of shoes can look great with the leather jacket aesthetic. You can wear boots, strappy sandals, mules, sneakers, and pumps.
Female Leather Jacket Outfit Ideas
Based on the most popular leather jacket colors, there are several innovative and classic outfit ideas. You can adopt a style that you like and choose a single or multiple colored jackets to give a boost to your outfit creation.
Black Leather Jacket Outfits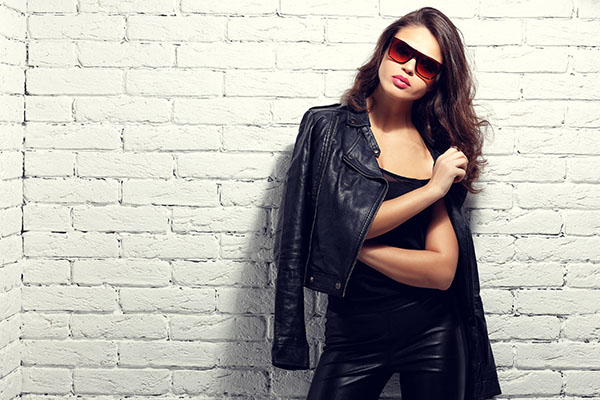 Leather jackets in black are a great addition to any wardrobe. Depending upon the style you are going for, they will serve as a classy final touch to your outfit.
Wear a black double rider jacket along with a black tank top and skinny black jeans for a voguish look. This no-fail ensemble looks even more stylish with a pair of black ankle boots and a crossbody bag.
Wear a green tunic along with black faux leather sweatpants for a chic look. Top it off with a black bomber jacket and wear green pumps for further style.
A brown leather tennis skirt along with a black turtleneck is an impressive outfit. Use an embroidered black leather jacket to uplift this look. Finish off with black t-strap heels.
A grey hoodie and blue slim fit jeans outfit can instantly become street approved with the addition of a black bomber jacket.
Outfits with Red Leather Jacket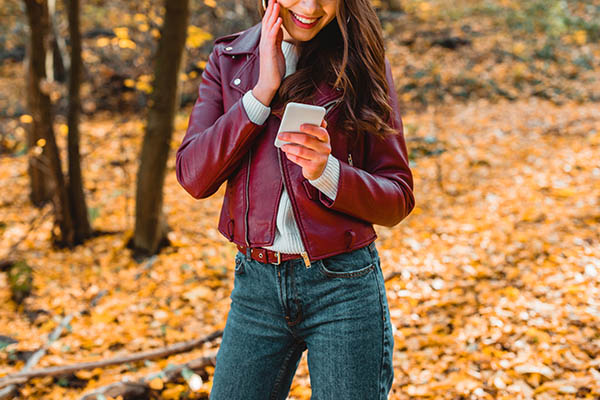 On the streets of fashion capitals around the world, the dominance of the red leather jacket is seen. Bold, appealing, and absolutely trendy, the red leather jacket is a must-have for any fashionable woman.
Wear a black t-shirt and white ripped jeans along with a red motorcycle jacket. Complete this outfit with red pumps and some statement jewelry like bracelets and earrings.
You can tone down the edginess of the red jacket by opting for a simple style like a basic biker jacket and wearing it over a white floral midi dress. The jacket gives a flavor of contemporary chic to the girl-next-door style. Round off this outfit with white gladiator sandals.
Pair a peplum top in light pink color and pair cream colored palazzos. On top of this ultra feminine pairing, wear a red leather vest. Red or pink ballerina shoes will be the perfect choice of footwear with this look.
White Leather Jacket Looks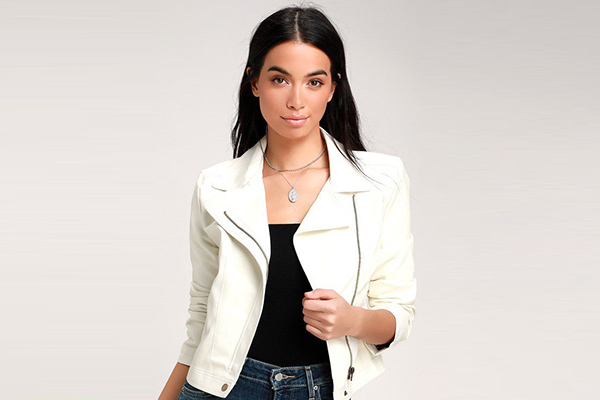 A white leather jacket is well worth an investment. A plain white jacket will give a refined look to your outfit, while a studded one will make you stand out from the crowd. Although the choice may be unconventional, it is easy to match a white jacket with an outfit in any color.
If you want to be a true stunner, try wearing a white leather jacket in the following ways.
Wear a flared black floral midi dress and wear an off-white cropped leather jacket over it. This outfit is easy to put together but looks lovely in spring and summer. Choose a pair of black mules with this outfit.
Team up a navy blue polka dot circle skirt with a white tiered top. A cream quilted leather jacket can be the perfect finishing touch to this outfit. Wear navy blue stilettos with this ensemble.
A white studded leather jacket over a black cropped crossover top and faux leather leggings is a chic trio. Rounding it off with white leather heeled sandals will make it a no-fail style statement.
Burgundy Leather Jacket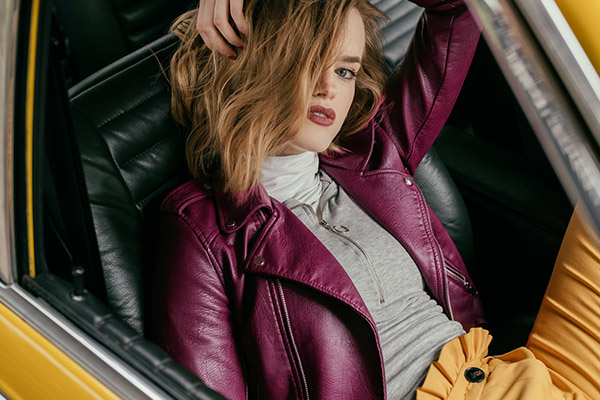 Since its inception as a fashion staple, leather jackets' colors and designs are continuously evolving. Burgundy is the trending hue preferred for shirts, pants, and especially fall jackets. A burgundy leather jacket gives a sophisticated look besides giving depth to a neutral outfit. Here are a few ways to nail the burgundy leather jacket aesthetic.
A grey henley crop top and black high-rise skinny jeans is an alluring combo. Elevate it further with a burgundy racer jacket and black suede ankle boots.
Wear a plain black mini dress with a flared silhouette and don a burgundy biker jacket on top of it. Complement this look with a pair of black over the knee boots and a chained shoulder bag.
Wear a cropped burgundy jacket over a casual combo of denim shorts and a Breton top. Though the look is laid back, you can increase its appeal with black pumps.
Brown Leather Jacket Aesthetic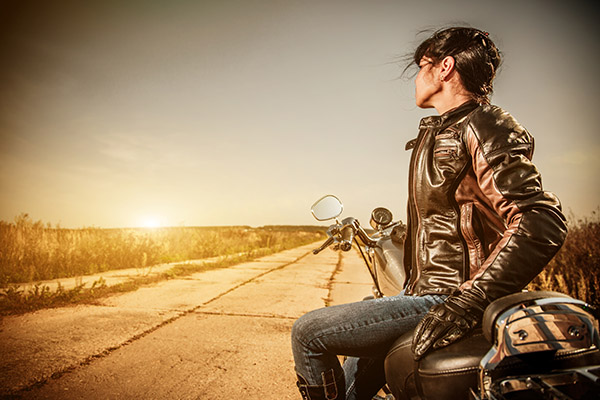 Leather jackets in shades of brown are a safe choice when your wardrobe consists of a variety of colorful shirts, tops, pants, dresses and jumpsuits. Brown outfits give a very modest look, which means they are perfect for women who have a penchant for normcore style. Style a brown jacket in any of the following ways for a captivating look.
Go for a pretty printed tunic top and dark blue bootcut jeans. Over this flattering combo, wear a brown bomber jacket. Add brown peep toe heels to the equation for an added flair.
Wear a vertically striped shirt along with cream wide-legged pants. Complete this outfit with a cropped brown biker jacket and black stilettos.
Pair a black mini a-line skirt with a black crop top and layer the sexy outfit with a brown biker jacket. Round off the attire with long black boots.
For a stylish winter look, wear a brown bomber jacket over a white sweater dress, black leggings, and black boots. Upgrade the look with a real fur or faux fur stole.
To nail the leather jacket style, you can also go for jackets in other colors as well. Shades of blue, green, pink and teal are quite popular in womenswear. Beige and wine colored leather jackets and cognac jackets are also sought after choices to put together creative outfits.
How to Wear a Leather Jacket with Different Clothes
Putting together leather jacket outfits is not at all confusing. It involves picking the right color combinations and flattering silhouettes. Choose weather appropriate staples and accessories. Here are a few fabulous ways to wear your precious jacket with style.
Leather Jacket and Jeans Looks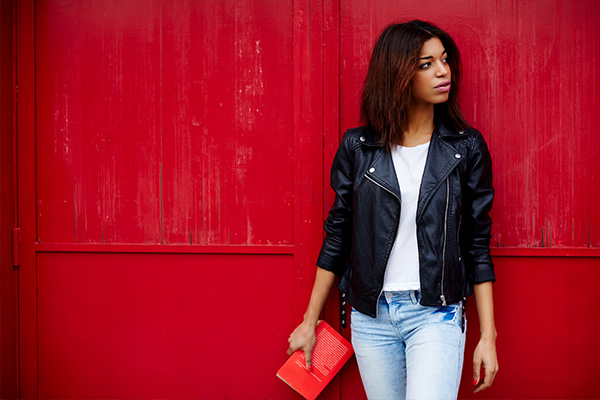 A conventional way to wear a leather jacket is to pair it with jeans. To do so creatively, wear a grey t-shirt with a plunging neckline over a black lace top. Wear blue mom jeans and a black moto jacket to complete the look.
Leather Jacket with Dress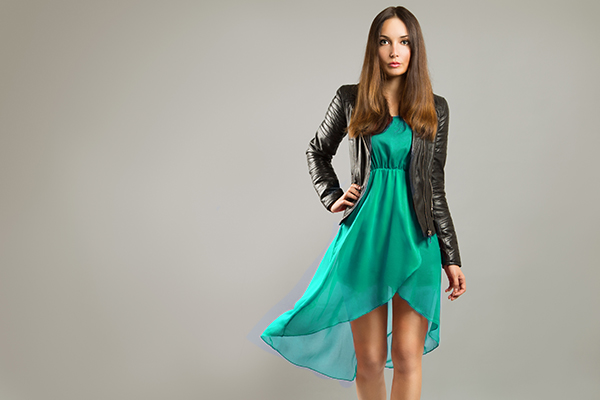 You can also wear these jackets with plain and printed dresses. For instance, a green empire dress and a brown biker jacket combo will get you several compliments. Or, try a grey t-shirt dress along with a black cropped jacket and a fedora hat for a chic appeal.
Outfits with Skirt and Leather Jackets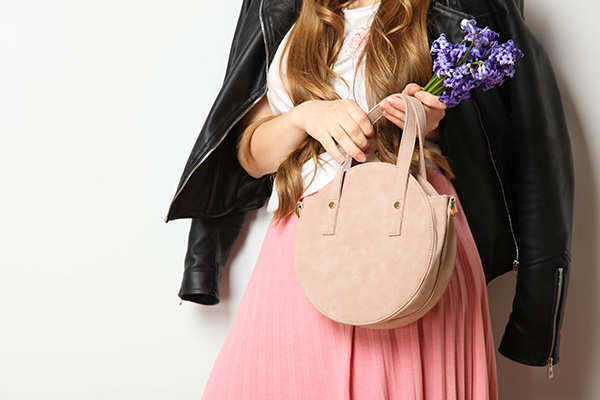 Pair a denim button skirt with a graphic t-shirt and a light blue leather jacket. Add printed heels to this equation for a stunning look.
Leather Jacket and Jumpsuits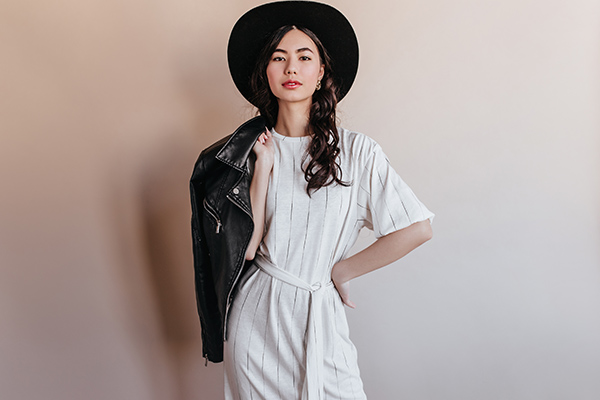 Jumpsuits look very elegant. A zebra pattern jumpsuit can be topped with a black leather jacket. Or, try a different look with a red jumpsuit and a grey leather jacket. Pointed toe heels in a matching color look great with a jumpsuit.
FAQs – Leather Jacket Aesthetic
Is Grey part of the leather jacket aesthetic?
A grey leather jacket gives you ample pairing options as it easily goes with any other color. If you are looking for an ideal way to rock the leather jacket aesthetic, wear a grey leather jacket over your dark dresses. Or, wear it over a white button down shirt and blue jeans.  
What to wear with a leather jacket?
The most suitable tops are black and white t-shirts, crop tops in any color, shirts in solid colors and printed ones. For bottom wear, a variety of skirts, jeans, shorts, and trousers can suit a leather jacket look. 
Can you wear a red leather jacket?
Red is the color that grabs attention in an instant. A leather jacket in red color is a gorgeous style statement, well worth a buy if you are a daring fashionista. Always match your footwear with the jacket for a classy look. 
Summing Up
Leather jackets are a beloved fashion staple for women who like to dress up in spectacular outfits. The fact that these jackets have been around for decades and are still trending proves how versatile they are. If you want to ace the leather jacket aesthetic with perfection, try the no-fail outfits we have suggested above.