In the list of classic casual outfits for summer, none other has yet dethroned the white shirt and jeans combo. We all wear it so frequently. Yet every time, we feel the urge to make it more attractive. Lets learn how to rock the basic white shirt and jeans outfit, each time with a different look.
White shirt's versatility is unquestioned. Pair it with denim, and you still have a lot of room in terms of styling. The use of layers, trendy footwear, and pretty accessories can elevate this simple outfit into a glamorous one. Even the way you wear the shirt portrays varying styles. 
Choosing the Basics for Your Jeans and White Shirt Outfit
There are different types of white shirts and jeans available to choose from. Depending on the weather and your body type, you can go for any of these. Your white shirt can be a simple cotton shirt or a silk/satin shirt that gives a glitzy look. 
You can pick the size that you want to wear. From short, fitted collared shirts to oversized ones that are currently in fashion, the possibilities are endless. Some shirts come with lace or frill detail, including ruffled tux shirts.
Choice of Jeans
The timeless white shirts give you effortless sophistication when worn with dark wash slim-fit jeans. For a flattering look, go for the flared or bootcut style jeans. The white shirt will also go well with straight jeans, skinny jeans, or trending styles such as mom jeans or boyfriend jeans for casual looks. 
For street style outfits, pick distressed jeans in any color, preferably black or light blue. High-waisted jeans will make you look slimmer and taller, so you can definitely opt for those. Or pass on all the other options and instead go for low-cut baggy jeans that are trending these days.
Layering the Outfit
After deciding upon the type of shirt and jeans, pick your layering option. This largely depends upon the weather, as scorching summer days won't require any layering. But the white shirt and jeans outfit is not just for summer. If dressing up for other seasons, go for stylish fall jackets, cardigans, shrugs or long coats as these work well with the white shirt. 
What Looks Good with a White Shirt?
As stated earlier, countless clothing staples, shoes, and accessories lend themselves easily to the white shirt and jeans look. 
Simply wearing your shirt unbuttoned over a black tank top is the easiest way to add appeal to this outfit. Or, you can opt for the no-fail white shirt, jeans, and black blazer look. Besides the blazer, various jackets can be worn over this outfit. Leather jackets (Cropped or long), denim jackets, and sweater vests are highly suitable for a dressy look
Any color of jeans can opt for a good white shirt. We suggest pairing it with black, gray, and jeans in different shades of blue. Occasionally, try white jeans for a stylish all-white look. 
Footwear and Accessories
When it comes to shoes, the choice of white sneakers can be a no-brainer. But to elevate the look, you can also try different types of heels like black stilettos, nude pumps, or platform heels in different colors. You can also swap the sneakers for loafers, high boots, or printed footwear. 
Accessories like printed scarves, statement necklaces, hoop earrings, or signature bags add oomph to this basic ensemble. Wear a baseball cap with your white shirt and jeans for a tomboy look.
Blue Jeans and White Shirt Outfit
Here are some incredible outfit inspirations to bring up the style meter reading with your white shirt and jeans.
Denim on Denim Look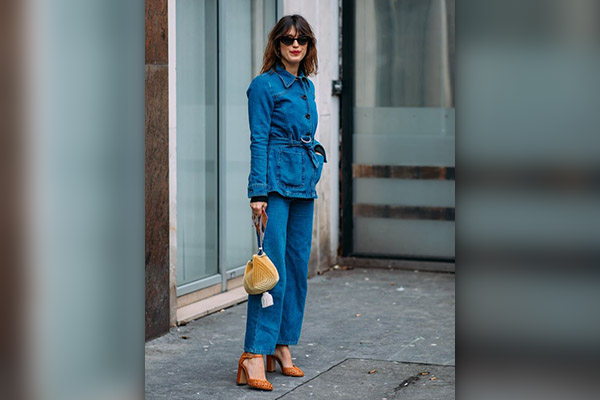 Tuck your white shirt half inside your jeans and wear a cute denim jacket that matches your jeans. Add some color to the outfit with a burgundy cross-body bag, but go for heeled white ankle boots to round off the look elegantly. 
With a Classy Blazer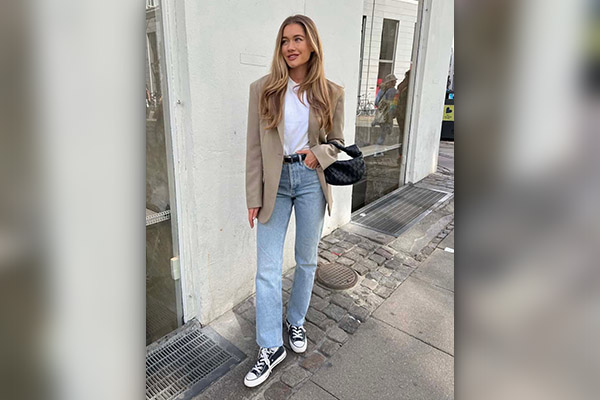 The easiest way to get noticed with your regular jeans and white shirt is to don a sleek black blazer over it. Not only is this trio undoubtedly hugely popular, but very easy to pull off. Make sure you match a classy bag with this outfit and adorn your face with modish sunglasses. 
Oversized Shirt Half Tucked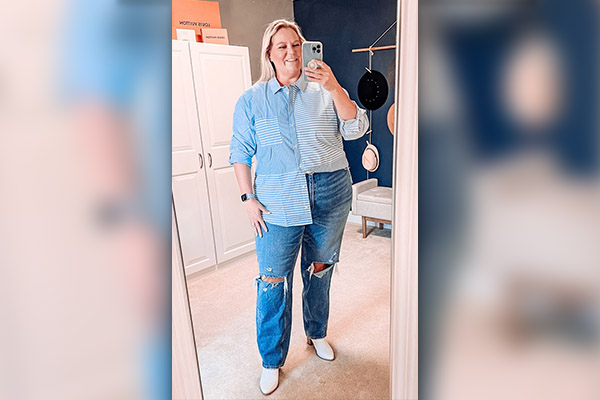 The chic and casual pairing of an oversized white shirt and blue mom jeans is certainly going to take you down the comfort route. Add up to the glam quotient by tucking in half of the shirt and leaving the top few buttons undone. A statement necklace, a chained handbag, and chunky-soled black shoes will complete this outfit.  
The Silk White Shirt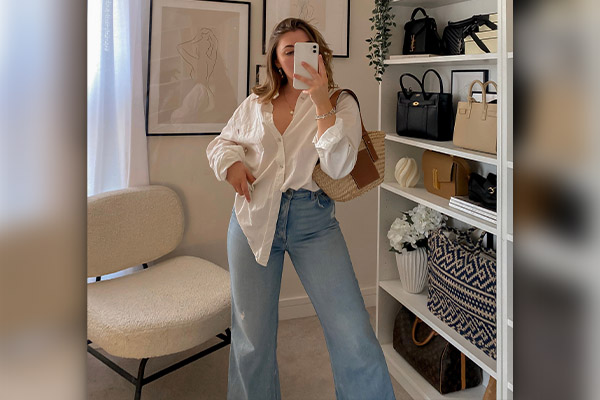 Ditch the usual cotton white shirt and opt for a splendid silk shirt with pearl buttons. Pair it with skinny blue jeans and a pair of strappy copper sandals. To accessorize the outfit, go for black shades and a stylish black handbag. 
You can simply tie your cotton white shirt on the front and wear it with high-waisted jeans to level up your style instantly. Choose a pair of black t-straps as the footwear and make a messy high bun hairstyle for this look. 
Another outfit idea is to wear white on white. A clean, crisp look with a fitted white shirt and white jeans is easy to pull off. It's up to you whether you want to add color to this outfit in the form of shoes and accessories. But wearing white mules and carrying a white chained shoulder bag is also an excellent idea.
Elevating the Jeans and White Shirt Outfit
If you are looking for some quick ways to style your white shirt and jeans outfit, here is how to do it. For the colder days, transform your simple white shirt and jeans with a maroon or navy blue long cardigan.
A baseball cap will give a sporty style to your attire, and you can also swap your ballet flats with chunky sneakers for this look.
Another way to make the white shirt and jeans more appealing is to wear a cropped double-rider jacket over them. 
Casual White Shirt and Jeans Combo for Females
Some everyday looks with the white shirt can be created using these outfit ideas.
Wear an oversized white shirt over the comfortable combination of a black tank top and blue high-waisted ripped jeans. Add street vibes to the look with white sneakers and a black chained bag. 
At times, just a few accessories and the right fit of your outfit can be a game-changer for your style. To dress up a combo of a white shirt and blue skinny jeans, consider a stylish fedora hat and brown suede ankle boots to round off the look on a chic tone. 
How to Wear T-shirts and Jeans
We correlate our white tee and jeans with comfort. But there are several ways to make this simple outfit street approved. You can pair different types of shrugs or jackets with it, or add fashionable vibes with stylish footwear. The best thing about this look is that it can be changed as desired.
T-shirt and Jeans Outfit Ideas
Try these outfit suggestions to shun the notion that a basic white t-shirt and jeans outfit can be boring.
With a Cardigan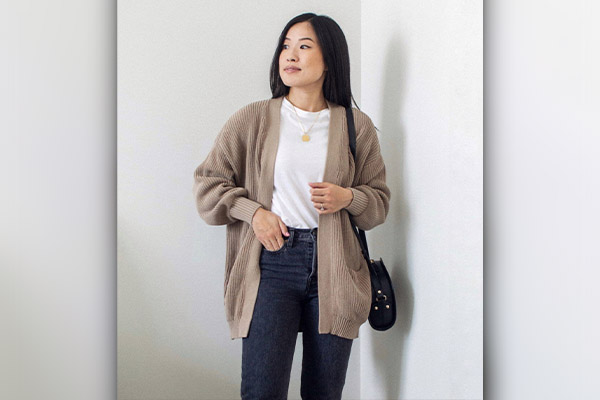 All you need is a cozy knitted cardigan and a statement necklace to make your simple jeans and t-shirt look glamorous. Grab a light gray cardigan from your winter casual wardrobe and wear it over your t-shirt. Get a bit more creative with your style by carrying a brown leather purse, a golden wristwatch, and wearing a pair of brown pumps. 
With Red Pumps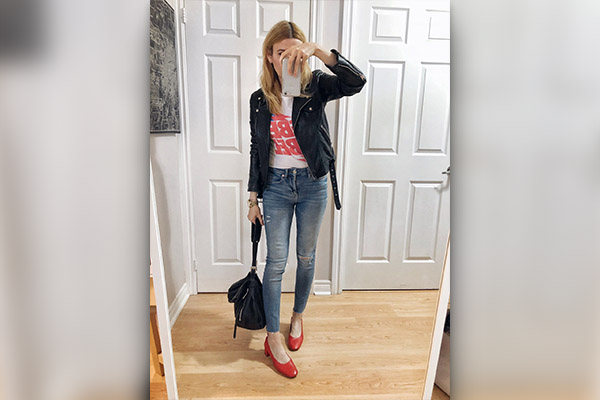 Don a baggy white t-shirt along with black ripped jeans and elevate this look with a black handbag, a silver necklace, and red pumps. 
With a Red Blazer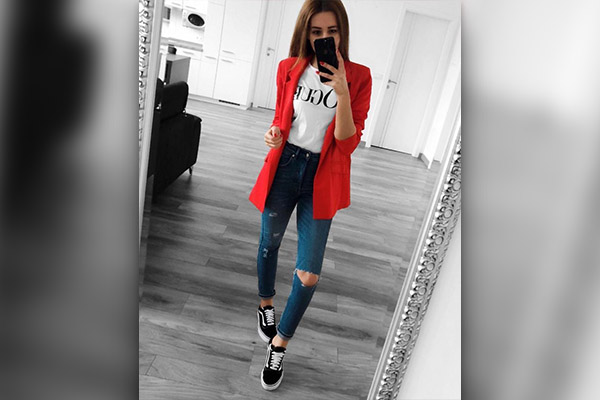 You can instantly ramp up a straight jeans and t-shirt outfit by layering it with a flashy red blazer. Retro style shades, loose curls hairstyle, and white ankle boots are going to take this look up a notch. 
How to Style a T-shirt?
T-shirts are pretty basic, but that doesn't mean they should look boring. Stylish celebrities with their off-duty styles and fashion influencers keep giving us t-shirt styling goals by using various methods. 
The simplest way to rock a t-shirt is to wear a flannel over it. Or, you can just tie it around the waist for a chic look. You can also consider wearing a leather or sweater vest over your T-shirt.
If you don't want to go for any sort of layering, simply tie your t-shirt from the front to make it look glamorous. Wear a beautiful statement necklace over your t-shirt for that extra pep.
How to Dress up a T-shirt and Jeans with a Jacket?
Here is an outfit idea that we strongly suggest if you want to create an edgy look. Dress up a fitted white t-shirt and dark wash skinny jeans with a cropped leather jacket. Put on your Converse sneakers and let your hair loose to make a good impression. 
White Top Outfit with Jeans
Shirts and t-shirts are not the only clothing essentials for a basic white top and denim bottoms outfit. You can opt for cute white tops and blouses for a sultry look. Consider wearing a sweetheart neck blouse with puffed sleeves along with high-waisted flared jeans for a flattering look. 
Crochet tops are quite a rage these days. Go for a sweater-style crochet top along with bootcut jeans to create an outfit that is both fashionable and functional. Round off this ensemble with white square toes heels and a chic shoulder bag. 
FAQs
What can I wear with a blue jacket and white jeans?
Wearing a blue denim jacket over white jeans is a splendid outfit idea. You can further increase its style factor by pairing brown pumps and a brown tote bag with it. Or, you can carry a blush pink bag with this outfit and go for nude heels for a highly feminine look. 
How do men wear white shirts and jeans?
A white shirt and jeans are a unisex style. Men often wear white shirts and jeans with a blazer, a sports coat, or a classy leather jacket. When it comes to footwear, men usually opt for chukka boots or Chelsea boots with their jeans and white shirt look. Men prefer their comfortable boat shoes or loafers for more casual get-ups. 
Do blue jeans and white shirts match?
Blue jeans go perfectly well with white shirts. The eye-pleasing combination is the reason why this outfit is worn so commonly by both genders all around the world. 
What goes well with jeans?
You can pair almost any kind of tops, shirts, or blouse with jeans. Be it a simple crewneck t-shirt, a ruffled blouse, or a button-down shirt, the possibilities are endless. Furthermore, you can layer these outfits with a variety of jackets and other types of outerwear such as sweaters, shrugs, and long coats. 
How do you wear a shirt with jeans?
Pulling off a shirt with jeans is fairly easy. You can either tuck the whole shirt in, or leave half of it out for a smart look. You can also wear a tank top beneath your shirt and leave the buttons open for a chic look. 
Conclusion
The usual white shirt, t-shirt, or top along with jeans is certainly a casual and low-maintenance look. But there are multiple ways to upgrade it to a street-worthy look. Following the suggestions in this post, you can put together a white shirt and jeans outfit which isn't boring at all.