One of the trends that have made a splash around the world, especially for its distinctive rugged vibe and an alternative lifestyle, is the tomboy look. But the tomboy look is not at all restricted to the way you dress up, it's a way of being; an attitude.  
While there may be different degrees to how tomboy a person can be, from the mild tomboyish hints in one's style and mannerism to the major, hardcore tomboy who does not relate to anything even remotely close to feminine elements, one similarity is the common aversion to long hair, makeup, and uncomfortably high heels!
With that being said, there are still some girls who don't belong to either or the category. On the contrary, they are charmed by the tomboy look due to personal reasons, like wanting to experiment with their personal style. Besides, you don't really have to be a tomboy to love boyfriend jeans!
Tomboy Essentials
If you're aiming for a cute tomboy outfit, go for the tried and true hoodie and leather jacket look. The look basically says that you're casual yet ready to roll. Remember that layering is one of the key elements of the tomboy style; thus, outerwear plays an important role. From the colors you choose to the styling of the apparel, the tomboy style is adopted by women who're not fond of preppy style and girly-girl outfits. 
To draw a basic sketch for you, you'll find tomboy girls wearing leather jackets and shorts paired with studded leather boots. We've curated a tomboy checklist for you so take a quick look at it as it entails everything you need to know about tomboy looks.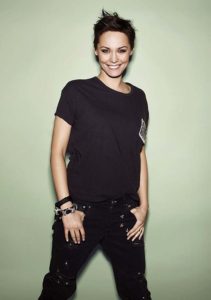 Apparel
When talking about tomboy clothes, t-shirts are a must as are denim jeans which are the absolute basic of basics to begin with. Detailing should be to the minimum. The recent faux leather pant or even leather shorts on trend as well are a great way to work around this tomboy appearance.
The color palette for these can be totally based on neutral tones or may have a balance of a bit of color as well as neutrals. A key point to remember here is to make sure these pieces fit well. Button down shirts are another must-have for this look and should begin from whites and neutrals and move on to checkered and plaid prints in a mindful mix of color.
Layering garments are a popular way of adding interesting elements and focus on this tomboy trend. Style a button-down shirt with a basic tee and perhaps even a light jacket thrown over makes for a fantastic tomboy look.
Inner-Wear
If the outer look for this style contributes to the tomboy trend then inner-wear too holds the same importance in this regard. While the traditional female inner-wear makes an exit, cool and comfy boxer shorts are easily available for the trendsetting tomboy with many colors and fabrics that you can choose from. Team these up crop tops and tank tops and you're all set.
Footwear
For a typical tomboy look, flat footwear is always the best. Be they sneakers, loafers, boots or any shoes that nod to masculinity.
However; for some this look can get overwhelming and so footwear for this trend can also include very simple sandals and heels. Make sure, however, that the style, design, and color are not too eye-catching. The best would be neutral tones with minimal design elements.
For instance, a basic sporty t-shirt worn under a cool sports jacket over well fit jeans or slacks can go well with both a sneaker as well as a very simple stiletto. Totally depending on how far out you want to take this tom boy look.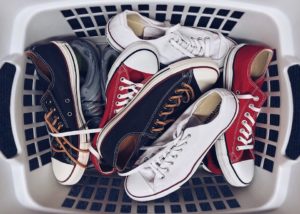 Outerwear
An interesting factor that plays an important role in this tomboy trend is outerwear. This is what adds further style and uniqueness to your tomboy attitude.
Therefore choosing the right form of outerwear is most crucial even more so, is knowing when you do or do not need it. The perfect piece for this awesome look is to have a well-made leather jacket.
A classic biker jacket or a leather bomber jacket can swiftly up to your game in the tomboy world. With so many choices available, you can go for something different with every variation of this trendy tomboy look. A sports jacket, trench coat, or a denim jacket, all work well with this look.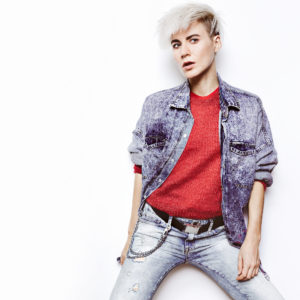 Accessories
What is defined as the final touch to any outfit or look, accessories hold an important place in this process which can either make or break your look regardless of gender or type of look you go for.
Incorporating a sleek necktie or bow into your tomboy trend is a good idea especially if you do so creatively. A watch, bracelet, or ring are some of the many options you can go for.
Again, the design and make should be simple and minimal including color and detail. So go ahead and experiment with this trendy tomboy look to find fun ways to present your style in cool and unique ways.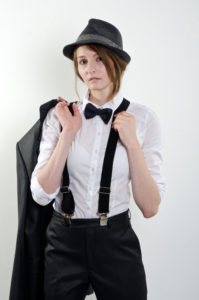 FAQs
What Are Some Cute Tomboy Outfit Ideas For Girls Who Like Bands?
Girls who like bands can wear graphic tees with leather jackets and denim shorts. They can also go for leather shorts and leather pants paired with merch t-shirts and biker jackets. 

What are some cool outfits for middle school girls who are tomboyish?
Tomboyish girls in middle school should go for a cool leather jacket that is heavily studded with jeggings. They can also wear A-line dresses with denim jackets. 

What are Cute Outfits For A Christmas Party Tomboy Style When It's Cold?
You can wear cozy sweaters with Christmas themed sweatpants and colorful socks. If you want to take this outfit up a notch, wear a jacket on top of the sweater. 

How To Dress Like A Tomboy But Still Look Cute?
If you want to look cute but not go out of your comfort zone, go for a girly dress and throw a baggy jacket over it. You can pair this outfit with leather boots and add some chunky grunge style jewelry. 

How to look more feminine as a tomboy?
If you want to dress like a tomboy but maintain your femininity, you should pick outfits that are bright and with geometric designs. Instead of boyish shorts, go for leather mini skirts and slim-fit pants. You can also add chunky and grunge accessories. 

In Conclusion
Thus, it can be established that tomboy look is preferred by girls who aren't fond of wearing girly clothes. To create this look, you can use graphic tees, polo shirts, boyfriend jeans, mom jeans, chinos pants, and leather jackets.