Ditching the traditional denim and switching to faux leather is a bold step. Faux leather pants never went out of fashion, but their frequent use now is inspiring fashion loving women to get one for themselves.
Found in different styles, cuts, and sizes, these pants are surely one of the boldest fashion staples to date. Famed for their sleek look, faux leather pants make a statement that is hard to miss if you are a true fashionista.
From the runway to the street, these lustrous pants are paired with a variety of clothing essentials like crop tops, women's leather jackets, and blouses to build various stylish looks.
In this article, we will introduce faux leather pants, sharing information to inspire you. Grab a glistening new pair of leather slacks and try the outfit suggestions mentioned below.
Don't worry if you have never experimented with pants made with faux leather, as we will explain the basic tips on how to wash faux leather pants and care for them in general.
Moreover, we will lay down proper ways how to stretch faux leather pants to wear them comfortably, or how to shrink faux leather pants if they are loose.
What is Faux Leather?
If you have ever ridden a car, kept a diary, or shopped for leather jackets and pants, you must have come across a material that is too unreal for leather, but too real for any other substance.
Faux leather, better known as synthetic leather or leatherette is the talk of the town these days. Known for its affordability, easy maintenance, and aesthetic, faux leather has become the ultimate choice for fast fashion lovers. Though faux leather was made to mimic real leather, it has some significant qualities of its own 
The ultraviolet rays do not fade away the faux leather.
Cheaper than real leather. Real leather is made after going through a long process of obtaining animal hides and tanning them. On the other hand, faux leather is synthetically made using plastic and costs less.
Animal-free alternative to real leather.
If you want to know 'does faux leather shrink or stretch without losing its quality?', the answer is yes!
What Type Of Faux Leather To Go For?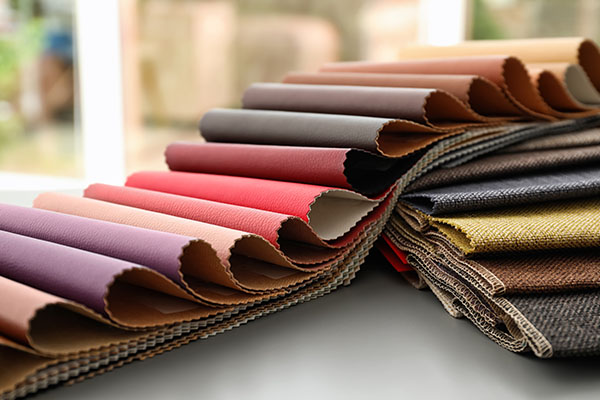 There are two primary types of synthetic leather, Polyurethane (PU), and Polyvinyl Chloride (PVC).
PU faux leather is better in terms of look and feel as it resembles real leather more. It is also more pliable which makes it easier to work with. It is an enduring material as compared to the lowest grades of leather. Another quality of PU is breathability, which makes it a preferred choice for clothing during summer. 
On the other hand, PVC is a lot tougher and more durable due to the fact that it has many layers of vinyl. But, as it is not breathable and harmful to the environment, it is rarely used to make faux leather apparel.
Are Faux Leather Pants Worth It or Not?
Before we begin listing some exceptional leather pant outfits inspirations, it is necessary to know if the faux leather pants are worth the hype or not.
Faux leather has always been on trend due to its versatility. However, it quickly became a hip-hop stereotype as it defines extravagance. It's time we get rid of these stereotypes and introduce these much-hyped leather pants to our wardrobe.
Fashion influencers stirred a new buzz in the world of fashion with their stylish leather outfits. This hype is the best judgement to tell if a wardrobe staple is in vogue or not.
So, are faux leather pants hot or not? Scrolling through various Instagram posts of celebrities and contemporary fashion aficionados, we can definitely realize how beloved faux leather pants are! The revival of faux leather pants explains the significance of this wardrobe staple in contemporary fashion.
Be it street style or well tailored pants, we can not emphasize enough on how trendy these pants look. In this blog, you will get a generous dose of fashionable faux leather pants outfit ideas to try for yourself. 
Aside from fashion, faux leather pants are the best choice in terms of quality. It can withstand wrinkles and creases, and if treated right, it can last a very long time. Faux leather pants, also known as pleather pants (due to them being made from PU or PVC) are less prone to peeling, unlike real leather which makes them a perfect piece to add to your closet.
Do Faux Leather Pants Stretch?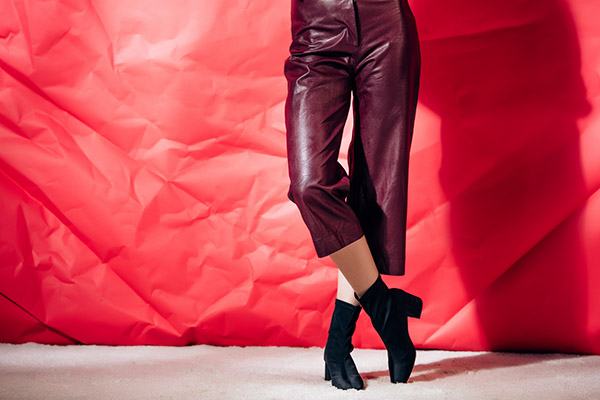 Yes, faux leather can be stretched to some extent. If you already own a pair of faux leather pants that have become tighter, there is still hope you can use them for trendy outfits by stretching them.
All you need to do is to wash your leather pants and blot them with a towel to remove excess moisture. Put the damp pants on until they dry. Wearing the pants while they dry will stretch them out enough to make them comfortably fit.
Can You Shrink Faux Leather Pants?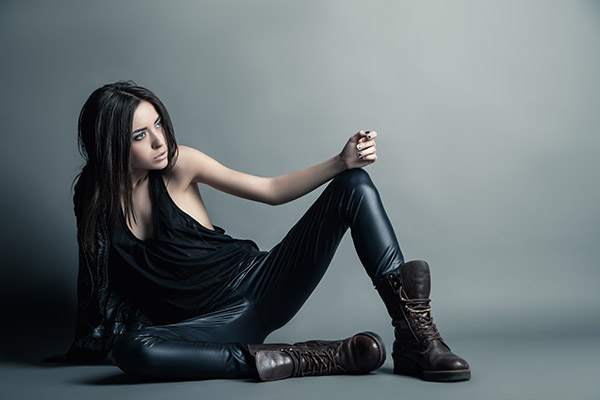 Learning how to shrink faux leather pants will allow you to adjust their fit in a better way. Though you cannot shrink it excessively, you can follow these tips to tighten the fibers of the faux leather a bit to make your pants a bit more snug.
Soak the pants completely in hot water. Making it evenly wet ensures there is no color difference after the shrinking process. Wait for an hour, and then air dry them by laying them flat on a surface. Once dried, the fibers of the faux leather pants will be tightened as desired.
How To Wear Faux Leather Pants; Contemporary Leather Pants Outfit Ideas
Now that the weather is starting to breeze down, it is the perfect time to invest in good quality faux leather pants. Styling these pants with some of the warmest fabrics such as shearling or leather shirts can be a game changer for you. A perfect fall outfit awaits you as you scroll through the list of faux leather pant outfits below!
All Leather Look With Brown Faux Leather Pants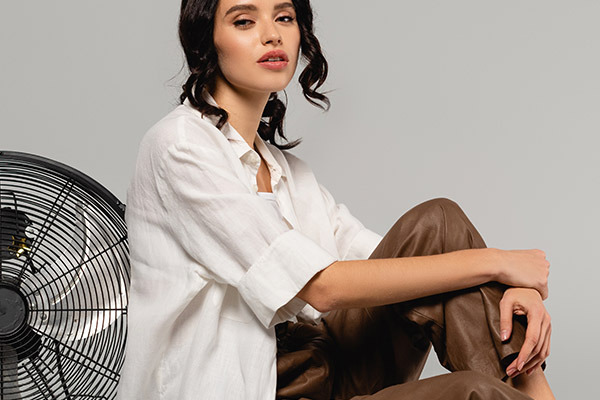 Create an all leather look with this edgy outfit featuring brown synthetic leather sweatpants. Choose a baggy leather top, or go for a cropped leather jacket with a plain white t-shirt underneath. These chic style pants can go well with a variety of tops including jersey tops, casual shirts, and even puffed sleeved blouses. 
The addition of black ankle boots takes this look up a notch, or you can wear black strappy sandals with this outfit as well.
Black Faux Leather Pants Monochrome Outfit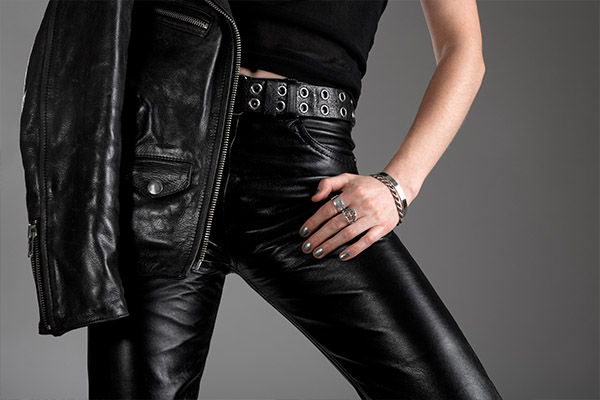 The black leather moto jacket women can use to make a perfect blend with these black leatherette pants. You can go for an all-black look by wearing a black t-shirt with this pairing, or add some color by wearing a neutral colored top beneath the jacket. 
The footwear choice for this outfit is dependent on the occasion. For a sassy look, opt for a pair of low heeled dress boots, or go for high heeled suede boots for a glamorous appearance.
Tan Faux Leather Pants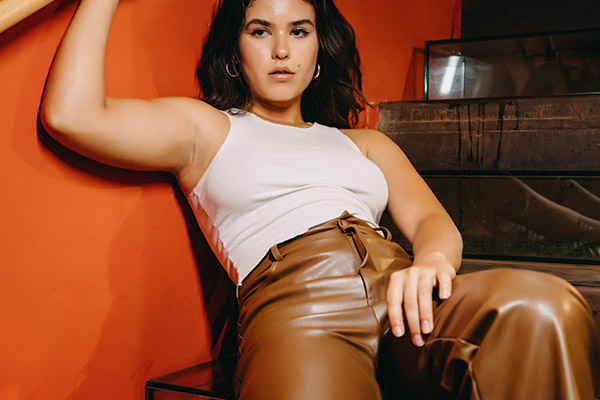 Tan is a beautiful neutral color, and synthetic leather pants in this color means a wide variety of outfit ideas, especially during Fall.
You can pair a cream colored sweater with your tan faux leather pants and top it up with antique gold jewelry like a necklace or earrings for a ravishing look. The loose curls hairstyle and a shimmery makeup look are all you need with this outfit to turn heads at the party.
You can also create a dressy day look by pairing your tan pants with a brown double breasted coat and heeled boots.
Black Faux Leather Leggings With Colored Jackets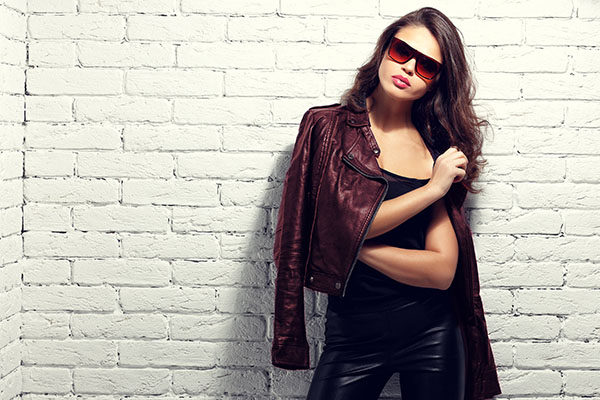 Although faux leather pants have a shiny look, teaming them up with a glistening colored jacket is not off limits. In fact, a red or burgundy leather jacket will make a captivating combo. 
Alternatively, opt for colored leather jackets, parachute jackets or a fur coat in a vibrant color like yellow, turquoise, or pink to build an eye catching look with your black faux leather pants.
Faux Leather Pants with Blazer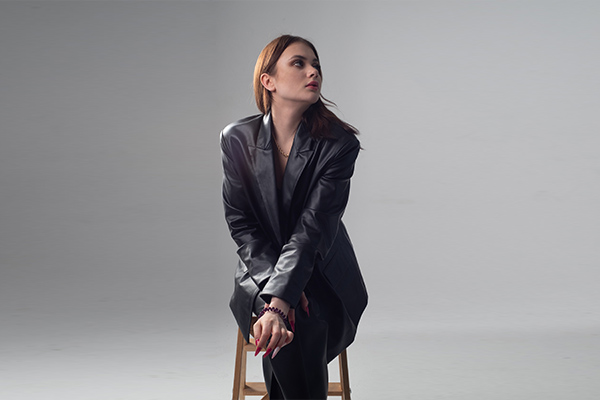 Yes, you can also pair leather pants with a blazer. Put together a pastel pink t-shirt, a black blazer, and leather leggings for an effortlessly trendy look. The accessories that would go well with this outfit are a black shoulder bag, a watch, and a pair of attractive nude pumps.
You can also wear a maroon casual shirt and tuck it inside your faux leather pants for an upscale look.
High Waisted Faux Leather Pants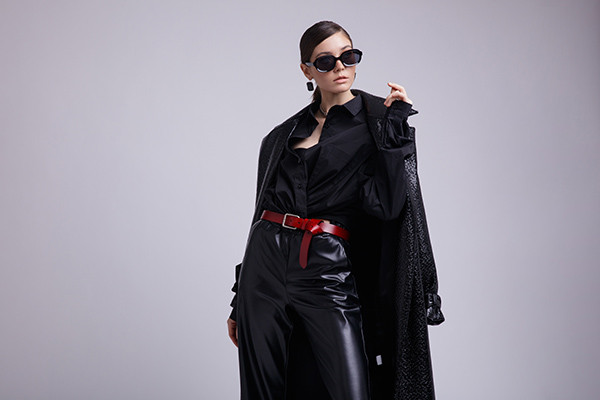 How about a cosmopolitan look with your high waisted faux leather pants? A double shaded top with fur elements is your best bet when it comes to creating a look that is appropriate anywhere you go. Pair black ankle strap heels with this outfit.
Team up a beige crochet shrug and a stylish grey tank top with synthetic pants to build another cosmopolitan look. Complete the look with a beige leather purse and black stilettos.
Plus Size Faux Leather Pants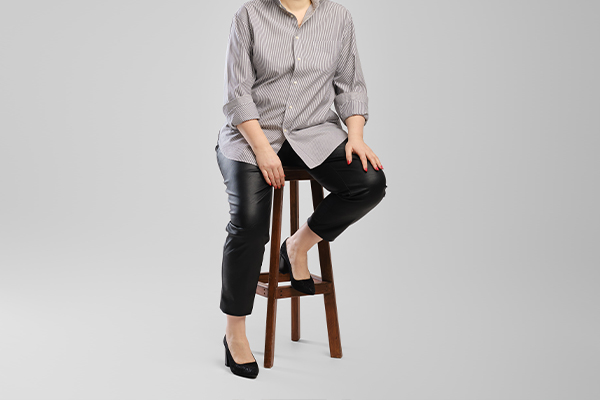 Don't worry if you fall in the plus size category. Flaunt your curves in sleek leather pants in plus size along with an off shoulder top with bell sleeves. Tie your hair in a messy bun and finish off the look with hooped earrings and black pumps.
Another outfit idea for plus size faux leather pants is to build an outfit using leather jackets with scarves
Faux Leather Flare Pants Outfit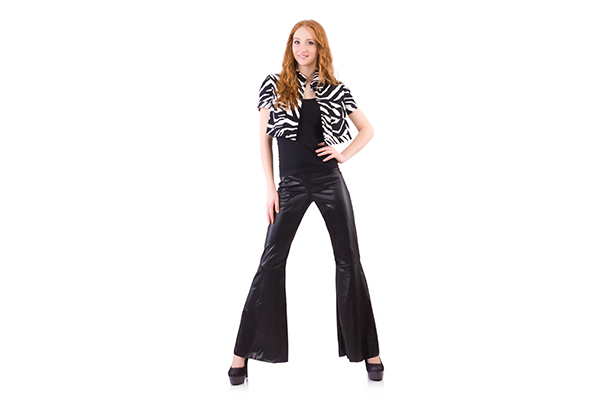 Flared pants in faux leather give a figure-flattering silhouette, so pair them with a sleeveless fitted high neck, a spaghetti strap top in bold colors, or go with a frilled white blouse. Wear your black platform heels with this flare pant outfit for a taller appearance. 
Faux Leather Leggings With Long Boots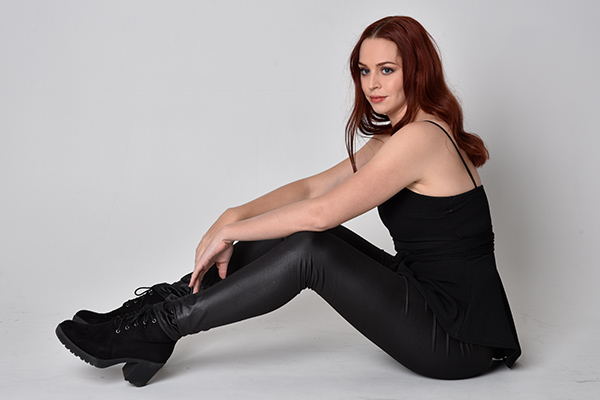 Leggings are super comfortable, which means that you can pair them with a variety of outfits in every season. The outfit inspiration with faux leather leggings is a white off shoulder top with balloon sleeves and a pair of burgundy thigh high boots. You will look like a ravishing diva all set to hit the party with this look.
You can also wear these leggings and boots with a suede trench coat for an urban stylish look.
Wide Legged Faux Leather Pants Outfit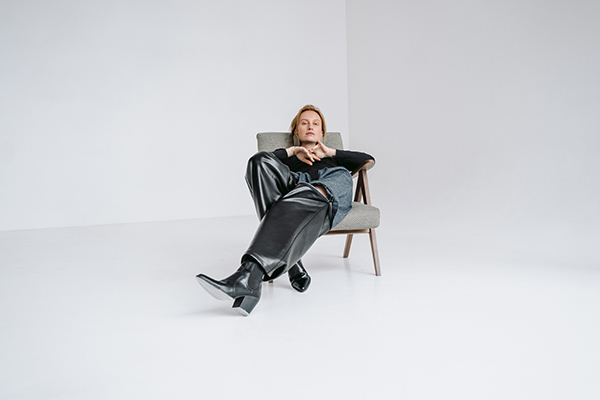 Style the wide legged leather pants with an oversized sweater in a neutral color and complete the look with black kitten heels.
How To Wash Faux Leather Pants
Maintaining faux leather is as important as styling it right. One surely does not want to look rugged in such an exquisite outfit. The best way to clean any type of synthetic leather is to give it to the dry cleaner. However, many people swear by the tips below which are usually found on the internet. 
Turn the pants inside out and machine wash in a gentle mode.
Hand wash the pants with warm soapy water, rinse them with cold water, and hang them on the clothesline to dry.
Soak a microfiber cloth (or any non abrasive cloth) into the soapy water and wipe off the pants to clean them. Dry the pants with a dry cloth or hang it on the clothesline.
Avoid washing the synthetic leather with very hot water.
FAQs – Faux Leather Pants
How to shrink faux leather pants?
The most appropriate way to shrink faux leather pants is to completely soak in hot water first. According to online sources, it is best recommended to air dry the pants and then place them in drying machines. The heat shrinks the leather just like any other fabric. For best results, hand them to a dry cleaner for a neat polished look. User discretion is advised.
How to get a stain out of faux leather pants?
Fortunately, faux leather is way easier to clean than real leather. It is recommended to always test on a smaller patch before you try on the whole piece. Mix some liquid detergent in warm water and use a soft bristle brush to remove the stain. Then rinse your pants with cold water to remove any residue. Let it dry in the open air to avoid shrinkage or melting.
How to get wrinkles out of faux leather pants?
Leather pants kept for a longer period of time can build creases and wrinkles. Place your pair of pants in the dryer to remove the noticeable wrinkles. Then start ironing your pants by placing a towel between your pants and the iron to avoid any direct harm. Always take the precautionary steps as we do not claim any damage. 
How can you stretch faux leather pants?
Stretching faux leather pants is a good idea until you do it too much. For a little stretch, soak the pants in cold water and twist them very gently till they are completely soaked. Once they are fully soaked, leave them in water for another five to ten minutes.
Put on those wet leather pants for an hour or half so that it stretches to fit accordingly. Know that it does not size up, rather just stretches a bit.
How to stop faux leather pants from squeaking
There are quite a few ways to fix the squeaking of faux leather pants. Let us brief the quickest and easiest of them all. Dab a small amount of leather lotion or leather oil on a lint-free material. Rub the lubricant on your leather pants and finally, try sprinkling baby powder to avoid any friction within the faux leather. 
Concluding Faux Leather Pants
Styling a faux leather pants is surely tricky, but not impossible. One wrong move can ruin the look for you. However, if styled right, it can become your absolute favorite wardrobe staple.
The key is to accessorize the outfit according to the dress code to avoid a fashion mishap. Pen down the tips to slay the faux leather pants and do not hesitate to mark your presence amongst a crowd!