Even though millions around the world prefer real leather to faux leather, there are still many who opt for faux instead. Regardless of the notable differences between the two, such as faux is a less expensive and less durable alternative to its real leather counterpart, makes it a go-to option for furniture, apparel, car upholstery, handbags, belts, and more.
It is important to remember that faux being a non-porous surface leads to major staining that will often be found on the top. It is even more important to prevent it from getting too dry, which will certainly lead to it cracking. If you are unsure about what you can do to prevent such a thing, then continue reading this, and you will know how to keep faux leather from cracking.
It is, therefore, vital to set up a maintenance routine for faux, and we at The Jacket Maker are glad to share the following with each of you. In the gist of it, we'll be talking about how to protect faux leather and make it last longer; let us get on with the blog!
What To Expect In This Article?
Why does Faux Leather Crack?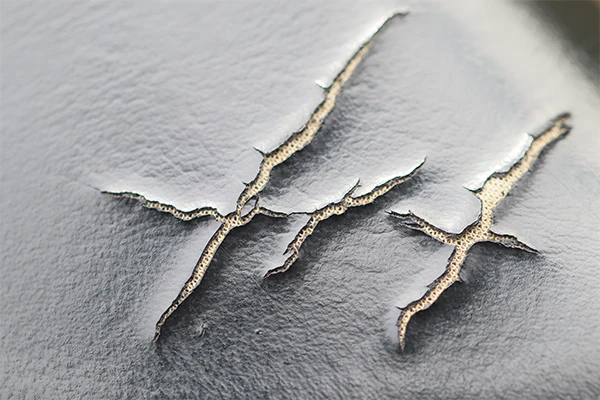 Before we talk about how to preserve faux leather, we should know why it actually cracks. Quite a few people are already familiar with this point, yet many often ask why this happens.
The cracking of faux leather is primarily due to the effect of UVB rays (the second type of ultraviolet rays) on the molecular structure of any type of faux leather resulting in the plastic compounds that become brittle enough to crack.
Another cause of faux cracking could be based on the quality of the product. If you decide to purchase faux leather that hasn't been reinforced with natural fibers, for instance, cotton, it will crack regardless of the prevention of exposure to the sun.
How To Avoid Or Delay Cracking Of Faux Leather?
It is quite simple to at least delay the cracking of faux leather, if not prevent it from happening altogether.
Use Baby Oil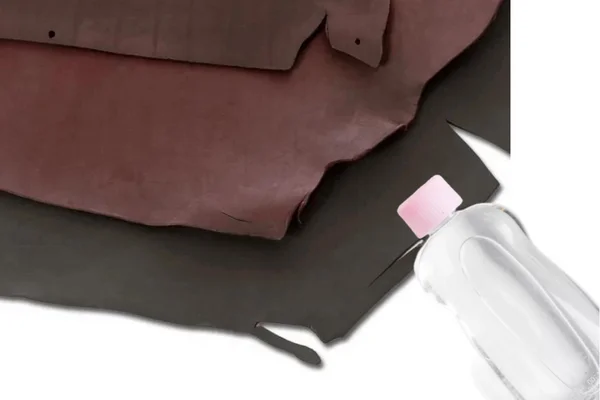 Many oils can be used for this purpose, such as baby oil which is considered the best. Strange as it may sound, baby oil creates a protective coating that prevents the sun's rays or any change in temperature from weakening and cracking the surface.
Special Leather Conditioners
To prevent the cracking of faux would be by applying special leather conditioners that will help maintain your faux leather.These conditioners can be used for both real leather maintenance as well as faux, which is a surprise for many but they tend to work well for both
Faux Leather vs. Real Leather – Which Is Easier To Maintain?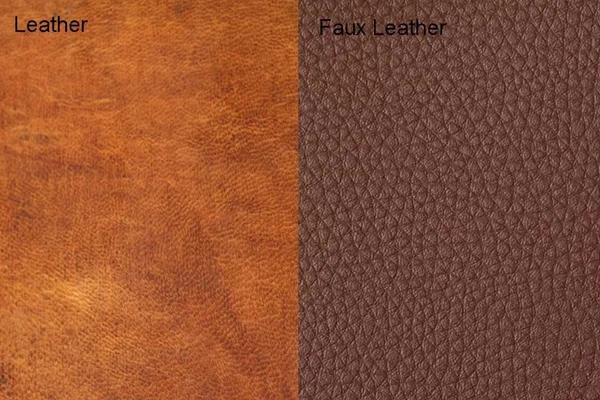 Real leather is often considered easier to maintain than faux leather because it is a natural material that can withstand more wear and tear over time. Here are some reasons why real leather is easier to maintain than faux leather:
Durability
Real leather is naturally durable and resistant to regular wear and tear damage. It is less likely to scratch, tear, or peel than faux leather, making it easier to maintain its appearance over time.
Natural oils
Real leather contains natural oils that keep it supple and prevent it from drying out and cracking. These oils also help to repel water and other liquids, making it more resistant to stains and spills.
Breathability
Real leather is breathable, which means that it allows air to circulate through the material. This helps to prevent the buildup of moisture and odors that can occur with synthetic materials like faux leather.
Repairability
Real leather can be repaired if it does get damaged. Scratches, scuffs, and other small blemishes can be easily fixed with a leather repair kit or by a professional leather repair specialist.
While faux leather can be an attractive and affordable alternative to real leather, it is not as durable or long-lasting. It can be more difficult to maintain its appearance over time, as it is more susceptible to cracking, peeling, and discoloration. Additionally, faux leather cannot be repaired as easily as real leather, and it may need to be replaced more frequently.
Check Out Our Real Leather Jackets
Why Does Faux Leather Peel?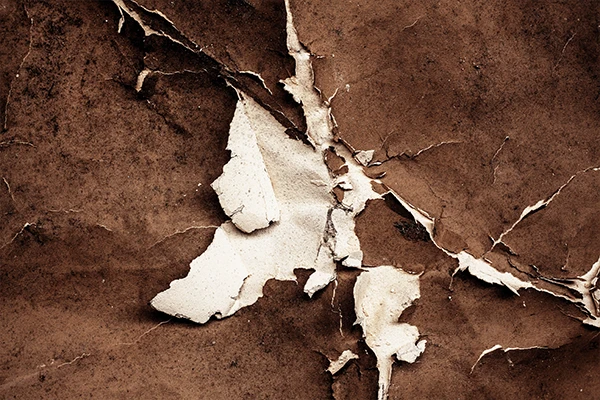 The faux leather peels as it is a bonded element, which is combined by a glue or a chemical that over time, dries. The element, polyurethane, is very fragile and chips and peels over time with wear and tear.
Why Does Faux Leather Get Sticky?
Faux leather is made up of many layers, the last of them mainly oil or plastic, which gets gummy over time. The leather being non-porous, does not absorb any stains, hence making a whole mess when not cleaned properly for a long time. The gummy substance is the residue of the stains and spills that haven't been washed out properly. This also results in the peeling and cracking of the leather if not taken care of in time.
How to Clean Stains on Faux Leather?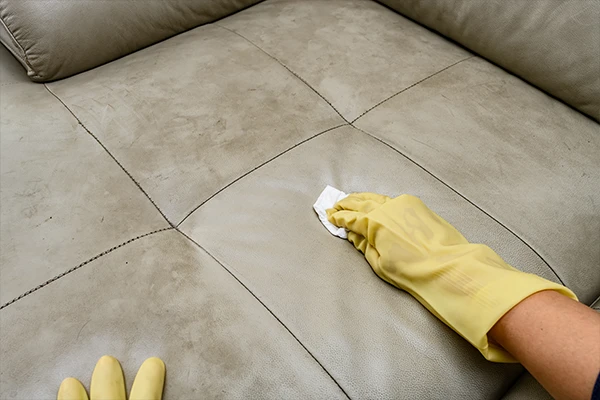 There are various ways to clean faux leather; the best is dish soap or shampoo. Take a bowl of warm water along with 2 rags. Pour the dish soap or shampoo into warm water and mix it until bubbly. Then soak the clean rag in the bowl and wring. Then clean the surface by slowly rubbing it; lastly, dry off the surface with another dry rag, and you're good to go.
Regular mild Clean
For optimum results and positive solutions to faux leather maintenance, conduct regular cleaning of your faux using mild detergents or washing up liquid again; mild with warm water and soft cloths will make it last long, and so you'll know how to make faux leather last longer.
Doing this regularly will prevent major staining or marks that could damage your faux down the line.
How to Condition Faux Leather?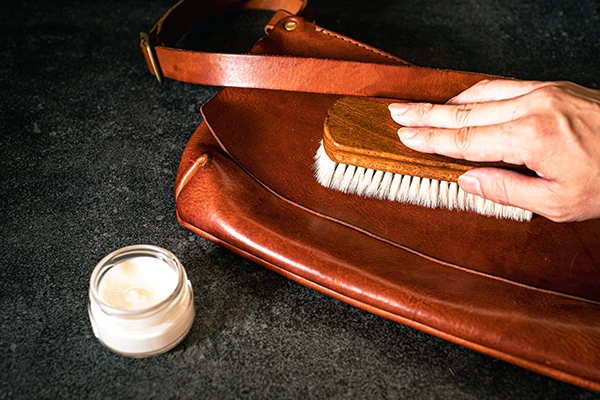 People usually ask about how long does faux leather last, we would like to let you know that for it to last longer, you should condition it regularly. There are many leather conditioners available in the market. You can use any of those conditioners to maintain your leather. The ones for real leather work on faux leather, too, despite being synthetic. You can make your own conditioners too from oils and various elements. 
Oiling of the Faux leather
If you want to maintain the shine and texture of the surface of the faux leather, the best to go for is the oil. You can use coconut, lemon and baby oil to condition your leather. The best alternative when the conditioner is not available.

Remember this ALWAYS when Maintaining Faux Leather
There are various things you need to look out for after buying a faux leather product,
1. No Sunny!!!
Any amount of sunlight can rapidly dry out faux leather. It is vital to keep your faux leathers in the shade especially concerning furniture, apparel, bags, etc.
2. Color Transfer
This is another important factor to remember in maintaining your faux leather.
Apparel especially dyed with strong colors or bold colors such as denim blue can easily transfer onto light colors.
Remember washing machine instructions? Light and dark colors separate! Dealing with faux, this type of stain can penetrate real quick, if not wiped with a baby wipe before it becomes permanent.
3. Test Trial
When using any cleaning agents on faux leather for the first time, it's best to try it out on a small portion that will not be visible.
Let it dry and see the results. If it does not have any adverse effects you can freely continue with the rest of the surface. This is especially useful for furniture.
4. Product Choice
When choosing a cleaning product, ask yourself one question; would you use this product on yourself. If the answer is no, then it is probably too harsh for your faux leather.
5. No to the Bleach
Regardless of the size of the stain or the depth of it on your faux, NEVER use bleach.
It has many agents that speed up drying, which will only result in weakening the structure and surface, which will shorten the lifespan of your faux leather.
6. No Abrasive Cloths
Always say NO to the temptation to rub or scrub a faux leather surface. Never use any kind of rough cloth or sponge.
Scrubbing will only crack the faux without cleaning the stain or removing the mark. The best solution would be to use soft cloths and gentle, circular motions.
7. Clean up after Cleaning
After cleaning faux leather, it is vital to use a mild detergent to clean up the area you were cleaning.
Whether there is a stain or a mark, whether it was successfully removed or not, it is crucial to wipe over the area.
Some cleaners forget this point which is important for maintaining and extending the longevity of faux leather.
F.A.Qs – Maintain Faux Leather
What does faux leather mean?
Faux leather is one of the names given to synthetic or artificial leather. It is not genuine leather. 
How to clean faux leather?
You can use a mild detergent soaked in a soft cloth and clean it with warm water. 
How to prevent faux leather from peeling? 
Faux leather peels because it contains a synthetic coating of PU (polyurethane) to help it look similar to genuine leather. With due time the synthetic compound will chip and wear off as it will become stiff. To prevent it from doing so, you can use many leather softeners and conditioners available in the market to extend the life of your faux leather apparel.
 How to store faux leather jackets?
Firstly, you need to use wide hangers to hang your jacket to prevent it from crumbling. Secondly, you need to store it in any container EXCEPT plastic as it prevents the leather from breathing hence resulting in cracking. 
How to protect faux leather?
You can use a vinyl protector to maintain the leather. Apply the protector evenly onto the surface and let it dry. It does not add artificial gloss. 
How to treat faux leather?
Take warm water along with shampoo or detergent, wring out the cloth and clean the surface with it. This helps the leather from having everyday marks and a gummed up feel. 
How to preserve faux leather?
The PVC moisturizer helps the leather to maintain its texture and gloss. As faux leather is not durable enough, it requires a lot of attention to prevent it from cracks and peels. 
What causes faux leather to peel?
Polyurethane is a fragile substance that is bonded with various adhesives and chemicals. That dries up over time, resulting in the peels of the leather from the base. 
How long does faux leather last?
The faux leather is not as durable as real leather, but it can often last for 4 to 6 years. The laminated outermost surface tends to crack and peel as time passes. 
How do you moisturize faux leather?
There are many moisturizers available to maintain faux leather, you can also use various oils such as coconut, lemon and baby oil. 
How to prevent faux leather from cracking?
Fake leather cracking is very common, however if you own genuine faux leather then make sure you get a good conditioner for it and condition it after every some time. 
How long does fake leather last?
The synthetic leather has the ability to last for almost 2 to 4 years depending on how you maintain it. 
Conclusion
We are sure that our blog has answered all of your questions, from how to store faux leather jackets to how to keep faux leather from peeling. It is all about taking care of the faux leather and maintaining and cleaning it every now and then using a faux leather conditioner on it.
We would say that faux leather is something you can invest in, like a faux leather jacket. So, if you are looking for a timeless piece, then faux leather might be the thing for you.