For the longest time, leather has had a firm association with jackets and coats. When most people are asked to think of a leather garment, they almost always think of something like a bomber jacket, which is understandable, as those are the most popular leather garments. However, a recent trend of lightweight leather shirts is starting to shake that notion.
What is a Leather Shirt?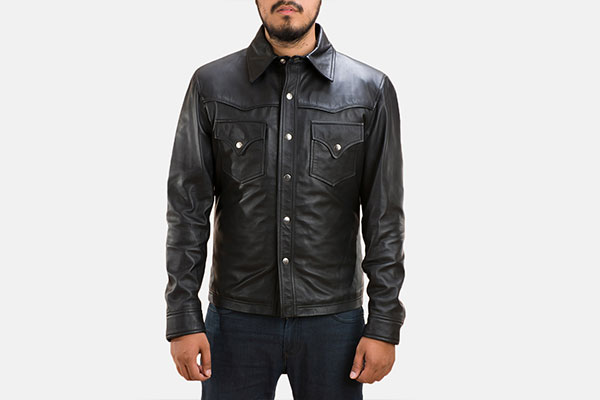 At a glance, a leather shirt might look extraordinarily similar or even identical to a leather jacket. However, a closer inspection shows that a leather jacket is drastically different from a leather shirt, and not just in the style department.
Construction:
Leather shirts are, for the most part, made out of real leather. The type of leather can vary from one shirt to another, each with its own defining properties. The type of leather used is often dependent on the shirt's design, as certain leather variants work best for specific designs of shirts. For example, an open-front leather shirt might have a different leather construction than a closed front shirt.
What is the difference between a Leather Shirt and a Leather Jacket?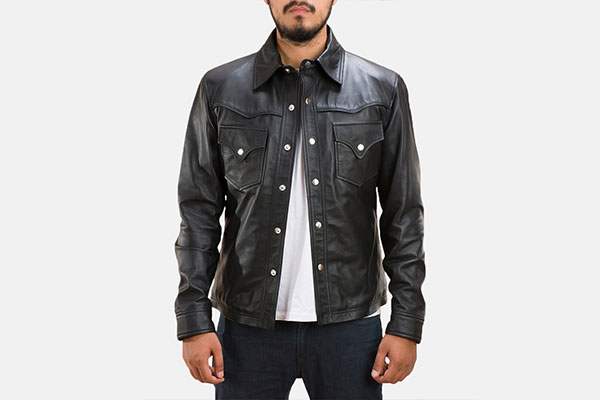 Leather shirts and leather jackets are two completely different garments.
Design:
The first and most obvious difference between the two is the core design. A leather shirt looks starkly different from a bomber jacket, as a biker jacket is nothing like an open front leather shirt.
Uses:
The other significant difference between the two lies in their use. Jackets are used, primarily as the uppermost layer of any outfit. They go on top of t-shirts, dress shirts, sweatshirts, and everything in between. This is where the men's leather shirt comes into the picture. Unlike jackets, leather shirts are incredibly versatile. You can wear most of them on their own as a sort of leather t-shirt, or layer them with other shirts.
What are the different types of Leather Shirts?
If we look at jackets, they are categorized into well-defined categories based on factors like design, color, and types. Leather shirts, however, do not have that luxury. Unlike jackets that have been around for centuries, leather shirts are relatively new, resulting in a lack of categorization.
There are, however, two ways of classifying these shirts. Let's take a look at them:
Sleeve length:
There are two mainstream sleeve lengths of leather shirts; full sleeve and short sleeve. Short sleeves are worn in warmer weather. There are also some sleeveless variants that are great for the summer and spring season. Full sleeve, on the other hand, is best worn in fall and winter. During the colder seasons, these shirts provide the style of a lightweight shirt, with the added warmth of a leather jacket, acting as a leather shirt jacket.
Front design:
Leather shirts come with two different types of front designs; open front (casual shirt like) and closed front (t-shirt like). If you are looking for a leather shirt that is supposed to be worn on its own, then the closed front ones are for you. On the other hand, if you want to combine your leather shirts with a t-shirt and other undershirts, then the open front design is the way to go.
How to style a Leather Shirt?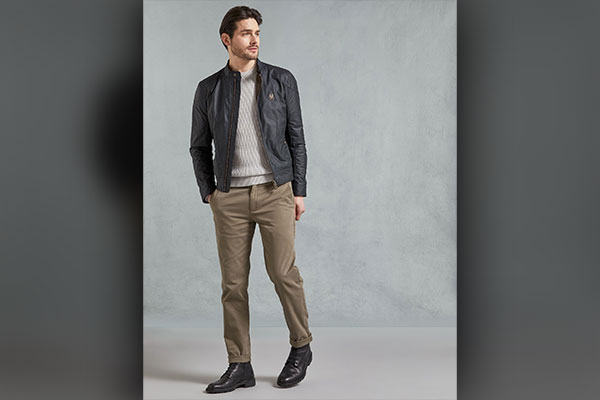 Both men's and women's leather shirts are quickly making their way toward the top of the fashion hierarchy. There is no denying the fact that these shirts are super stylish and offer some of the most remarkable outfitting options. Yet, styling a leather shirt is not a simple task. Due to them being relatively new, there aren't many tried and tested outfits out there. The upside to this, however, is that since there is no status quo, you can create your own creative combinations.
Let's look at some of the different styles of outfits that you can try with the help of leather shirts.
Business casual:
A lot of people have to spend a significant portion of their day working in an office. The clothes you wear to work every day can get really boring, really fast. To mitigate that monotony and introduce some fashion into your business casual outfits, you can take advantage of the leather shirts.
Although the flashy designs and vibrant colors won't fit in with the business aesthetic, the simple black and brown ones are an easy choice. You can pair some full sleeve, open-front black leather shirts with regular dress shirts and ties for a simple yet effectively fashionable outfit. Or, you can go a bit more elaborate and incorporate things like turtlenecks into your outfits.
Saturday comfort:
The great thing about leather shirts is that they are comfy as hell, especially the closed front ones. You can pair them with wool pants and a set of sneakers for an outfit that looks fabulous while maximizing the comfort factor. This type of outfit is ideal for everything, from grocery shopping to hanging out with friends at a coffee shop on weekends.
Stylish Streetwear:
The term streetwear can have a lot of different meanings. In this context, this term refers to the urban, experimental, and tad bit quirky outfits. This look is all about crafting your own outfits and repressing yourself through your clothing. There are some regularly used garments, like turtle necks and ripped jeans. Yet the proper way of dressing in this manner is by using your own creativity and fashion sense.
Shirt and jacket:
One thing that not many people realize is that you can, to some extent, layer leather shirts with leather jackets. The trick to pulling this off successfully is to use different textures. For example, if your leather shirt is shiny, then a suede leather jacket is the best option for you. This layering is best suited for colder seasons, though, since leather on leather can get decently warm.
In terms of styling your leather shirts with jackets, there are countless options for you to try. You can wear a black suede jacket over a closed-front distressed leather shirt, a pair of bright blue jeans, and white sneakers for a youthful look. Alternatively, you can pair a brown suede jacket with a black leather shirt and navy-blue jeans to obtain an artistic blend of two different types of leather finishes.
The leather on leather:
The leather-on leather style refers to wearing your leather shirt with a matching or contrasting pair of leather pants. It might sound tacky on paper, but it doesn't look out of place in reality. For example, you can wear a simple open-fronted leather shirt to your office by combining it with a pair of black leather pants and a colorful tie that matches the aesthetic. It is advised to choose a matte tie since everything else is already shiny
All-black:
Combining a shiny black leather shirt with a simple black t-shirt, black jeans, and a pair of black sneakers creates an all black outfit that deserves a dedicated spot of its own. The trendy yet sophisticated look of this outfit is hard to replicate anywhere else.
You might think that wearing all black will get boring and will only work in specific scenarios, but that is not the case. There is a lot of variation in just the black leather shirt designs, and the simplicity of black allows this outfit to work in almost all the situations you might find yourself in.
If you are looking for an open-front black leather shirt made from real leather, then check out Ranchson Black Leather Shirt.
What to look for when buying a Leather Shirt?
Leather garments, in general, tend to be a significant investment. High-quality real leather stuff is expensive; so, you can't just buy it and toss it out if you don't like it. That's why it is critical to assess your purchasing decision before you take the final step. Here are a few things to consider before purchasing a leather shirt.
Season of usage:
One of the first things that you would have to consider is the season in which you want to wear the shirt. Since warmer seasons tend to favor short sleeves and lighter types of leather, and colder parts of the year require a full-sleeved leather shirt.
Type of leather:
The type of leather you want is also something that you should know before venturing out to find your ideal leather shirt. The different varieties of leather have different properties, so make sure to thoroughly look into that and choose the one best fitted to your situation. The choice of leather type can also be linked to the design of the shirt you want.
Color of shirt:
Leather shirts can be obtained in a whole host of colors, from classics like black and brown to exotics like maroon and blue. Make sure you really want that color before finalizing a purchase, as buying a color that you can only wear on one occasion once a month is just a waste of your hard-earned money.
Custom Leather Shirts:
The internet is filled with websites selling all sorts of leather shirts in all designs and colors. But, looking through all of them for that one specific shirt can be and will be tedious and time-consuming, and you might not even find exactly what you're looking for. The solution to this is simple; custom-made leather shirts.
Instead of cluelessly searching the web for hours, head on over to our custom leather shirts. After you've provided the necessary information, our system will connect you to one of our expert designers. You can discuss the shirt you have in mind with them; and customize everything from the design, color, type of leather, all the way to the color of stitching. The whole process is super simple and enables you to obtain the leather shirt of your dreams.