You probably consider leather jackets as a conventional outerwear confined to neutral colors, but there is so much more to it.
Without any doubt, a good leather jacket can be a game changer for all. Women who love to dress up know their preferred style and colors. Thus, some opt for basic shades while some experiment with the vibrant ones. Of all the trendy colors, our favorite has to be a burgundy leather jacket that exhibits class and elegance like no other. Rich in color and texture, women's leather jackets in burgundy are a treat to wear.
This in-depth guide on how to style a burgundy leather jacket provides ideas for trendy outfits that suit all kinds of personalities and body types.
What To Expect In This Article?
How to Style a Burgundy Leather Jacket?
When it comes to feminine styling techniques, there is a lot to take care of. It is high time we escape the ordinary styling and explore the wide variety of outfits never considered before. Depending upon the body type and your figure, there is a plethora of clothing that you can choose from with your burgundy leather jacket.
We have laid down quite a few clothing essentials that complement a burgundy leather jacket perfectly. If an outfit catches your eye, make sure to accessorize it accordingly for a ravishing look of the day. We do not want you to miss a single chance to impress the crowd!
Wine Leather Jacket with a Leopard Print Scarf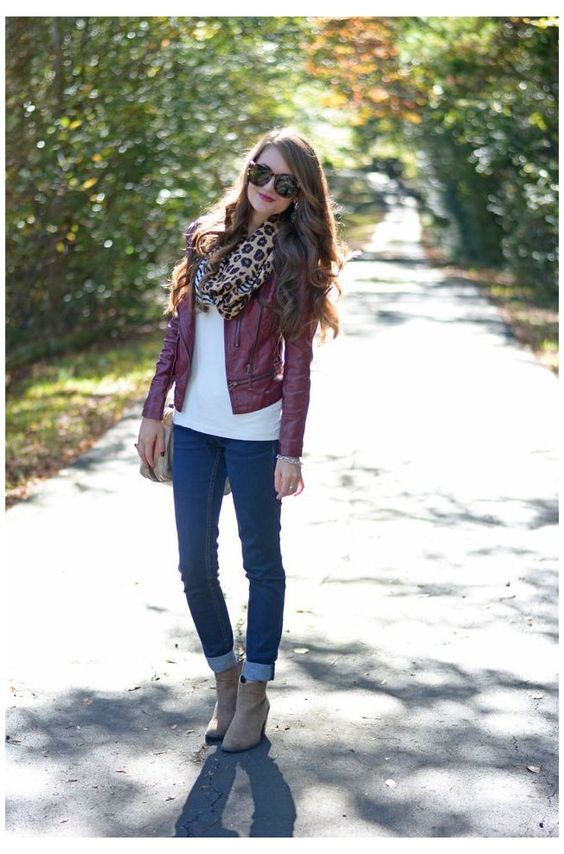 There is something exciting about choosing the ordinary. You might disagree until you adorn a basic white tee over a pair of distressed denim jeans. Give an edge to your trendy look by wearing a leopard print scarf over your basic white T-shirt. This simple yet chic outfit compliments a burgundy leather jacket by getting an instant pop of color. It is perfect for a casual day out with friends or family because of how comfortable this outfit is! After all, who doesn't love fashion with comfort?
When it comes to accessorizing, this look definitely hit the top of our charts. Due to its simplicity, this apparel can be combined with either flashy jewelry or a very basic leather bag for burgundy leather jackets. It makes sense because we do not want to take the styling game way too overboard! Opt for a beige shoulder bag and a pair of short boots for that laid back Sunday brunch.
Burgundy Leather Jacket with a Short Black Dress
A leather biker jacket for women is that friend without whom everything seems dull. They are an essential part of your life and you simply can not survive without them.
For a casual yet smart look, opt for a short monochrome dress and a burgundy leather jacket adorned over it. This outfit is so easy to assemble that you might want to try it over and over again. The look is suitable for your day to day activities such as grabbing a quick bite with friends, or even at a business dinner.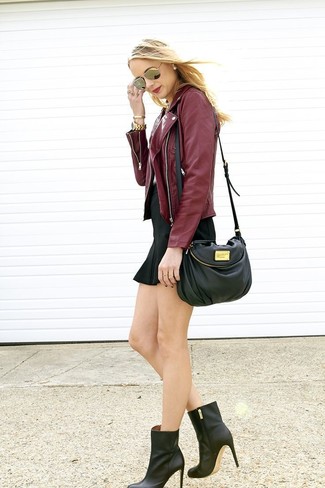 This contemporary ensemble gives so much room to experiment, which, if styled right, can become your ultimate go-to outfit for all such events. Understand personality type for colored leather jackets; the right color can easily add charm to your personality. Awareness of this concept helps you realize that a burgundy jacket adds a sleek, feminine touch to your otherwise soft outfit.
Burgundy Leather Jacket with High Waisted Black Pants
It is nearly impossible to resist a burgundy leather jacket over a high waisted bottom. As simple as it may sound, this look calls for a high fashion sense and a will to pull off new looks.
Perfect for the spring season, this laid back, casual ensemble is catered for those who love to dress up with minimum hassle. Take out your favorite sweatpants and don it with the same colored top. For a finished look, embrace this iconic burgundy leather jacket over the monochrome apparel, and wait for the magic to happen!

To elevate this outfit, add a flashy neck piece that complements the overall vibe and does not take away all the limelight. What amazes us about this look is how it adapts to a variety of seasonal outfits and if styled differently, it can cover most of your events. For a sporty look, put on your favorite pair of sneakers and a sports watch. For a more feminine look, embrace your gorgeous flats with a gleamy necklace to seal the overall outfit.
Pairing the Burgundy Jacket with a Hoodie
As much as a cropped burgundy leather jacket gained fame amongst men's outerwear, a burgundy biker hoodie is a dream for many.
This biker hoodie is very similar to the men's burgundy leather jacket as it exhibits boy next door vibes. If you are a woman opting out of the feminine looks, this ensemble is perfect for you. As practical as it sounds, this hoodie is great for rainy days, also protecting you from the cold winter breeze.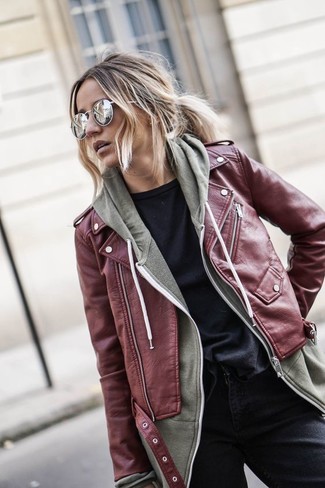 Coming towards the styling part, there is not much room to accessorize this outfit as this look is meant to be very casual. Avoid using flashy jewelry as it can result in a big fashion mishap. Instead, opt for a stylish wristwatch and your favorite pair of sneakers to finish off an extremely laid back look. This overall fit comes in handy when you have nearly no time to dress up but still need to look presentable. And what better than a statement black jeans suited for every occasion!
Burgundy Motorcycle/ Biker Jacket with Black Ripped Jeans
Ever since the evolution of ripped jeans, we could not succumb to the conventional jeans. We are aware of what ripped jeans do for an outfit, and we are all here for it!
These modern ripped jeans are the best solution to add some sass to your outfit due to that extra edge. Pairing the ripped black jeans with a colored top and donning over a biker burgundy jacket can be a game changer for you. For the top, you can either go with a plain white blouse, or if you want to take one step further, then opt for a black turtleneck for a more business casual look. Either way, your burgundy biker jacket will steal the spotlight!
Pairing footwear can be tricky with such outfits, but the safest to go with is a pair of black ankle boots that exudes elegance and ticks all points for decency.
Plus Size Burgundy Leather Jacket with a Pleated Skirt
It would not be just to this beautiful pleated skirt if we confine our styling guide to fitting jeans only.
For a breezy spring day, opt for a colored pleated skirt and a white blouse over it. For that extra spice as you walk in a pair of maroon pencil heels, drape a plus sized leather jacket over your shoulders and watch your confidence go up with every step you take. This ensemble exudes grace and elegance due to the feminine touch associated with this outfit. 
Since it is a skirt and a blouse, there is a lot of jewelry that can be paired with this outfit. The most desirable of all is a long, delicate pendant with matching studs. It is a known fact that women can not function without a bag. Thus opt for a mid sized shoulder bag that matches the color of your skirt. This outfit is more than perfect for a dinner date or even a corporate dinner.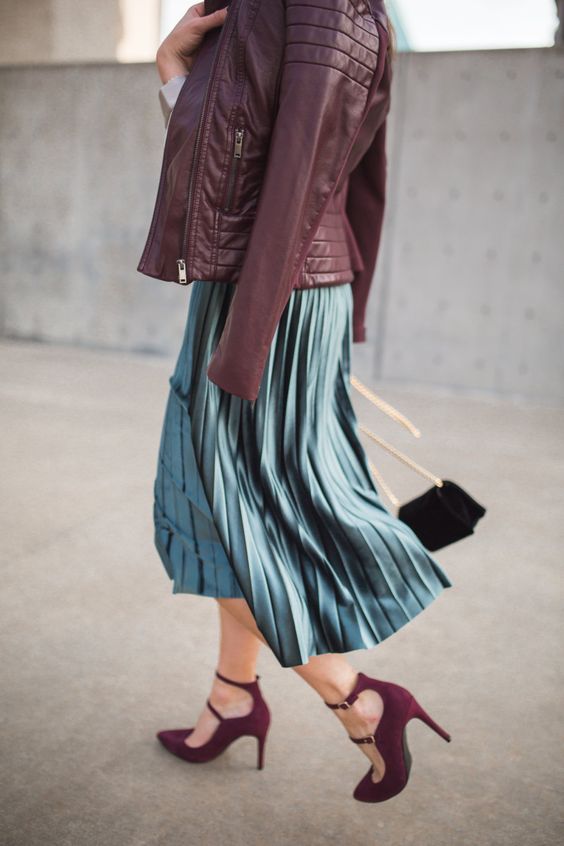 Pairing a Mid Length Pencil Dress and the Burgundy Leather Jacket with Fur
When you are unsure of how to style your dresses, always consider trying layering at first!
There are instances when the weather won't cooperate, or be too harsh in the morning while better during the day. Layering comes in handy at such instances. Put on your favorite pencil skirt of an appropriate length and drape a burgundy shearling coat over it. The shearling lining not only keeps you warm but also helps you achieve applause for your statement coat.
For footwear, opt for a pair of black heels and a black clutch. Put on a small anklet as extra jewelry. Depending upon the neckline of your dress, choose a neck piece accordingly. If it features a boat neck then a simple pearl necklace would do wonders, but if it is a deep cut, you might want to add a choker.
FAQs
Here are a few frequently asked questions that help you decide on getting a burgundy leather jacket.
1. Is burgundy red?
Burgundy is a darker red shade. It is synonymous with maroon color and thus a member of the red family.
2. What to pair with a burgundy leather jacket in Summer?
Dresses! Put on a light summery sundress topped off with a burgundy leather jacket. Complete the look with a pair of cute sneakers and your perfect summer outfit is ready within minutes.
3. What goes with a burgundy leather jacket in Winter?
Scarves! No winter look is ever complete without cozy, fuzzy scarves that keep you warm and comfy. Put on your knee length boots and a scarf paired with a thermal top and bottoms. This not only provides immense warmth but is fashionable too.
4. How do you match a burgundy leather jacket with Fall outfits?
It is time to come out of the basic earthy tones and try new colors for fall. A burgundy leather jacket can be paired with a maxi dress and ankle length boots to maintain the fall vibes.
5. How to style a burgundy leather jacket in Spring?
Spring calls for a light airy dress! Opt for a breezy summer dress and add a burgundy jacket to prevent from the cold spring breeze. Play around with colors to embrace the goodness of the spring season.
6. How to buy your first leather jacket?
Learn how to buy your first leather jacket by measuring and understanding your physique.
It is important to know the event you are going to let the jacket serve its purpose. For a more casual event, opt for a trendy bomber jacket due to its comfortable cut. 
Conclusion