Jeans and flip-flops are the raging summer trend this year. Guys in flip-flops chilling beside the beach to the girl wearing flip-flops walking down the street, everyone is head over heels in this new craze.
However, styling jeans with flip flops is not as easy as it sounds. You need to be very vigilant about the choice of your jeans and sandals to create a chic casual look.
In order to help you out in this styling quest, we have created these ultimate jeans and flip flop guides. So, read till the end to enlighten your fashion intellects.
What To Expect In This Article?
Flip Flop Styling Tips: Can You Wear Sandals With Jeans?
Wearing sandals with jeans is an effortless way to lift up your casual jeans look, instantly. Whether it's a casual trip to the grocery store or a beach holiday, flip-flops will cover you for all, without compromising on your style.
Here are a few styling tips and tricks that can make you level up your casual fashion game like nothing else.
Accessories
While styling your jeans with flip flops try to keep it low-key. Choose minimal accessories to complement the casual vibe of the outfit. A pair of earrings or a sleek pendant can be a game-changer in elevating your entire look.
Additionally wearing a stylish pair of sunglasses and a handbag on a sunny summer evening would be a plus.
Flip Flop Style
Never go for low-quality rubber flip-flops, unless it is a casual hang around at the beach. Instead, wear leather or suede flip-flops as they look more presentable and will complement well with your jeans outfit.
However, women can also opt for embellished flip-flop sandals with interesting designs and patterns to create a style statement with their casual jeans outfits.
Shirt With Jeans
While choosing an appropriate top or tunic with your flip-flop and jeans outfit, try to go with colors that complement well with your flip-flops. For Instance, if you are wearing leather flip-flop sandals go with neutral colors such as black, white, brown, and pastels.
As for the choice of shirt, men can go with t-shirts and dress shirts, while women should wear tank tops, tunics, and crop tops to enhance their casual jeans look.
Pamper Your Feet
As flip flop sandals are open footwear and make your feet the highlight of your whole look. So, make sure your feet look presentable. Pampering your feet is important before wearing flip-flop sandals. You can get a nice pedicure or paint your toes to enhance the beauty of your feet.
Cute Outfits With Jeans And Flip Flops
Woman's Jeans and flip-flops are a trend that caught fire in recent years. Even renowned high-end fashion brands also acknowledged the popularity of these sandals and came into the business to make profits.
Here are some ideas on how you can style women's flip-flops with jeans to pull off a chic casual look.
1. Skinny Jeans And Flip Flops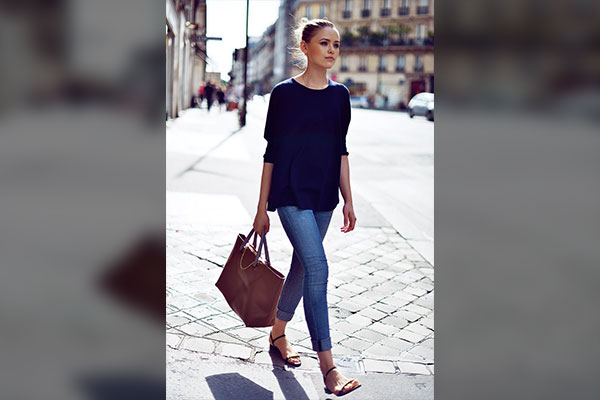 Skinny jeans and flip-flops work wonders when paired together. Contrary to the popular misconception flip flops are only good for beach times, a flip-flop paired with skinny jeans can take you from casual barbeque nights to sunday brunches in style.
Before, you go all out with your skinny jeans outfit and decide whether or not you want to grab attention to your feet. Opting for bright color floral pairs would be perfect if you are up for a fancy look. Otherwise going with nudes is a safe choice.
2. Bootcut Jeans And Flip Flops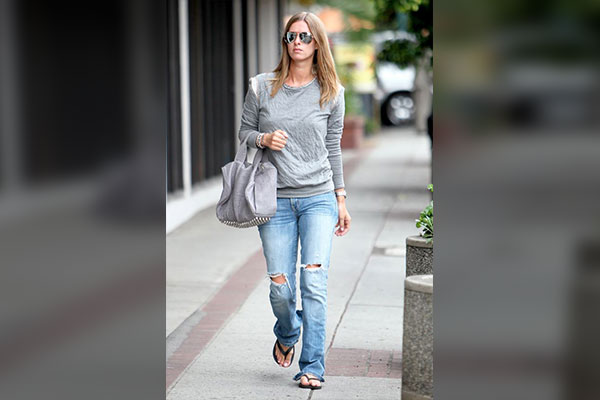 Boot cut jeans style is skinny jeans with a light flare emerging from the knee to the hem. These jeans are perfect to pair with flip flops for a sunny summer evening. Wear them with a decent top or blouse, some suitable minimal accessories, and a stylish pair of sunglasses for a chic casual look.
3. Straight Leg Jeans And Flip Flops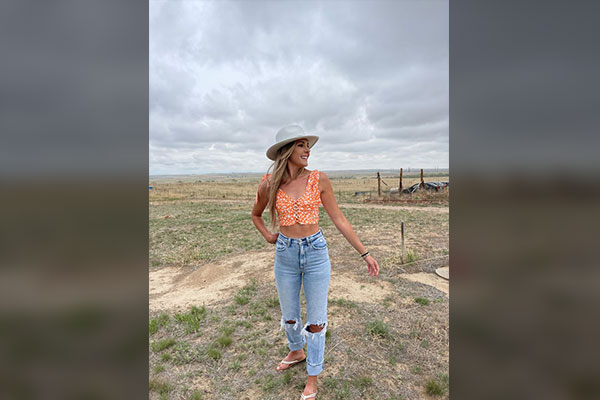 If you are not a fan of skin-hugging tight jeans but also do not want to go for flared denim pants, straight-leg jeans are the one for you. Straight-leg jeans with a perfect amount of balance between fit and flare are an ideal jeans style to wear with flip flops for a comfortable yet stylish casual look.
This outfit can be your savior while running errands for grocery trips or on a family picnic. However, when heading to the beach, Do not forget to wear a swimsuit under your jeans to transition into swim mode easily.
4. Cropped Jeans And Flip Flops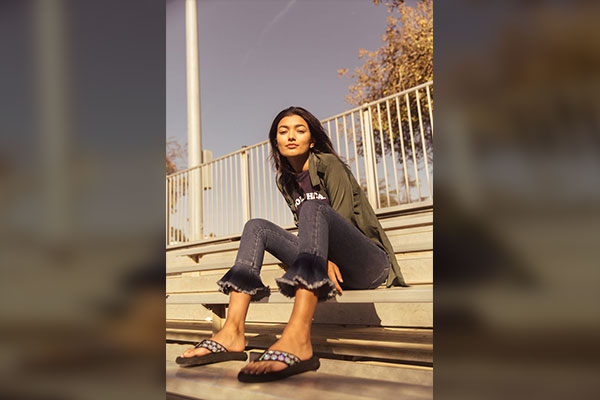 Cropped jeans have a length shorter than standard jeans.A regular crop jeans sit just right above the ankle, giving the footwear the limelight they deserve. Therefore if you want your flip-flops to stand out, wear them with cropped jeans.
However, while opting for crop jeans and flip flop look, make sure your feet look clean and presentable.
Should Men Wear Flip Flops?
Yes and No. Guys in flip-flop and jeans outfits look effortlessly dapper on a beach day or a holiday at a resort but wearing men's flips and jeans as smart casual workplace attire or hanging out at a bar is not an option.
Apart from the fashion perspective, guys should avoid wearing flip-flops while doing any physical activity such as running or workouts, as these sandals do not support your foot well and can cause you a serious injury.
Jeans And Flip Flop Outfit Guys
Men wearing flip flops are a vogue casual fashion. If you are a fan of wearing casual footwear with jeans and your feet sweat a lot, flip-flops are the sandals for you. Here are a few jeans and flip flop outfit ideas for guys to master casual summer fashion like a pro.
T-shirt Outfit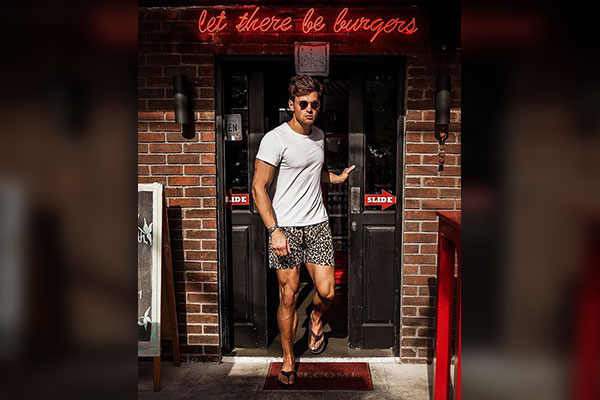 The easiest way to pull off a casual flip flop look is to pair them with your t-shirt and jeans outfit. Throwing on a few basic accessories like a leather wristwatch matching your flip flops and a stylish pair of sunglasses is all you need to elevate your casual look, effortlessly.
Button Down Shirt With Jeans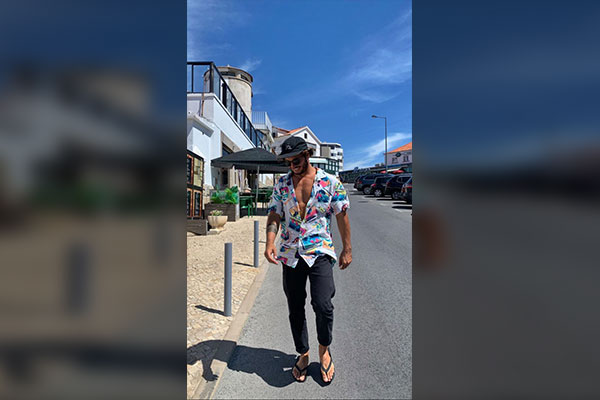 If you think button-down dress shirts are only good for your casual office days, think again. Simple button-down shirts with jeans and flip flops are another easy breezy casual combination, perfect for everyday grocery errands and holidays.
You can also go for interesting patterns and colors to elevate your summer wardrobe in style.
Denim Jacket And Flip Flop
Denim over denim is a classic summer styling trend. Pairing your flip flops with jeans and a denim jacket is a cool trick to upgrade your casual summer look.
However, you can also go for other layering options such as a leather biker jacket or a sports coat to suit your personality and taste in fashion.
Conclusion
Jeans and flip flops are popular summer trends among both men and women. Guys in flip flops look extremely chic when paired with the right outfits and accessories. On the other hand, women can pair their skinny jeans and flip flops together with a stylish bag for an adorable summer look.
Men's flip flops with jeans are perfect outfits for beach hangouts, barbeque nights, or grocery store errands but not appropriate footwear to wear while doing intensive physical tasks.