Undoubtedly, Jeans are the most versatile wardrobe essential for every woman on the planet. However, deciding on what shoes to wear with jeans can be a daunting task, especially when you have so many stylish footwear options available.
Jeans are a timeless fashion. The ease of styling jeans is what makes them every woman's favorite. They can be dressed up or down with the right choice of footwear.
However, choosing the appropriate shoes to wear with different jeans styles requires some basic fashion knowledge. So, if you are wondering what shoes to wear with jeans, read this blog till the end!
What To Expect In This Article?
How To Pick Best Shoes To Wear With Jeans?
From late-night hangouts at a club to the lunch date and evening plans, a pair of jeans can literally take you places. Maybe this is why we all love dressing up in jeans. But, many of us feel bewildered at the thought of choosing the right footwear with jeans.
If you are also one of those, do not worry. We have come up with some excellent styling tips to help you ace your shoe game practically. So, here we go!
Always go for low-cut jeans with boots or shoes. This type of jeans-style looks fabulous and will not gather at your ankle, making it look bizarre.
Ankle boots are among the best-suited footwear to wear with crop jeans. However, if you do not have crop jeans, wear your regular jeans by folding the hem above your ankle. Heels such as stilettos and strappy heels also look great with crop jeans.
While black, white, and tan shoes look great with a jeans outfit. You can also go for some bright and bold colors to create a unique style statement and stand out from the crowd.
The right fit of your footwear is as crucial as your jeans fitting. No matter how expensive your shoes are, the ill-fit will make your whole look obsolete by stealing your confidence and style.
Best Women's Shoes To Wear With Jeans
If you are wondering how you can style your jeans outfit by pairing them with various footwear. Here are some styling knowledge and fashion inspirations, incorporating different types of shoes to wear with jeans. So, stick along to know more!
Summer Shoes With Jeans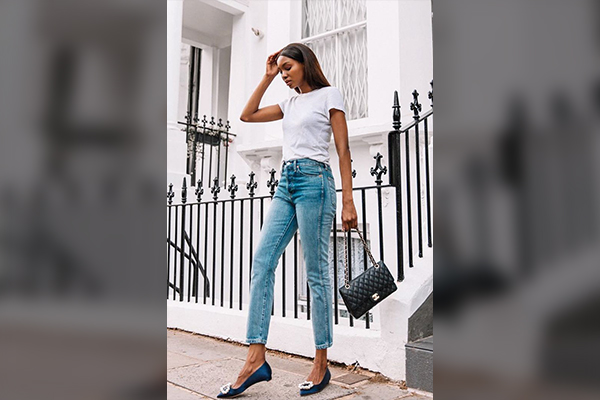 The first rule when choosing summer shoes to wear with jeans is letting your foot breathe. Therefore, boots are a big no. However, you can opt for breathable canvas sneakers if you are really closed or a lace-up shoe person.
The other stylish options for shoes to wear with women's jeans include pumps, loafers, strappy wedge sandals, flats, and trendy flip-flops. Wear them with your casual t-shirt or summer corset outfits to move in style even on extreme summer days while keeping your fashion game in check.
Smart Casual Shoes With Jeans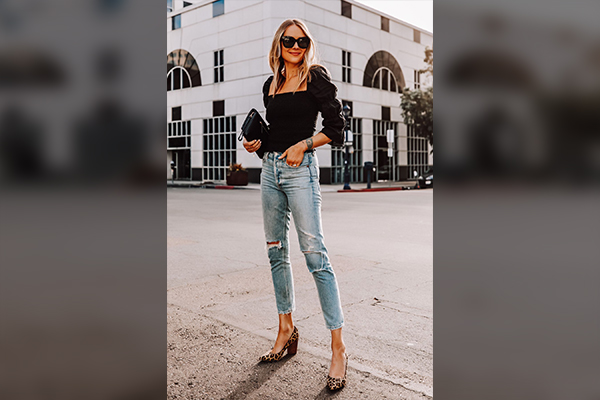 Unlike men, women have a variety of footwear options to wear with smart casual outfits. But, picking nice smart casual footwear with jeans may be challenging.
For casual work days, wearing ballet flats, loafers, pumps, and trendy slides will work. However, if your work demands a lot of time outdoors, wearing sneakers or other comfortable boot options with your jeans outfit may work wonders.
Lastly, do not forget to style this look with a modish handbag for a modish workplace vibe.
Casual Women's Shoes To Wear With Jeans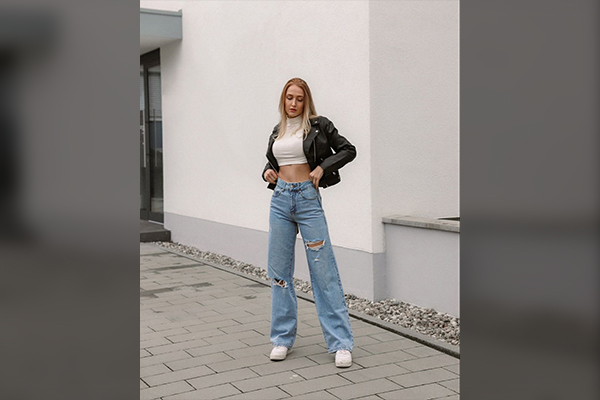 Wondering how to style your casual jeans outfit? Well, the right shoes are the key to all of your outfits. So if you want to slay in casual shoes with jeans, anything without heels and embellishments will work. 
Sneakers, flat pumps, Chelsea boots, loafers, sandals, and leather brogues are some decent options that can elevate your casual jeans look beyond measure.
Shoes To Wear With White Jeans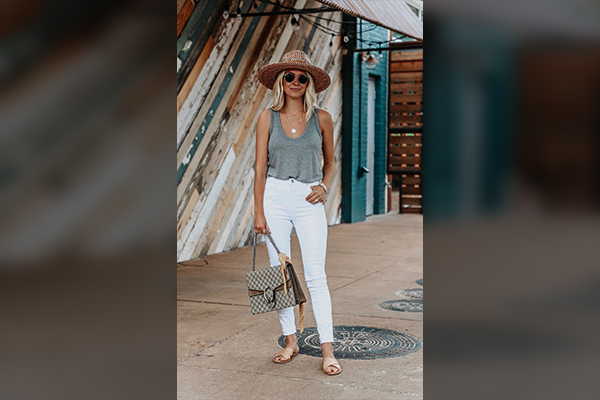 If your favorite color is white. Then white jeans will surely hold a special place in your wardrobe. But unfortunately, there are only a handful of footwear options that complement a pair of white jeans.
The best shoes to wear with white jeans include sneakers, leather loafers, heels, stilettos, and pumps. In addition, the contrasting footwear colors that best complement white pants are dark brown, nude, red, white, and black.
So, better choose wisely!
What Shoes To Wear With Black Jeans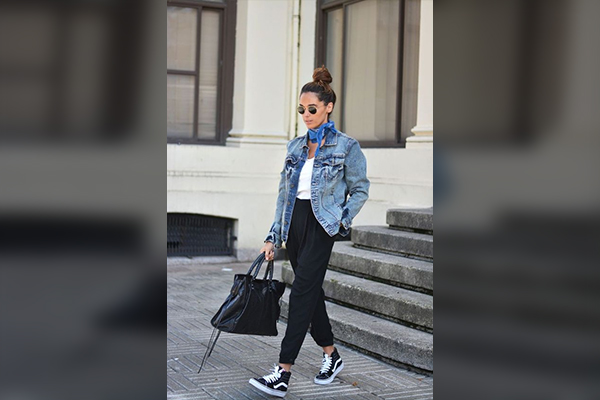 No matter what, we all have a pair of black jeans hanging in our closets for those uncertain times when we can't decide what to wear. Styling black jeans outfits are among the easiest tasks, as it goes effortlessly with most colors and shoe styles.
The shoe colors that complement the black pants are black or white sneakers, slip-on shoes, black or white boots, leather shoes, and dark color heels or sandals.
Women Dress Shoes With Jeans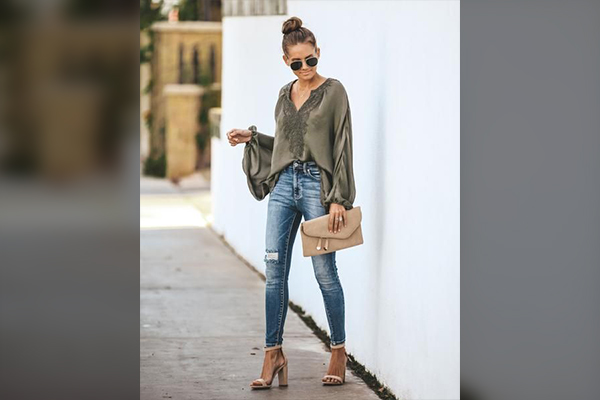 Dress shoes aren't a really good shoe style to pair with your jeans outfits. However, if you want to create a unique style statement by pairing them with your jeans, go for pitch black or dark brown brogues.
Keep in mind that these footwears are only suitable for semi-formal or smart casual occasions. Wearing them with your casual jeans outfit will make your whole look obsolete.
Women's Shoes To Wear With Skinny Jeans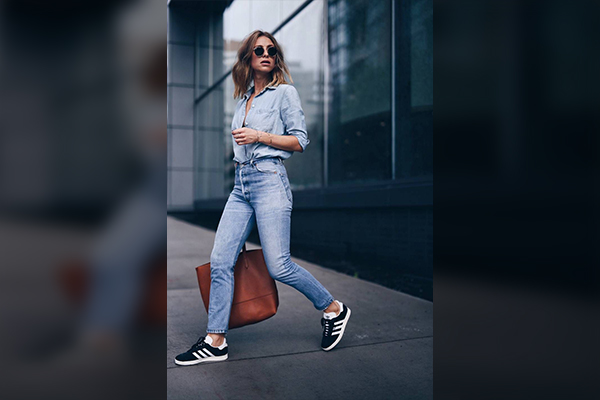 Skinny jeans are undoubtedly the most popular fashion in women's jeans. These style jeans are perfectly paired with semi-formal shoes such as ankle strap heels, classy pumps, and strappy stilettos. For casual footwear, options go for slides, flat sandals, or wedges.
Lastly, if you are looking for some bold options, tall boots or Chelsea will work wonders in that case.
Shoes To Wear With Straight Leg Jeans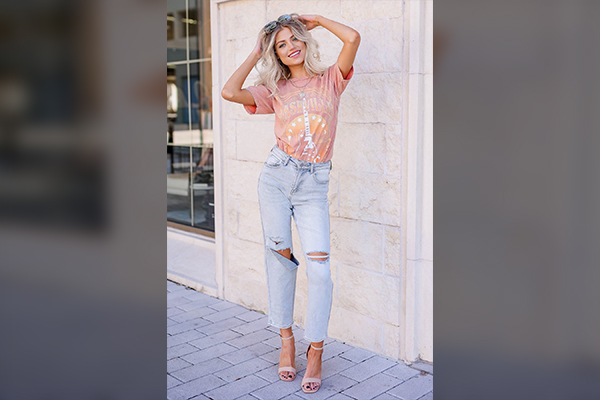 Straight-leg jeans are one of the most effortless jeans to style. From mules to strappy sandals and heels, every shoe style compliments perfectly straight-leg jeans. However, your footwear choice mainly depends upon the formality of the occasion and your style preference. 
A few casual footwear options you can pair up with your straight-leg jeans are mules, flats, slides, and sneakers. While for semi-formal or smart casual events, you can go for strappy heels, wedges, pumps, and stilettoes
Ankle Boots With Jeans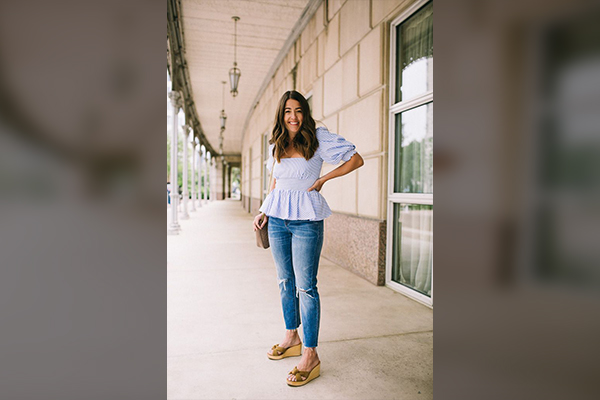 If you are looking for one pair of shoes that equally covers you for all your winter and summer jeans outfits, that would be ankle boots. There are many options when choosing the perfect pair of ankle boots to pair with your jeans look. Some of the most popular are Chelsea, Chukkas, Low cut ankle boots, and combat boots.
These boots are most suited with crop jeans, or above-ankle flared jeans. However, you can also style them with your regular jeans by folding the hem above the boots. Wear them at your summer college carnivals or high school spirit week to be the ultimate fashionista among your peers.
Jeans And Sneaker Outfits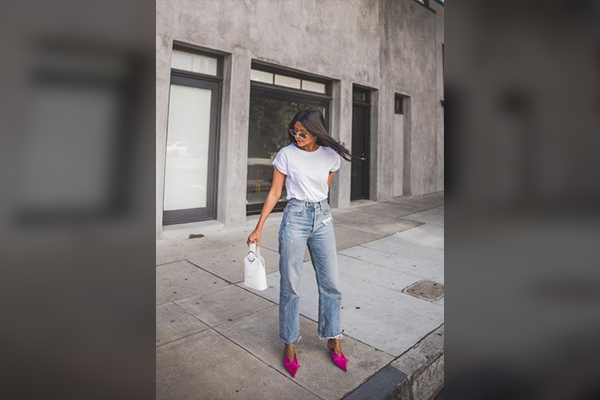 Without a doubt, sneakers are the most versatile shoe style that effortlessly goes with all your casual jeans, especially oversized jeans outfits. So whether you opt for a crisp white pair or go bold with some retro designs, this one-shoe style will never disappoint you.
Going for a pair of slip-on sneakers is an excellent choice if you aim for a slimmer jeans look. So, go ahead, pull on your straight-leg jeans with sneakers, and wow everyone with your style.
Shoes To Wear With Boot Cut Jeans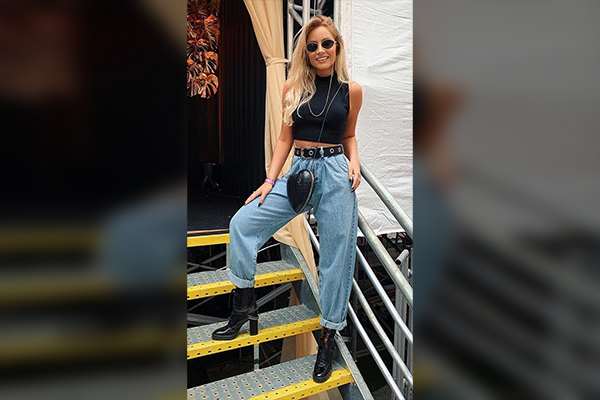 If you are looking for one pair of jeans that can be your savior at work, that for sure would be boot cuts. Finding the right shoes for boot-cut jeans is not that hard. However, it requires a lot more attention to detail.
A few shoe pairs you can wear with bootcut without a second thought include; platform sneakers, heels, stilettos, pumps, and boots with heels. Style them with your fall jackets for maximum effect. However, never go for flats, and make sure whatever shoe you choose to wear has some kind of heel with it to incorporate the flared hem.
What Shoes To Wear With Jeans In Winter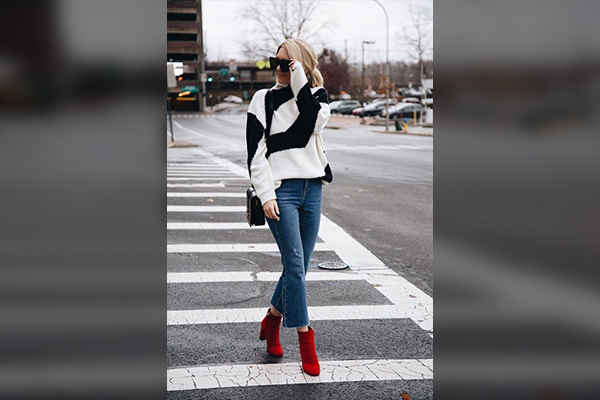 Winters can be a little harsh when it comes to styling your jeans outfit. However, pinning down the perfect shoes to wear with your jeans is easier than you think. All you have to do is throw out those open-toe shoes and make room for some boots and sneakers in your wardrobe.
One of the best outfit options you can adopt in winter is styling your skinny jeans with tall boots. Now throw a stylish trench coat over this outfit and see the magic happen. Trust me; this outfit combination will never disappoint you. Moreover, you can also go for high-top sneakers and classic suede ankle boots for some style variation.
Leather Women's Shoes To Wear With Jeans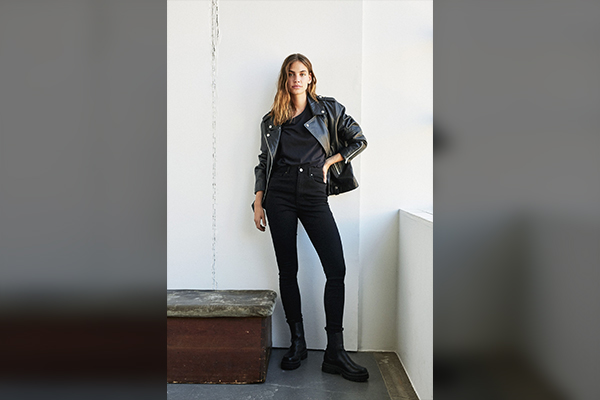 If you have a special place in your heart for leather finishes, then own it. The leather ankle boots, loafers, and pumps are the chicest fashion these days, and surprisingly, they complement all jeans styles very well.
So, next time you are in doubt about what shoes to wear with jeans with your thanksgiving outfit or on any other special occasion, go for a leather one without a second thought. And awe everyone with your unique sense of style.
Jeans And Heels Outfits
Let us be honest; every girl loves to wear heels. It increases confidence and adds a touch of sophistication to your entire look. Whether it's a straight-leg, boot cut, flared, wide leg, skinny, or mom jeans, a pair of heels will complement each and every jeans style.
A few smart heel options you can opt for with your jeans outfits are wedges, pointed-toe heels, strappy heels, open-toe heels, pumps, and platforms.
Jeans With Flats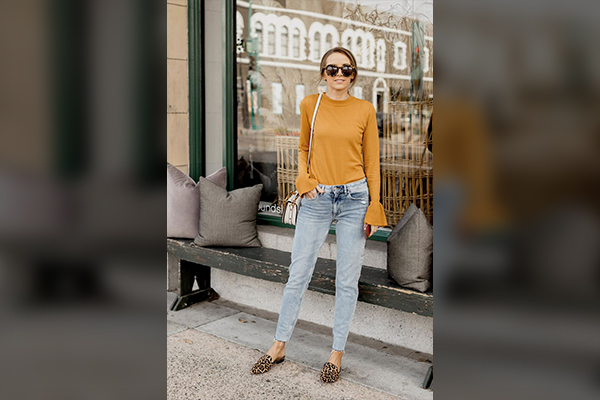 Unlike the old times, flats are no more only for aged women. For the women who love to slay around the town in their flats. Here is the good news for you. Now you do not have to compromise on your comfort or style because flats are among the trendiest footwear options these days to wear with jeans.
So, whether it's an everyday visit to the grocery store or a hectic workday at the office, wear your comfy flat sandals, pumps, and slides to slay it all in style.
FAQ's
Can you wear any shoes with jeans?
No, you cannot wear any shoes with jeans. It all depends upon the occasion and the time of the year. For casual or smart casual outfits, sneakers, flat pumps, and slides are ok, but for semi-formal, you should wear heels. However, boots will work for cold winter days.
Should jeans touch your shoes?
Jeans should sit slightly higher over your shoes to make sure it didn't hide your shoe toes. However, for straight-leg or skinny jeans, it is better to go for a cropped style or fold the hem over your ankle to blend in with the style.
Which shoe color to wear with blue jeans?
Some of the most appropriate shoe colors to complement your dark blue jeans are black, white, dark brown, and nudes. However, for faded blue denim, you can also opt bold colors like red, burgundy, and mustard.
Conclusion
Jeans are one pair of clothing that are equally loved by every woman, regardless of age. Whether it's a hot summer day or chilly winter evening, a jeans outfit will rescue you in every situation. But, pinning down the perfect shoes to wear with jeans is challenging.
However, the best way to do so is to consider the event's formality and outdoor weather. Moreover, do not forget to contrast the perfect shoe color to complement the shade and style of your jeans.