Due to their flattering style, pants with a flare are loved by every woman. These stylish pants dominated the catwalk as well as streetwear in 2022. The trend forecast reveals they are not going out of fashion anytime soon. Keeping up with the trend, here we are with some incredible flare pants outfits that you can try this summer.
Also known as Jazz pants, the fashion may trace back to the '70s when it got hugely popular for both genders. However, lately, our social media feeds have been bombarded with celebrities and models rocking these pants with a lot of verve.
With the onset of summer just around the corner, it's good to gather some ideas on how to style flare pants with different types of shirts and tops. 
How to Style Flare Pants
The flared pants have a variety of styles. They are available in different materials, such as denim, leather, jersey, or linen. You can go for solid-colored pants to pair with a variety of plain, printed, or embellished tops, or patterned ones to go with plain t-shirts and blouses.
The style of flared pants also varies. They might be fitted on the waist and thighs and flare from the knees and below, known as bell-bottom leggings or bootcut jeans. This style looks good on lean, petite body types. Another trending style is that of flared bottoms with a slit that gives a highly modern look.
Flare trousers may be loose and flared below the waist. Some flared trousers might be wide enough to give an appearance of a skirt. These styles better suit plus-size women or those with a rectangle-shaped body.
Flared pants can be high-waisted or low-waisted. All types of flared pants look quite elegant and chic. You can create a flare pants outfit with finesse by following the suggestions below.
What to Wear with Flare Pants?
Building an outfit with flare pants is quite simple. It goes well with a variety of fitted or loose tops, plain shrugs or cardigans, and stylish leather jackets for women. To nail any outfit, assess your body type first and then pair staples that will look good on you.
As these bottoms give an illusion of longer legs, it is a must-have for women of a short height. Tall ladies should pair them with long cardigans and baggy sweatshirts instead.
If you are looking for what to wear with flared leggings to look perfect, you are in for some in depth style guide. The most suitable tops, jackets, and shoes with flare pants are listed below.
Shirts to Wear with Flare Jeans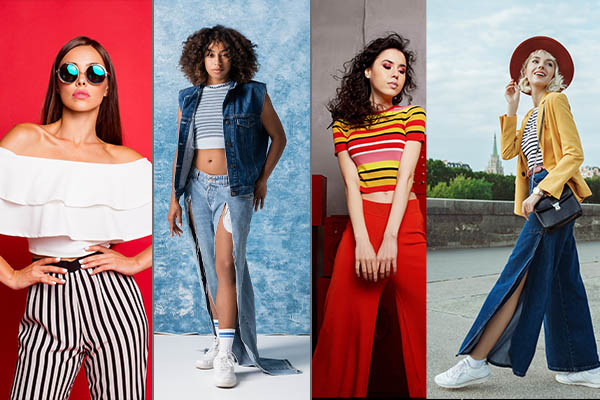 Standing in front of your wardrobe, you may wonder what top to wear with flared trousers to look good? Try getting your hands at the following styles to create splendid flare pants outfits.
Cropped Tops: White cropped tops will be the most versatile, but you can play with other colors and patterns.
Collared Shirts: Depending upon the print or color of your pants, you can pair plaid flannels, pastel-colored, or printed shirts. Tuck them in for a chic look. 
Front Tied Shirts: Pair plain white cotton shirts tied on the front with bell bottoms for a Los Angeles style outfit.
Cottagecore Blouse: For a true '70s feel, wear vintage-style blouses with bootcut jeans or wide pants. 
Tank-Top: To put together a spring/summer outfit with flare trousers quickly, just grab a cute tank top.
Peplum Top: Go for bright hues for a trendy and feminine look.
Oversized Shirts: Create contemporary street style outfits with shirts a size or two bigger.
Oversized Sweaters: These go particularly well with flare pants. 
Jackets to Wear with Flare Pants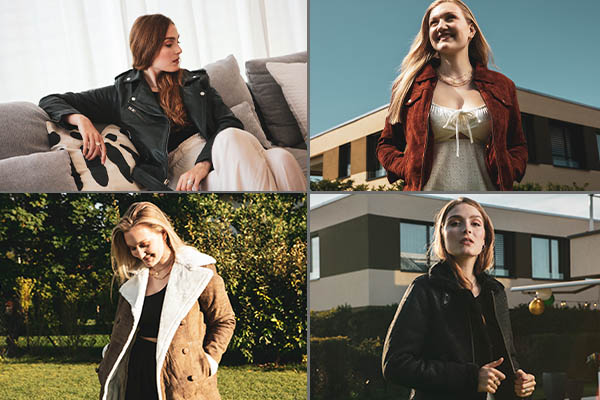 Layering your flare pants outfit is the key to creating a flattering look, besides keeping yourself adequately warm for sure. The following pieces of outerwear in your wardrobe go the best with flared pants.
Blazer: A blazer with a proper fit is the best piece to layer a flare pant outfit. Blazers are lightweight and give a flattering silhouette. 
Cropped Leather Biker Jacket: The versatile leather jackets lend themselves to flare pants outfits easily. For an edgy style, don a cropped leather jacket preferably a biker jacket over a basic t-shirt and flared pants ensemble.
Denim Jacket: Go for the denim on denim look by wearing a white cropped t-shirt with flared jeans and a denim jacket.
Leather Bomber Jacket: Leather bomber jacket outfits created with flared pants will also look very stylish. You can wear it when the weather turns colder.
Shacket: One of the best layering pieces for spring/summer, a lightweight shacket will elevate your casual flared trouser outfits instantly. 
Shoes With Flare Pants Outfits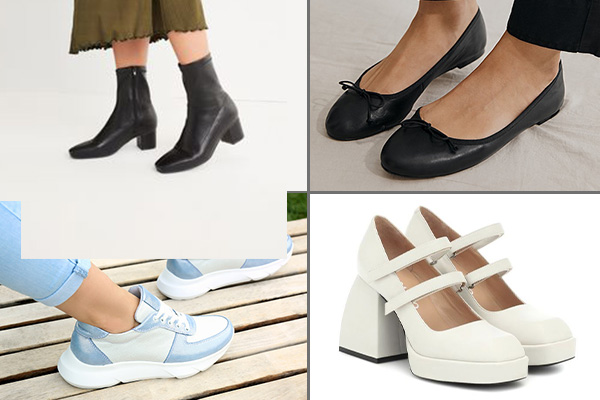 Rounding off your flare pants outfits with proper footwear is vital to nail the look. Although your choice of footwear depends more on your activity rather than the style of pants. But the top favorite shoes to wear with your flared pants are:
Pumps
Sneakers
Square toe heels
Ballet flats
Wedge heels
Platform heel sandals
Lace up boots
Ankle boots
Outfits with Flare Pants
One of the best things about flared jeans or trousers is their ability to make anyone look elegant, irrespective of the body type. Also, almost any type of top can go with them. All you need to do is to create coherence in your flare pants outfit and accessorize it wisely. Below are some fashion-forward looks that you can create with flare pants.
Flared Leggings Outfit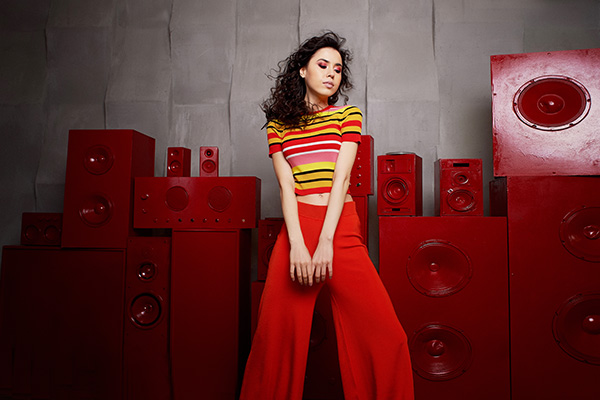 Watching them as one of the most trending bottom wear on social media in 2022, you may want to learn what to wear with flare leggings. Style your pretty green bell bottom leggings with a cute vintage-style graphic t-shirt. Add some minimalist vibes to the look with a chic handbag and off-white mules. The understated feel of this casual ensemble is its highlight.
Instagram Baddie Flare Pants Outfit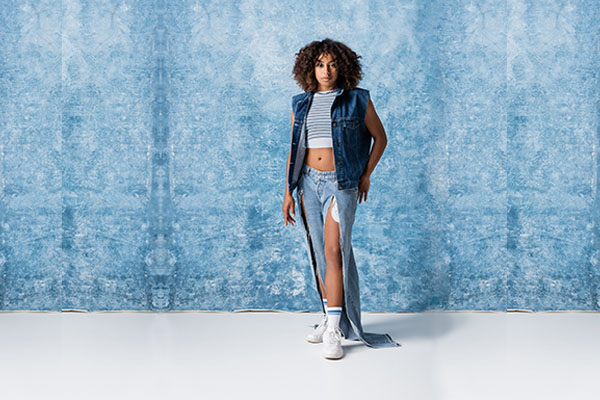 Baddie girls have taken over social media by storm with their uber-chic outfits and glamorous vibes. Here is an inspiration on how to be a baddie with an outfit consisting of brown flared pants and a square neck cropped tank top. The floral print top will look perfect along with the statement earrings. Black lace up boots will add the baddie vibes.
Retro Style Flare Jeans Outfit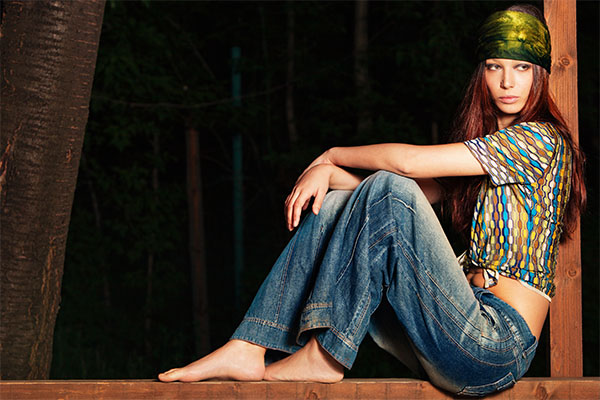 Bootcut and flared jeans both have made to the trending jeans styles this year. They look great in contemporary as well as retro outfits. Pair a v-neck floral silk top with blue flare jeans. Round off the flare jeans outfit with red statement earrings and white platform heel boots.
If you want to know what to wear with high waisted flare jeans, try a chic ensemble by pairing your jeans with a frilled crop top with cutout shoulders. Make sure the color of your top complements your flared jeans. Ballet flats will round off this look perfectly.
Outfits with Black Flare Pants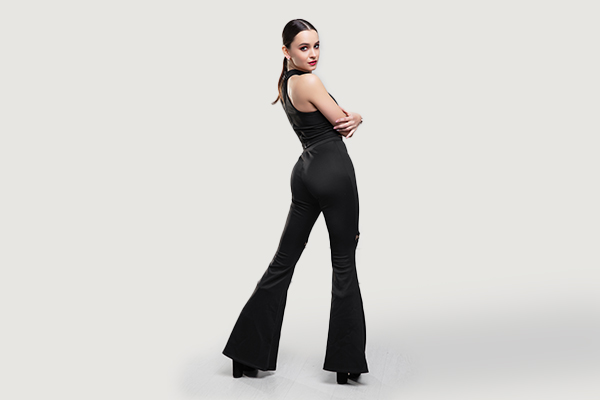 Who knew simple black flare sweatpants could give you such a stylish ensemble? Pair it with a sleeveless embellished top and t-strap heels to look party-ready in an instant. Accessorize the look with a blingy clutch and dangling black earrings.
White Flare Pants Outfit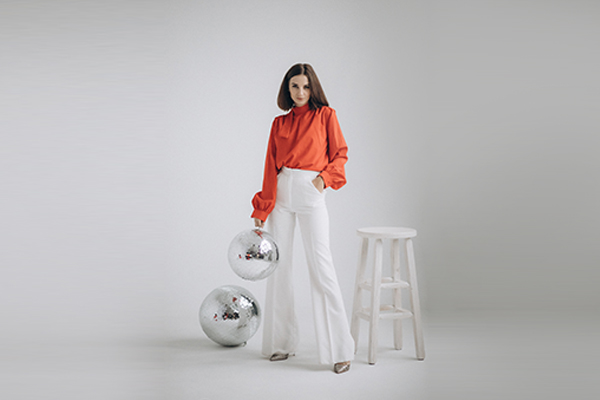 There can be so many interpretations to the question "what to wear with flare pants in white color?"
Not only white lends itself to almost any color, the silhouette of flare pants allows you to pair it seamlessly with a variety of tops and jackets.
Create a ravishing all white look with a trendy white blazer and white flare pants. Use a camisole top as a base for this outfit. To add a pop of color, pair printed brown long boots and a shoulder bag in the same color for a sensational touch.
Brown Flare Pants Outfit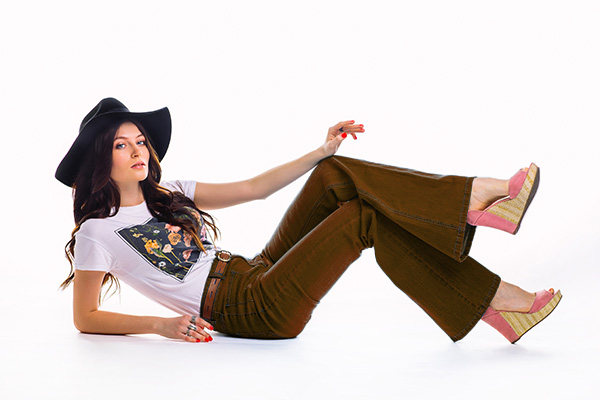 Probably the best flare pants you will ever own are ones in a nice shade of brown. The versatility of brown flare pants is indisputable. Brown will be trending high this year, and a classy brown outfit with flare pants is the best way to win the fashion game.
The top you can go for is a printed blue front tied one. Go for a brown leather blazer and brown faux leather pants to create a stylish look. Square toed heels and some dainty gold jewelry will further elevate the style quotient. 
Pink Flare Pants Outfit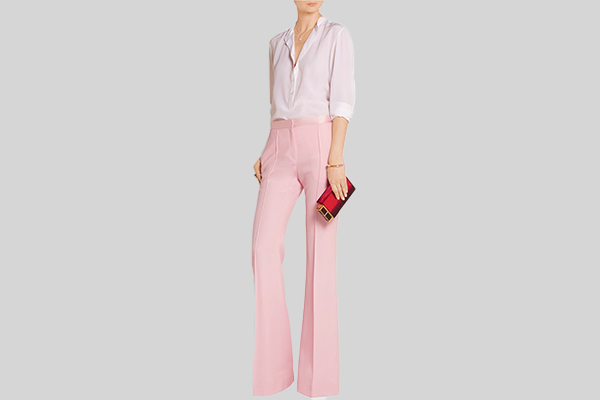 This outfit perfectly goes with the bright and peppy theme of summer. Pair a yellow and pink printed top along with pink flare pants for an upbeat look. Colored sneakers are the perfect option for footwear, but you can also wear white ones with this outfit. Add accessories like retro style shades, a cute sailor cap, and a funky handbag to finish this look.
Burgundy Flare Pants Outfit
If you have got a gorgeous pair of burgundy flare pants, there can be several ways to create pretty outfits with it. The best one could be pairing it with a floral design net top in black color, which you can wear over a black tank top. Or, go with a beige silk tunic over it to build an eye pleasing burgundy pants outfit. Dull gold accessories will complete this elegant outfit.
Street Style Black Flare Pants Outfit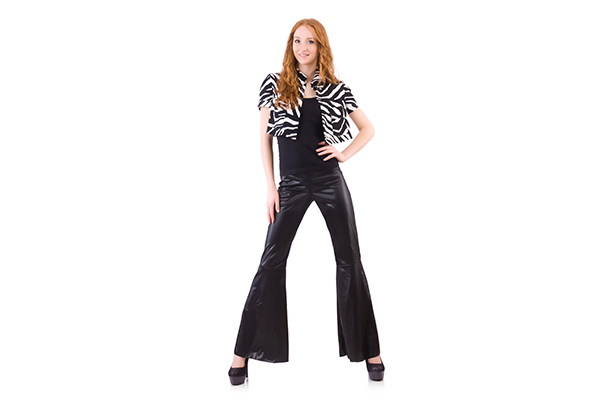 A combination of white pink and black looks best during summer. Use this combo to put together a stylish street style ensemble. Team up a white spaghetti strap cropped top with high waisted black flared leggings and a pink belted blazer. Use black accessories to finish the outfit on elegant notes. 
Cute Outfit with Checked Flare Pants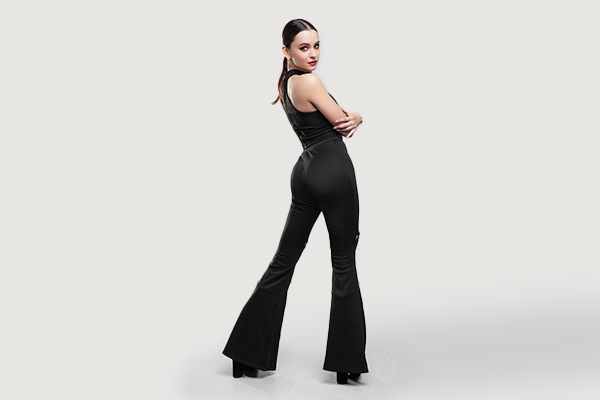 Try a captivating orange outfit using checked flare pants. A white sleeveless top with lace details is the best to go with these bottoms. A generous dose of orange via statement jewelry and bag will be a good idea. Go for cream ankle boots to give coherence to the ensemble.
Striped Flare Pants Outfit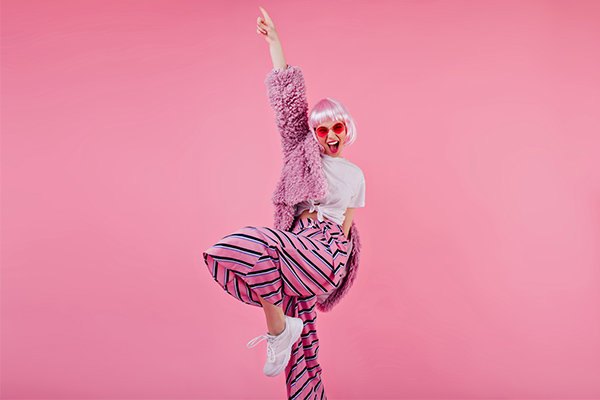 Exhibit your remarkable sense of style with this chic outfit of black striped flare pants along with a sleeveless turtleneck top in burgundy. Play with choosing different colored jewelry, different types of bags and shoes to complement this outfit. 
FAQs – Flare Pants Outfit
What Can I Wear With Flare Pants?
Flare pants can be worn casually or with smart casual outfits. For casual looks, use t-shirts, cropped tops, ruffled blouses and stylish leather jackets with your bell pants. For dressier outfits that can also be worn at work, use blazers, collared shirts and turtleneck tops.
How Do You Wear Black Flare Yoga Pants?
Black flare yoga pants are incredibly stylish although they are very comfortable. Plus, they make you look slimmer. They perfectly go together with stylish coats and jackets, colorful and printed tops, and even embellished blouses for dressy outfits. 
Are Flare Leggings in Style?
Flare leggings are both comfortable and trendy. Contemporary influencers and celebrities are frequently spotted wearing these pants casually and even at parties. The 70's trend is ruling the fashion stratosphere these days.
Do Flare Jeans Look Good on Short Legs?
Flare jeans give an illusion of longer legs. Therefore, women with short legs can wear these pants to look tall. 
How Do You Style Flare Pants With an Oversized Shirt?
Pairing oversized clothing with fitted pants is a contemporary fashion. You can tuck in the shirt slightly from the front for a stylish look. 
Wrapping Up
The trend of flared pants may or may not be short lived, but currently, it is ruling the fashion scape. The womenswear trend forecast clearly shows these gorgeous pants are very well a part of mainstream fashion.
You can look elegant and stylish by pairing your flared pants with the right staples. If you want to know how to wear flare leggings, flared jeans, and other flare pants styles, you can refer to this outfit guide.