While a jacket over jeans remains the safest option, how about trying something simple yet trendy? Ditch your regular style and opt for a versatile leather bomber jacket outfit this winter.
There are days when women want to tone down their dressing style just a tad bit. After so many days of dressing up formally at work, we prefer wearing cute holiday outfits.
Seriously, this year we have played with a lot of casual and formal styles. At the beginning of this year, people started wearing loungewear. Later on, they jumped to trench coats and leather blazers.
However, as the holidays roll around, we need to build our winter wardrobe capsule. For that, we need outfits that will take us straight from the grocery store to the festive nights out with the girls.
Well, here we are, ready to simplify leather bomber jacket outfit ideas for you.
Leather Bomber Jackets and Women's Fashion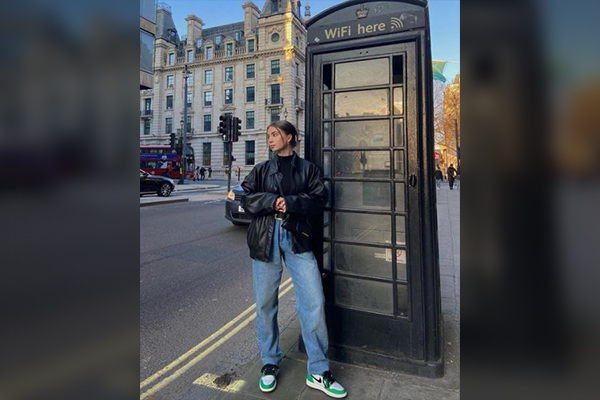 Who says women's fashion has to be uncomfortable and complex? In fact, most women like cozy easy to wear outfits in winters. The type of leather garments that almost every woman owns include trench coats, leather blazers, leather cropped jackets and leather bomber jackets.
Speaking of leather bomber jackets, they are a classic wardrobe staple that are super stylish and extremely functional. Women are multitaskers, so they admire bomber-style jackets because of their elegance and lightweight.
Another reason to be fond of these jackets is that when it comes to styling, there is no restriction at all. To suit diverse preferences, they are available in an extensive color and style range.
Besides that, we all know how much our ladies love variations in clothing. Women can wear them on top of any type of dress or even their jogger pants to look chic.
So, whether they need a jacket to protect them from the cold weather or a statement style to finish off their look, a bomber jacket is a perfect choice. In this blog, we will show you how to wear a bomber jacket with a variety of clothing items.
Ways to Wear a Bomber Jacket
Nowadays, for edgy, sporty, or a look that lies somewhere in between, leather bomber jackets are great. Before you order the perfect one, we will teach you a few different ways to mix your style up a little with these jackets and your most cherished type of top.
Women's Street Style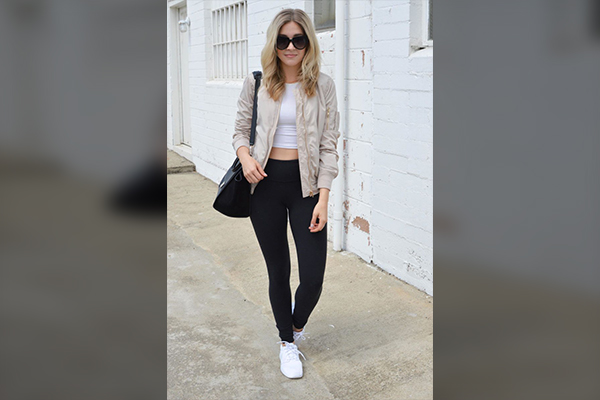 Today, streetwear style is gaining immense popularity.
You can wear a white shirt, black leather pants, and a black leather bomber for a Rockstar look on the streets. Also, feel free to wear aviators while stepping out.
Leather Bomber Athleisure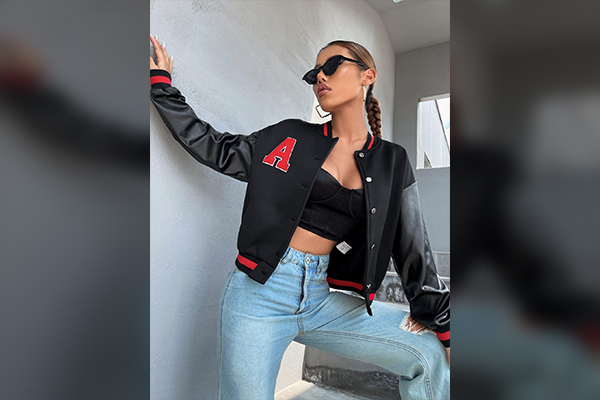 People have a misconception that they cannot do much with athleisure wear. So, go through the latest trends to become the uncrowned queen of mix and match.
On the off-duty days, what can be better than a subtle yet trendy look. You can wear green bomber jacket outfits with a white t-shirt underneath and white movable leggings.
This look is easy to achieve and you can definitely hit the gym in white sneakers after you are done with the household chores. Keep trying tees and leggings of different colors to elevate the fashion factor of your outfit.
Chic Looks with a Bomber Jacket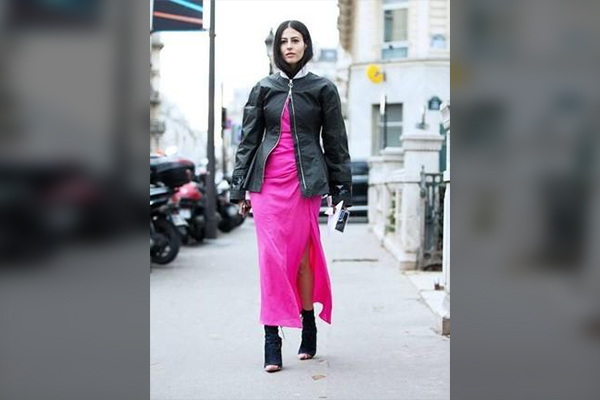 To give a more feminine touch to the outfit, girls can wear a leather bomber jacket with a pink dress. There is not a single color that gives more barbie vibes than pink. Also, match the color of the jacket with the shoes. You can search on the internet to see which colors look awesome with pink clothes.
Tough Leather Bomber Girl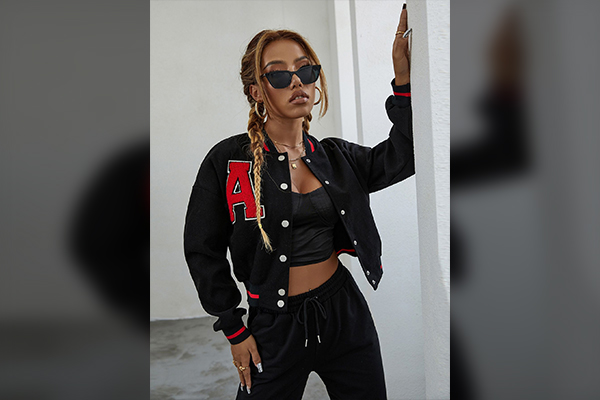 For the ladies who want to assert dominance and control with their clothes, we have a black bomber jacket outfit idea for them. Pair the blue bomber jacket with black jeans and shoes.
If you desire to add a little bit of depth to this getup, wear a neutral basic shirt. This will tell everyone that you are here to take charge for the day.
Leather Bomber Jacket Club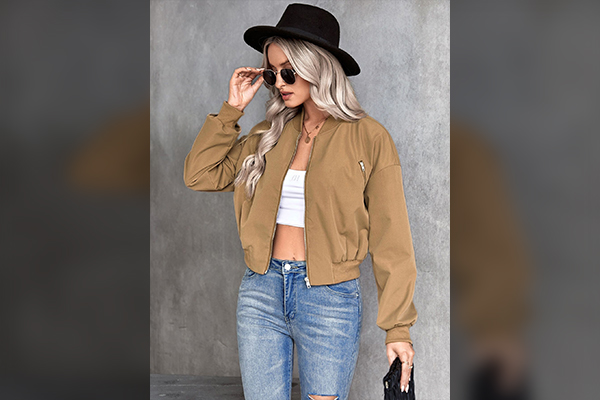 Nothing shows your personal style better than a tailor-made jacket. Think of it, why would people like an ill-fitted jacket?
So, avoid that frumpy jacket at all costs and reach out to The Jacket Maker. When you compare an ordinary, off-the-rack jacket with the exclusive customized one, you see a massive difference yourself.
Additionally, you can pick from tons of colors and size variations to get the one that fits you like a glove. The Jacket Maker ensures that the bomber jacket they offer is of premium quality. Plus, you get the liberty to select any design, artwork, prints, embroidery for your jacket.
FAQs
Are Bomber Jackets Warm Enough For Winters?
If we check the history of bomber jackets, they were made for pilots to wear in winter. So, these leather jackets are favorable for winters. 
Is it Okay to Wear a Bomber Jacket During Summer?
No, leather bomber jackets are pretty warm for the summers.
Are Bomber Jackets Still in Fashion?
Women's leather bomber jackets are and will always be all the rage. Unlike other trends, they will stay in the world of fashion forever. 
How to Style a Brown Leather Bomber Jacket?
Our favorite brown leather jacket outfit for women is a high neck crop top with ripped or mom jeans that ties the entire look together. 
How does a Leather Bomber Jacket look with a Leather Skirt?
Leather jackets and skirts look seamless together. But to choose a top with this combination, you might need some help.
How to Wear a Bomber Jacket Like a Style Icon?
If you want a relaxed celebrity look, go all-in with a dark green bomber jacket and black denim Bermuda shorts. To up the ante of this look, wear black sunglasses and black suede heels.
What Hairstyle Goes with Leather Bomber Jacket?
Any hairdo will look fine on these jackets. But a high ponytail amps up your leather bomber jacket.
Conclusion
In comparison with a leather bomber jacket, no apparel is easy to pair up with anything from jeans to dresses. Due to that, it is a wonderful outerwear option for several occasions. Lastly, keep trying all sorts of colors and designs to see which outfit brings the right amount of drama to your style.