Universally known as a timeless, style staple that is versatile and gender-friendly serving both fashion and function, is a description of the men's bomber jacket we all know about.
Aside from its history and evolution over the years, highlighting the many colors, styles, materials, and details the bomber jacket is available in, not much is known or covered regarding how this wardrobe essential can be worn or styled to match the moment we're in.
Does that sound familiar? Or something you can relate to? Having the best of the best bomber jackets and agreeing to their versatility, yet not actually knowing how to get the best use of it. Least of all styling it in different ways.
Sure, to many it may seem like a piece you'd throw over a t-shirt and jeans, but there's a whole lot more you can do with the same bomber jacket you own and pull off different looks each time you step out of your house. Before we dive into the styling of bomber jackets, let's first briefly go through a few key factors that will make styling bombers easier and more interesting.
What To Expect In This Article?
Bomber Jacket Fit- Getting it Right
For those who haven't yet purchased a bomber jacket and would like to get in on the action, the point to remember before making a purchase is FIT. It's perhaps one of the most essential factors that require attention before you pick your bomber jacket.
For favorable results, go for a fit that is snug on your shoulders and arms, completed by a fitted body, with enough room to fit in a layer or two beneath. The shoulder seams should end at your shoulder point or closest to it. Anything less or more will alter the fit of the overall bomber jacket.
Traditionally, bomber jackets were oversized in style and fit and have evolved into their current fitted silhouette for men. Another key point to remember is that the waistband should sit right at the waist of your pant and the sleeves should finish at your wrist bone just above your palm.
Check Out Our Top Bomber Jackets

Common Bomber Jacket Types & Styles
As mentioned earlier, bomber jackets have evolved over a good number of years, during which time; it has been given different shapes and appearances using a variety of different fabrics. These include leather, suede leather, nylon, denim, and even silk and satin.
Below you will find a few commonly used fabrics to achieve an understanding of the types of bomber jackets out there.
1. Nylon and Polyester Bomber Jackets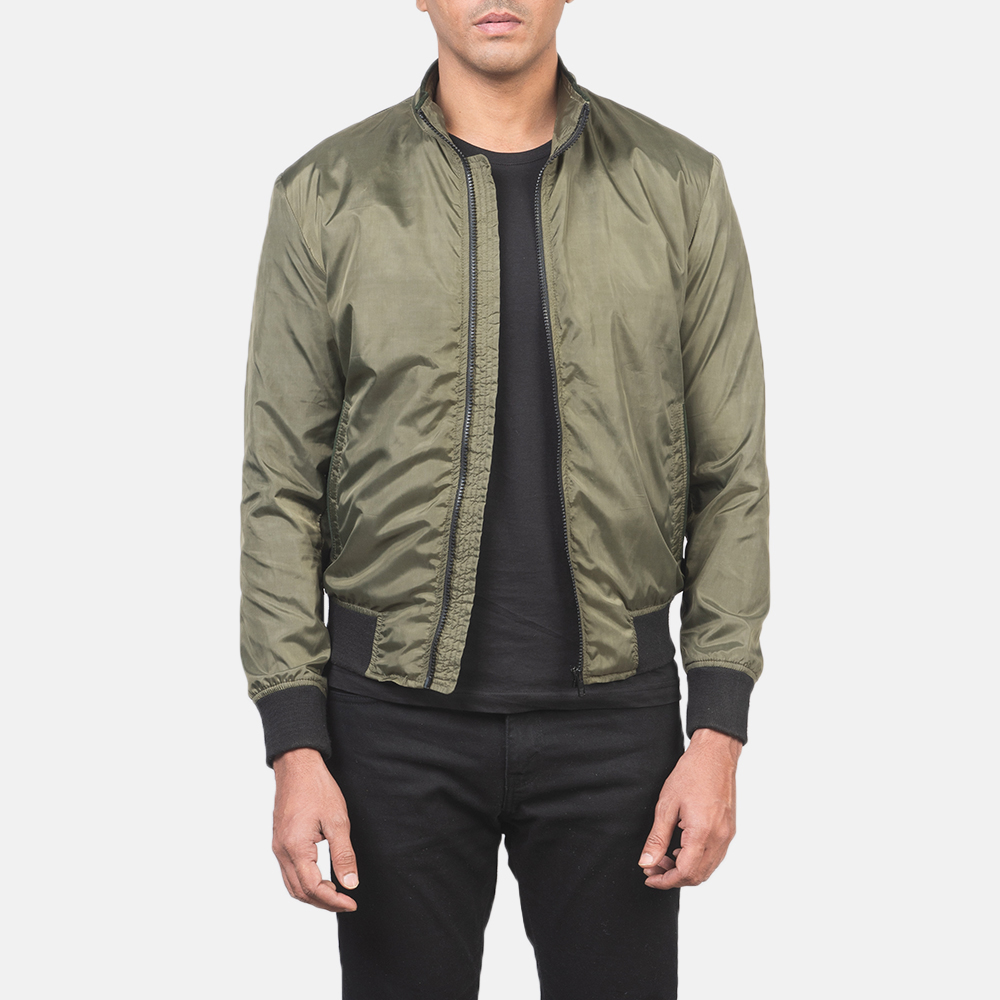 Two synthetic fabrics that share many similar features, such as easy care, stretch resistant or wrinkle, and shrink resistance that makes life so much easier. Nylon or polyester bomber jackets, therefore, are great spring or summer style essentials that make printing on these, an easy and fun way to personalize your style with a custom bomber jacket.
The lightweight properties of these two fabrics make them easy to layer up with as well. This may also work for some cold climates, as nylon proves to be both waterproof and weather resistant also.
2. Woolen Bomber Jackets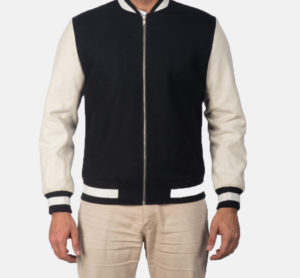 Perfect for the winter, woolen bomber jackets are a definite 'must-have'. Wool not only will keep you warm, exhibiting a functional aspect, but looks equally stylish, with the right fit and even texture that makes this type of bomber jacket unique.
3. Suede Bomber Jackets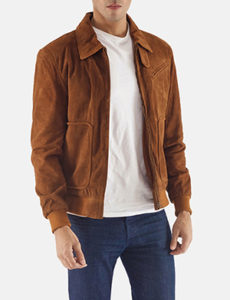 A suede bomber jacket is indeed in a league of its own. Truly stylish, even though it may not be a good option for rainy climates. Still, suede bomber jackets give you a twist between modern sensibilities and classic timelessness.
Suede bomber jackets in brown or stone, navy, white or black, all have a powerful style story to tell, no matter how many times you wear it.
4. Leather Bomber Jackets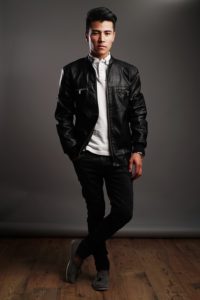 Proven as the most original and timeless piece amid all the options, a leather bomber jacket will take you to a whole new level through winter. While black is the all-around favorite, there are many other options available as well.
From subdued colors to bold, vibrant red, deep brown, or the popular white leather bomber jacket. Whatever the color, if the fit's right, you can be sure you will look good in this must-have leather bomber.
Bomber Jacket Colours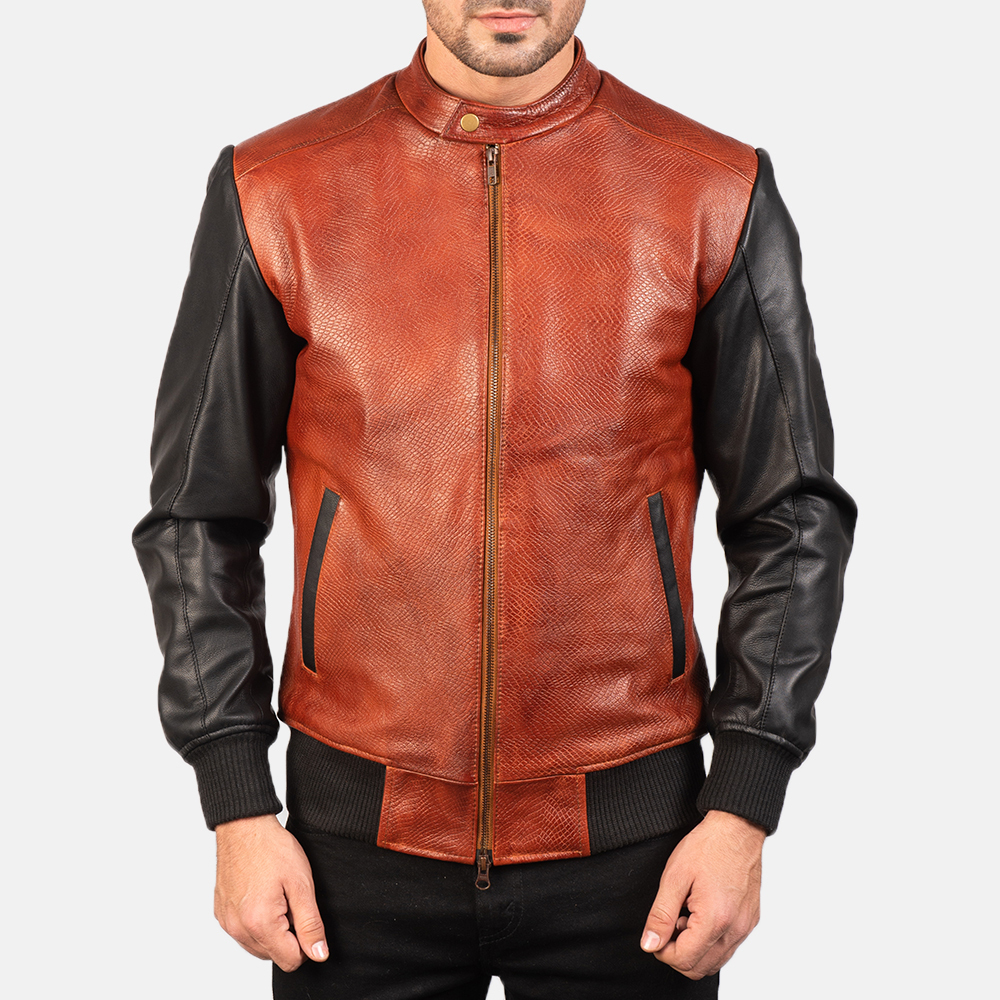 It's really quite simple. Whatever you're thinking of, looking for, or dreaming about, you can find 'the' color bomber jacket to suit your style, mood, or overall personality.
We're talking ALL colors. From the more popular ones that include white, red, maroon, brown, or blue bomber jackets to the more creative choices of yellow, purple, burgundy, or even green bomber jackets.
When to Wear your Bomber Jacket
Choosing to wear a bomber jacket can be a great choice provided you understand where you are going or what you will be doing before you throw it on. Typically, bomber jackets can work well for casual engagements to smart casual occasions. Simplistic bomber jackets may also work in creative work environments or as part of a business formal look that can be styled with discretion. Think classic black bomber over white shirt, grey pants, black shoes and possible a tie that 'ties' these pieces together. This look may be work acceptable for some people but not everyone. User discretion is advised.
All you need to think about is picking a style that suits that event and working the rest of your accompanying pieces around it.
Here are a couple of examples: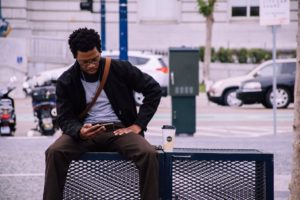 For casual gatherings or get-togethers, you can add a bomber jacket over a t-shirt and jeans, a dressier alternative would be chinos or casual trousers. For summers, a t-shirt would be perfect, while in winters a sweatshirt or hoodie can work great. You can also style a turtleneck with it. For footwear, sneakers being a natural choice would work well with practically any kind of bomber jacket.
Furthermore, for smart casual dos, a bomber jacket may not be everyone's 'go to' for dressing up a little, which would be a shame. Bomber jackets actually work well in smart casual situations although you would be required to add a little tact and edit before heading out the door.
The picture to paint here is smart casual, in other words dressing up your casual look. Going for a classic bomber jacket, maybe even something minimal if you're not that adventurous with color or design.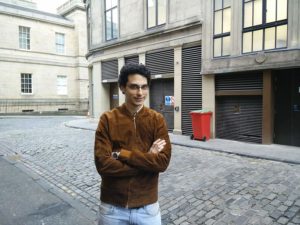 The best would be a neutral color that you can use to anchor your complete outfit without being too intentional. Try a refined-looking 'dressy' bomber jacket paired with a pinstriped or checkered shirt, yes self-colored works too.
Add some well-fitted (not skin tight please) trousers or chinos and instead of your sneakers, you can add a pair of loafers, derby shoes, or even leather trainers to add that oomph to your overall look. Chelsea boots work equally well also, giving you a rustic, equestrian vibe. If that's the look you're going for. Still, much like bomber jackets, boots too have come a long way and can fit in with various looks. Including something more urban and contemporary.
Other than these two settings, bomber jackets are to be used very discreetly as the more you move towards formals the less and less room you have to include even the most classic and best-looking bomber jackets you can find.
At most, for a few formal settings, adding a black or dark-colored suede or leather bomber jacket to a shirt and tie combo, paired with trousers and lace-ups. It may work in certain business formal or semi-formal settings but again and most importantly… Discretion!
How to Wear your Bomber Jacket
While we may have covered some grounds on how you can wear your bomber jacket based on the situation, below are few tips on how to wear your bomber jacket that will inspire you to try new looks to get the most usage and admiration by the way you wear your men's bomber.
Monochrome or neutral palettes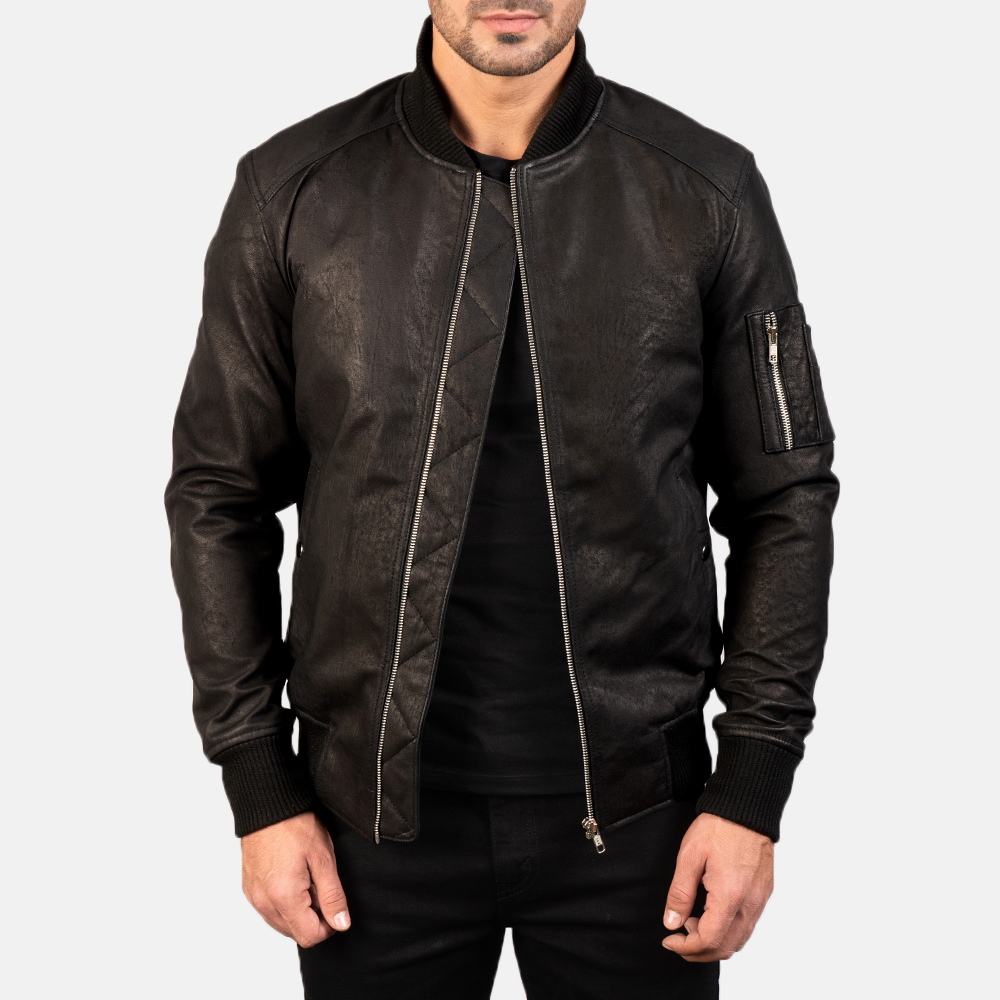 These alone can give you several different looks using one bomber jacket. Whether you go for a monochrome outfit in shades of grey or different tones of brown. Monochrome outfits add sophistication while still being minimal. What's even more interesting, is that this is a route that works well for men of various ages.
The same can be said for neutral colors put together. For e.g. black and grey, burgundy and brown, white, black and grey together are just some of the neutral color combinations that will allow your bomber jacket to take your look to the next level.
Creative Alternatives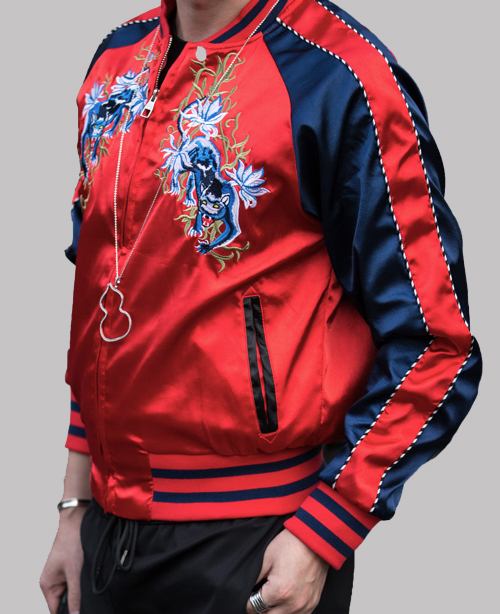 Another route you can try when putting together an outfit including your bomber jacket, are creative alternatives that involve apparel pieces that would 'up' your game in the style department.
How do you do that? Simply try out different options for your tops, aside from t-shirts or shirts, how about a turtleneck in the winters or a plaid, checkered or subtle polka-dotted shirt.
You can even try out textured tops that have a sober or subtle knit. The same applies to your pants and trousers, how about trying a restrained stripe or check that adds some interest visually to your outfit.
If you are truly adventurous, these options would work equally well using snazzy colors for an artsy vibe.
Graphics and Shapes
This point is an interesting mix of alternative style, artistically creative and truly unique. Adding your bomber jacket to graphic t-shirts, shirts, and tops. These could be anything from vintage-inspired art and pop-culture or contemporary by design or print.
Picture tank-tops or t-shirts with music icons or public messages. Long sleeved sheer tops that give a goth-esque vibe or brightly colored tops that have a quirky element to them.
The same goes for your pants, which could be denim or fleece or joggers or sweatpants, athletic-looking or something wide enough to reflect trends of bygone years.
Think wide pant legs such as those from the seventies or stripe prints that could work equally well with your bomber jacket.
FAQs on Bomber Jackets
Is a bomber jacket smart casual?
Yes, a bomber jacket can work as part of your smart-casual style.
Can you wear a hoodie under a bomber jacket?
Definitely, a hoodie that is similar in fit to your bomber jacket would be a great choice.
What is bomber jacket weather?
Quite frankly, any weather is bomber jacket weather. Especially now that there are fabric options for bomber jackets that suit all seasons.
Can you wear bomber jackets in the summer?
You can totally wear bomber jackets in summer, provided you choose one that is in cotton, nylon, polyester, denim or some other fabric that can be worn in hot or humid temperature.
How should a bomber jacket fit?
As mentioned in the beginning of this post, go for a fit that is snug on your shoulders and arms, completed by a fitted body, with enough room to fit in a layer or two beneath. The shoulder seams should end at your shoulder point or closest to it. Anything less or more will alter the fit of the overall bomber jacket.
How to wear a men's bomber jacket?
Bomber jackets for men, can be worn as part of a casual look, teamed with denim and a tee, sneakers, a pea cap and shades, to a smart casual or in certain cases, a business formal look that involves a black or dark colored bomber jacket worn over a button-down shirt, trousers, possibly even with a tie, slip-ons and belt.
How to style a bomber jacket?
Styling a bomber jacket is all the more fun, when you are open to new looks and a bit of experimenting. Adding different types of tops that are in different colours, textures or the basics is a great place to start your styling endeavors. The same goes for pants, footwear and accessories that work together to not only highlight the color of your jacket but also give you a look that is your own.
What color bomber jacket should I get?
This depends on preference, mood and personality. Black bomber jackets would be the choice for those seeking classic, simplistic style. Earth tones and neutrals would be for those who would like to add some visual interest to their looks without going too far over-the-top. Colored bomber jackets in rich, bold hues would be perfect for vibrant, 'don't care what people think' individuals who are carefree and always pushing the envelope concerning their wardrobe choices.
What shoes do you wear with a bomber jacket?
Bomber jackets go well with a variety of footwear. From sneakers to boots, slip-ons that include most types of loafers such as Penny, Bit, tassel etc. to lace-ups, that include Oxfords and Derby's. Not forgetting your Chelsea and Chukkas which would be a great addition to your boot collection.
How do you wear a bomber jacket with a hoodie?
One of the best options for street-style to outdoor adventures is the bomber jacket and hoodie combo. The only point to remember is to go for the same fit for both so that one doesn't battle with the other in terms of silhouette and fit. Allowing your hood to hang over the bomber jacket is perfection, enabling you to enjoy style and function at the same time.
How to wear a colored bomber jacket?
This depends on the color and tone of your bomber jacket. Just as a black bomber jacket would go well with most colors besides certain browns, colored bomber jackets would go well with tones that look good together. For instance, a bomber jacket in red, blue, green, tan, yellow, rust, purple, pink etc. would go well with apparel in white, grey, dark brown, maroon as well as lighter or darker tones of the jacket color itself. Black too would work more with red, maroon and grey than it would with tan, yellow or pink.
Bomber jackets Summed Up
We can easily sum up bomber jackets and how to style them; in a simple, memorable way. Bomber jackets have evolved into a very inclusive style staple that serves as a canvas on which people can incorporate their personal style.
Just as there is no limitation on the kind of fabric a bomber jacket can be made of, so too is there no limits on the colors or styles, or even details that a bomber jacket should or shouldn't have. It's all up to you…the wearer.
Similarly, bomber jackets can be worn as casual as can be imagined or dressed up to suit anything from smart-casual attire to semi-formal engagements. The latter is one that requires user discretion.
All in all, bomber jackets have indeed surpassed the passage of time to be just as popular and one of the most acquired wardrobes essential as it was ages ago.