Turtlenecks are somehow reminders of the 90s fashion and have a reputation for being boring and old-school. But many stylists would argue that it's a highly versatile piece of clothing that is understated but can be molded in several different creative ways. With many trends of the past making a return, turtlenecks are also back — Want to know how to style a turtleneck? Well, you've come to the right place as we'll cover many styles and ways to create turtleneck outfits.
Turtleneck Outfits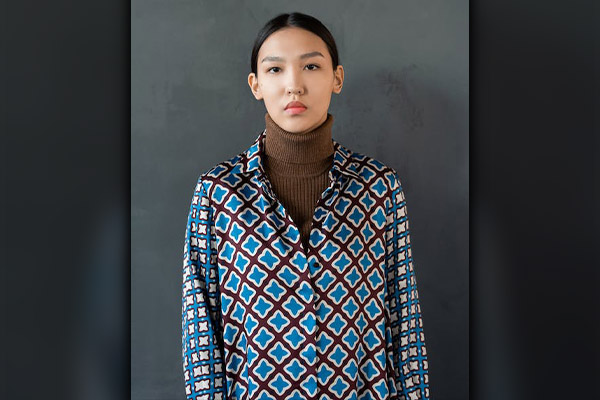 It's fairly easy to create aesthetic turtleneck outfits — from wearing it with a long-sleeved dress to an old-school plaid jacket and silk pants, there are multitudes of ways to adorn a turtleneck to look sophisticated and effortlessly charming.
Turtleneck And Different Colors
Do you know what colors are great to pair with turtlenecks? Of course, one way is to piece out a monochromatic look, preferably black, beige, or brown, but you can also play and have fun creating complimentary looks. 
How To Style A Black Turtleneck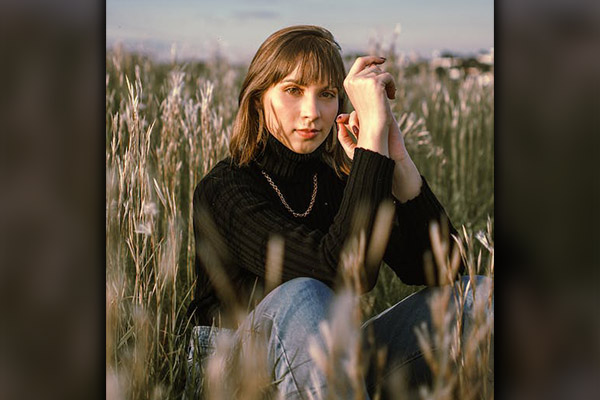 An all black turtleneck is a go-to for someone who is experimenting with their looks and is not entirely comfortable with the garment.
If you want to pair an all-black turtleneck with something interesting, we suggest you go for an edgy women's leather motorcycle jacket and skinny black jeans. But how do you make this look memorable and an instant standout? You achieve this by pairing the turtleneck with contrasting textures and statement accessories. Layering the outfit is key — make sure the clothes are body-hugging but not too tight as if it's suffocating you.
We could ask you to go for a simple black turtleneck with jeans but where's the fun in that? Either pair a leather jacket over it or go for a black turtleneck dress with black stockings and knee-length boots.
How To Style A White Turtleneck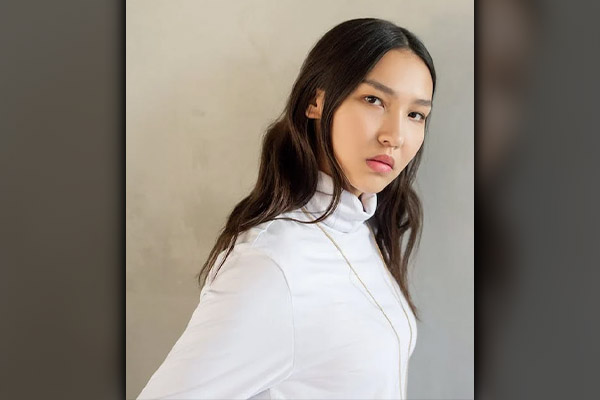 If you're planning to style a white turtleneck, it's best to keep the look classy and sophisticated. Go for a printed skirt (preferably in light blue or lavender) and pair this look with knee-high leather boots. Complete the look with black sunglasses and an expensive handbag.
Another laid-back look that you can create with a white turtleneck is this: pair it with ripped straight-legged, mom or boyfriend jeans, a tan or musky brown wrap or cape, and black combat boots. You can tie your hair and put on ultra-modern sunglasses and red lips to give you an edgy and retro vibe.
How To Style A Maroon Turtleneck
Be playful and create a maroon turtleneck look that will become an instant hit. How? Well, it will take some guts and confidence because the choices will be slightly different and unexpected. How about you pair a maroon turtleneck with a black blazer and black biker shorts? Pair this look with a handle bag and white slippers.
How To Style A Red Turtleneck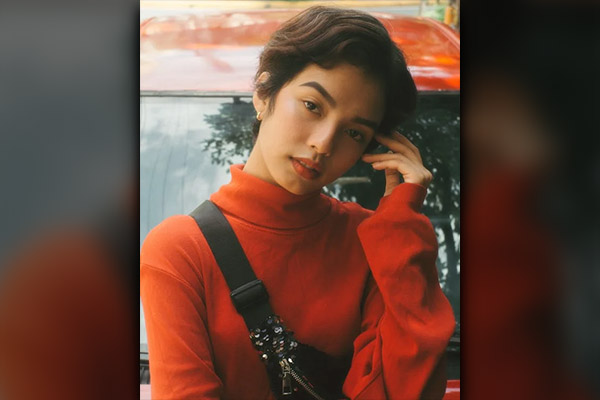 A shade similar to maroon, you have so many ways in which you can style a red turtleneck. Go for a green plaid skirt and throw a beige or brown trench coat on top of it. Carry a classy handbag and don't forget to match the heels with the overcoat.
This look says that they are fashion-forward and cosmopolitan despite being late to wake up in the morning. It also says that you literally threw the first few things that were in front of you but still managed to ace the fashion game.
Another thing that you can do with a red turtleneck is pair it with an all-grey pantsuit. Add a light brown bag and a beanie to complete the smart casual look.
How To Style A Gray Cotton Turtleneck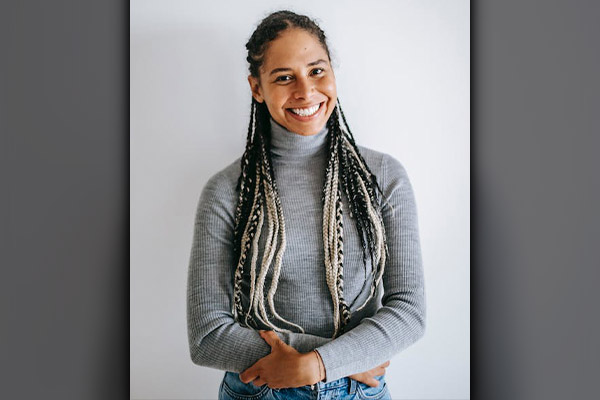 Take us back to the 90s by pairing a grey cotton turtleneck with printed and animal-printed sweater vests — cropped cotton vest sweaters are really the rage these days. You can complete the look by either pairing it with cotton cargo pants or by wearing a slit skirt and combat boots. Maybe try to go for suede ankle boots, they would truly make your look stand out. 
How To Style A Pink Turtleneck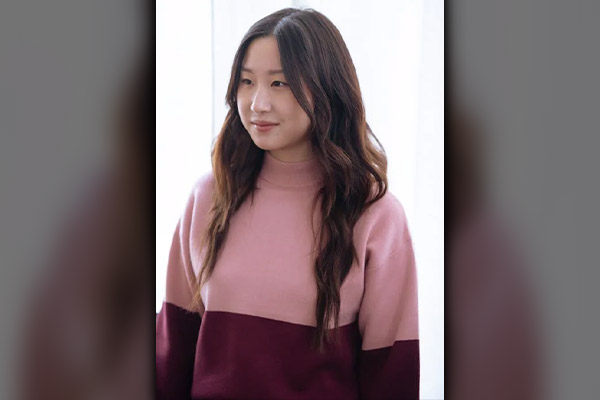 Find yourself a pink turtleneck dress and wear it with white knee-high boots. This look is effortlessly cool and extremely feminine. You can also go for a clutch bag and pink-colored sunglasses to make it even more interesting.
Another interesting way to create an aesthetically pleasing outfit with a pink turtleneck is by pairing it with pink boot-cut jeans and a big white belt. Braid your hair and make sure they're tied up. Also, add a statement necklace or funky sunglasses. Suede ankle boots would look exceptional with this look.
How To Style A Sleeveless Turtleneck Sweater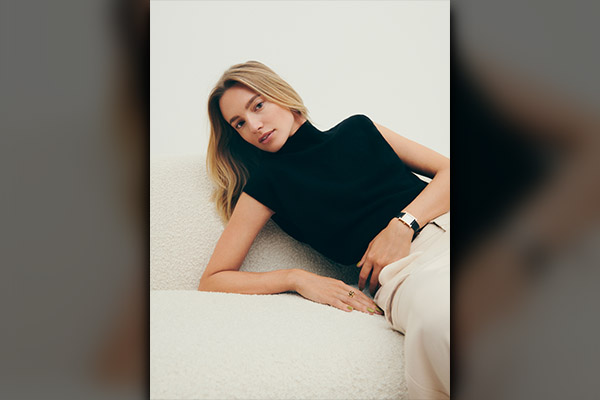 The turtleneck style is inevitably gorgeous and chic. You can style a sleeveless turtle sweater with a sequined or leather knee-length skirt. Another way is to go for a women's leather jacket or a long coat that has the same undertone — cool if the colors are electric and warm if that's the shade card that you're following.
Turtleneck Under T-Shirt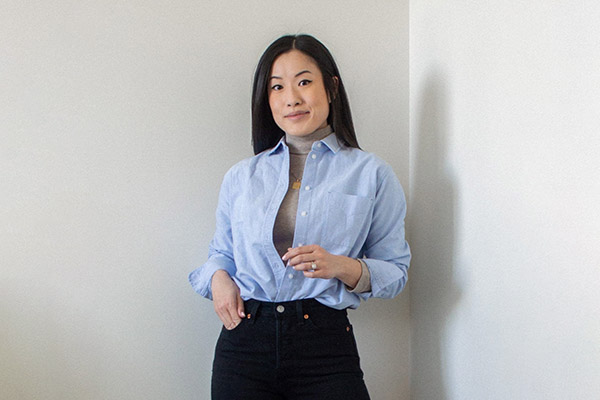 What looks good with a turtleneck? Everyone has this question in mind when they first buy a turtleneck hoping to experiment with their style and outfits. You do realize that you don't have to go for exclusive formal pieces to make them look presentable, right? You can wear the turtleneck under a t-shirt, like an old graphic tee as well. Wear plaid shorts, jogger pants, or any other type of pants with the outfit along with white sneakers to restore the simplicity of the look. You may also go for a turtleneck under a sweatshirt look if you feel that the t-shirt is not that comfortable. 
Turtleneck Under Hoodie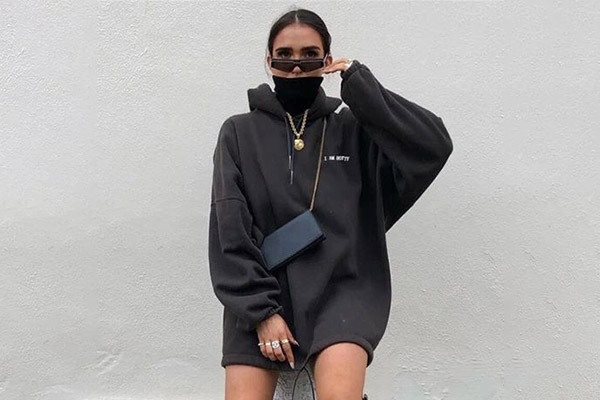 If you're planning to create a layered turtleneck outfit, go for a turtleneck under a hoodie look. It's your go-to streetwear look – if you're somehow not interested in wearing a hoodie, you can also go with a shearling or a fleece jacket. Of course, stay warm and comfortable in a fresh pair of jeans and sneakers.
How To Style A Turtleneck Shirt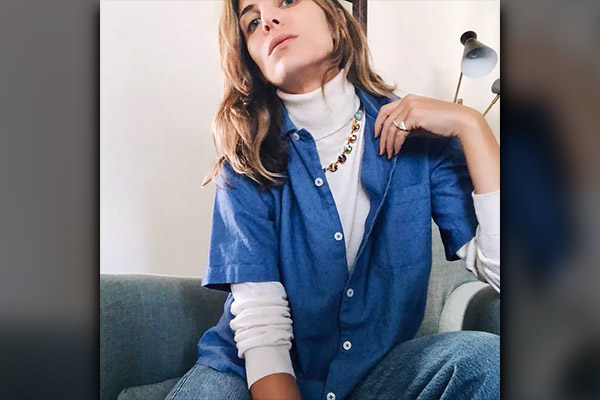 The best way to pair a turtleneck shirt is by pairing it with a short-sleeved plain shirt and denim straight pants. For example, you can go for a blue short-sleeved shirt with a crisp white turtleneck shirt. You can also go for white trainers or black ankle boots as well. Add a trendy belt and let your hair down. 
How To Style A Turtleneck With Leather Jacket
A turtleneck fashion list would not be complete without the mention of a leather jacket. You can either go for a leather motorcycle or a ma1 bomber jacket for an ultra-classic and cosmopolitan vibe. If you're interested go for leather pants and add a statement necklace in gold — this will stand out when paired opposite industrial shades.
How To Style A Long Turtleneck?
You can style a long turtleneck with either baggy pants to create a comfy and baggy look or you could make it chic by adding a pair of stockings and knee-high leather boots. Treat it like a minidress and become the diva of your dreams. 
Do You Tuck In A Turtleneck?
Tucking in a turtleneck is entirely your decision since there are no hardcore rules. Most people tuck it in when they're wearing blazers and jackets over it for added neatness while others prefer to leave half of it tucked in keeping the rest of it out for a casual yet tied-up look. 
Is A Turtleneck Formal Attire?
The turtleneck is not exactly formal but you can use it for semi-formal and business casual occasions.  
How Tight Should A Turtleneck Be?
Ideally, a turtleneck should fit you but not feel too tight and suffocating. It's considered a slim-fitting garment that is comfortable and the hemline is dragged to the waist. However, hemlines are not defined  — some tend to be longer than others. 
In Conclusion
Thus, it can be established that a turtleneck is a highly versatile apparel that is stylish and comfortable at the same time. You can use it to dress up with the right use of accessories or look simple and basic in a laid-back outfit.