You might have come across blogs in recent times with major headlines claiming that the skinny jeans fashion is over. They're absolutely bang on; the popularity of skinny jeans has finally faded and the world of denims is finally moving on. This blog is dedicated to informing you regarding the emerging trends; trends that are a rage in the current fashion scene, and trends that you must pay attention to.
All the denim enthusiasts would be elated to know that the jeans that should be on their radar are all comforting with extremely relaxed cuts and silhouettes. We've sectioned all of them into their respective categories, from popular fittings to rises and wash style; take a look at this comprehensive list.
What To Expect In This Article?
What Jeans are in Style in 2023?
The denim trends of 2022 are contemporary and fashion-forward in every way possible. The best thing about trending jeans for women is that they're exceptionally comfortable, all thanks to the death of skinny jeans. So what type of jeans are considered trendy jeans these days?
To start with, plain white jeans are deemed as fashionable denims because of their refreshing and minimalist vibe — they can be paired with a variety of tops, jackets, and footwear, giving an ultra-chic look. Apart from this, one can't help but acknowledge that jeans with looser, more comfortable fits are trending. They are the new best friends of corporate employees due to their easy wearability.
People are also gravitating towards jeans with cropped and flared styles since they're preppy, easy to wear, and stylish all at the same time. Hence, from straight-legged jeans to high-waisted pants and boot cuts, the current fashion statements endorse practicality and comfort.
Elephant in the Room: Are Skinny Jeans Out of Style?
Here comes the most important question: Are skinny jeans still in style? If not, what kind of jeans have taken their place and stature in the fashion industry?
Yes, the skinny jeans are officially dead and it's because people have collectively decided to ditch them and adopt styles of jeans that are comparatively more comfortable and minimalist.
During the pandemic, people were working from home, and around this time, people only wore sweatpants. Little did they know that they would get accustomed to this lifestyle and coming back to skinny jeans would become harder and more impossible with every passing day. With work renewing from offices, people decided not to sacrifice their comfort and instead adorn simpler and restful clothing.
Division — Styles Of Jeans
Now the question arises: What type of jeans are replacing skinny jeans? Are there any specific cuts that one should keep an eye on? What about the colors and rises?
The Fit
Getting straight to the point, the one trend that you must be following now is styling baggy jeans This style is extremely comfortable and effortlessly chic.
Apart from that, straight leg jeans, a hybrid of baggy and straight jeans, are also popular. This denim fashion is relatively relaxed from the legs but fitted from the waistline. Mom jeans and boyfriend jeans are quickly gaining momentum and finding their way into our daily wear, even corporate style.
A trend that has risen from its grace is the bootcut jeans fashion trend. Bootcut jeans and heeled ankle boots are like a match made in heaven. These jeans are high-waisted, flared, and wide-legged.
The Wash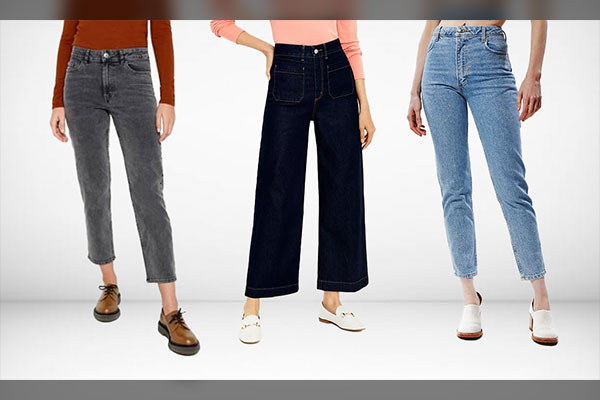 Wondering what color jeans are in style in 2021? The classic blue jeans are never going off our style radar — but they're definitely creating a buzz off late. The timeless mid-blue wash looks gorgeous and crisp with any basic top and leather jackets for women
Another trend that is recurring on the 2021 runways, is the deep indigo hue. This color is being paired with all types of ensembles. A color that is destined to conquer the winter season is western and sleek suitable for dressy and semi-formal outfits.
And the one in this category is the charcoal wash, it left a deep impact back in the 90s, and seems like it's making a strong comeback. Hence, neglecting the worn-out version of black that lies on the greyer front would be a mistake. If you're looking for a dark shade to pair with your outfit, this would be exactly what you need.
The Rise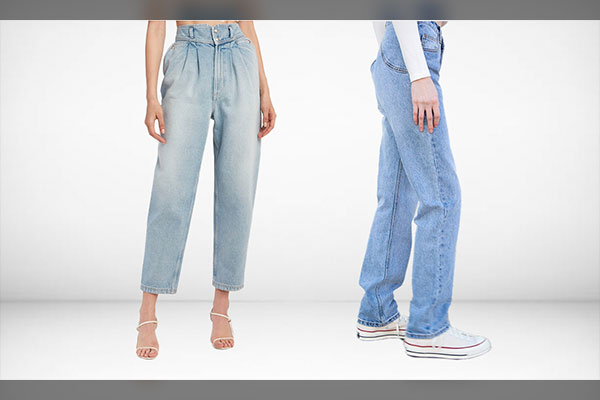 An alternative title for this article would be the return of low-rise jeans. But it's best to rephrase them as low-slung jeans — they can be identified as jeans that begin from the lower waist or lower. They can be loose and baggy in shape. The ones that are currently trending are inspired by the Y2K fashion; but are comfortable, more easily wearable denim forms.
Does that mean, high-rise jeans are also out of style? Not exactly. The reign of the classic high-rise jeans continues to thrive. The reign of the old-school denim style is most likely going to march, especially because boot-cut is also back.
Outfit Ideas with Different Trendy Jeans
From ankle jeans to bootcut and baggy styles, there are too many options and even more ways to play with them and create sophisticated and fun outfits. Check out some of our outfit ideas that we've created keeping the fashion trends of 2022 in mind.
With Bomber Jacket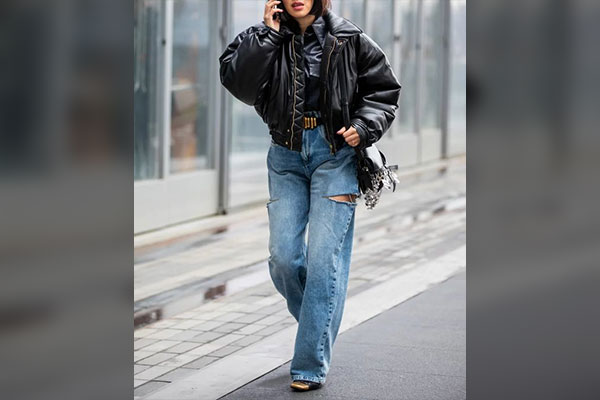 Ripped baggy, straight cut jeans paired with a cropped women's bomber jacket and a big buckled belt — you just can't go wrong with this. A style that makes you look chic without putting in much effort.
With Biker Jacket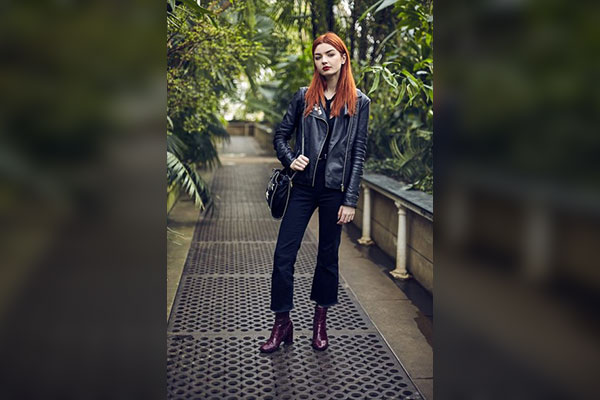 Bring the retro back with this edgy ensemble. Pair a black women's leather biker jacket with a black tee and indigo bootcut and flared jeans. Don't forget the ankle-heeled boots, they are game-changing.
With Trucker Jacket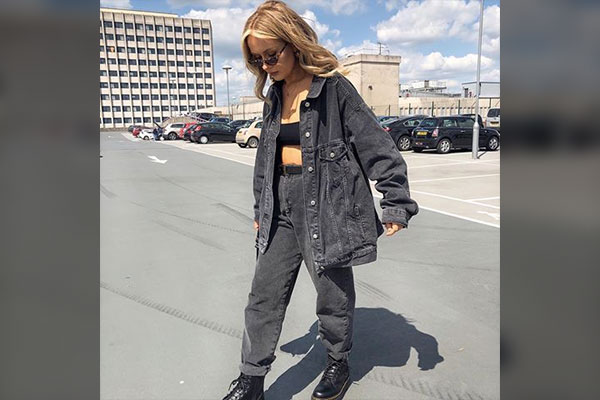 A charcoal-washed trucker jacket with matching baggy jeans paired with combat leather boots is sometimes all you need to make it through the day feeling confident and in control. Wear it with a black crop top and add matching sunnies to complete the baddie and grunge spirits up.
With Trench Coat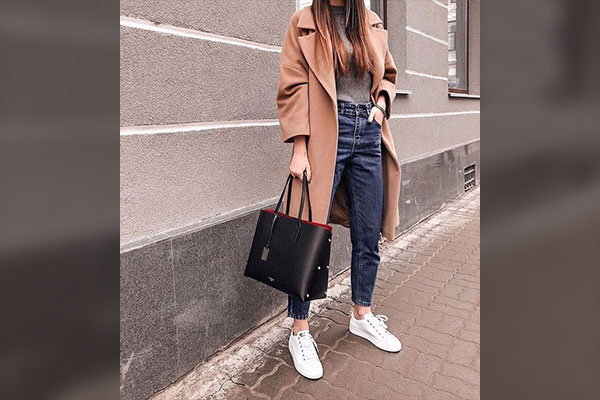 If you want an outfit that is timeless and sophisticated, this is it for you. Pair high-rise straight-legged blue jeans with a grey turtleneck and a brown trench coat. Add a black leather bucket bag and white sneakers.
With Puffer Jacket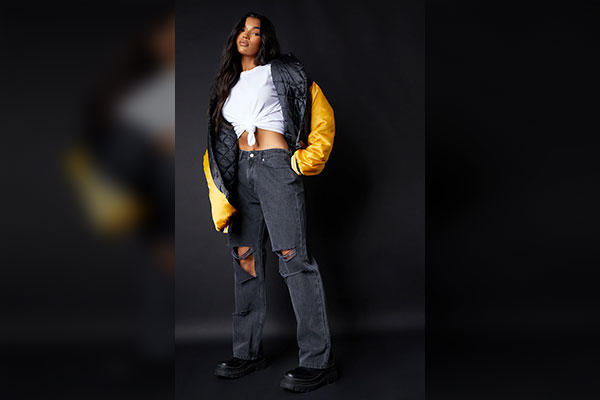 If a charcoal washout, low rise, wide-legged jeans paired with a white crop top, bright colored puffer jacket and chunky loafers is not a statement, then we don't want to be part of this world.
Is denim on denim in Style 2021?
Denim on denim is back in style — a style that was well-accepted in the 90s and early 2000s. You can go for a cropped classic blue denim jacket with a baggy, low-rise matching jeans and black leather boots. 
Are capri jeans in Style 2021?
Like every other trend of the 90s and early 2000s, Capri jeans are also back. You can go for white Capri jeans with a cropped graphic tee and biker jacket. 
Are ankle length jeans in style?
The bootcut fashion is actually linked to the ankle length jeans style; meaning, it's also in full swing in 2021. 
Outro
When the leather style rage came in the news, we wondered whether or not denim will get kicked out. Proving us all wrong, denim jeans fashion continues their reign. This article was an overview of all the emerging trends from the denim world; from outfit ideas to the wash, rise and fittings of jeans, we've covered everything that is alive and kicking.