From the instant cool factor that it adds to an outfit to the different looks it can be carried with, a plus-size leather jacket is one of the most long-lasting investments you will ever make. Along with making you feel warm, the women's plus-size leather coats and jackets also make you look sleek and stylish at the same time.
The concerns of plus-sized women having limited choices and the unavailability of trendier jackets in their size are very much known. These issues make it difficult for plus-sized women to shop freely and enjoy their experience of plus-size women's leather jackets. The Jacket Maker has kept in mind all the issues faced by plus-sized women and has come up with an amazing range of women's plus-size leather coats and jackets so they can easily get their desired looks.
What to Expect from The Jacket Maker?
The plus-size leather jackets may be an expensive investment to make, however, this is where The Jacket Maker comes to the rescue. For every order that you make for women's plus-size leather coats and jackets, our team takes extra care regarding measurements and leads you through the process of consultation, offering you the widest possible choices for fabric selection, giving you unlimited customization options, along with taking care of your budget requirements.
Where to Buy Plus-Size Women's Leather Jackets and Coats?
Now you don't have to choose between an overpriced luxury brand or fast fashion outlets, because The Jacket Maker has come up with the solution. From biker and bomber jackets to trench coats, blazers and winter coats a wide variety of endless options are available for you to choose from.
If you are looking to get your hands on some plus-size women's options, worry no more, we at The Jacket Maker have covered all the classic, stylish, and yet budget-friendly options for you, mentioned below.
1. Missoni Maroon Leather Trench Coat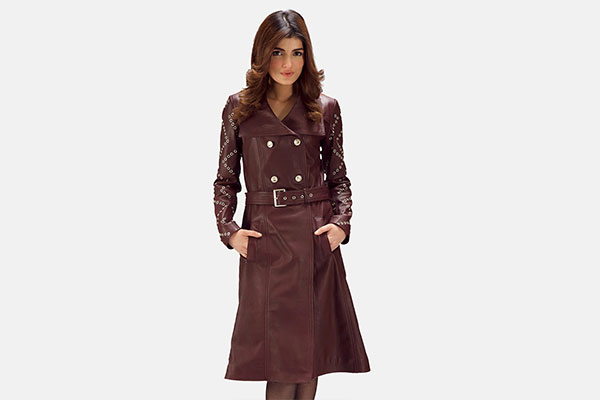 Available in sizes from XXS to 3XL, this maroon leather trench coat is definitely your go-to option for a sleek yet stylish look altogether. This trendy piece comes with a drop-down collar style along with some metallic buttons to complete the look. The studded sleeves, waist belt, and an A-line silhouette make it one of the best options for the plus-size leather trench coats. Bonus, you can get it made according to your measurements too.
2. Flashback Blue Plus Size Leather Biker Jacket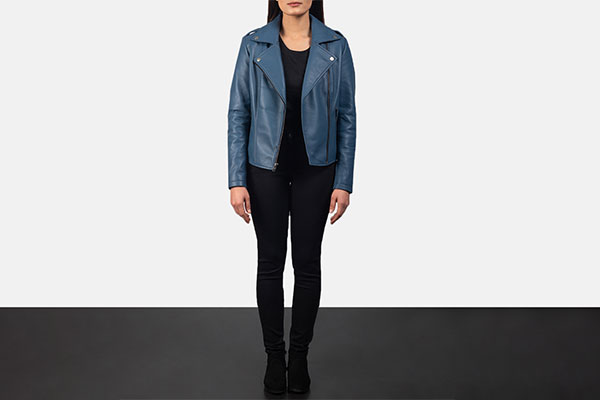 Designed with a real leather outer shell and quilted polyester lining inner shell, this sheepskin leather biker jacket is available in all sizes and adds to the list of plus-size leather jackets for women. This piece of leather jacket is more than a winter outfit because you can style it with your summer outfits too and have all the feelings of coming out of a fashion house. Additionally, the subtle blue color of this jacket makes it a unique option and you can get it made according to your measurements. So, what are you waiting for? Get this jacket and add life and color to your wardrobe!
3. Donna Blake White Leather Bomber Jacket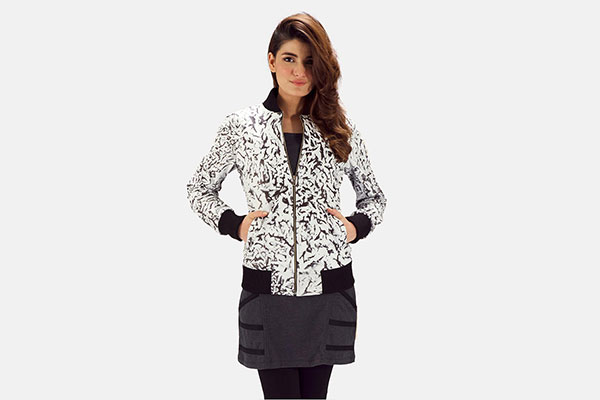 Looking for something unique yet stylish, well say no more! This dip and dye bomber jacket is here at your service. Rocking a varsity collar style, zipper closure and the knit rib cuffs, this piece of women's plus size leather coats and jackets is both versatile and fashionable. A pair of cropped stylish pants, some strappy heels, a stylish handbag, and this super sleeky leather jacket will complete your look.
4. Lee Tan Brown Leather Blazer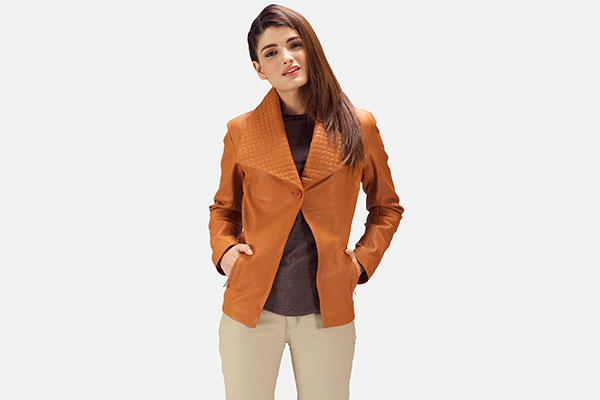 Want to give a dressy touch to a casual look or have that perfect uniqueness? Separating you from the rest. This Brown Leather Blazer has it all covered for you. Made of sheepskin real leather with an aniline finish, this blazer can go with just a simple pair of jeans and complete the classy look, you've always wanted. From the stylish closure style with a button to the open hem cuff, you can even look all professional in a creative work environment. Not only that, this blazer is available in plus sizes up to 4XL so you don't have to get worried about your measurements.
5. Sally Mae Studded Black Leather Biker Jacket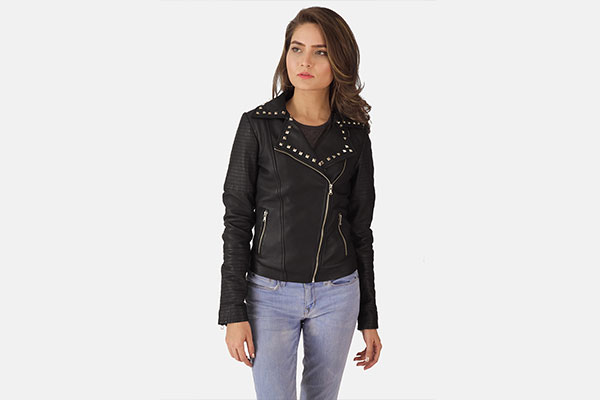 If you are looking for something "always on trend" and black (don't we all love black?) look no further, this one is for you! Made of sheepskin leather and having an aniline finish, this piece is definitely the style statement for 2021. Having two front pockets, a zipper, and some metallic finishing along the collar line, this biker jacket makes it to the list of best plus size leather jacket women's options. You can get it made according to your size requirements and enjoy the sleek and stylish look it gives you time and time again.
6. Sweet Susan Black Plus Size Leather Trench Coat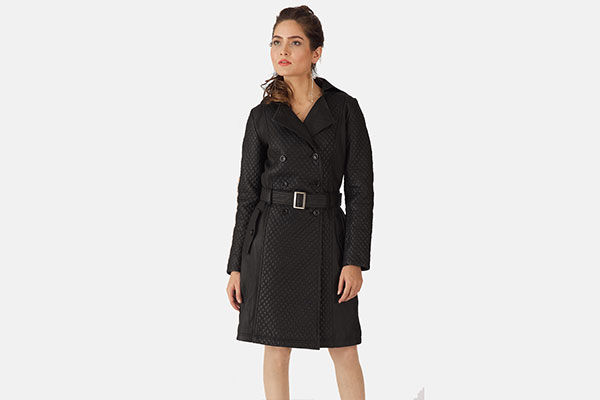 A woman may have different opinions about all the other colors, but Black is always at the tip of her favorites. Also, what if I tell you there is no fashion season passed where trench coats have not been in style. A leather trench coat in black color will fulfill all your style requirements. The Aniline finish gives this trench coat a trendy look and the notch collar style, the waist belt, and buttons are like cherries on top of the cake. Additionally, the two outside pockets complete the entire look and give you an amazing option to be added to your plus-size leather trench coat wardrobe.
7. Lana Silver Leather Bomber Jacket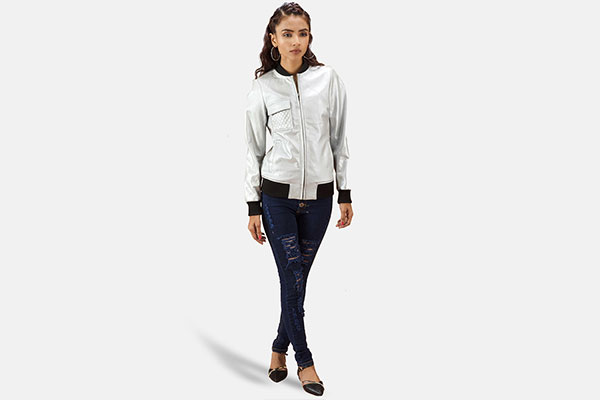 Silver may be the color you haven't worn in a long time, well, now is the time! Enhance your style with this bomber jacket which will not only go with a simple pair of jeans but also with a short pair of overalls. Bomber jackets are always in fashion regardless of the weather so you can enjoy this as one of your best go-to-options for women's plus-size leather style. Additionally, you don't need to worry about the measurements anymore because The Jacket Maker gives you an option for customized measurements too!
Conclusion
There you have it! An awesome take on plus-size leather jacket style for women seeking more from their outerwear. Shop with ease for your favorite leather jackets and let The Jacket Maker take care of the rest.