You need some puffer jacket outfit ideas in your arsenal. Say you're getting ready to go out with friends, but your outfit feels incomplete? Even though you're wearing a gorgeous dress matching footwear and attention-grabbing accessories, it still feels like something is missing.
There is a good chance that this feeling of incompleteness stems from a lack of layering in your outfit. Luckily, the puffer jacket is the ultimate layering solution no matter the season or occasion. Plus, the best puffer jacket outfit ideas are easy to master and equip you with a large number of stylish ensembles.
What To Expect In This Article?
Why You Should Make A Puffer Jacket Part of Your Wardrobe
The world of women's fashion is filled to the brim with all sorts of jackets, coats and uppers. Leather jackets alone are a juggernaut of unprecedented stylistic potential. So, why should you spend your money and time on a puffer jacket? What makes it worthy of a spot in your wardrobe? Well, there are three main reasons.
Looks
The biggest reason behind the success of puffer jackets and why they should be a part of your wardrobe is their unique look. These cloud-filled jackets are as mesmerizing to look at as they are to wear and there is nothing else quite like it. Sure, there are other fluffy uppers out there, but most of them rely on fur, while these are fluffy due to their filling.
The overall design and shiny exterior of these jackets are also fantastic indicators of luxury and class. The crazier thing is that the same jacket is also a symbol for killer street style fashion and personal expression. It isn't a coincidence that this jacket is one of the biggest fashion trends in the world of so many celebrities.
Warmth
Puffer jackets are deceptively warm. Even more important than being warm, they are extremely cozy. If you have never tried one before, you might think that its lack of fur and water-resistant external material will make it feel like a cold blanket strapped to your back. But that is not the case at all. Puffer jackets filled with premium materials like down, for example, are even warmer and can help you survive below freezing temperatures with ease.
Wind and Weather Production
The water-resistant external material on most puffer jackets also makes them very wind resistant. You can wear this jacket in the frigid winds of late fall and stay protected from the cold. Even slight snowstorms and a light winter shower is no match for the might of puffer jackets. It will keep you warm and dry on the inside.
What To Wear With a Puffer Jacket?
Now that you have a better understanding of these jackets and their role as go-to outerwear items, it's time to learn how to wear a puffer jacket for men. Here are a few of the best puffer jacket outfits for you to craft and integrate in your day-to-day style.
All Black All Day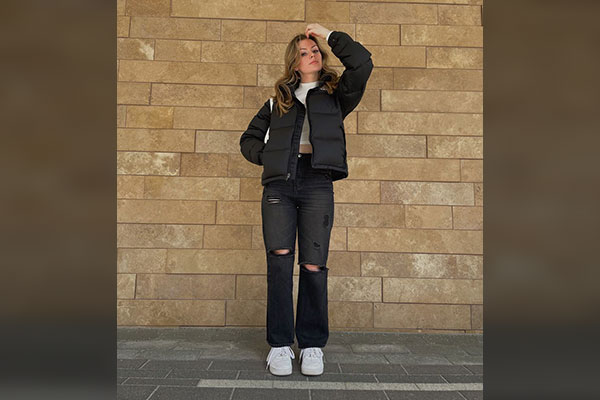 Let's start our list with one of the easiest yet most effective black puffer jacket outfit ideas. All you need for this look is a pair of tight-fit black jeans, a black tank top, and a full-sleeved black puffer jacket. The outfit is tied together with a pair of black low-top sneakers.
You can further customize this look by opting for a shiny puffer if you want to be the streetwear queen. Or, you can instead go with a matt puffer jacket for an understated vibe.
Baby Pink Supremacy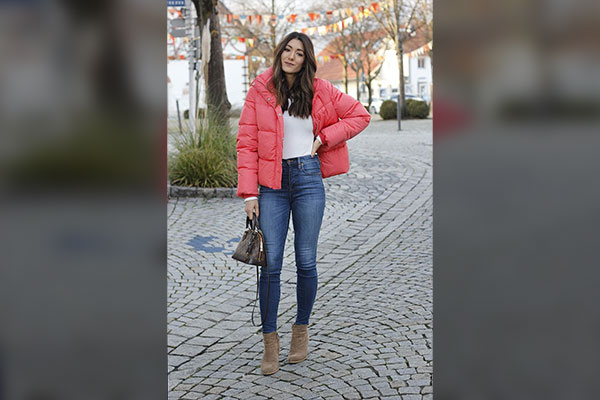 Wondering how to wear pink? According to millions of women worldwide, baby pink is the most adorable color. So, what happens when you take the most adorable color out there and create a fluffy outfit with it? Well, you get an ensemble that can channel the world's cuteness to one lovely lady.
Structurally it is very similar to the all-black outfit, but changing the color to baby pink makes this stand out way more. The only difference being the shoes which should be white instead of baby pink.
If you want to further increase the cuteness of this outfit, all you have to do is wear an oversized puffer jacket and leave everything else the same.
With A Slip Dress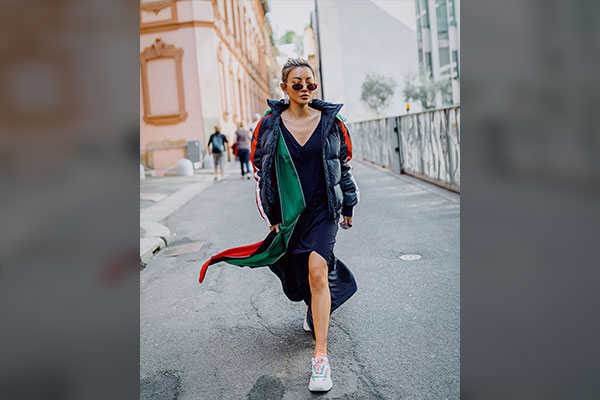 The concept of wearing a jacket on a dress is very strange for a lot of women, and it is untenantable why. Most dresses are complete outfits on their own. So, how can you add something meaningful to an outfit that is already finished? Well, you just wear your puffer jacket on top, and that's it.
A great example of this style would be a beige slip dress topped with a maroon puffer. The contrast between the beige and maroon will draw attention towards you, while the puffer and dress combo will enhance your natural beauty and body shape to even greater heights. This look isn't limited to these two colors either. So, you should totally experiment around with the dresses and puffer jackets you have until you find the combo that suits you the best.
Urban Panache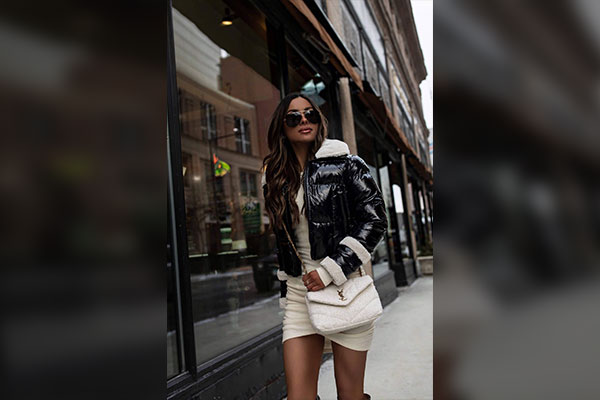 Modern urban fashion is a blend of street fashion, elevated to the next level of flamboyance. A fine example of such outfits with puffer jackets would be a pair of bright blue jeans and a black tank top topped by a red cropped puffer jacket. (Keep in mind that the cropped puffer jacket trend is not very stable and they might be out of style by the time you try them).
Finish the look with a pair of black velvet platform pumps and some bright red lipstick. The lipstick is optional, though, as the outfit shines bright enough on its own.
Fluffy Coziness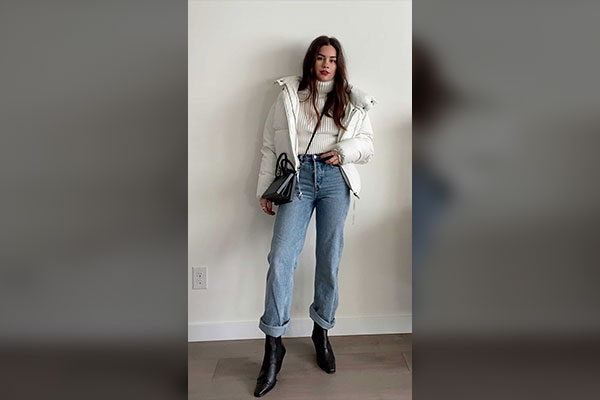 A big reason behind owning a puffer jacket is its fluffy texture and cozy feel. So, why not leverage this coziness to create one of the most comfortable outfits ever? All you need for this cozy capsule outfit is a pair of dark gray sweatpants, a pair of black high-top sneakers, and a matching gray sweatshirt. Now top the whole thing off with a long purple puffer, and you might not want to take this outfit off, even when going to bed. Yes, it is that comfy.
Oversized with Style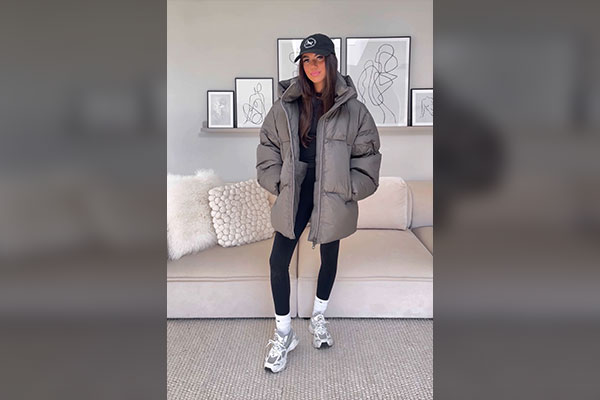 Oversized clothing has been around for quite some time now, but it never felt right. Oversized jackets always looked a bit goofy and weird. That is until you learn how to wear oversized puffer jackets properly. They are a prime example of oversized jacket fashion and this outfit further proves that.
Get started with a dark green crew neck t-shirt and tuck them in a pair of blue wide-leg pants. Make sure the pants go all the way up to your belly button. Once you're done with that, it is time to bring out the oversized neon green puffer and enjoy your life.
Keep in mind, though, that oversized puffers are not the same as puffer jackets that are two sizes too big for you. Wearing a puffer jacket that's a few sizes bigger than you will just look goofy instead of being the symbol of modern fashion that you hoped it'd be.
Denim and Leather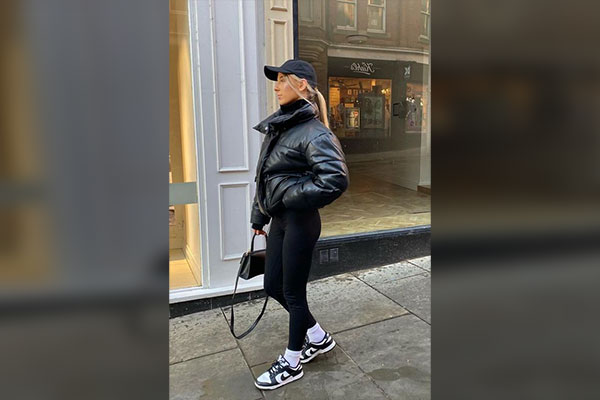 So, it's time to go out on a date. You'll spend all day together enjoying warm coffee, having lunch, shopping, and catching up on a movie. Then the day will end with a party at one of your friend's houses. This looks like an extensive list of activities, many of which would really benefit from an outfit change. Luckily, you get through all that with one simple outfit.
The base of this outfit is a pair of pegged jeans and a matching denim shirt that goes down to your waist. Roll up the cuffs on the jeans and bring them over your pair of gray basketball shoes. Once you're done with that, wear a cropped leather puffer jacket on top to complete the look. This fit is comfy, good-looking, and, most importantly, versatile.
Reflective Rave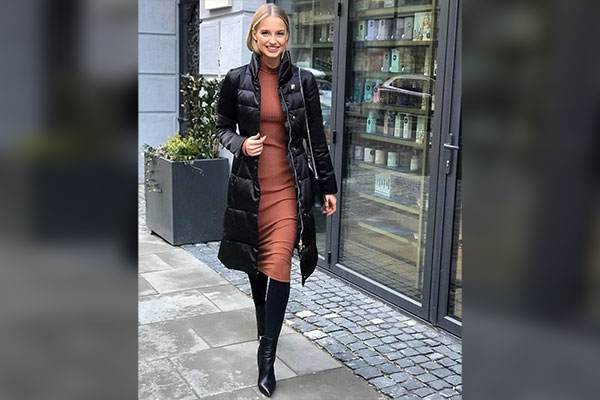 This outfit is purely for the women who love their party nights and dance clubs. The star of the show here is a shiny, lustrous, silver puffer jacket. Under the puffer is a well-fitted sweatshirt and underneath that is a pair of black leather pants. You're now ready to be the center of attention of any party you visit.
The only thing to remember about this particular outfit is that you need to be confident in your look to pull it off successfully. If you don't want to wear it, don't. But if you do, then embrace. Only then will it shine its brightest.
FAQs – Puffer Jacket Outfit Ideas
What to Wear with A Puffer Jacket?
Puffer jackets are way more versatile than you might think. They will work with a huge number of outfits you already know about. For example, say you're wearing a pair of blue jeans and a white crop-cut t-shirt. Just throw on a shiny black puffer on top, and you're ready to walk down the runway of a fashion show.
Can You Wear A Puffer Jacket in Spring?
Yes, you can wear puffer jackets in early and mid-spring in most areas. If full puffer jackets become too hot for you, you can opt for a sleeveless one. They might be your only practical way of wearing a puffer jacket in summer and spring.
How Do You Make A Puffer Jacket Look Good?
This might sound cliché, but the way to make a puffer jacket look good is to wear it with confidence. Puffer jackets are already stunning pieces of outwear, so making them look pretty is not that big of an issue. The issue is you, fitting in with the vibe of the puffer jacket, and that can only be achieved by being confident in your looks.
Do Puffer Jackets Suit Everyone?
Puffer jackets suit almost everyone. If you think that you don't look good in a puffer jacket, that's because you just haven't found the right puffer. Color plays a huge part in your looks as well; not everyone can successfully pull off pink puffer jacket outfit ideas.
Can You Wear A Puffer Jacket in Summer?
You can, but it depends on the temperature of summer in your area. You can also find specialized puffer jackets designed to keep you cool during hot weather, and they are perfect for rocking the puffer look in summer. Also sleeveless integrating cropped puffer jacket outfit ideas might help as well.
What is the best color for a puffer jacket?
To put it simply, there is no best color. It all depends on your style and preference. That said a blue puffer jacket outfit would be much easier to pull off than something with a less popular jacket color like olive green.
Final Words
The world of women's fashion is filled with incredible pieces of outerwear, each with its own set of stylistic and functional benefits. However, even among these hundreds of options, the puffer jacket shines as a fluffy, cozy beacon.
Follow this beacon, master puffer jacket outfit ideas, and you'll find yourself pretty much doubling your existing outfits library since puffers can breathe new life into old ensembles. You can then go a step further and experiment with clothes you've never touched before.
Keep the puffer jacket as the focus, and you will find whole new realms of modern fashion waiting for you.