Yellow is the color of spring. The yellow color has a very positive and healing aura. Therefore, this eye-catching color tends to promote optimism and happiness. So, why not embrace this happiness by styling it with our spring/summer wardrobes. If you want to instantly brighten your look, the yellow pants outfits are all you need.
More often than not, we come across a point when we run out of outfit ideas to wear on a casual summer day. So, for all those days, you can have a pair of yellow casual pants in your closet and style them with your casual top and footwear to pull off a bright summer look.
Besides being easy-to-wear clothing, yellow pants have some styling limitations. Therefore, we have created a comprehensive guide on how to wear yellow pants outfits to prevent it from becoming a daunting task. So, lay back and keep scrolling to know all about yellow pants outfit fashion.
How to Style Yellow Pants?
Styling yellow pants may seem like a hard nut to crack, but you can style your yellow pants by simply following a few rules. Establish basics before moving ahead with the styling of the yellow pants outfit i.e., choose the perfect accessories, footwear and top that goes well with your look.
What Matches Yellow Pants?
Look for tops and accessories that tone down the vibe. The yellow pants have a very bright and vibrant feel. Therefore, the best matches for yellow pants are neutral shirts and accessories. Moreover, wearing suede boots and sunglasses may also blend perfectly into the outfit's vibe.
What to Wear with Yellow pants?
While pulling together a yellow pant outfit, keep the tone active throughout, as much as possible. In addition, you can wear t-shirts, a blouse or button-down shirts with your yellow pants. Moreover, a nice denim or leather jacket may also complement the pants. Talking about footwear, a pair of ugg leather boots or pointed-toe heels will add the finishing touch to your entire look.
What Color Shirt goes with Yellow Pants?
Choosing the perfect shirt with yellow pants comes with a question of what color will best suit yellow pants. So to make you aware of a few color options, here is a list of ideas for tops that you can use to complete outfits with yellow pants.
Mustard Yellow Pants Outfit
Mustard yellow pants are the chicest fashion nowadays. The best combination with mustard pants is a plain white or black shirt. In addition, wear a denim jacket or leather blazer for an added style to your entire look.
The Plaid Pants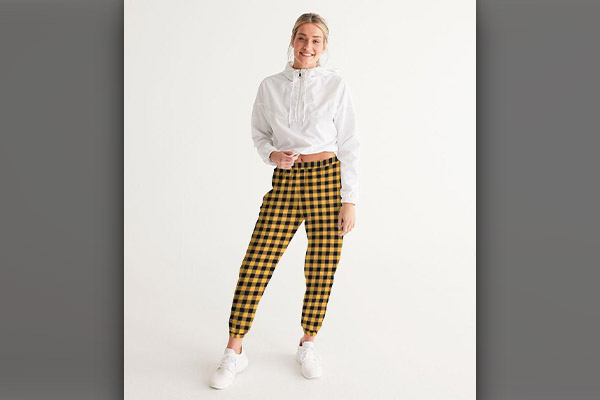 The yellow plaid pants outfits are a popular fashion trend among young girls. Style your plaid pants with a basic white or black crop top. In addition, a nice graphical t-shirt will also go well with plaid pants. Lastly, style it with a casual pair of sneakers for a finishing touch. Whether it's a casual trip to the grocery store or a sports event, you can wow in them all with this cute outfit.
Styling a Wide Leg Pants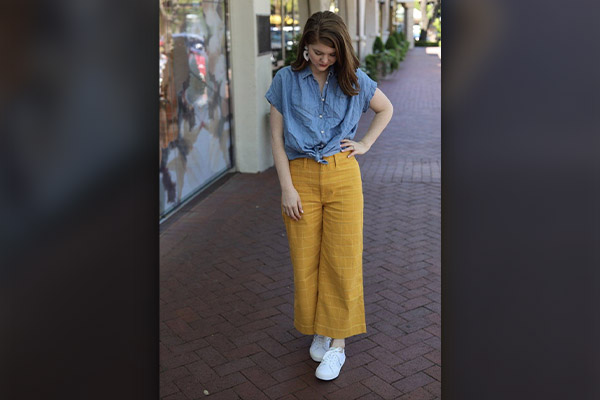 Flared pants, commonly known as wide-leg pants, are the most versatile clothing article that you can effortlessly wear with any outfit without thinking twice. For example, a yellow wide-leg pants outfit can be worn with a basic t-shirt or top to pull off a trendy casual look. In addition, you can also create a workwear outfit by simply just pulling on a stylish blazer and a pair of pointed-toe heels with this outfit.
Experimenting with Soft Tones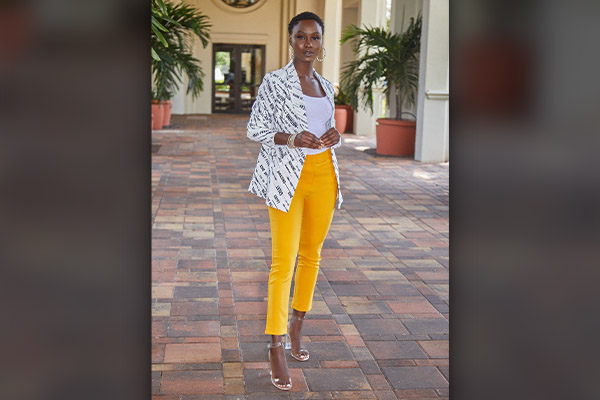 More often than not, there are the days you desire not to draw a lot of attention to your outfit but still want to dress gracefully; a light yellow pant outfit can be a good option for such days. Wear your basic neutral shade t-shirt or blouse and style with some delicate accessories and suitable footwear. You are ready for another casual day with your fashion game on point.
Contrasting Green with Yellow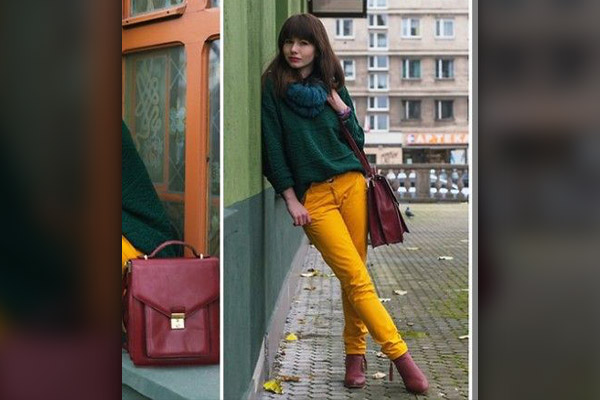 If you are looking for some unique outfit combinations to opt for this spring, a yellow and green outfit can be your savior for the day. You can pair your usual button-down green shirt with yellow corduroy pants to create fabulous spring attire. Lastly, pair this look with a wristwatch and sunglasses for some added glam.
The Classic Yellow and Black Outfit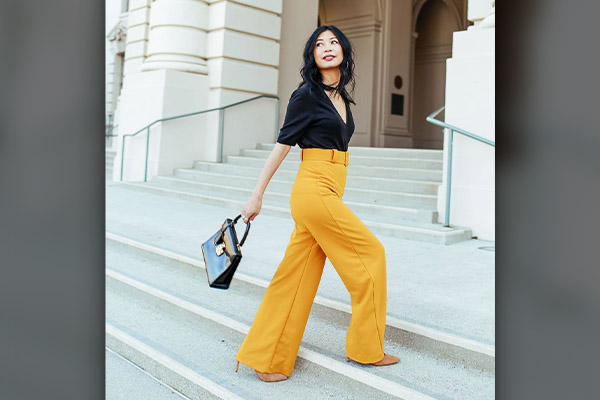 A yellow and black outfit is a must-have for every women's summer closet. Yellow and black is an evergreen classic color combination that you can never go wrong with. So pair your usual black t-shirt with high-waisted yellow pants and heels to pull off a chic look in no time.
Adding Some Grey Hues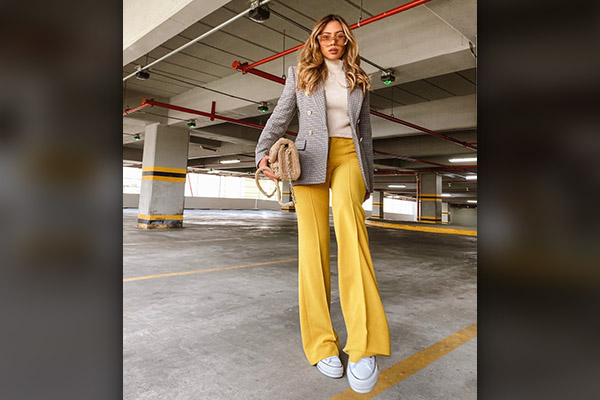 Wearing grey with your yellow pants is the perfect way to dull the vibrant shade. However, grey and yellow outfits are an ideal clothing choice to carry in winter. Wear this outfit with a blazer or a jacket and a pair of boots to protect against the cold and add style to your entire look.
Yellow Pants Outfit Ideas
With all the fashion knowledge and the witty insight about styling yellow pants outfits. Still, you cannot decide what outfits to pair with your yellow pants to create an adorable spring look. But, not to worry, we have got your back. Here is a list of a few outfit combinations that will make your task as easy as ABC.
Smart Casual Look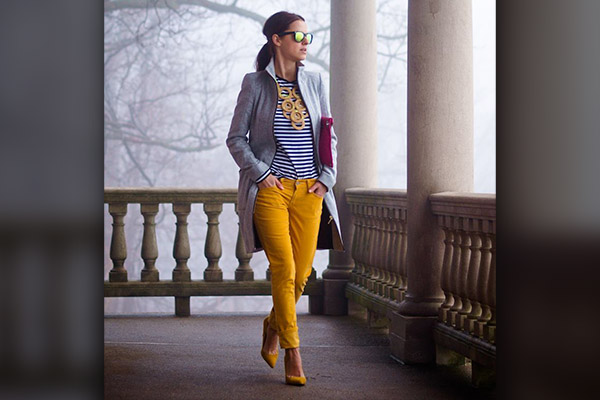 Pull off a powerful smart casual outfit with your favorite yellow pants for your next casual meeting. For this look, wear straight-leg yellow pants and style it with a sweatshirt and a blazer for some added style. Now complete the look with some statement jewelry pieces and a nice pair of pointed-toe heels. Be sure to be a head-turner among your colleagues with this chic outfit.
Styling an All Yellow Outfit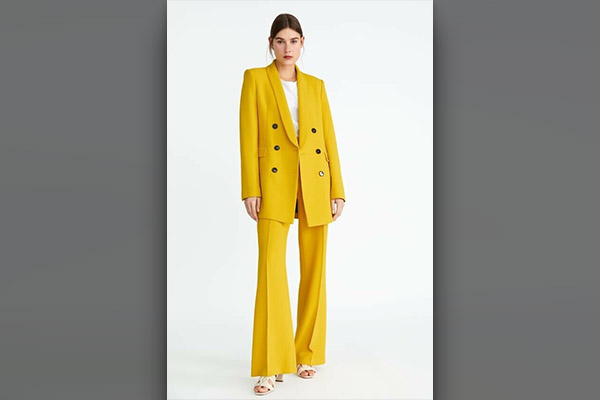 Wanted to create some fun street style looks. Try wearing an all-yellow outfit. Pair your hot yellow jogger pants with a matching crop or tube top for this look. You can also add a same-colored cardigan to make it more trendy. Lastly, a pair of white sneakers and stylish sunglasses is all you need to complete this look.
The Classic Denim Jacket Look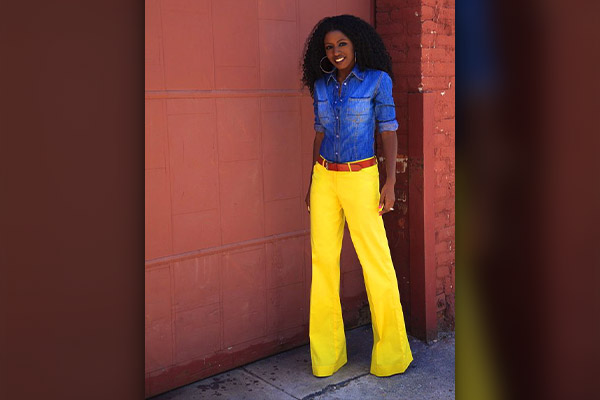 For a stylish yellow pant outfit, wear your yellow pants with a casual white-colored t-shirt and a denim jacket to add some casual style. You can wear this casual outfit to any casual lunch date or roam around the city with friends and be that fashionista you've always longed to be. Do not forget to complement the look with a nice pair of heels, sunglasses and a handbag.
The Scarf Outfit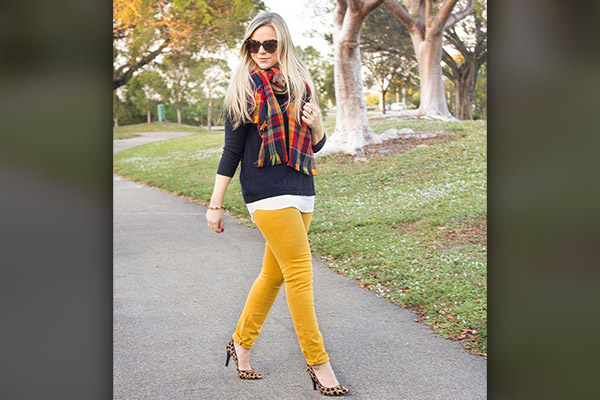 Looking for some gorgeous accessories to make your yellow pants outfit stand out. Then, try styling your yellow pants and shirt outfit with a contrasting silk scarf. You can tie your scarf like a neckerchief or leave it hanging from around your neck in a knot. Both ways will look great. In addition, a scarf will add class and elegance to your entire look.
Styling with Leopard Print
A clever trick to put some structure into your existing yellow pants outfit is to blend some prints into your look. Out of all, leopard prints are the ones that compliments best the yellow color. So, wear your usual t-shirt with yellow pants and style with a leopard print coat or ankle boots for some added style.
FAQs
What does wearing yellow symbolize?
Yellow is the color of happiness, liberation, positivity, and mental peace. This color also accelerates metabolic activity, keeping your body fit and fine. Moreover, In spirituality, yellow signifies abundance, courage, and confidence. When a person wears yellow, it instantly femininity, grace, and positivity to your whole personality. It also encourages logic, intelligence, and communication.
Who should wear yellow?
Whether it's blonde, redhead, or brunette, the tone-down yellow looks good on everyone. On the contrary, the vibrant yellow does not go well with all skin tones. Therefore, people with pale skins should avoid styling in bright yellow, for it makes them look washed out and dull. In contrast, it is best suited to women with red or blue skin undertones.
Which color goes best with yellow?
There are plenty of good color options that go well with yellow. For instance, you can style your favorite yellow outfit with green, royal blue, grey, pink and brown. But, the colors best suited with yellow according to the new fashion trends are the classic white and black shades.
What goes well with yellow outfits?
A yellow outfit is a style statement in itself. You can wear a yellow outfit by pairing it with neutrals. For instance, you can wear a white blazer with your yellow dress and slivery accessories to make the vibrant toe less intimidating. On the other, some darker tones like navy blue, black, and hot pink also go well with yellow outfits.
Is it a good idea to go for an all-yellow outfit? 
Yes, you can pull off an effortlessly chic look with an all-yellow outfit. Dressing all-yellow has become the trendiest fashion nowadays. So, wear your hot yellow crop top with your favorite yellow pants, and you are ready to slay the day in style with your fashion game on point.
Conclusion
Yellow is undoubted the most vibrant color that can instantly elevate the look of any outfit. The yellow pants are the new fashion rage for this spring. You can style them with most colors and outfits to create an adorable look in no time. So, be your fashion guru and enjoy dressing yourself up in illuminatingly vibrant yellow pant outfits this spring.