This season, we saw a slew of choices in women's bottom wear. From textured fabric to many colors, and prints, we almost noticed everything in this category. However, one type of pants that became a special garment is the corduroy pants.
Corduroy is a warm fabric, so whenever we talk about pants made of this material, people naturally start to think that these are for winter. The appealing factor of this piece of clothing is that you can switch from basic to glamorous in a matter of 15 minutes. Styling them is a mindless task. You can use them as dress pants due to their thick ribbed texture.
This garment is practical, so wear them whenever you want and they will make you look wonderful. So, if you are wondering how to style corduroy pants, we are here with our 10 tried and tested fashion tips.
Graphic T-shirt with Corduroy Pants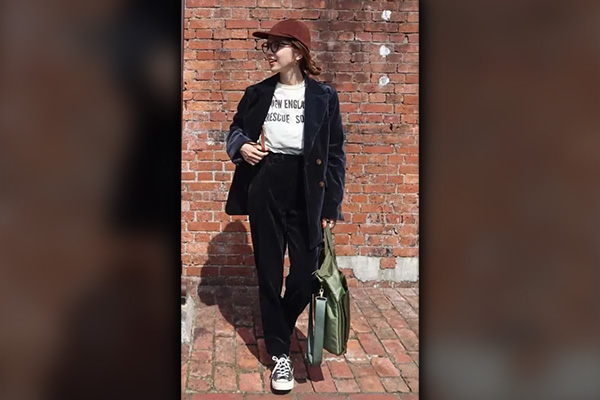 Graphic t-shirts are made for those who want to get the spotlight. Those who want to know how to style brown corduroy pants casually are going to love this idea. After the popular, fall-style jacket outfits, it's time to embrace this type of style. This outfit offers comfort more than any other combination.
And, go a long way in aiding you to represent yourself in a quirky manner. In this outfit, you can wear a black graphic t-shirt with brown corduroy pants for a fun casual look. To test the waters of this style, you can wear chunky ankle boots and ditch the jewelry. If it is freezing outside, add a shacket to your outfit.
Multi-colored Sweater with Green Pants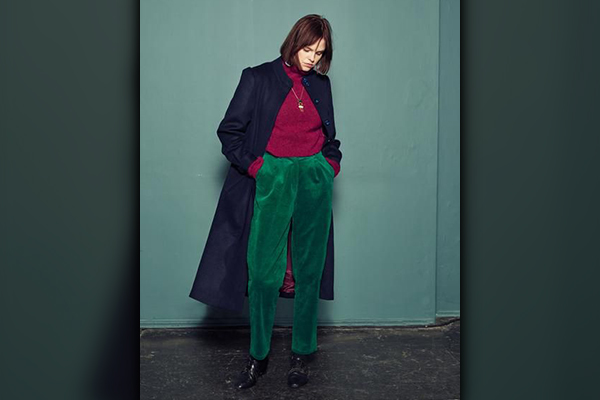 If you're looking for a stylish getup for the time when you are not at work, a colorful knit oversized sweater with brown corduroy pants. This is another great tip for how to style green corduroy pants to maintain the trend of delivering a playful vibe with your clothes. To include a touch of refinement in your look, wear black boots. You can add cute little jewelry pieces and rings as well. 
Black Sweater and Brown Corduroy Pants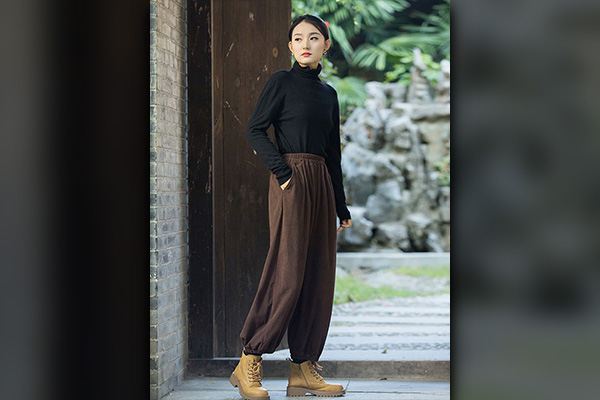 This brown corduroy pants outfit has our hearts. This simple day-off outfit feels fresh and is easy to achieve. We all have that black old sweater in our wardrobe, so all you have to do is wear it with corduroy pants. Wear combat boots, a brown belt, and a brown tote bag to complete the look. 
Bomber Jacket with Corduroy Pants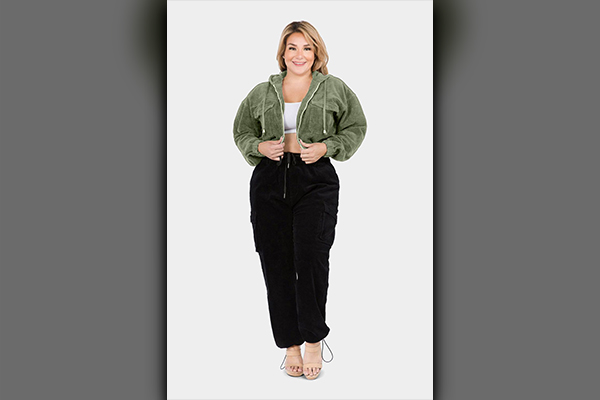 In this outfit, we pair a tan bomber jacket, a white tee, and brown corduroy pants. This is a comfy look that looks simply clean and unique. Many of us are sick of the all-too-common ensemble, so this modern look spices up your fashion game very smoothly. And, as we all know bomber jacket outfits never disappoint, Simple white sneakers and an off-white beanie works great with this outfit. To finish off the look, wear black aviators, a brown bag, and simple bracelets. Also, matching a brown bag will be great. 
Mustard Sweater with Black Pants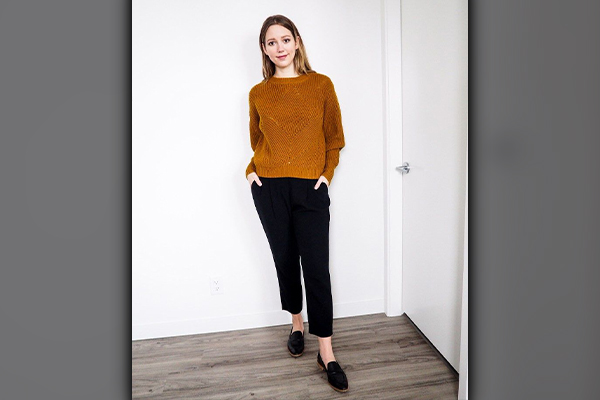 If you can't figure out how to style black corduroy pants, we have an idea for ladies who are always on the go. In this look, you can wear a cute fuzzy sweater with black high-waist corduroy black pants. To top off your entire look, wear a brown shimmery crossbody bag, a small pendant, and black sneakers to show your sporty side. With these black pants, you can also wear a white sweater or a top. To get an idea, go to the black and white outfits tips. 
Pink Pants with Green Cropped Sweater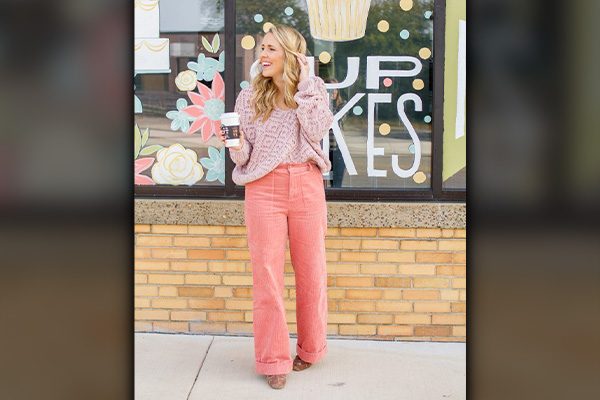 Many women avoid bright color pants because of this question: What goes with corduroy pants if the color is too vibrant?
For a beautiful, colorful, and straightforward casual ensemble, wear a pretty oversized cropped green sweater with hot pink corduroy pants. Honestly, these two garments go pretty well together. A pair of black sneakers and a beige handbag to exude a more laidback look. Or else, try it on with a pair of green heels to complete your whole ensemble.
Brown coat and Corduroy Pants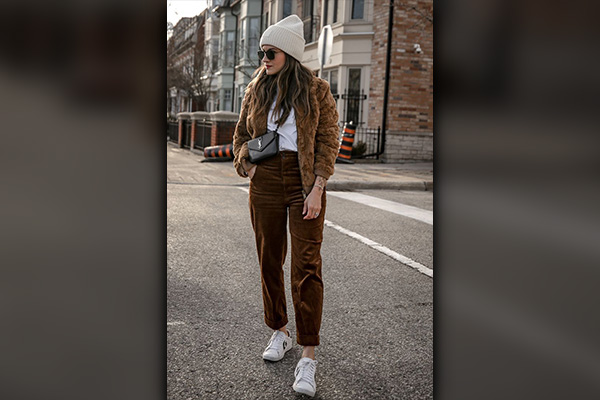 In our article dedicated to women's styling corduroy pants, this is a challenging look. You have to first dress up in a black crop tee and rust corduroy pants. Then wear a brownish-red coat on it for a proper chic ensemble. Black ankle boots complement this outfit. Apart from that, you can wear a black studded cross-body bucket bag. You can switch to a camel coat and see if it works for you.
Black Top and Camel Flare Pants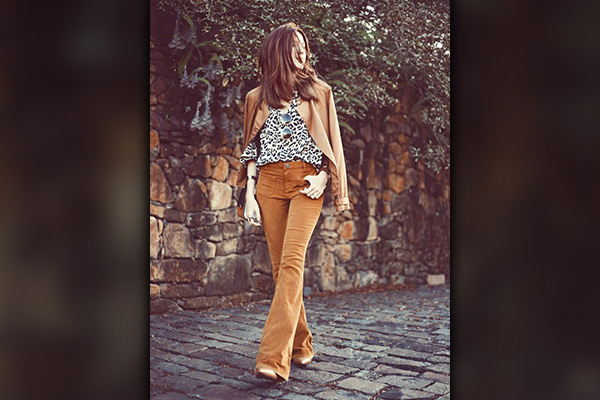 There is Indisputable proof that black body-fitted and flare corduroy pants look amazing if you pair them together in an everyday getup. For footwear, you can take the classic route with a pair of black velvet ankle boots. This is one of the most-followed fashion tips on any how-to-style corduroy flare pants guide on the internet. That is because of the popularity of flare pants. Besides, a medium-sized black shoulder bag will be perfect for an on-duty look.
Corduroy Suit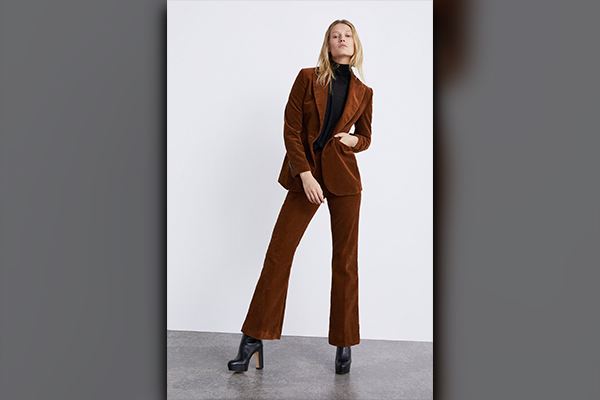 This outfit is ideal for job interview attire. Suits are comfortable and are used worldwide by millions of women as anyone can wear them and look outstanding irrespective of age and body image. In such corduroy pants outfits, there should be a matching between the shirt and the coat. Wear footwear that matches the top you are wearing under the coat. Sky-high heels will look gorgeous with this look. 
Burgundy Pants and Sweater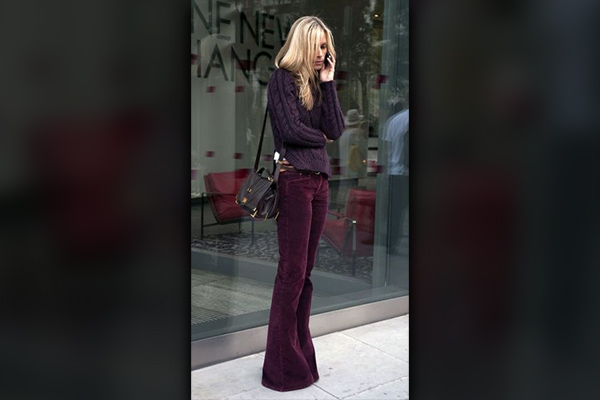 If you ask everyone how to wear corduroy pants without making much effort, we will finally answer that. You need a matching burgundy top and wear it with a burgundy corduroy on a small get-together with friends. This attire is chic and easy to style because you don't need to find a layer of jewelry. You just need to have kitten heels or boots. Also, the trend of high-waisted, cropped, and flare cuts are on the rise. You have plenty of options to go all cool with corduroy pants with a knit sweater or cropped turtleneck. 
If you want to jump on the bandwagon of the 70s Retro fashion, we have some cool flared pants outfits options. 
FAQ's
How Do You Look Good in Corduroy Pants?
Corduroy pants are mostly seen in autumn because of the nature of their fabric. Hence, go for the fall color palette when choosing your outfit. Frankly speaking, no one looks bad in colors like burgundy, mustard, or brown, so there is nothing to be afraid of. 
Are Corduroy Pants Formal or Casual?
Corduroy pants are inherently casual wear pieces. Nonetheless, these days people are using them for dressing up their outfits. Therefore, you will notice women wearing them in business casual settings too.
What Season Do You Wear Corduroy?
People wear corduroy in spring, fall, and winter. Typically, it is manufactured from heavier cotton fabric. But, variants of the fabric like wool corduroy and Cashco corduroy are also available in the market. Although people consider them for the cold weather, lightweight corduroy pants can be used for summers. 
Do Denim and Corduroy Go Together?
Denim and corduroy are made for each other. You can pair your denim or chambray shirt with a cool pair of corduroy pants. In such laid-back outfits with corduroy pants, roll up the sleeves for a street-style look.
How Do You Wear High-waisted Corduroy Pants?
You can wear high-waisted Corduroy Pants with a plain white t-shirt or dress it up with a pale-colored button-down shirt. To wear these pants the right way, read our guide to understand what goes with corduroy pants.
Plus, take a look at our winter outfits guide to remain relevant.
In Conclusion
Nowadays, cool outfits, such as flare jeans and big sunglasses are garnering more fame than ever. So, this season you should also create an iconic look by taking guidance from this blog that explains "what to wear with corduroy pants".