Women enjoy wearing colorful clothes but do you know what they enjoy wearing more? Yes, you thought it right, they love black and white aesthetic clothing. Black and white outfits are both striking and bold colors that can take any look to the next level. The best part is that almost anyone can pull these colors off as they are the safest, all they need is to design their outfits differently than usual.
These colors are so versatile that one can wear them anywhere and any time of the day. They are elegant enough to be worn at a formal party and they are badass enough to be paired with a leather moto jacket for women on a bike road trip. 
In this blog, we are going to talk about how you can take two of the most attractive colors of all time and wear them to different events. So let us get started with it.
What To Expect In This Article?
Black and White Outfit – Classy & Timeless
You can feel the difference when you start styling a black and white outfit due to its profoundness. Even while being such simplistic colors they can outshine other colors. Even when it comes to styling dark academia aesthetic outfits these colors play their part and evolve the look.
Black and white outfits are timeless, thus it means that such clothing has been preferred and will be preferred always. If you are going shopping and you stand in front of a black and white piece thinking if you should buy it or not, do not think a lot, invest. Such women's leather jackets and coats are worth investing in as they are never going to get out of fashion and are going to maintain their worthiness.
Now that you know that investing in a black and white outfit is worth it if we are going to tell you how you can style these outfits regardless of the time and event.
Black and White Outfit Ideas
Talking about women's black and white outfits and their combinations, a lot of contrasts and patterns come to mind. With these colors come shades of black too including ash black, carbon black, super black, thus it is very important which black you pick out for a particular type of event.
Also what comes to mind when we talk about these colors, animal prints like leopard, zebra stripes, checks, and basic stripes come to mind. Accumulating these patterns, shades of black and white we get amazing combos for your day and night events. In this style guide, you are going to know what type of outfits you can pair up for the type of event you are going to.
Daytime Black and White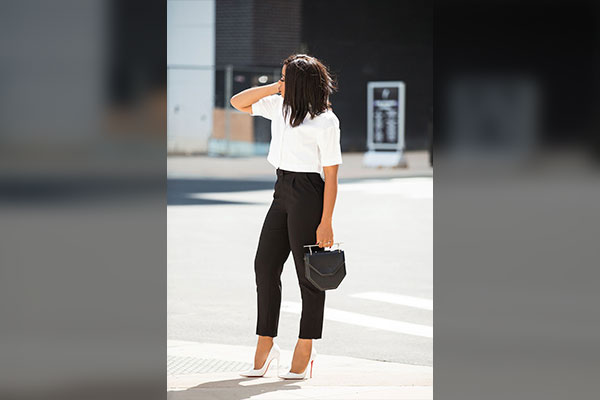 Daytime black and white outfits are completely different from the nighttime. It is important that under the sun you keep your look subtle and should not overdo your look. Let us hop on to some looks that we think would look great in the daytime.
Casual Mornings in Black and White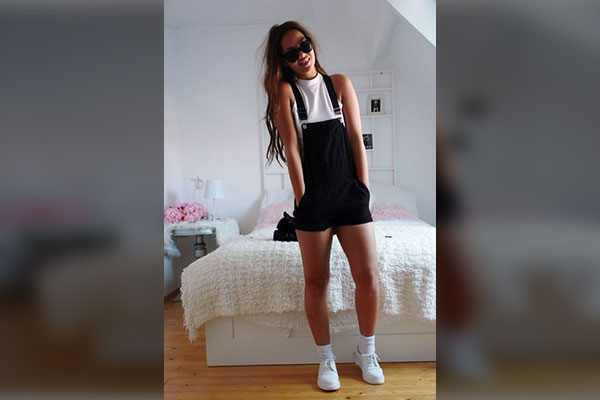 Mostly every day we are willing to dress casually as we have to run errands but that does not mean that we have to dress in an unattractive manner. Let us help you pair together with a casual black and white outfit. Twist your look, pick out black dungarees, and a white tube top from your wardrobe.
Go for black and white sneakers with your outfit, you can also wear loafers with them. Get your hair in a bun, opt for sunshades, and voila you have an outstanding black and white casual day look.
Black and White Office Suits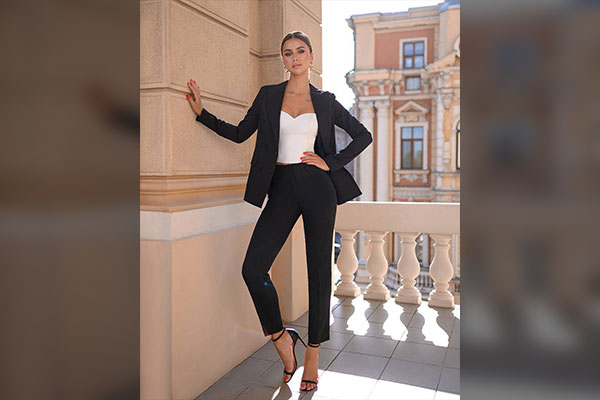 When we think about morning times instantly, work thoughts hit us up. So, with work comes the office style. Go for a straight, stylish black and white suit, it is going to enhance your body and will look formal at the same time. Black and white remind us about chess and checks, so why not add that to your outfit?
You can go for black and white check pants and a blazer with the same pattern. However, if you do not want to wear a single patterned suit you can even pair your pants with a white blazer. Slide your shoe heels or kitty heels, wear a watch, let your hair down or tie them in an onion bun. There, you have a modern, trendy corporate attire
Black and White Brunch Date Outfit
Brunch dates are loved by women, and dressing on those dates is a favorite hobby. When it comes to thinking of brunch, women do not like to play around a lot, they like keeping it minimal and outstanding at the same time.
Pair white denim with black or a black and white off-shoulder top. Go for white or nude heels with your outfit and pick any type of bag with it. Do not forget to accessorize yourself! Add a bracelet to your wrist, and stand-out earpieces. Add beach waves to your hair or tie a ponytail if it is a warm day. Wear light makeup and that's it.
Black and White T-Shirt Dress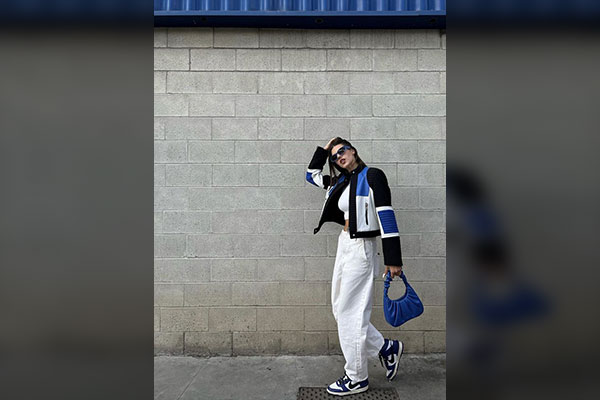 Have you heard about t-shirt dresses? I would say that they are one of the best morning outfits that one can wear. They look the best on picnic days. However, a black and white t-shirt dress is going to give you more character.
If you have a black and white striped t-shirt dress, you can wear it with joggers or pumps. Also, one should know that jackets with dresses complement each other, so you can even wear a cropped leather jacket with your whole idea of a black and white t-shirt dress.
Black and White Evenings Outfits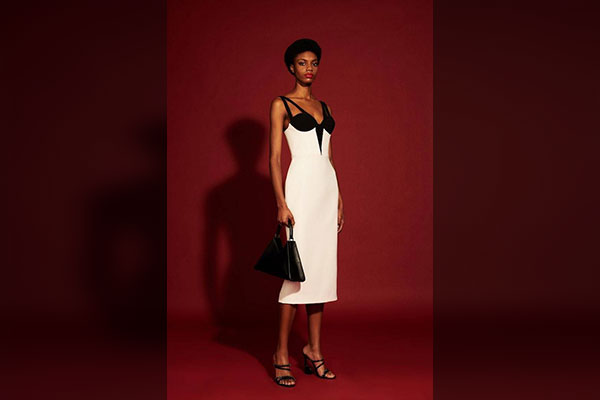 Evenings are aesthetic thus wearing aesthetic clothing is a real job. According to your event, go a bit different, be a fashion diva and pick a black and white outfit for the night. If you are not sure how to style a black and white outfit on particular night events, do not worry, we are going to help you, just keep on reading.
Black and White Outfit for Casual Evenings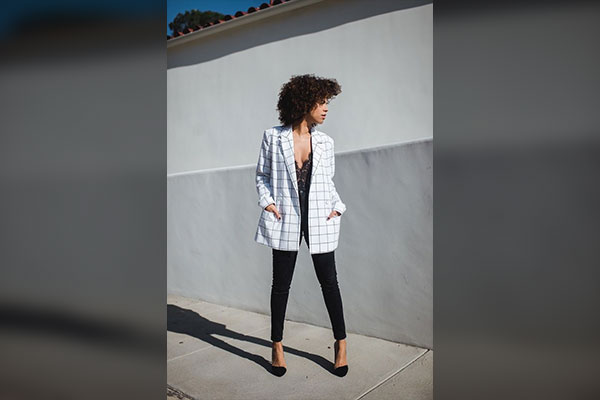 Evenings are the time to relax, chill, hang out with friends or go watch a movie, and all this should be done with style. Pick out colors that let the night sing with them and not outshine it, colors like black and white are better worn like this.
From the types of shirts you have, pick a white casual button-down shirt or a round-necked t-shirt, and slide an on-trend black bomber jacket for women over your clothes. Wear trainers or sneakers to complete your look.
Black and White Cocktail Dress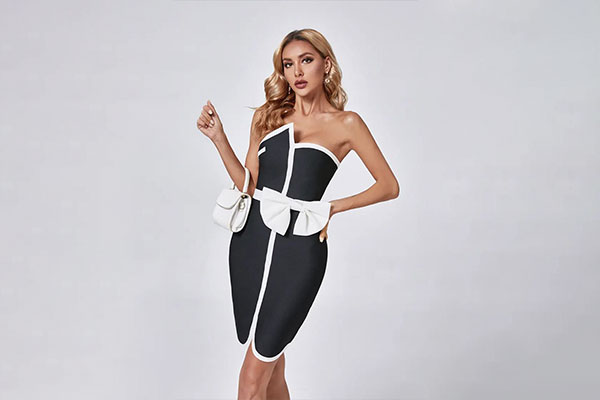 Cocktail party nights are enjoyed by everyone and thus dressing up well is an utter task. When it comes to cocktail attire women tend to go for bold colors, but we feel like there is more to cocktail parties than bold, solid-colored dresses. Pick people's favorite combination, that is black and white.
Even if you are going to shop for a cocktail dress, pick the one that is both white and black. A laced white body and a black, flowy frilled dress would look stunning surely. You can pair that dress with black stilettos, glam up and let your hair down.
Late Night Party Outfit in Black and White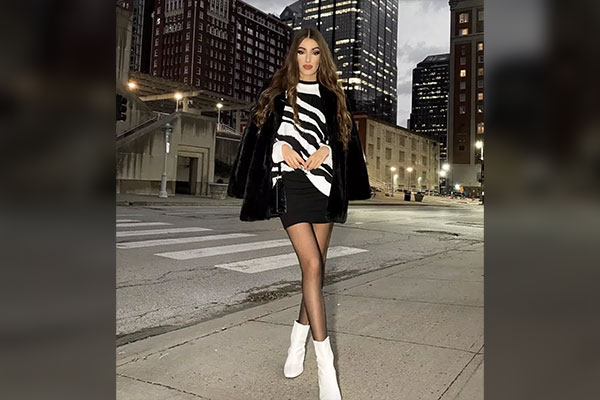 Are you going to a pub to party all evening? You do not have to hide in the crowd while being dressed up all boring. Evening parties require effort and colors like black and white are going to give you the retro-chic look.
Go for faux leather pants and a cropped top with geometric black and white patterns on it, stripes and patterns elevate your look, thus opting for such clothes is bold. You can wear heels with it, or any other footwear that you find comfortable.
Add hoops to your ears, straighten your hair, and you are all prepped for an exciting night.
Black and White Skirts For The Night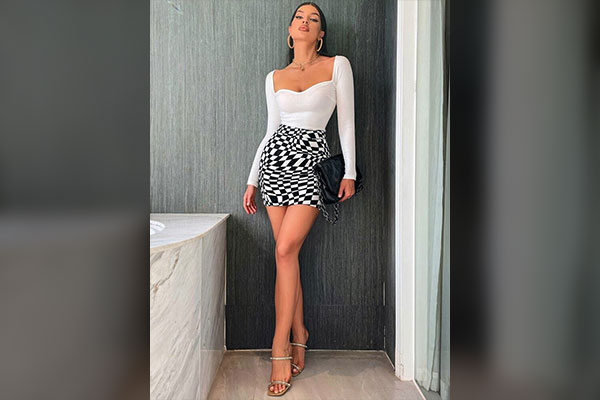 Thinking about cute black and white outfits, black leather skirts invade our minds and how we can style them. We can always go for white crop tops, off-shoulder shirts, or even tank tops. On the other hand, we can also opt for flowy black and white skirts.
Do a black smoky eye makeup, add a statement necklace and hand bands. You can wear such looks to a play, or a post-party, it all depends.
FAQs
What Can Go Well With A Black And White Outfit?
You can always top your black and white outfit with a leather jacket regardless of what you are wearing or what time of the day it is.
Is There A Specific Name For A Black And White Outfit?
Black and white outfit is also known as a monochromatic outfit.
Can A Black And White Outfit Be Worn Anywhere?
Wearing a black and white outfit is the safest yet the most stylish choice. If you are having an issue with what to wear to an event, pick a black and white outfit as it is timeless.
Do Black And White Clothes Suit Winter?
Yes, you surely should have these colors in your winter capsule wardrobe as nothing can work without the two main colors. They add depth and warmth to your clothing.
Is White And Black A Good Combination Of Colors For One's Wardrobe?
It is a basic yet classic combination that is never going to go out of style and will look splendid as usual.
Are Black And White Prom Colors?
They surely are. You can always find intricate laces of white stitched to beautiful frilly black net dresses. You can also turn it the other way around, you can go for a black glittery dress with a white border.
Is Black And White Monochrome Fashion?
Black and white are not exactly monochrome because in literal definition monochrome means one color. Therefore, when you dress in monochromatic fashion, you essentially use different undertones or the same hue. Black and white, on the other hand, are opposite spectrums of the color wheel.
Conclusion
We already know that black and white is timeless fashion so never think if you like such a monochromatic outfit, just grab it. Even if you keep such an outfit for an awful amount of time, you are still going to look trendy when you wear it.
So, that was a little black and white clothing style guide from our side. Let it be morning or evening wear, black and white outfits are never going to disappoint you.