Whether or not you are a fashion savvy female, the need to ace the layering game is inevitable. If you want to stay comfortably cool or warm, jackets or shrugs are not the only options to layer up. Shackets are a great way to complete your fall or spring looks. In this post, you will get lots of ideas on how to style a shacket for trendy looks.
What is a Shacket?
Firstly, let's answer the question, why is it called a shacket? It is a made up word coined by taking the first two initials from Shirt and the latter part of Jacket. The term is self explanatory, telling us that the garment is a hybrid garment of shirts and jackets. Neither is it light and breezy like shirts, nor does it provide the same level of insulation as jackets. This makes the shacket an appropriate clothing essential for the fall and spring seasons, where the weather is fair or moderately chill.
Women's Shacket Fashion: the Ultimate Layering Piece
Don't assume shacket is another name for the good old flannels. Although both give a laid back look, they differ in terms of material and styling options.
Also known as shirt jackets, shackets are purposely made with a bulky material that is less thick than jackets. The size and fit of the shackets vary, with oversized versions having an edge in terms of popularity. The length of the shackets usually reaches the hips, but those reaching the mid thigh are all the rage these days.
Shackets let you layer up without adding too much warmth that may not be required on a fair fall day. It gives just the right amount of coverage that shields your body from crisp winds. Use them for street style looks, stylish going out outfits, or dressy casual looks
Shacket Trend: Taking Over the Contemporary Fashion Scene
Shackets have made their mark in women's fashion due to their absolute versatility. They may have been around for many years, but the contemporary fashion influencers on social media have revived the trend lately. Suddenly, all of us are looking at popular social media fashion icons on our feeds who are styling the shacket in wonderful ways.
Trousers, shirts, turtlenecks, tops, and jeans, the shacket adds a comfy and chic vibe to any of the clothes you pair it with. You can also pair a shaket with dressy essentials, such as a jumpsuit or a cocktail dress.
Adding a few stylish shackets to your wardrobe will make it a lot more chicer. It will stretch your outfit building creativity as it is the ultimate staple especially for the transitional weather. If you haven't ever worn a shacket, it's time to smash the apprehension as shackets are going to be a raging trend this year.
Types of Shackets
Shackets are made with different materials, silhouettes, colors and patterns. When looking for what size of shacket you should get, you can go for cropped or those with regular length. Or, you can follow the current fashion trend by opting for big, baggy shackets.
Here are a few trending types of shackets to go for this year.
Solid Color Wool Shacket
A plain wool shacket (preferably in a neutral shade like grey or beige) is the best clothing piece to cover the layering needs during fall. Made with worsted wool, these shackets can be dressed up or down. Team up a comfortable black sweater and black bootcut jeans for a stylish street style outfit. 
Plaid Shacket
Plaid may be the pervasive pattern in shackets, especially now when nearly every fashion influencer is wearing them. But being common doesn't diminish the captivating look of these shackets. Tartan or plaid shackets are available in dark or light colors. Plaid shackets can also be used for holiday outfits in winters if you layer them with other warm staples and thick boots.
Polar Fleece Jacket
Shackets made with fleece are quite a rage due to their plush feel and wonderful look.
Hooded Shacket
Hooded shackets serve the purpose of keeping your head and neck warm, curbing the need to wear any extra headgear or even a scarf. These shackets with a hood are a must have for your winter capsule wardrobe.
Leather Shacket
Shirt style lightweight leather jackets are highly versatile. We recommend keeping a brown or black leather shacket in your wardrobe for edgy fall attire. Leather jacket outfits are a perfect way to look dressed up. So you can go for these shackets when desiring edgier looks  in comparison to the laid back look of shackets made with other materials.
Denim Shacket
Among the shirt jackets for women, the denim shacket tops the list of favorites. Women use them to add a light layer over their dresses, jumpsuits, variety of shirts, tops and blouses, or casual t-shirt and jeans outfits. If you don't have a denim jacket till now, we recommend you to get one to build outfits effortlessly. 
Long Shacket
Think of the long shacket as a casual coat reaching your thighs or knees. Long shackets are often oversized, giving a graceful appeal to your overall look. The warmth is just right for mildly cold weather.
Are Shackets Meant to be Oversized?
Currently, oversized shackets are a huge trend, thanks to Korean street fashion, that made oversize clothing popular. However, shackets are available in all lengths and sizes and you can get your hands the one that will go well with the rest of your wardrobe and your personal style.
How to Style a Shacket?
Choosing a shacket should be a well thought choice considering your wardrobe staples and their colors. Neutral hues like beige, brown, cream, camel, tan, white or black are the safest option to ensure maximum wear. These colors make a good contrast with all the other colors and are included in the fall palette.
Apart from these, pastel shackets are also a good addition to your wardrobe. Not only will these help you create eye pleasing contrasts, but will give a cozy and soft look. Avoid neon shades or gaudy prints as they will they hard to match with other clothes.
To style a shacket, you can simply wear it over a maxi dress, or a bodycon dress for an appealing look. Pair it with flared pants and tops, or your day to day jeans and t-shirt outfits.
Shacket Outfit Ideas
You may think of a shacket as an ordinary casual staple, but you can unleash your creativity to build amazing outfits with it. Try any of the looks mentioned below to portray your fashion sense with perfection.
Shacket Outfit Street Style
Want a shacket outfit that is street approved? Opt for a green shacket in a loose fit and wear it over a black and white striped turtleneck and black jeans. Add street vibes to the look with a statement belt and black ankle boots. Wearing bracelets, chunky rings, and a sling bag adorned with chains is the right way to add the edgy flavor to this look.
Leather Shacket Outfit
We can't help but marvel at how classy this leather shacket outfit looks. It is an absolute example of dressy casual. Pairing a black top and black slit pants with a chocolate brown leather shacket will result in an outfit that will be hard to ignore for anyone. The addition of a brown leather purse, open toe heels, gold jewelry, and sunglasses elevate the look even more.
Plaid Shacket with a Dress
There are times when we desire to wear our cute dresses in the chill fall weather. You can do so by wearing a light shacket over them. An outfit suggestion for the same is to team up a cream shift dress with a long plaid shacket and knee high boots.
Plain Belted Shacket with Leggings
A belted shacket gives a splendid style statement. You can wear it over a basic t-shirt and black leggings to put together a simple look that is gorgeous from every angle. A brown shoulder bag, retro style shades, and some jewelry will add chic vibes to your look.
White Shacket with Ribbed Top
A polar fleece jacket in white is all you need to elevate a simple blouse and grey jeans outfit. Accessorize the ensemble with a gold neck chain, wedge heels, and a cute trilby hat.
Denim Shacket Outfit
This outfit gives vintage vibes that look quite fabulous. Pair a striped Breton top with wide legged corduroy trousers. Wear a blue denim shacket over it, put on your black slip on flats, and you are good to go.
Green Shacket with Floral Skirt
For those who love wearing skirts, this outfit idea will give a new addition to your fall look book this year. You can choose a chiffon midi skirt with micro floral print and pair it with a white crewneck t-shirt. Ayer the outfit with a trendy green shacket and round off the look with leather sandals, a satchel bag, and wayfarer style shades.
Beige Shacket with Leggings and Beanie
A simple yet gorgeous fall outfit can be put together using black leggings, a white top, and a brown shacket. Add some style and warmth with a black beanie to complete the look.
Ripped Jeans Outfit with Shacket
The laid back look of the shacket gels well with ripped jeans. Style a brown shacket with a plaid lining by pairing it with a black cropped top and blue distressed boyfriend jeans. To finish the look on casual notes, choose black combat boots and a trendy necklace.
Shacket Over Blue Turtleneck
You may want to go for a smarter look with a shacket. To nail the dressy look, opt for a cream oversized shacket over a deep blue turtleneck and faux leather leggings. Add the finishing touches with chunky soled boots matching with your shacket.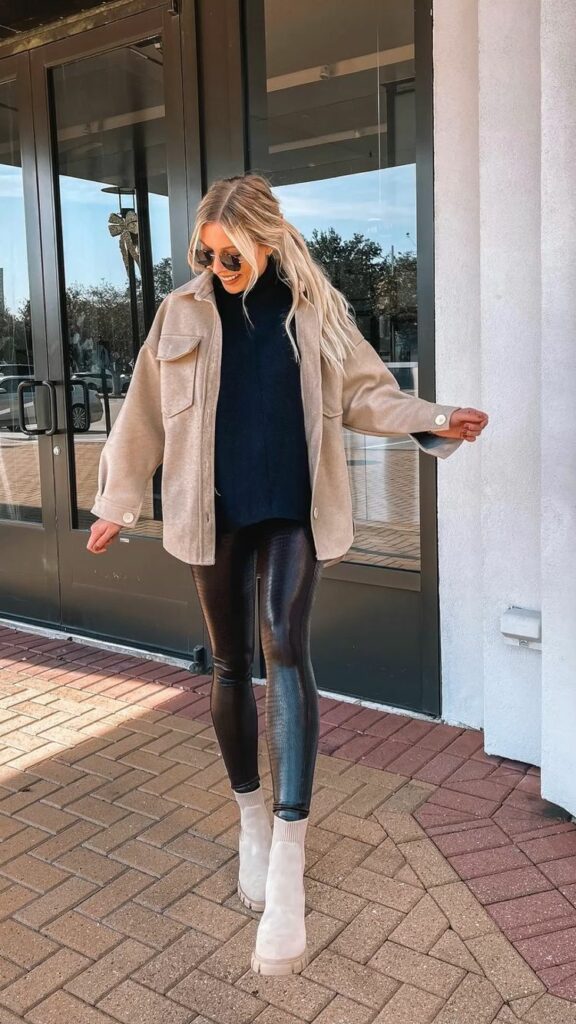 FAQs
How Do You Style a Checked Shacket?
Checked shackets are a highly popular trend as they give a chic look. To rock the check patterned shacket, go for a grunge inspired look with a black band tee-shirt, ripped blue jeans, and black combat boots.
Are Shackets Warm?
Shackets provide just the right amount of coziness and warmth needed for fall season, which is usually not very cold. As they are made with a weighty material, they are perfect for layering. However, they are not an alternative for heavy quilted jackets, leather jackets, or sherpa jackets.
What Do You Wear with a Shacket in Style for 2022?
There are numerous way to wear the shacket. The trend forecast for 2022 tells us that various styles of jeans like mom jeans, and bootcut jeans will be in vogue. So will faux leather pants, skirts, maxi dresses, ribbed tops, ruffled blouses, and jumpsuits. You can mix and match these essentials to come up with cute outfits with your shacket.
How Do You Tie a Shacket?
A belted shacket looks absolutely chic. Many designs come with a fabric belt which you can simply tie after overlapping the lapels of the shacket. For regular shackets without a fabric belt, grab a trendy leather belt and tie it around the waist. Pinch some fabric out to give a relaxed look like that of a blouson dress.
Can You Wear a Shacket as a Dress?
Long shackets that reach your mid thigh or below can double up as a dress. Tie them around the waist with a belt and pair them with knee high boots or leggings for a cute look.
How Do You Wear a Cropped Shacket?
You can wear a cropped shacket over a bodycon sweater dress or a maxi dress to reveal the dress design. Or, you can wear it over a longline shirt, skinny jeans and stylish ankle boots.
How Do You Style a Plus Size Shacket?
Oversized is the vibe for 2022, so getting a plus size jacket is a good idea to stay on top of the trend. There are lots of ways to style a plus size shacket, one of which is to wear it over a combo of high waisted bootcut jeans, a cropped top and sneakers. You can also go the quirky way and wear an oversized shacket over a mini leather skirt and a beige turtleneck outfit.
Conclusion
We have compiled an in depth guide on what is a shacket and how to style it. It is your fall wardrobe mainstay. Shackets complement a variety of your basic essentials, giving you a range of easygoing, aid back looks to smart casual and street style looks. If you haven't already got one in your closet, we recommend grabbing a few in different fits and materials to increase the number of your outfits for this season.