Remember when it was just formal and casual? Dress codes are more complex now and can feel like an intricate jigsaw puzzle if you don't know what you're doing. So it's vital to understand the basics of each code, or you'll wear jeans and a t-shirt to a business meeting and a formal suit to drinks at the bar.
While most formal dresses, like business formal or black ties, have relatively specific guidelines, that's not the case with the casual range (casual, smart-casual, and business casual). As a result, they're often the hardest to navigate with minimal guidelines.
Lucky for you, here's a rundown of everything you need to know about the dressy casual dress code.
What To Expect In This Article?
What Exactly is a Dressy Casual Attire?
Dressy casual, also known as smart casual, is a winning compromise between laid-back and exquisite pieces which make it fall somewhere between the formal and informal. For example, if you see 'dressy casual' for a work-related event, you don't have to wear clothes for work, but you cannot show up in tees either. Here, consider pairing button-downs with dark jeans and smart shoes.
If we're talking along the spectrum of formal to casual, dressy casual falls slightly higher than regular casual like jeans, shorts, or t-shirts and a notch below business casual including formal suits or dresses. One of the most popular ways to achieve this look is to pair pieces with slightly different levels of formality. For example, team up a pair of crisp blazers with chinos and sneakers.
While people sometimes confuse dressy casual with business casual, there is a slight difference between the two. Casual dressy outfits allow you to have more fun with vibrant patterns, fun silhouettes, and expressive attire, as we'll discuss further.
When to wear Dressy Casual?
Dressy casual is a superior style choice for social occasions where the perimeters of dress codes are blurred. These casual but dressy outfits offer a winning balance between casual and formal outfits, making them one of the emerging trends for various events.
Some of the occasions where you can rock a stunning dressy casual style are:
Casual weddings
Fundraisers
Networking Venues
Dinner
A night out with friends
First Dates
Just make sure you pair complementing fabrics and colors, and you'll be able to flaunt any of the events you go to.
Dressy Casual Attire for Men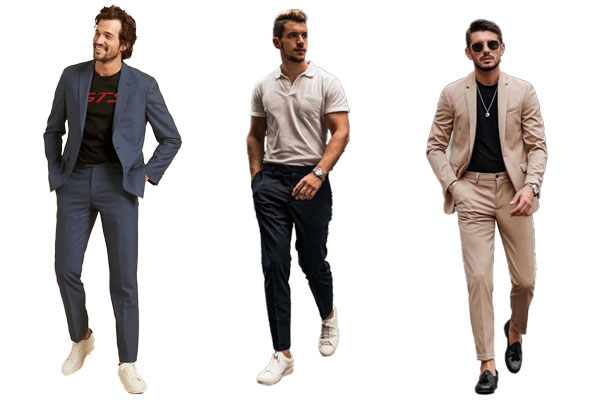 Want to choose something between classy casual and strictly formal? We've got you! What is dressy casual for a man when you see it as a dress code on an invitation? We get it; dress codes can be complicated, especially when you're a beginner, so we've got everything sorted.
Whether it's a fun hang out with the boys or an important first date, here are some options for what is dressy casual for men:
Tops
When it comes to picking out a matching top for such an event, button-down shirts should be your safest bet. These could be either long-sleeved or short-sleeved, and you can go for simple colors like white and black or add some depth with navy blue, green, and even pastels. Finally, pair this with a classic grey blazer or sports coat for extra dressiness, especially for a wedding.
Bottoms
Team up your tops with complementing bottoms like olive chinos, black dress pants, or even slacks that make up for great styling choices. Opt for slim-fitting dark-washed jeans with no rips or distressing if you want to wear something more casual. Avoid flashy colors like orange, neon green, or bright red, and do not go with patterns because that will make you appear funkier than dressed up casually.
Shoes
You can go for dark brown loafers or classic black Oxfords if you're going dressy casual. But instead, opt for leather for a more sleek and refined look. Strictly avoid joggers or a pair of grimy sneakers because they do not make a lasting impression.
Accessories
Last, elevate your outfit with an excellent matching accessory to amp up your fashion game. In this case, choose a sleek statement watch for a dressier approach, or spice up the look with a matching bracelet or chain to fall a bit on the casual side. It's your pick!
Dressy Casual Attire for Women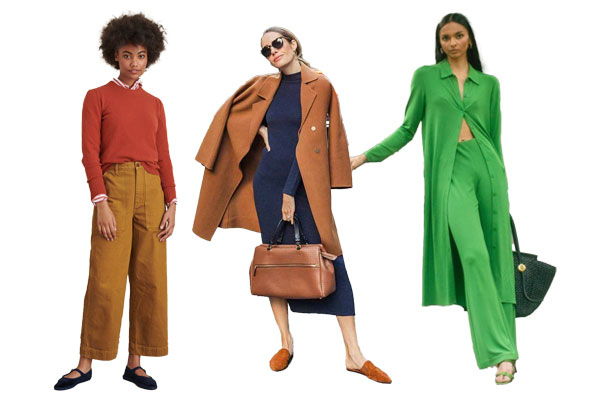 You might be facing a dilemma between t-shirts or dress shirts or between pencil skirts and jeans when rocking a fancy casual to an important event—hanging out for a fancy dinner with friends or attending a casual wedding? We've got you covered!
Below is a stylish variety of dressy casual outfits for women to help you look your best without worrying about dress codes:
Tops
As far as tops are concerned, blouses made of elegant fabrics like silks or intricate details for a fancier look, are a great choice. To add more extravagance, you can even go for simple, sleek button-downs and pair them with matching blazers in solids like black, white, or pastels. Avoid cotton T-shirts or tops with large printed graphics, logos, or animations because that will look too casual.
Bottoms
Team up your blouse or button-down with classic chinos, some flattering silk pants, and even dress pants for a gorgeous appearance. If you're a fan of skirts, go for flowy or pencil skirts, but avoid pencil skirts that are too structured or have pinstripes, which can direct to business casual. You can opt for dark blue or black slim-fitting jeans, but make sure they are not ripped or have holes or stains.
One-piece outfits
Special one piece outfits are a great option for dressy casual attire, as they offer a delicate balance between relaxed and refined and automatically make you stand out. For example, you can choose a lovely pastel sweater dress for winter, or go for shirt dresses or sundresses for summer dressy casual. If you want to stand out, then go for a stunning jumpsuit that belts in the middle for additional dressiness. Fan of flowy and beachy? Then try on a beautiful, light-colored cotton maxi dress, but avoid floor-length ones because they look too festive. It's all about the balance!
Shoes
Perk off your look with ankle boots, wedges, or even low-to-mid heels for a classic, dressy casual attire. If you choose heels, then dress down with a pair of dark-washed jeans to stay relaxed enough, or simply go for oxfords, ballet flats, or loafers. Avoid wearing casual shoes like sneakers or running shoes.
Accessories
Finally, pick one or two delicate accessories to look polished but not overboard, considering the occasion you plan to go to. Choose a pair of simple yet statement diamond earrings, a delicate necklace, or your favorite watch to complete the look.
FAQs
What is dressy casual attire for a party?
Go for a silk blouse and matching skirt, and pair it with some sleek heels and delicate accessories. As for guys, you can try a nice button-down with dark-washed jeans and matching shoes. 
What is dressy casual attire for a restaurant?
Wear anything between button-downs, blouses, jumpsuits, dress pants, and dark jeans as long as you're comfortable selecting the right colors and patterns.
What is the evening casual dress code?
Evening casual is similar to dressy casual, including sports coats and cocktail dresses. It falls a bit above casual and a little below formal.
The Bottom Line
This was our take on dressy casual dress code and how you can flatter some of these outfits on various occasions if you style them right. You can continuously innovate with your additions and add a little personal twist to our suggestions. Good Luck, Styling!