Adding a tailored grey blazer to your outfit is the quickest way to elevate your fashion game. It's the perfect apparel for a business casual affair; an outfit that instantly makes you look sharp and intelligent.
You can obviously choose any colored blazer to give nuance to your look but no other color can redefine your look the way a grey blazer has the power to. Besides, it's easier to pair a grey blazer with the rest of your outfit. In comparison, if you select a navy blue or red color blazer, you'd have to think a lot harder to conceptualize and create a stylish look.
Fashion enthusiasts often love pairing grey blazers with either jeans or chinos. In addition, they wear cotton sweaters, neutral t-shirts, or collared shirts underneath the blazer. Basically, what they wear and how they base their decisions are dependent on where they are going. This way, they use a simple grey blazer to create business casual and formal looks. 
Continue reading the article as we're going to explore the reasons why grey blazers are the perfect business casual garment and why you should always buy this colored blazer.
Grey Blazers: An Essential Business Casual Garment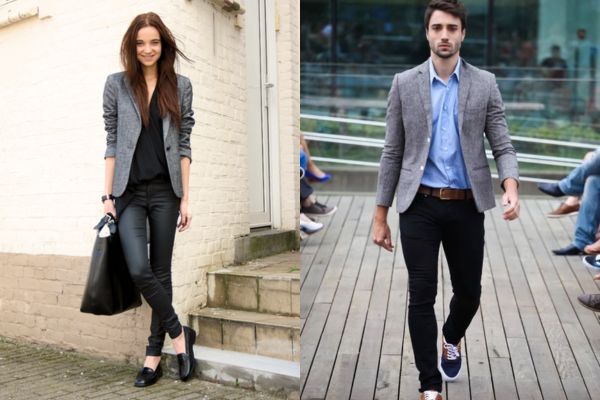 A basic tailored grey blazer is an essential item in every person's wardrobe. You could be dressing up for a formal family function, a regular office day, a cocktail party, or just a casual dinner date, this item in your closet is going to help you create stunning and stylish outfits in a matter of seconds. Do you know that a grey blazer is considerably more versatile than a black blazer? The color grey makes it an excellent choice for literally all kinds of events and gatherings.
A grey blazer is sophisticated and carries a sleek attitude. If you're feeling down and want to slightly uplift your fashion profile, add this bad boy to your capsule wardrobe. It is a smart way of dressing up for work, a popular choice for dinner parties, and a brilliant choice to look sharp and charming at family gatherings. The brilliance of this item is that it can easily be your go-to option for a formal evening while also staying your number one priority for a professional setup.
What Does the Color Grey Represent?
We briefly touched upon the importance of the color grey. Earlier we made a comparison with the color black as well. But why? The reason can be explained using color psychology.
Basically, grey is considered better than black because it represents balance and neutrality. It stems from the very fact that it mediates between the two most important colors in the color scheme: black and white. Although this color also carries negative connotations with it; like representing feelings of loss and grief, it also ends up being the most subtle and nuanced color out there.
Color Combinations for Styling Grey Blazers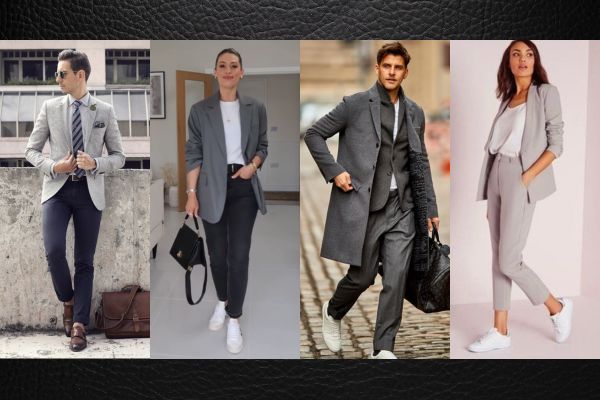 The color grey is the easiest to style. You can look classy and sophisticated by wearing grey with complementary colors like white, light blue, navy, and even black. The general idea is to stick with neutral shades as they're easy to mix and match. Of course, we also have yellow and green, experimental and riskier options to wear with grey, but if used correctly, they end up becoming some of your best style moments.
What Should Women Wear With Grey Blazers?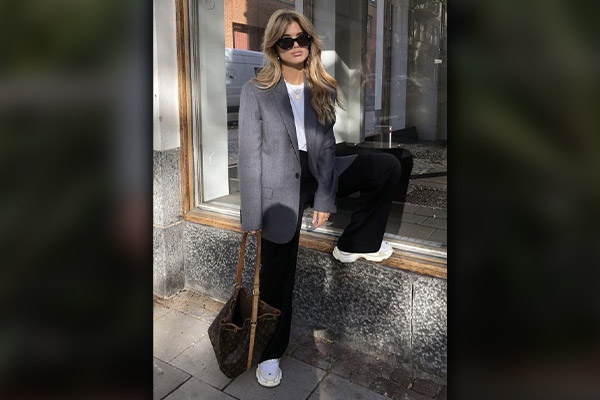 The rule of thumb is to pair grey blazers with neutral colors; match it with a similar shade of grey, black, white, or even lighter tints of brown. Go for shirts, blouses, or dresses if you want to create formal attire, or stick with daily jeans to give it a business casual look. If you want to wear pencil skirts, try to keep them minimal and stick to the same shade of grey. 
If you have a grey plaid blazer, it's best to wear it with a creamy pencil skirt and a plain black top. You can also wear it with a plain black dress or a black leather mini skirt and a graphic tee. Complete these looks with complementing bags and heels. 
There are many types of blazers with each having specific details that allow them to be versatile and classy. You have a leather blazer, denim blazer, cape blazer, tweed blazer, peplum blazer, and so many more! Hence, identify your style and body type and purchase the one that fits the bill.
How Can Men Style Grey Blazers?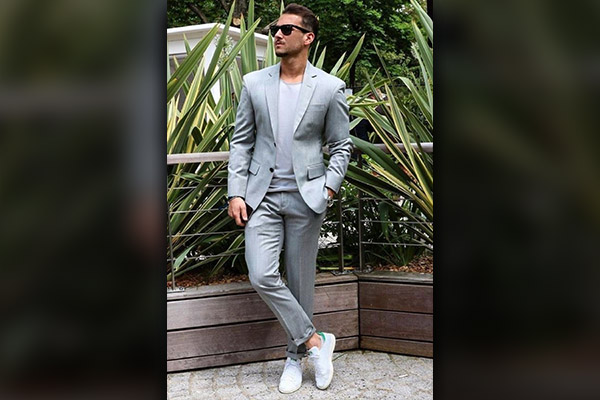 If you're a man and you want to look effortlessly smart, try wearing khaki chinos with a grey blazer. It's the most stylish and classy ensemble that will boost your confidence instantly. If you're interested in charming your partner or leaving an impression at an event, wear a grey wool blazer with charcoal chinos and brown suede boots. This is easily the most unique and sleek outfit idea that one can use if they are dressing to impress. Another outfit idea is matching a grey tweed blazer with matching grey pants and a crisp white shirt.
FAQs
What Color Shirt And Pants To Wear With A Dark Grey Blazer?
White, navy and light blue, and black are great to match with grey blazers and pants. The rule is to stick with neutrals as they're considerably safer options to play with. 
What Color Pants With Grey Blazer?
Charcoal, white, black, and matching grey shades are great options to wear with grey blazers. You can wear chinos, khaki pants, dress pants or jeans. 
What Color Blazer With Grey Pants?
Unless you're in the mood to experiment, stick to staples. Thus, go for a navy blazer with grey pants. Also, try powder blue or white shirts underneath the blazer for a classic and subdued look. 
How To Wear A Dark Grey Blazer In The Summer For Men?
The first thing is to ensure you wear a lightweight linen blazer if dressing up for a casual summer look. The next thing that you must ensure is to pair it with a matching grey blazer and a classic white or black shirt. Now, whether you go for chinos or jeans will determine the vibe of the look; smart casual or formal. 
What Color Pants With Medium Grey Blazer?
The best thing about this color is that it has a medium hue. Due to this specific reason, it can be paired with contrasting colors. Thus, go for darker shades like navy, charcoal or black, you can stick with light, same-toned colors. 
Concluding Thoughts
Matching a grey blazer to create a smart casual ensemble is the most fun fashion activity to indulge in. If you're a particularly stylish person, wear grey blazers to semi-formal evenings and business meetings. In essence, white, black, grey, brown, and navy are great to wear with this color.