Chinos and Khaki pants are often used interchangeably but it's wrong to include them as one or the same because both have distinguished features and purposes. The only similarity between the two is that they look amazing with a well-chosen belt. How are they so different yet seemingly the same? 
This question is most commonly asked on menswear columns — To start off, the differences are minor and subtle which make their individual style unique and paramount. Usually, people get rid of the answer by explaining the history of individual garments. But is that all that one requires to understand the differences between Chinos and Khaki Pants? Absolutely not. 
Let's delve straight into the article and get into the intricacies of khaki pants and chinos.
What are Khaki Pants?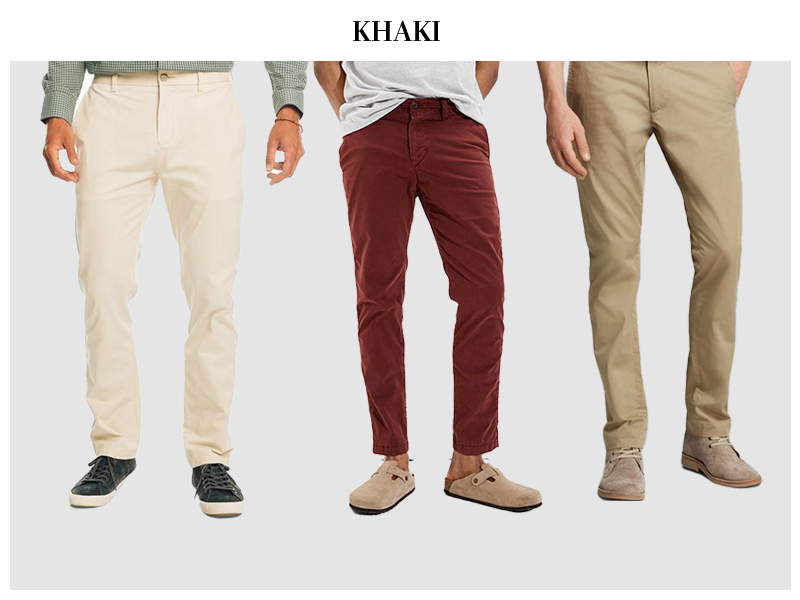 Description: Thick fabric, straight-legged, pleated with cuffs at the bottom hem.
History: Khaki pants were made in 1846 when British officers served in the Punjab region. They wanted trousers made from lighter fabric and looser cuts for which they made a trade against jackets with native cotton. For this purpose, Mazari — a native plant — was used and that originated from a tan color. That's when the term "khaki" was coined.
Soon, the military stationed in the region started wearing khakis as their uniform; they were officially adopted by the British Army in 1884.
If you're still confused as to what khaki pants look like, it's best to notice the cut — they're more squared and less dressy pants. The material being thicker is also an indicator. 
What are Chinos?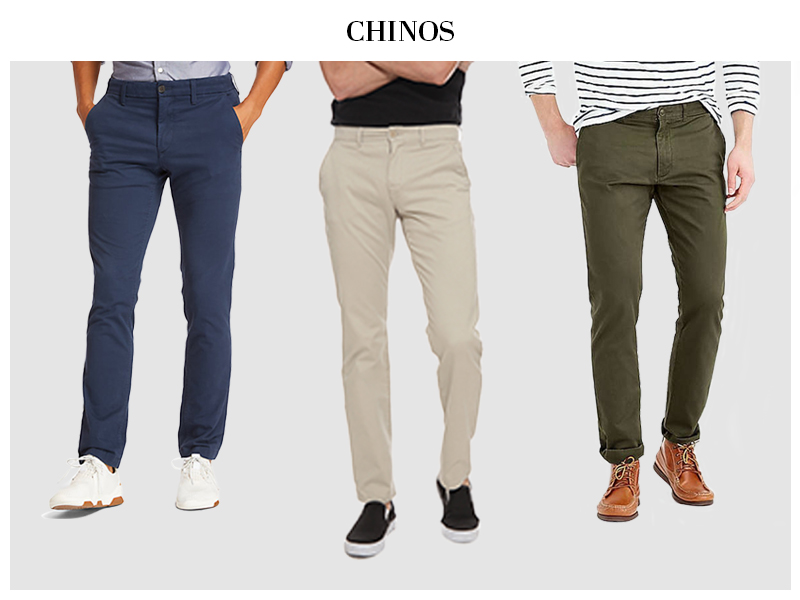 Description: Lightweight, tapered, flat-fronted, uncuffed (mostly), and narrow as they go lower on the leg. 
History: Much to everyone's confusion, chinos are essentially born from khakis — being a century late, chinos originate from China, not Punjab. The role of the military came to play yet again, these military uniform trousers were a subset of khaki pants, a much more revolutionized version of the same. 
The most important difference between the two in terms of appearance is the use of fabric and cloth. The material used in chinos is comparatively lightweight.
Difference Between Chinos and Khakis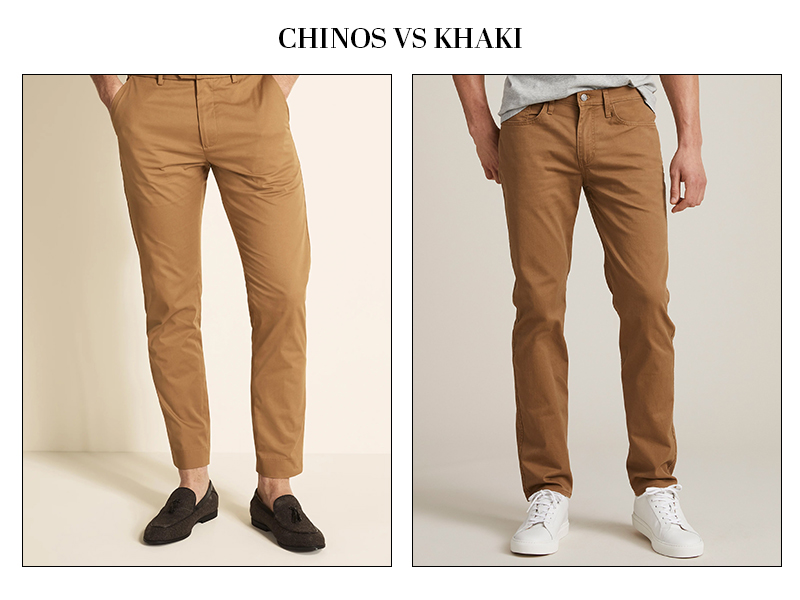 Role: Both garments come from a military heritage; despite the fact that chinos have found a more formal status compared to khakis. 
Stitching: The easiest trick to distinguish between the two is by looking at the stitching. The stitching done on khaki pants is visible whereas the one on chinos is hidden.
Finishing: Chino pants come across as more finished and neat whereas khaki pants lack finesse. 
Fabric: Chinos are considerably lighter in weight and made from 100% cotton. Sometimes, chinos are constructed using cotton twill fabric. Khakis, on the other hand, are made of harder, more rugged material.
Cuts And Silhouettes: Chinos have a slimmer cut compared to khakis. In comparison, khakis are more versatile and comfortable due to fuller and squared cuts.
Colors: Chinos are available in a wide range of colors. On the other hand, khakis come in shades closer to cream and browns. Artificial coloring is possible and a variety of processes due to which both khakis and chinos are available in all sorts of colors. Also, khakis originally came in only tan color. The shade of khakis and chinos makes it easier for styling purposes. 
Pockets: Khaki pants have pockets that are big and visible whereas chinos have comparatively concealed pockets.
Design: Both chinos and khakis have cuffs. However, chinos are modern and cosmopolitan as they have a flat front and khakis are more traditional due to their front pleats. 
Best Pants: Khakis or Chinos?
Do you know what to wear for formal settings? Should it be chinos or khakis?
Formal vs Casual
Both chinos and khaki pants can be used to attend dressier functions; especially when paired with a polo or button-down shirt and a custom blazer. In fact, it wouldn't be wrong to say that both styles of pants are smart casual and better choices than jeans. But, if one has to make a choice between the two, chinos would be more appropriate for formal settings whereas khakis are better off as casual wear. 
Hence, the actual conversation shouldn't be between chinos and khaki pants — it should ideally be between khaki pants, chinos, and slacks. Or rather chino shorts and khakis pants vs chino pants and khaki pants. 
Khaki & Chinos: Style
Khakis and chinos can be styled in multiple ways; thanks to their inherent versatility and structure. It's a style staple that is included in a men's capsule wardrobe without any second thought. 
Chinos with Shearling Leather Jacket
Look preppy in sage chinos paired with a grey v-neck shirt. Put on a shearling leather jacket or even a sports coat in brown with matching boots. 
Tip: Wear grey-colored socks and black sunnies to bring the whole look together. 
Khaki Pants with Bomber Jacket
A hippie look; blue khakis paired with a black turtleneck, denim jacket, and an aviator bomber jacket on top. Follow a blue theme overall but break it with the footwear. Go for heeled suede boots and yellow sunnies. 
Note: This look is essentially made for winters but it's trending big time off late; live in incognito mode. You can wear a sweater or blouson jacket instead of a denim jacket. 
Khaki Pants with Denim Shirt
There's nothing more casual but put together than this look. White khakis paired with light blue denim shirt brown loafers. You can also switch denim shirts with a flannel shirt or chambray shirt.
Tip: If you're going out and need to carry something, use a suede duffle bag.
Chinos With Trench Coat
A look that is stylish and comfortable all at the same time. Choose black chinos with matching woolen or leather trench coat and ankle boots. Add light to the overall dark theme with a beige or white turtleneck. To replicate this look with other coats, you can; by using a peacoat or an overcoat.
In Conclusion
Chinos and khakis are different in many subtle ways and are still used interchangeably. In the fashion world, it's considered a big mistake since they're structurally different. You can pair them in numerous ways owing to their versatility and charm.