While it is important to follow an existing dress code, there shouldn't be a limit to what you can wear or not. Smart casual is the new hype these days which allows you to incorporate your interest and fashion sense into your daily outfits. In this article, we will provide you with some of the best smart casual dress codes for men that suit every occasion.
What is a Smart Casual Dress Code?
Strictly formal dress code is now less visible. It is time we switch to the new normal due to its sleek and practical nature.
The smart casual dress code is nothing but stylish, comfortable, and neat. The highlight of the smart casual look is its immaculate blazer paired with chinos and loafers. Men who like to keep it bold opt for double breasted blazers for an additional edge. What sets apart smart casual from the conventional business formal is the variety of wardrobe staples that can be used to build your outfit. You can incorporate many casual staples such as the hoodie, T-shirts, jeans in the smart casual, and sweatshirts which gives you the flexibility of choosing from your favorites.
Ideally, a smart casual outfit is preferred over the traditional pant suit due to its trendy yet professional look. It is perfect for any event, be it a corporate interview or a dinner. Such an enigma needs careful styling which is discussed later in the article.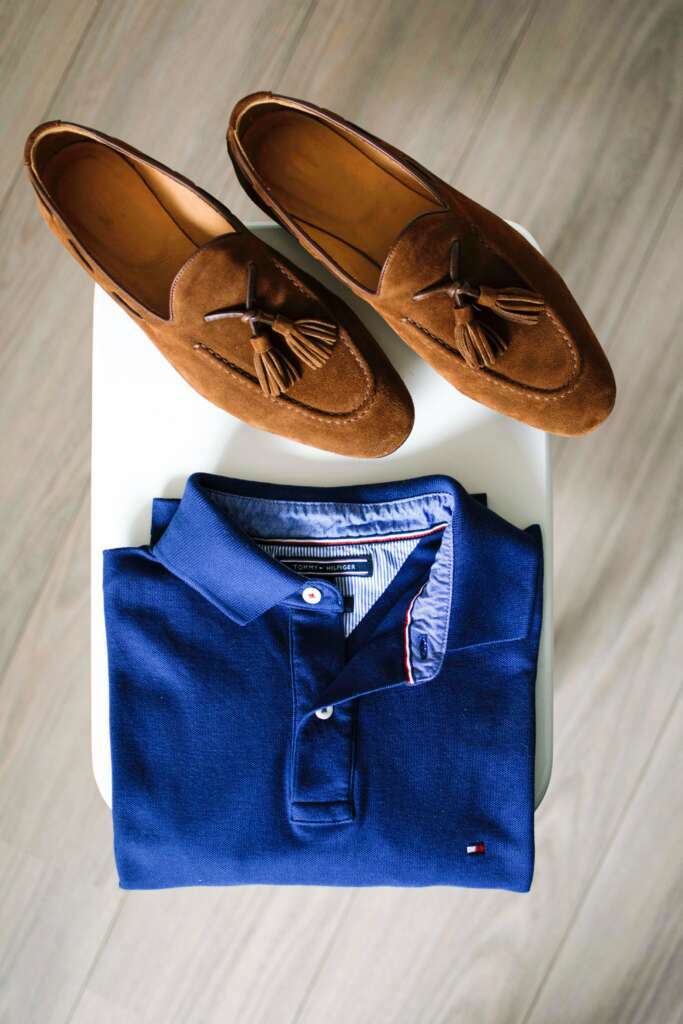 Origin of the Smart Casual Style
It is nearly impossible to pinpoint a certain time in history as the origin of smart casual. Some claim that the smart casual dress code became the highlight of the 1980s. However, the first use of 'smart casual' as a single word was recorded in an Iowa newspaper dating back to the 1920s. The newspaper was named "The Davenport Democrat And Leader"
In the early days, there was little to no concept of business casual. You were either too dressed up or not at all. Thus, the birth of the smart casual dress code did not receive a very warm welcome from the global audience. It stirred confusion but eventually became an alternative to the business formal as more and more people embraced this new norm.
Influence of the Smart Casual Dress Code on Contemporary Fashion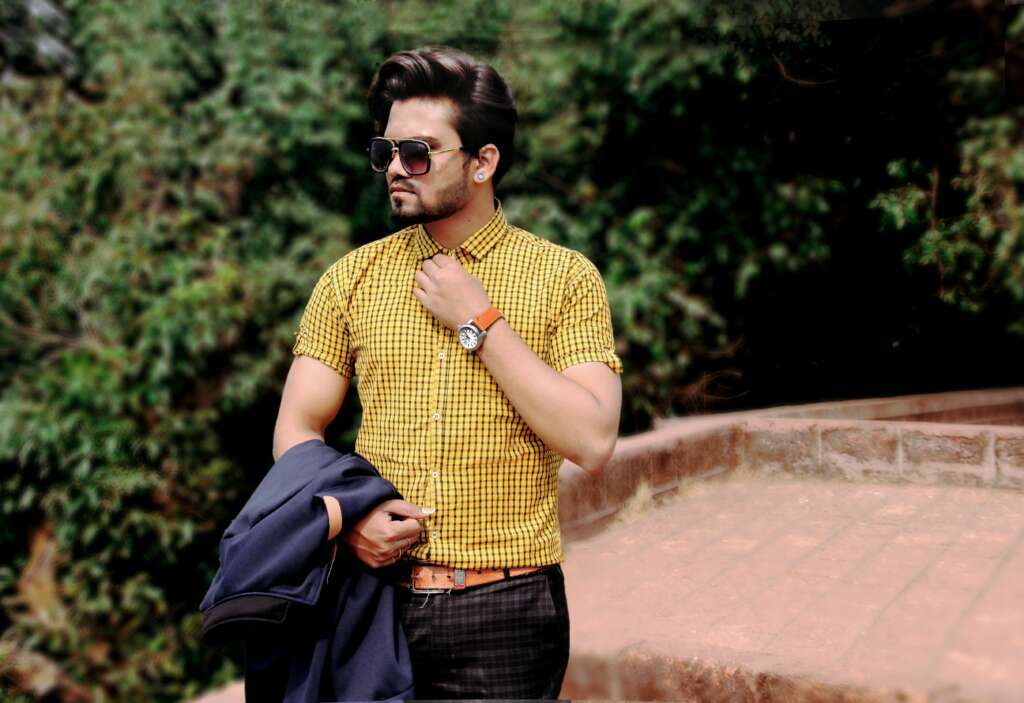 One of the best things that have happened to the fashion industry is the rise of fashion influencers on social media. From streetwear to professional attire, they serve irresistible looks that keep fashion alive. Social media is heavily influenced by smart-casual styling techniques. Transition videos, sponsored posts, and styling videos are some of the few examples of how bloggers take advantage of smart casual clothing.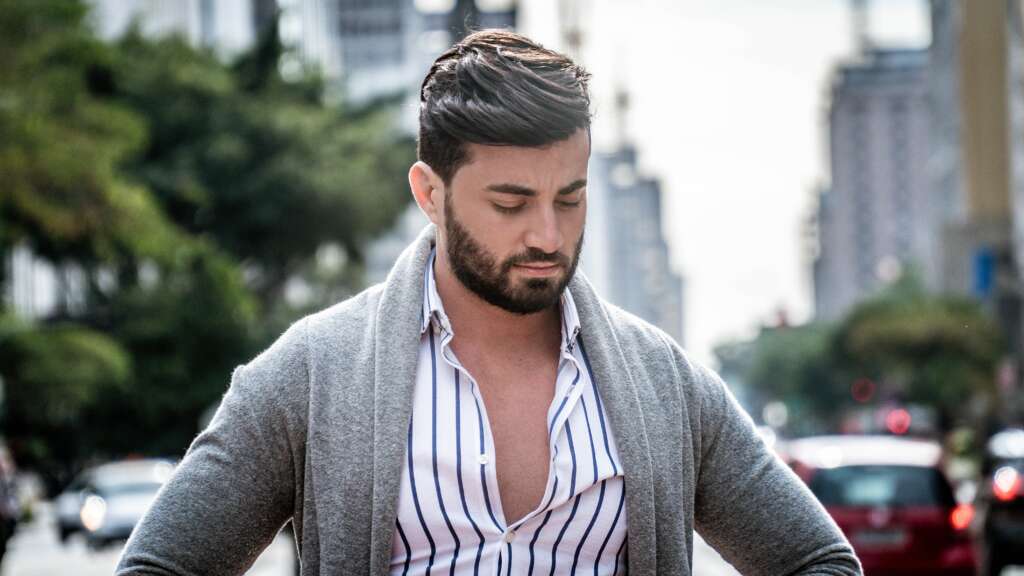 In addition, runway models have now turned into trendsetters dominating contemporary fashion with their looks. A smart casual dress code is the talk of the town which allows these models to experiment with all the possible looks. Young men dress up in their favorite set of khakis and different types of leather jackets to update the smart casual style every day.
High-end brands have launched specific collections in the honor of smart casual dress code. You will see their models flaunting blazers and jeans in the most trendy ways that you can ever imagine! You can build a preppy style outfit with a sweater over a collared casual shirt and jeans. The look cannot be ignored and is perfect wear to any dressy-casual setting.
Examples of Smart Casual Dress Code
Chances are, you know what a casual dress code is but find it difficult to bring your planned outfits into reality. To ease that, we have listed below some of the best outfit ideas built with smart-casual wardrobe staples.
Smart Casual Outfits for Restaurants
Dining out is not only about food, but clothes too! You surely don't want to ruin your first impression on a meetup. For a laid-back yet smart casual look, choose a bright shade of blazer and pants paired with a white undershirt. Close one of the buttons and let the others go with the flow. Add a pair of new sneakers and watch yourself ooze confidence with every step you take.
For additional style, put on a sleek watch to make that first impression count! This look is suitable for young men who like exploring contemporary shades. The versatility of this outfit makes it a must-have for a men's capsule wardrobe.
Or, go for a chambray shirt with light shaded jeans for an effortless smart casual style.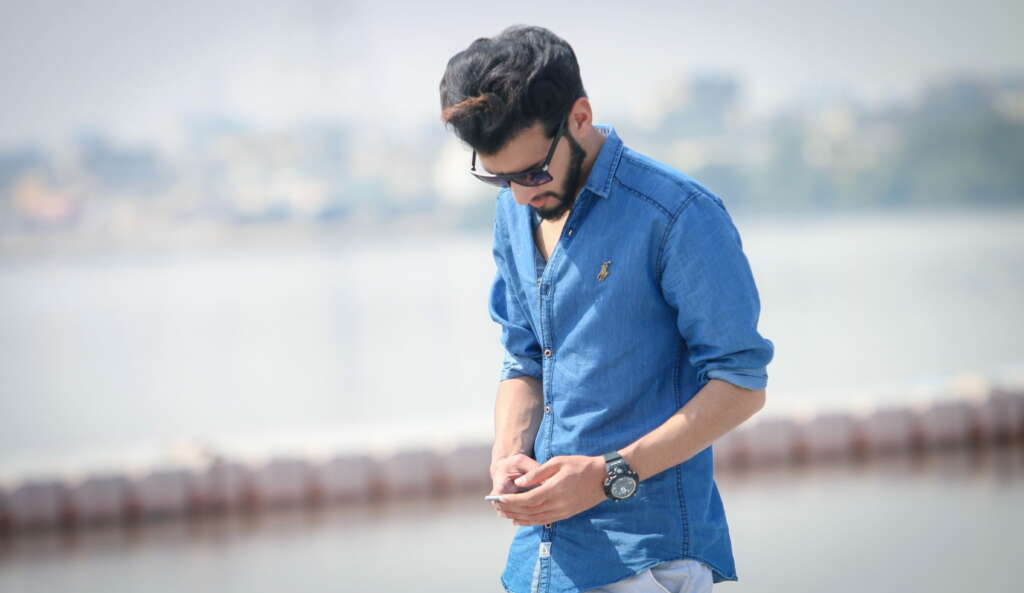 Smart Casual Dress Code for Wedding
Weddings are all about fun until you don't know what to wear.
Weddings are a perfect example of a semi-formal event, thus you need to pull off an exceptionally smart casual look for the day. Throw in some shades to your outfit and we assure you won't regret it! Put on a green slim-fit blazer and pants, and pair it with a white buttoned shirt. Put on a fancy pair of black loafers to seal that oh-so-perfect look.
Let open the collar buttons and add a silk pocket square as a gentleman's gesture.
Smart Casual Dress Code for an Interview
Do you find yourself asking the same question 'what should I wear for an interview?' As if interviews weren't scary enough that you add more stress on your shoulders. It is said that many interviewers withhold their judgment on the very first impression only. You surely don't want to mess that up.
For a smart casual interview look, go all black! There is nothing more attractive than the color black on young men. Opt for a round-necked black shirt and pair it with a monochrome dress. Make sure to tuck in the shirt finely as it is one of those few things that completely ruin an outfit. Put on a vintage wristwatch and pair of black office shoes to add finesse.
Professional Attire
Probably the easiest to assemble, but hardest to pull off. Smart casual dress codes can make a very stylish professional attire but you need to have enough know-how on how to style one.
Put on a neutral-colored office shirt underneath a woolen vest. This vest adds the vintage element and keeps you warm on colder days. Put on a dark-colored blazer for that added style element. For the bottoms, what better than khaki pants! One can never go wrong with the statement khaki straight pants, especially for a smart casual outfit,
There is not much need of accessorizing the look as it is complete on its own. Opt for a pair of leather loafers for a dressier look, avoiding scuff and rugged shoes.
Travel Work Outfit
The office is not only about dressing in coat pants. Frequent work travelers need to be on top of their styling game as they are often the representation of their companies. As much as it's important to dress well, comfort is the number one factor when it comes to travel outfits.
Pick a dark-colored collared T-shirt from your closet. Opt for a pair of straight khaki pants that will complement the dark-colored shirt well. Add a pair of clean sneakers for a comfortable yet stylish airport look. Put on a peacoat, and you are good to go!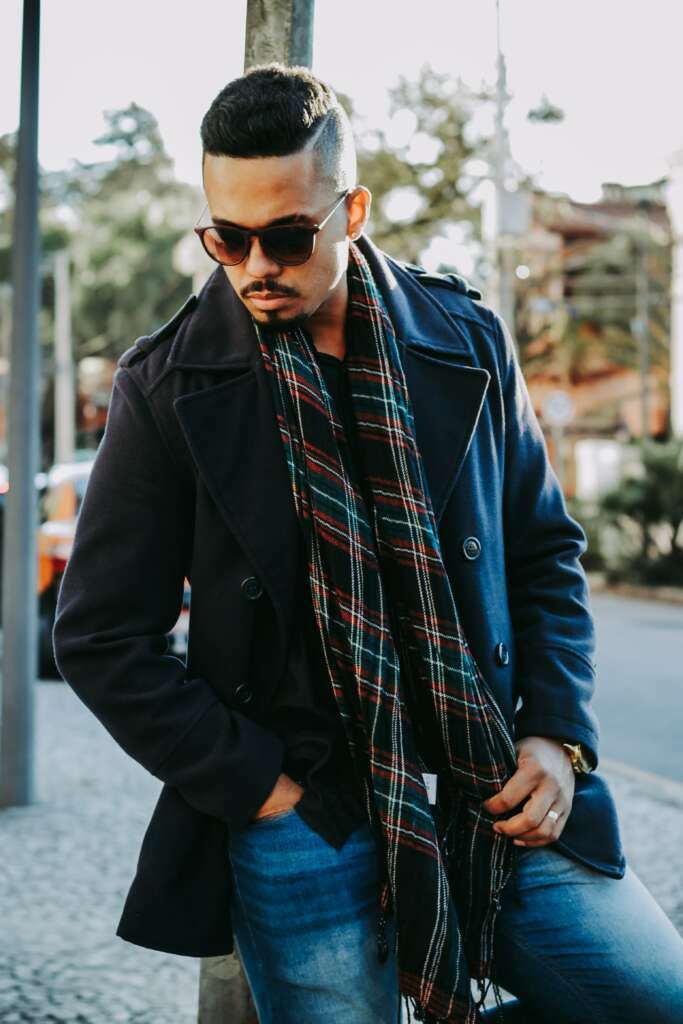 Make sure to opt for a neat pair of sneakers to distinguish your outfit from a casual one. A single pair of shoes can either make or break your entire look in no time.
Casual Pant Suit
Are you one of those who avoid looking all dressy at your workplace? Don't worry because your choice is now trending!
For a more casual look, opt for a suede leather jacket in a darker shade and pair it with khaki pants. Keeping the shades as neutral as we can, put on a pair of laced shoes with a slight heel. These shoes will eventually become the highlight of the outfit as they are smart and casual but within the formal circle.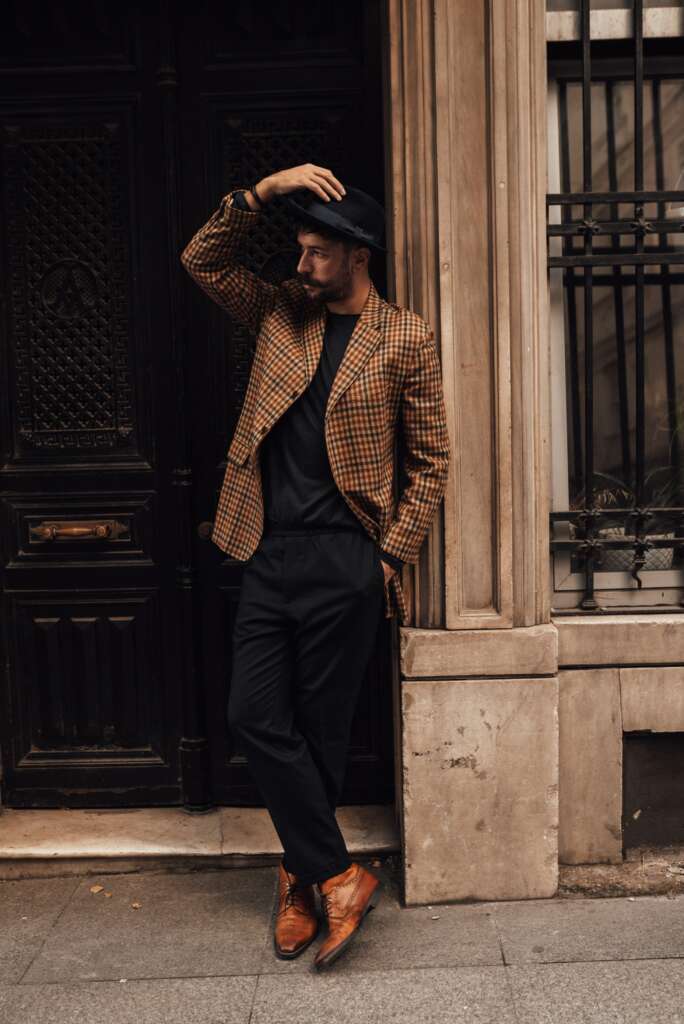 Do's and Don'ts of a Smart Casual Dress Code
To avoid any fashion mishap, you need to learn some styling techniques
FAQs
What does smart casual dress code mean?
Smart casual is the middle ground of casual and formal style. It is hard to describe and harder to pull off. In general, smart casual is the blend of formal attire with a casual outfit. It is more formal than athletic wear but less formal than a business suit. A smart casual dress code requires men and women to step up their game as it is a relatively newer concept.
What to wear if the dress code is smart casual?
Smart casual dress code revolves around well-fitted, sleek wear ensembled with casual wardrobe staples. Examples of what to wear in a smart casual dress code include chinos, jeans, blazers, button-down shirts, and leather or denim jackets. The list is never-ending as there is so much more to explore rather than just sticking to a pantsuit.
Can you wear jeans in smart casual?
Yes! Dark wash jeans are one of the hottest picks for a smart casual dress code. They provide the perfect balance between casual and smart casual due to their sleek fitting. Opt for a pair of black denim jeans with a button down white shirt. To layer the outfit, go for a black men's bomber jacket for polished finesse. This outfit would be great for a semi-formal dinner or lunch.
What is acceptable for smart casual?
As Mr. Porter's style director puts it into words, "anything smarter than a tracksuit, but less formal than a suit." This includes an array of wardrobe staples to create a perfect go to look for any event. It needs to be a bit formal but not conventionally old.
What is the difference between casual and smart casual?
These two dress codes can easily be confused with one another. The key difference is how and where you can wear either of each outfit. Casual can only be worn at informal places, such as a boys' night or lunch with friends. However, smart casuals can easily be worn at semi formal events too. This includes different outfits built from different wardrobe pieces. A casual outfit can be assembled with a hoodie and jacket, whereas the smart casual dress code won't approve of it.
Can I wear sneakers for smart casual?
Absolutely yes! However, they need to be a bit on the formal side rather than sporty. Sloppy sneakers would fall in the casual category. Hence avoid opting for flashy colors and faded material. In short, the sneakers you wear with a smart casual outfit won't be the same as the sneakers you wear at a football game.
Final Words
Bid farewell to the traditional pantsuits when you have so much more to explore. The above-mentioned outfit ideas might help you understand what is the smart casual dress code. By now, we already know you possess a sound taste in fashion. But it is just a matter of a few good investments to make a statement with your outfits wherever you go.