As time keeps changing so does fashion. Statement pieces from the past come and go while some stay in for the long haul. Double-breasted blazers are back with a bang and ready to rock your formal menswear wardrobe giving your outfit that oomph you never knew you needed. Step aside single-breasted blazers as double-breasted blazers are here to slay.
What is a Double-Breasted Blazer?
A double-breasted blazer consists of a wide overlapping front flap, which makes for a sturdy garment, having two symmetrical columns of buttons in front. The quintessential double-breasted blazer features one to four columns of buttons, out of which only one side is functional. The lapels on these blazers are commonly peaked where the left lapel typically fastens over the right.
Today's double-breasted blazers are tailored differently and have a shorter length. The jacket sits close to the body but is not form-fitting and the armholes are cut higher to create a neat look. The shoulders are not sharp and bulky anymore but more natural, soft, and tailored. It all depends on a narrow cut to achieve a sharp look.
History in a Nutshell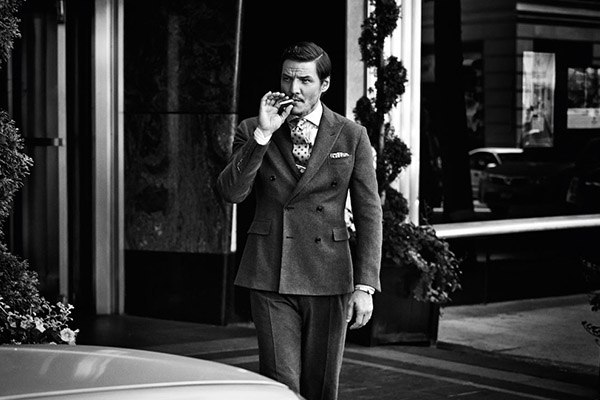 The first double-breasted blazers were designed for sportsmen, to keep them warm outdoors. It originated from the naval reefer jackets, now more commonly known as pea coats. This piece of clothing is a casual option compared to tailcoats.
When the Duke of Windsor started wearing a double-breasted jacket, it was only then that it had turned into a business-wear staple and slowly transformed into a more formal piece. The design and style of this particular men's garment have changed over the years going in and out of style.
Fun fact: The double-breasted blazer was originally banned by many businesses as inappropriate office attire as it was too laid back.
Differences Between a Single and Double-Breasted Suit
Double-Breasted Suit:
There are a few major differences when comparing the two suits. The double-breasted suit jacket features wide, overlapping flaps at the front which mostly feature two symmetrical columns of buttons. On the right-hand side of a double-breasted jacket, the column of buttons are functional and the ones on the left are decorative buttons. Double-breasted suit jackets usually feature two columns of one to four buttons, with the three-button look (six buttons in total) being the most popular choice. 
Another big difference between the two jackets is the lapels. On the double-breasted jacket, it is most common to see a peaked lapel, but if the jacket is a tuxedo you may see a streamlined shawl lapel.
Single-Breasted Suit:
In comparison to the double-breasted suit, the single-breasted suit jacket features a narrow overlap and just one column of buttons. When it comes to buttons, this jacket usually features a column of one, two or three buttons (four-button versions are not as popular). With a three-button blazer, a good rule to remember is, sometimes, always, never—in the same order, which means sometimes button the top button, always button the middle button, and never button the bottom button. Usually, the single-breasted jacket has a notched lapel and sometimes a shawl lapel.
How to Style a Double-Breasted Blazer?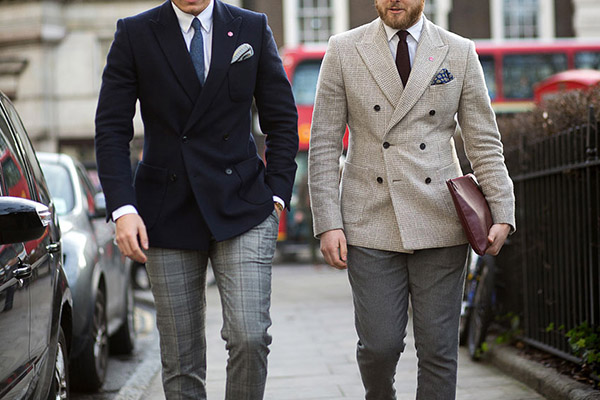 This classy garment is a statement by itself. It should be styled very cautiously and should not be over the top. When styling this blazer, avoid button-downs with patterns and pants with thick stripes on them. Stick to pin-stripes and solid neutral color shirts. You can complete the look with accessories and loafers. A pocket square is a great preference when donning this garment especially if you're going sans tie.
Those who want to appear with a broader chest should definitely invest in this timeless piece. The blazer's peak lapels are the reason behind making one's chest look wider, giving a slimmer silhouette to your waist. An easy way to style a black naval peacoat is to pair it with a nude turtleneck sweater, slim pinstripe pants, and black sneakers, this is more of a laid-back look and is less formal. If you're more into color and prefer a brown jacket, it can be worn with a white button-down, blue jeans, and loafers. 
Pro-Tip:
Always go for six buttons as the 6×2 (it has six buttons where two are used and sometimes, one is used) style of the blazer is the most outstanding choice. The buttons should be closed at all times because the second you open them up, the illusion starts to fall apart. Unless in a seated position, in which case buttons have to be left open when sitting. 
F.A.Qs
When to Wear a Double-Breasted Blazer?
Just like a single-breasted blazer, a double-breasted blazer can be worn to formal and semi-formal events. Due to its elevated aesthetic, it is more formal than the single blazer and is definitely a standout piece. It can be worn to a wedding, formal dinner, a ball, events and an office meeting. They're a big trend at the moment and will definitely make a statement when you wear one.
Who Should Not Wear a Double-Breasted Blazer?
There is no limitation to who can and cannot wear this blazer as long as they style it appropriately. Of course, keeping in mind the weather. These blazers do come in different fabrics such as leather, linen, cotton, and silk. One should always consider the weather before picking the material. You would not want to wear a leather blazer midday while the sun is shining bright. Save it for the evenings or at least when it's cooler outdoors. 
Where to Buy a Double-Breasted Blazer?
We at The Jacket Maker carry timeless and classy menswear jackets. You can find a few pieces that are currently up for grabs. Also, if you have a design and style in mind we offer 100% customization for our customers.  
Briefly to Conclude
In the end, a double-breasted blazer still holds its original sense of style while accepting modern minimalism after all these years. Even though a single-double blazer is more common, significantly cheaper, and stacked in your closet, a double-breasted blazer is a good investment and a great addition for those who always look for reasons to elevate their looks.