Men and pants — name a better relationship than this. They have pants in all shapes and sizes; ones that are easy to pair with anything and everything. Pants are essential garments that are highly functional and have ways to move around in. You can find many different types of pants in both expensive and cheap ranges, and that too, for a variety of functions and settings. 
Pants, the most important piece of clothing, in your capsule wardrobe, are extremely versatile and can be matched with a variety of shirts, jackets, and footwear. Amongst them all are khaki pants that stand tall in all regards; they can be used to style semi-formal, formal, and casual looks. Let's take a look at how to style khaki pants. 
How to Put an Outfit Together with Khakis
Khaki pants come in different ranges depending on which brand you're purchasing them from. But the one thing common in them all is how you style them. This decent garment can be worn in all seasons and settings — be it outdoor, corporate lunches, boardroom meetings, family gatherings, dinner dates, and even cocktail parties.
Wondering exactly how to put together an outfit with khaki pants? Well, here are some styling tips:
You can go ahead with any color combination when choosing a shirt to wear with khaki pants. Use any color to match with khaki pants; from black to white, grey, brown, and even blue. Stick to monochromes, palewave, or gothic themes as you like. 
Make sure you select a size that fits you perfectly. You don't want the pants to be loose or too tight and uncomfortable.
It's up to you to decide how many pockets you want to have in your pants; from a design perspective. 
It's not essential that you wear khaki pants, you can also style khaki shorts with blazers and sweaters, and whatnot.  Not to forget, an all-khaki outfit is also not a bad idea; military style. 
Khakis Pants and Colors
Do you know which color matches with khaki pants? Or what color shirt to wear with khaki pants? If you want the best khaki pants combination, try to stick with earthy tones; the subtle deep hues. Go for baby pink or navy blue leather blazers with suede buckled footwear. As for the lighter shades of green, unless you're going for an all-khaki look, avoid the color. 
How to Style Khaki Pants
Planning an outfit that would go with khakis for men? Well, here are some fashion-forward looks. 
Plaid shirt + Hoodie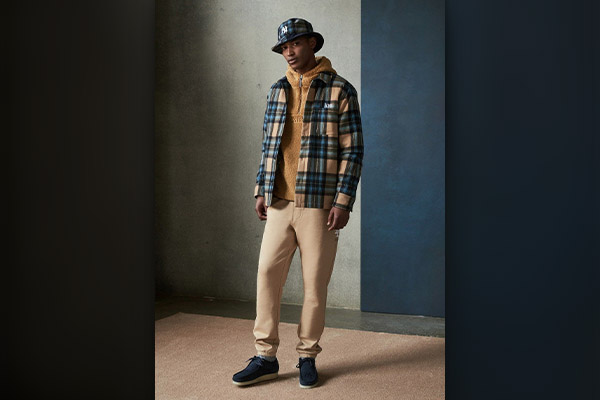 There's nothing more fashionable than khaki pants and a hoodie outfit. You should find the right hoodie, the right size, and color for you, and blend it for maximum comfort and impact. You can also use pullovers instead. Go for either black or gray shoes with this khakis outfit. 
Polo Shirt + Leather Jacket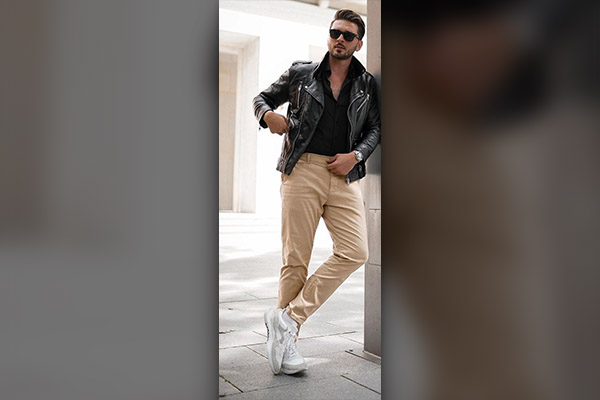 If you want to look effortlessly stylish, it's best to put on a leather jacket with a plain shirt underneath, and of course, khaki pants. This look is great for both smart casual and street casual looks. Take a risk and wear blue khaki pants instead of regular ones. 
Button Down + Blazer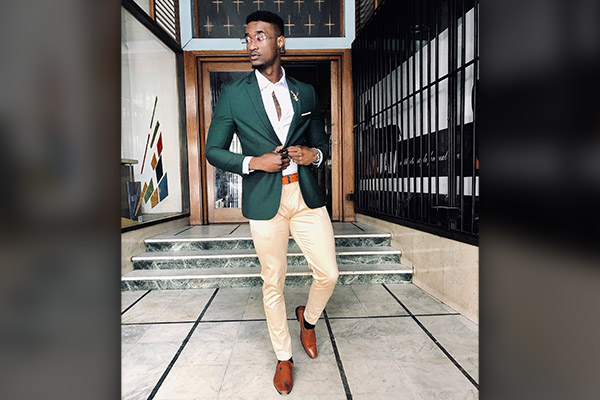 What do you think about khakis with a blazer? There's nothing more smart and professional than khaki pants with a crisp and clean button-down shirt. You can go for denim shirts or chambray shirts for this. Try to stick to white and grey shades as they're more appropriate for such environments. 
V-neck Sweater + Loafers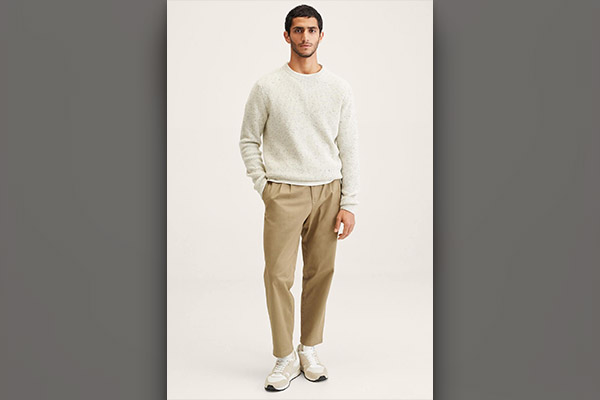 Khaki pants are great for the fall and winter seasons. You can match a striped or any other patterned v-neck sweater with dark green khaki pants and suede loafers. This outfit for men is smooth and can be layered with the addition of a scarf. 
Different Styles with Khaki Pants
When can you wear khaki pants? Are they perfect for semi-formal occasions only? Do you think it's best to wear them in summer or fall? What about a monochromatic look instead of a preppy one? There are so many questions that one searches for when creating an outfit with khaki pants. Here are different styles with khaki pants.
Preppy Look
The most obvious idea is to create a preppy outfit with khakis. Go for an old navy or sage striped t-shirt with brown pants and matching loafers. Make this outfit your own by adding a personal element; roll up your pants and get comfortable.
Corporate Crunch
Usually, people go for monochromes as they're a safer bet than a palette of different colors. Thus, make sure the garments unite and are of the same colors and blends — should at least come from the same line; different undertones can be overlooked. Use a turtleneck shirt and a trucker jacket to pair with navy blue khaki pants. 
Casual Wear
There are so many ways for men to pair together a khaki pants outfit. You can go for a collared shirt with a vest and leather boots with khaki pants. A patterned scarf wouldn't look so bad or even a fedora hat if you're in the mood to accessorize. This style is great for the young or the young at heart. 
Street Style
A khaki pants outfit is apt for streetwear; you can wear it with a regular polo shirt or a v-neck t-shirt if you like. Stick to plain shirts or go for stripes in black and white. As long as you keep it simple and basic, you should be fine. 
Do Khakis Go With Any Color?
Khaki is an interesting choice for pants since it goes with anything and everything. From deep and dark shades and undertones to lighter and neutral colors, you can match khakis with any color. 
Can You Wear Khaki And Black Together?
Khaki goes well with black. You can wear khaki pants with a plain black T-shirt or a button-down shirt. A black leather jacket, bomber, or biker, is also a nice look. 
In Conclusion
Thus, it can be established that khaki pants are an essential piece of clothing for a men's capsule wardrobe. You can easily wear it with a variety of T-shirts, jackets, and shoes. From casual to slightly dressier outfits; this garment works for all types of weather too.