Contemporary fashion in Germany is quite diverse. Walking down the streets there, you will find most German men wearing casual and comfortable clothing. But that doesn't mean they are not stylish.
Here is a detailed guide on how to dress like a German, which will unfold the unique preferences of men's fashion Germany, the list of essentials, and dressing basics. Street style men's fashion in Germany differs city wise. The dressing choices of people living in Munich, Düsseldor, Frankfurt and Hamburg are elegant and classy to the core.
But it is Berlin, the fashion capital, where you will spot fashion creativity at its peak. Learning how to dress like a Berliner will help you get the catch of incredible fashion that leans towards comfort.
Berlin is a fashion center drawing fashion savvy tourists from all over the world. Even without having a fashion ancestry like other European capitals, Paris or Milan, it is considered an important hub. German street style is hence largely considered synonymous with Berlin fashion.
All your questions regarding what do German men wear and German street fashion 2022 in general will be answered here. Let's dive into the nitty gritty of German men's fashion to help you ace the sartorial prowess like them.
What To Expect In This Article?
German Style Menswear
The personal style of a Berliner, or a German to sum it up, is elegantly casual. They are uber fashionable and voguish, all without being fancy. Enriching the German fashion 2022 scene, all the international brands have their stores throughout Germany and any fashion conscious man will not hesitate to spend extravagantly on fashion.
A true Berliner doesn't care much about brands. They are mostly contended with the local labels and even thrift buys. When it comes to grooming, German men usually sport a greasy hairdo, much like the very popular Grunge style. Clean shaven look or a maintained stubble is the norm in German men's fashion.
Casual Looks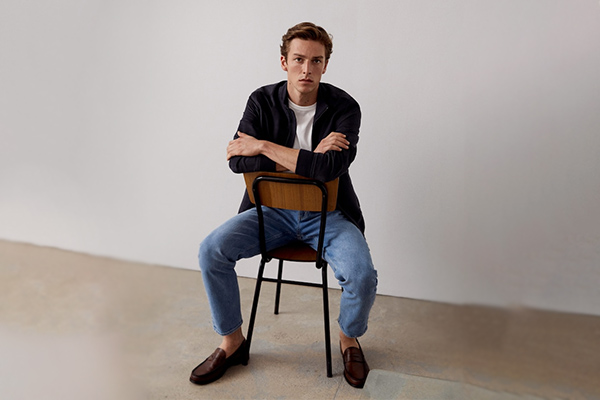 Not caring much about fashion and preferring comfort doesn't mean they are ok with being slouchy all the time. But it surely means that in modern German clothing style, you can wear a luxe sportswear outfit of sweatshirt and jeans as evening attire, and the passerby Berliners won't bat an eye. Unstructured jackets are the norm in Germany, but not have excessively baggy silhouettes.
Layering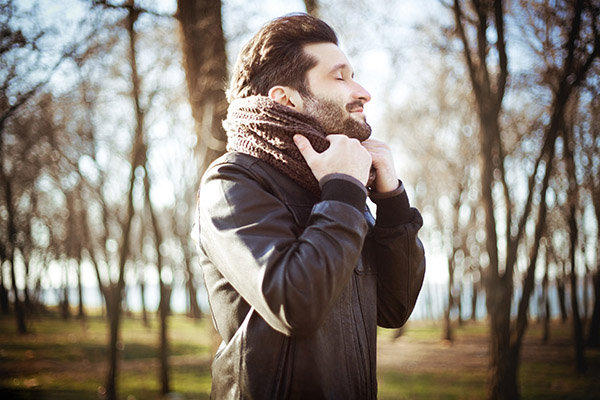 Owing to the unpredictable weather in Germany, men usually dress up in layers. A typical winter style for men would be a thin, light-knit sweater under a long heavy coat with a scarf rather than a chunky sweater for them. Layers make it easy to go throughout the day comfortably with the changing weather while adapting completely to German men's fashion trends.
Aesthetics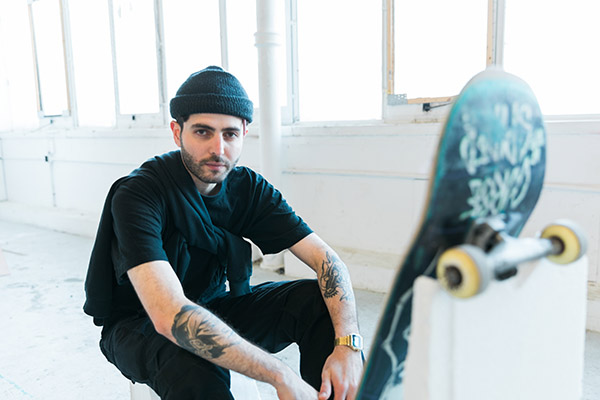 The traditional German lederhosen was once symbolic menswear, but they are now limited to festivities like the Oktoberfest. However, modern German clothing is still inspired by popular fashion aesthetics of the past.
Many German men love to dress up in the Punk/Grunge style, with trends like plaid, messy hairdo, chains, and a strong preference for black-colored clothes being a common sight. Apart from that, German men's style is mostly smart casual, with lots of layering.
Color Palette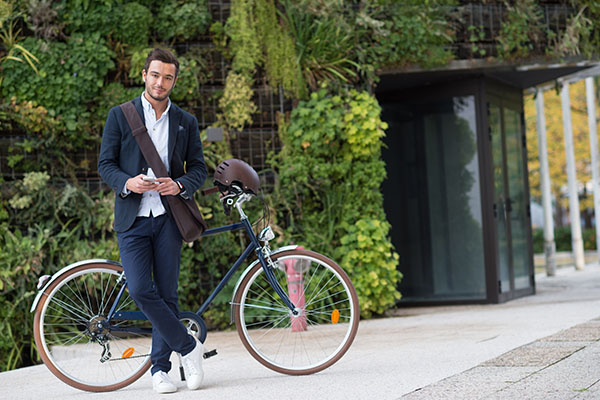 Germans, specifically Berliners, have a knack for dark, muted hues like navy blue, grey, black, and brown. Light-colored jeans, shirts, and jackets in vivid colors are a big no in men's German fashion. Men usually prefer all the essentials in neutral hues. Navy blue may be their favorite, but an all-black look is also a very common style for these men.
Global vs. German Men's Style
While men today flaunt vivid colors with their outfits, Germans stick to subtle hues. They don't even go for exotic colors in their accessories. Some trends that make German men's style different from men around the world are:
Denim on Denim Outfits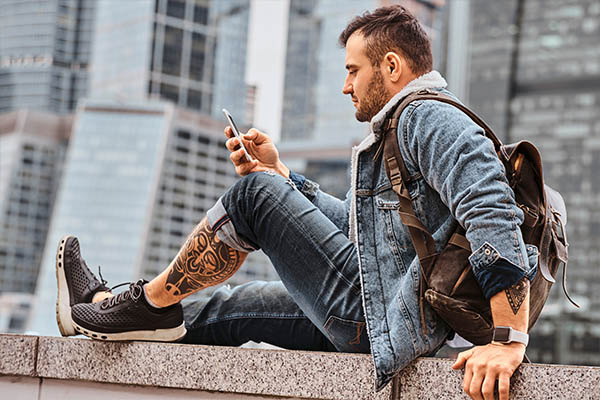 A very popular German men's fashion trend that men around the world otherwise avoid is the double denim look. The look of a denim shirt or a denim jacket over jeans, especially in the same color, may be unconventional.
But Germans pull it off effortlessly by using accessories like brown belts and boots. A black denim jacket worn over a white t-shirt is quintessentially men's fashion in Germany. It looks uber stylish, along with black denim pants with brown shoes.
Outerwear Game
The outerwear choice of Berliners is diverse. They opt for stylish men's leather jackets, tailored jackets, parkas, or windbreakers for their street style or laid back casual looks. When it comes to blazers, they are usually unstructured without breast pockets. To shield themselves from freezing weather, men also go for long coats, which give them sleek outfits for winter.
Shop Leather Jackets & Outerwear
Formal Dressing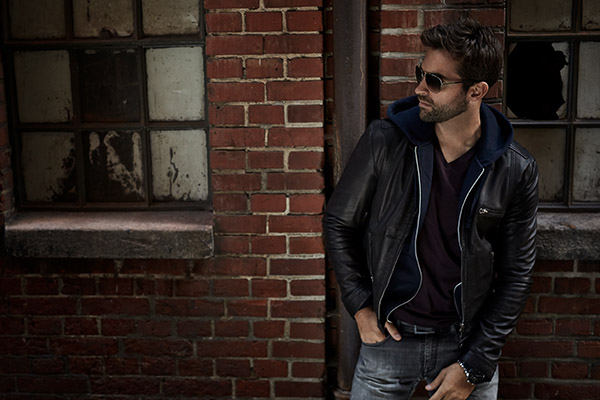 The formal dress code for men in Germany is highly dependent upon the working sector. Government, banking, and law professionals tend to dress formally, usually opting for business casual attire.
In contrast, high-tech startups allow smart casual or highly casual attire. Modern German clothing style for men working in these startups is usually laid-back clothing like hooded leather jackets and jeans.
Men's Essentials for German Style
If you are inspired by the German men's fashion, its vital to learn what do men wear in Germany. To dress like a German lad, add these essentials to your capsule wardrobe. These will help you replicate the Berliner with ease.
T-shirts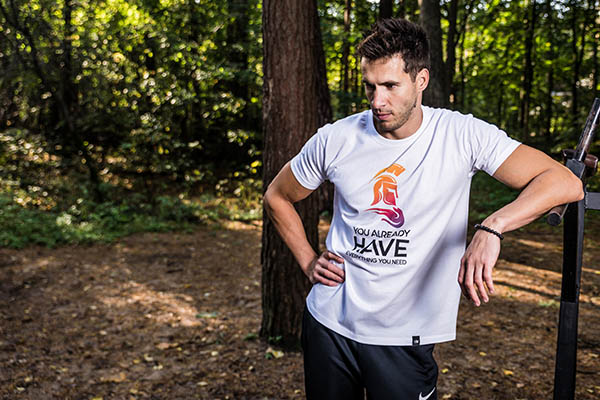 The casual flair of a Berliner cannot be completed without comfortable half sleeved and long sleeved t-shirts. Keep a few in neutral colors like white, black, and grey to use as the basic layer for your outfits all year round.
White Button Downs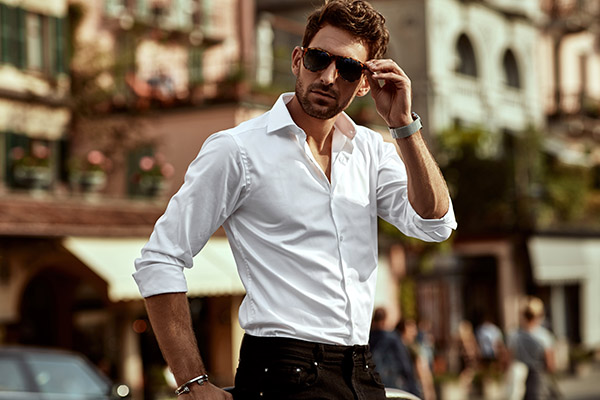 A crisp white button down is a German man's wardrobe staple. It can be used for the smart casual ensembles as well as casual street styles. Men usually wear the shirt under lightweight sweaters or simply with black chinos and loafers.
Flannels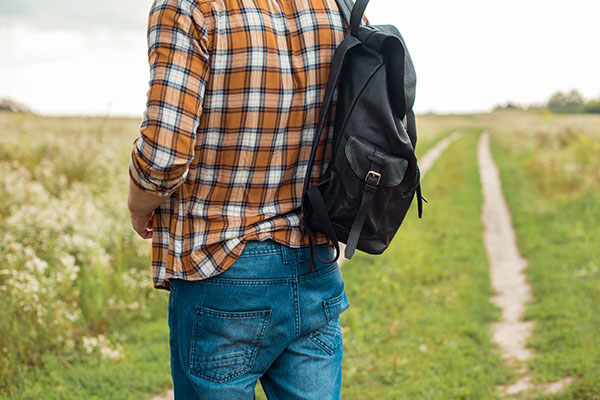 Plaid is a pattern that Germans can't get enough of. Infact, it is one of the most authentic ways to dress like a German.
German men mostly go for red and black flannels, exuding their liking of the Grunge style. You will often see German men dressed in a relaxed outfit with a flannel tied around the waist, if not wearing it over a black t-shirt.
Sweaters
Fighting off the cold weather is easy with sweaters of all kinds. Berliners go for lightweight sweaters underneath leather jackets or coats. They don turtlenecks in dark colors with long coats for those suave looks. 
Denims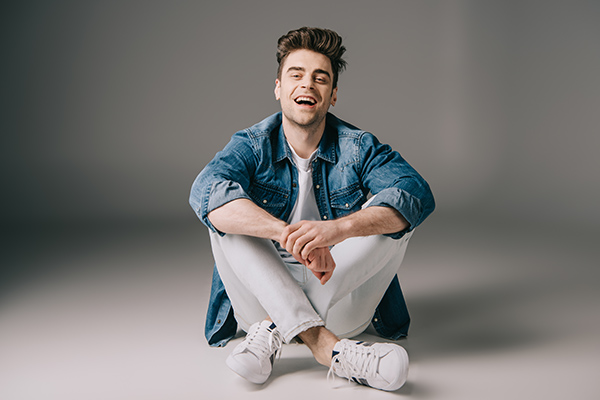 Jeans are a wardrobe mainstay, but men mostly go for dark colored denims in Germany, preferably navy or black. Occasionally, they wear white jeans and pair them with dark colored essentials. The fit of the jeans is leaner, and you would hardly see any man wearing distressed and ripped jeans.
Pants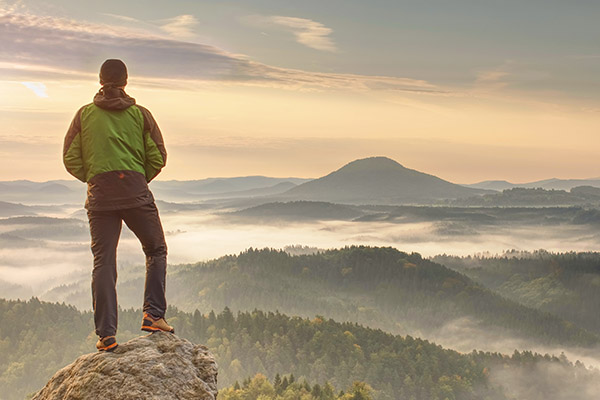 Other than jeans, men in Germany usually wear slacks and chinos as an alternative. For sleek outfits, they may wear khakis in a relaxed fit. They also wear joggers for street style casual looks.
Leather Jackets
Berlin style is incomplete without durable leather jackets, which serve both style and comfort. Popular jackets in German men's fashion are biker jackets, bomber jackets, and shearling leather jackets.
Germans use them to effortlessly layer the Grunge-inspired looks and rugged looks. Leatherwear helps them pull off impeccable style. Brown suede jackets are also a popular choice on the streets.

Winter Jackets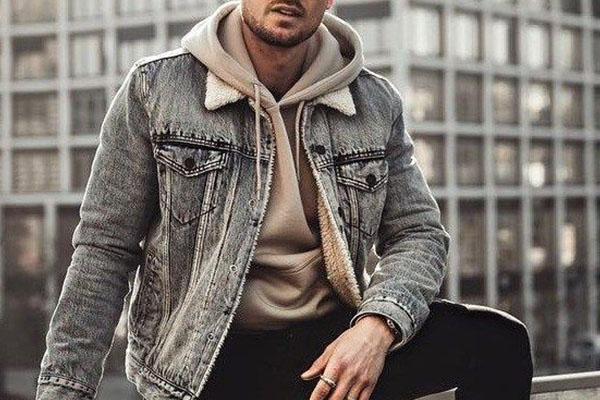 For the layering necessities in winter, German men usually opt for denim jackets, windbreakers jackets, warm parkas, or knitted jackets in dark colors, but black is the most sought after color in German men's fashion. 
Coats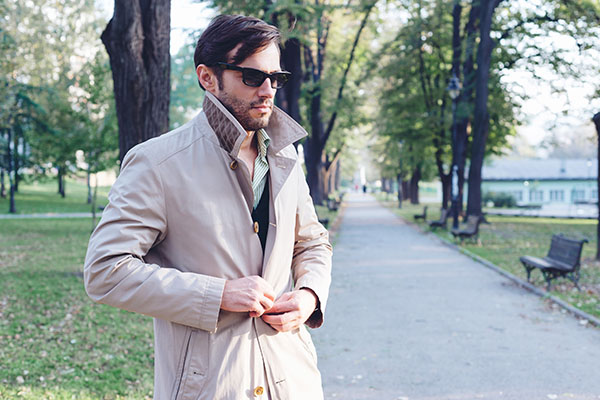 Coats are one of the quintessential staples to keep if you want to learn how to dress like a German man. Spot Berliners during the cold weather, and you will get abundant sartorial inspiration to rock the classy trench coats and wool coats.
The sophisticated pea coat has also found its way through German street style, usually in a navy blue color. For the rainy weather that is quite unpredictable, you should own a lightweight raincoat.
Blazer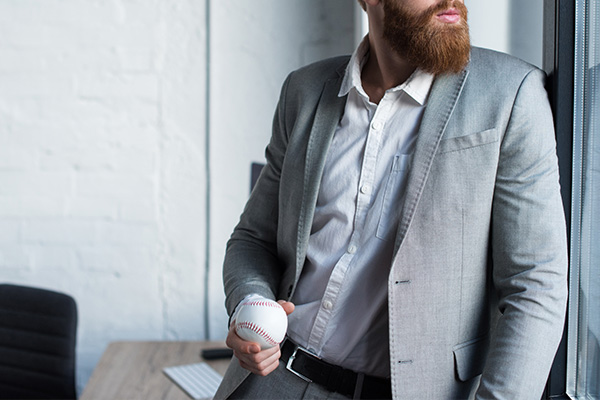 If you want to get dressed in a German outfit for a smart casual look, an unstructured blazer is definitely the outerwear to go for. For the true Berliner, a leather blazer would be in a relaxed fit with a pocket square messily placed inside the pocket. Grey blazers are mostly opted for by these men.
Suit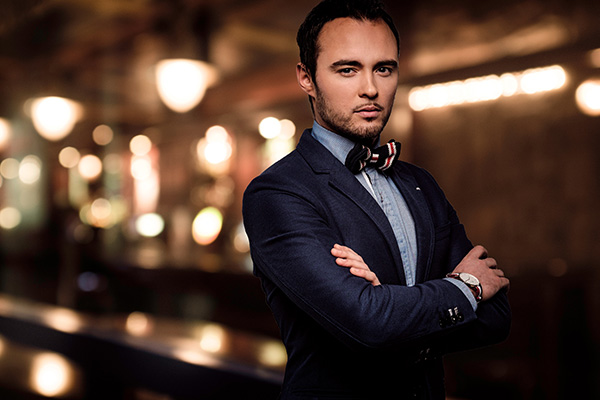 If you wonder how do German men dress formally, its mostly an impeccably fitted suit. When it comes to the suit, German men leave no stone unturned to get the fit right. The shoulders of the suit must be defined for that well dressed formal look.
Mostly, men go for classic black or grey, but the navy blue suit styled with a light colored shirt will give you a much refined look.
Footwear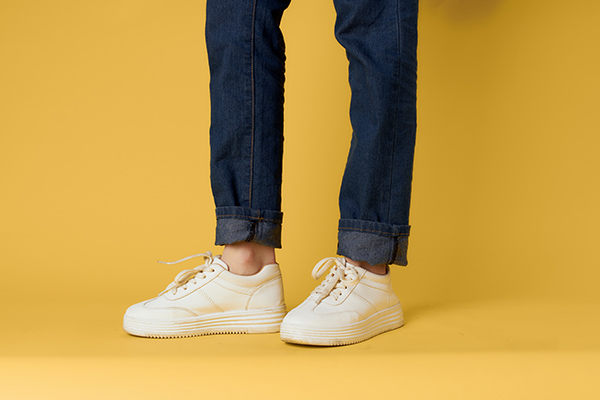 The cobbled streets of German cities make men go for sturdy footwear, such as trainers and boots, all in dark, neutral colors. Usually, loafers, ankle boots, suede boots, Chelsea boots, and trainers in brown and black are the choice. High-top sneakers with jeans are the go-to combination for dressing up comfortably.
Accessories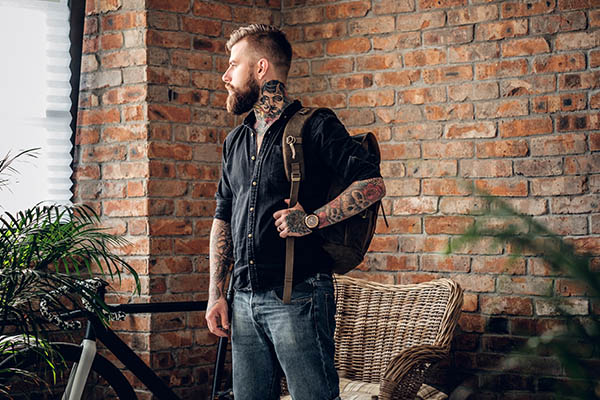 To round off the looks, German men use scarves, bag packs, belts, and shades. Leather backpacks are made popular tech workforce. Beanies and hats are also very common, in fact one of the most popular German fashion trends in 2022. 
Do's and Don'ts of Dressing like a German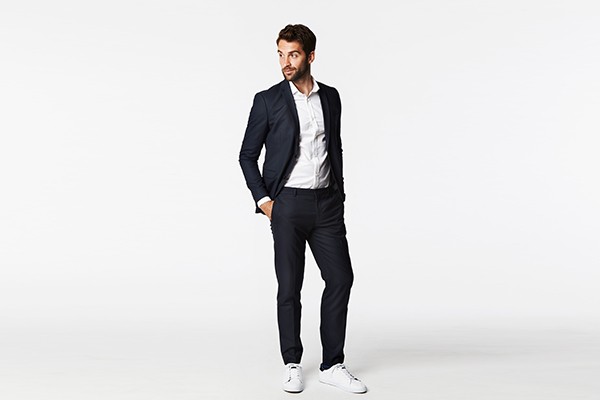 Pertaining to the carefree style of Germans, we can say that there is no such thing as a faux pas in Germany. It's fairly easy to learn how to dress like a German man and replicate his style. However, even without any wardrobe rule in black and white, there are certain style limitations in German men's fashion.
Avoid anything that screams bright colors. When Germans want a pop of color, they choose elegant hues of green, blue and brown to elevate their outfit.
For the understated look that is impeccably stylish, go for solid hues rather than vivid prints.
Do not wear jeans that have signs of distress or torn jeans.
Avoid wearing athletic outfits.
Showing off luxury labels is a big no. A logo prominent on your shirt or jacket is inappropriate for the Berlin street style.
Germans accept diverse fashion, but you might want to skip those white sneakers as that will make you stand out.
When opting for shades and wristwatches, stick to black as any other colors might hinder the true Berliner's style.
FAQs – How To Dress Like A German
What Do German Men Usually Wear?
Stylish Germans love dark colors. The only thing white you may spot is the crisp button down, above which German men add layers of dark colored sweaters and jackets. More often, the men would be wearing blue or black slim fit jeans. Footwear choices with most of the outfits will be leather boots in a classy style or sneakers in dark colors. 
Why Do Germans Wear Black?
The fondness of Germans for the Grunge and Punk aesthetics is the main reason behind wearing black. It helps them stay fashionable without showing like they are trying too hard. 
Also, black is highly versatile and blends well with any kind of look. This quality is beneficial for Germans who don't like to stand out. The creative, fashion savvy side of the Germans is held down quite well with the subtlety of black. 
Is Berlin Fashionable?
Without any doubt, fashion-conscious people around the world swoon over German men's style. Berlin is a hub to creative industries and startups, which means the professionals in this field are spotted on the streets, nailing the style effortlessly. Berlin is hence one of the fashion capital of the world, which is known for the impeccable dressing sense of its people. 
Can You Wear Ripped Jeans in Berlin?
Berlin men's style is relaxed but quite appealing. However, the right way to slay the casual look is not your usual ripped jeans. Jeans have to be dark, slim fit, and not tattered for a neat look. 
Having said that, the casual nonchalance of German regarding style rules gives you a leeway to wear what pleases you. So, you can wear ripped jeans if that is your personal style. But keep in mind that you will definitely stand out from others. 
What Do People Wear in Berlin in Winter?
Team up a lightweight sweater or cardigan with a full sleeved t-shirt and jeans. To beat the winter winds, don a classy coat, such as a leather trench coat. German men very often go for beanies in winter, so you can consider wearing them. Up your footwear game to blend in with the crowd on the streets of Berlin.  
What Do People Wear in Berlin in Summer?
To pull off the Berlin style with panache in summer, team up a lightweight shirt with linen trousers. You can also go for a neutral colored polo shirt with black jeans. You may want to layer up lightly using flannels or cool button down shirts. 
Do Germans Wear Shorts?
Yes, German men do wear shorts to keep themselves cool, but they always opt for longer shorts. Rarely would you spot men going for shorter lengths. 
Conclusion
Outrageous fashion on runways doesn't define the sophisticated casualness of a man in Germany. The true inspiration are men on the streets who teach us how to dress like a German. Those who follow contemporary fashion influencers from Germany on social media will know the currently popular German fashion trends 2022, inspiring you to hop on the bandwagon.
Their neat, nonchalant style gives them an attitude that is unique as well as attractive. Apart from that, outerwear plays a great role in earning fashion points with every look.