Welcome to December! Temperatures are dropping, and snow is in the forecast if not already outside your door. With the month comes chilly days and cold nights, perfect for snuggling up beneath a blanket with a mug of hot pumpkin spice. But first things first! If you haven't already it's finally time to break out the winter clothes from the back of your closet or start.
With cold weather comes an array of new fantastic looks and winter outfits that are great for keeping you warm and fashionable. However, sizing up your wardrobe options for the winter is a big undertaking, but it's one that every man must take seriously.
Investing in the right combination of winter clothing items can help you stay cozy, in style, and comfortable. To make it easier for you, here is a list of our top 10 men's winter fashion essentials, so you'll be sure to stay warm and stylish when the arctic winds outside begin to bite.
Let's begin and explore what are the must-haves to create the winter wardrobe of your dreams!
What To Expect In This Article?
Leather Jackets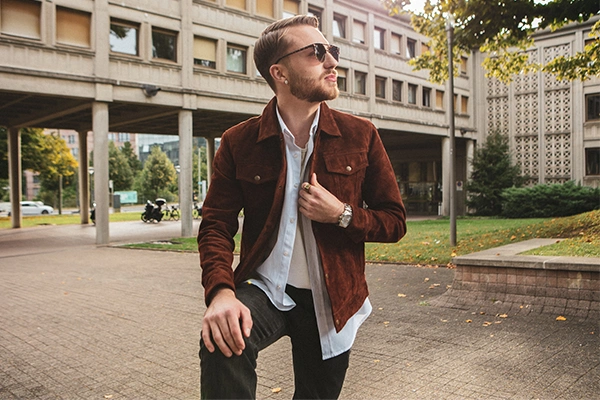 A leather jacket is one of the most timeless pieces of men's clothing and has stood the test of time as a style staple for decades. Its versatile nature lends itself well to any look and can elevate any outfit with its refined, edgy aesthetic making it one of the best winter clothes for men in their capsule wardrobe.
No one can deny that a leather jacket is easy to style with pretty much any garment, whether it's a hoodie, roll neck, or even a t-shirt. Available in an assortment of colors, styles, and finishes, you will never be short on options when shopping for leather jackets to take your winter outfit game to the next level.
Windbreaker Jackets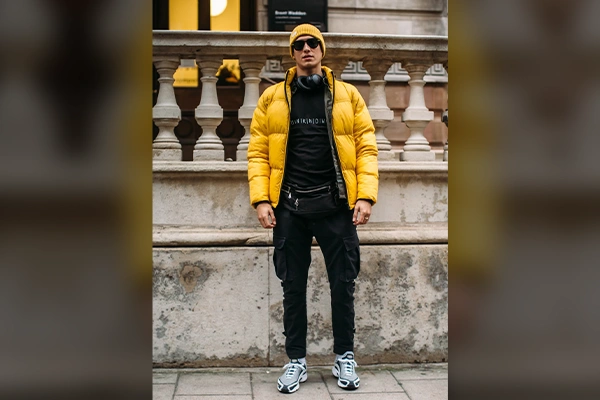 A windbreaker jacket is a must-have for a super functional cold-weather outfit. When it comes to practicality, there's no better option than a windbreaker jacket. Made from synthetic materials like nylon, polyester, and tricot and being inherently waterproof in nature, these lightweight winter pieces are the epitome of functionality and protection.
When narrowing down your men's winter outfit ideas, pick one that includes a windbreaker to stay safe on days that call out for a bit of extra warmth.
Black Denim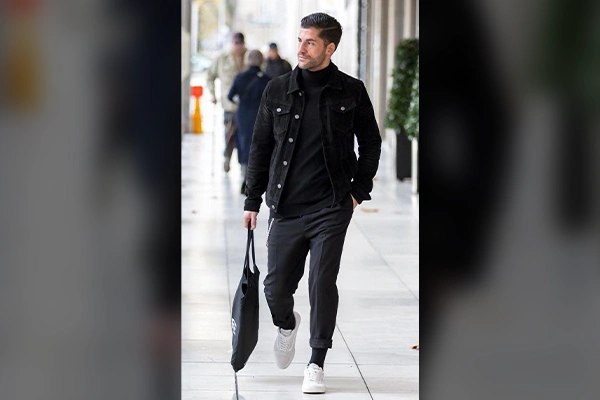 The most versatile, non-negotiable piece of a well-rounded wardrobe is definitely black denim. It is that one item in every man's closet that hardly reaches the bottom of the clothes stacks. The reason? You are probably going to wear it so often that making it hard to access is surely not an option.
Whether you're heading out to a casual dinner with friends, or just looking for something to wear to the bar — black denim has you covered. It actually goes with almost anything, too. Throw on a parka jacket with a plain white round neck shirt underneath with classic black denim and you'll look like a total boss.
Denim Jackets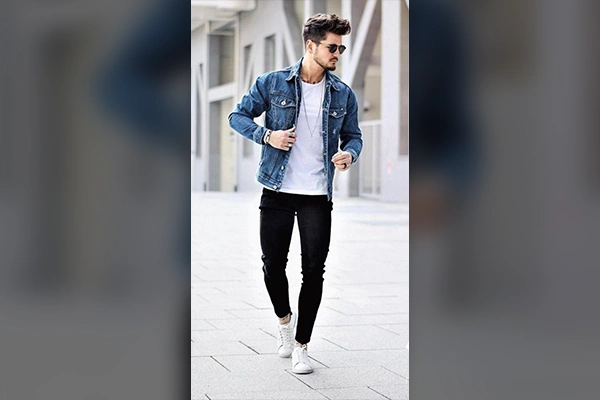 Not all days in the winter season are subzero that demand you to wear a cable-knit sweater or puffy jacket! When you want to dress up for a lunch date on a not-so-chilly day, a denim jacket will make you look casual, fresh, and savvy.
When it comes to warm clothing for men, denim jackets are the best bet. This outerwear comes in handy all year long. On a breezy summer night, wear it over a simple shirt and in extreme winters it will be an amazing addition to layering under your winter coat.
Pair a blue denim jacket with a light-colored hoodie and an earth tone bottom and the overall combination will give you a stylish urban appearance. For smart-casual winter looks for men
don your denim jacket with chinos, a button-up shirt, and loafers
Beanies
Let's start this off by saying that beanies are a cute way to keep yourself warm in the winter and jazz up your winter outfits. Whether you're riding your bike to work or hanging out with your friends, a beanie will keep your head warm and help you look stylish and awesome.
A major bonus point is that this accessory is super easy to find, as they come in just about every color imaginable. Moreover, the style choices are so extensive too! From traditional beanies to pom pom ones, you will surely find one that suits your personal style. Make sure you style the beanies the right way and it matches the vibe of the outfit you're wearing, — otherwise you may end up looking sloppy!
Sweaters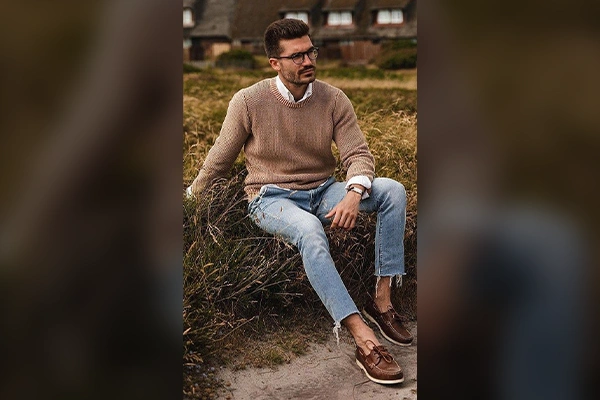 Originating in the 15th century and worn by the fishermen to get popular in the late 18th century, sweaters have always managed to be a part of the cold weather outfits for men. They provide ample protection and are versatile enough to suit a wide range of outfits. Thus making their way into contemporary men's winter fashion
Depending on the weather condition of the day, you can wear a light one over a shirt or add a heavy pullover as a layer under your long winter coat. For achieving a more dressy look incorporating a V-neck sweater in your outfit is a great way. In short, there are endless ways to style a sweater and your personal winter menswear collection is incomplete without it.
Boots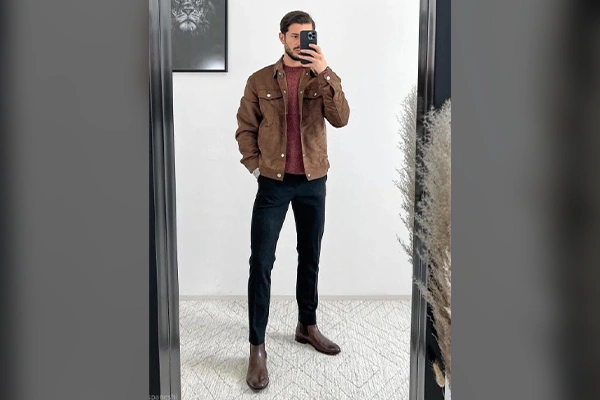 Boots are every man's best friend during the winter months. If you want to stay warm, look stylish, and keep your feet dry, top your winter wardrobe with a sleek and stylish pair of men's boots. There's nothing quite like the look and feel of a man wearing some of these boots, so put on your best suit jacket and strut your stuff in one from a wide range of eye-catching styles available.
From Chelsea to desert boots, there's a style for any occasion that can be paired with all sorts of clothing, from casual to smart casual or even business casual, and look good in any setting. The real benefit to this piece of footwear is the modish style and the fact it keeps you warm at all times. These are the ultimate men's winter fashion essentials
Wool Scarves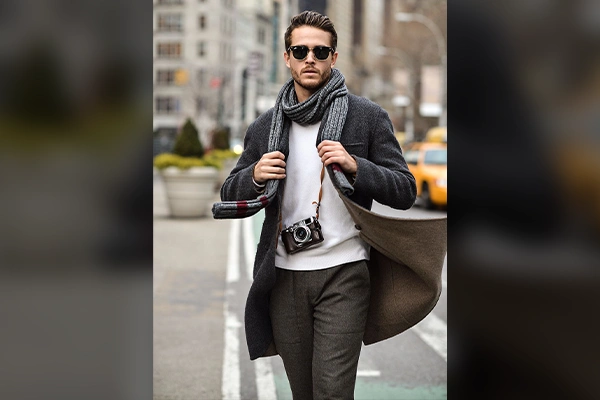 A scarf is an evergreen fashion accessory that can be worn in all seasons as it comes in a variety of fabrics like chiffon, silk, wool, cotton, and many more. However, winter is a perfect time to step up your style game with a luxurious wool scarf. They're soft and warm, keeping your neck and face protected from the cold and snow.
Outfitting yourself with a high-grade cashmere or merino wool scarf is a great way to keep you warm all winter long. Pair it with your favorite winter beanie for a casual vibe or style it up with your favorite fall-winter jacket for a more formal approach. When it comes to style, there's no such thing as too many scarves.
Leather Gloves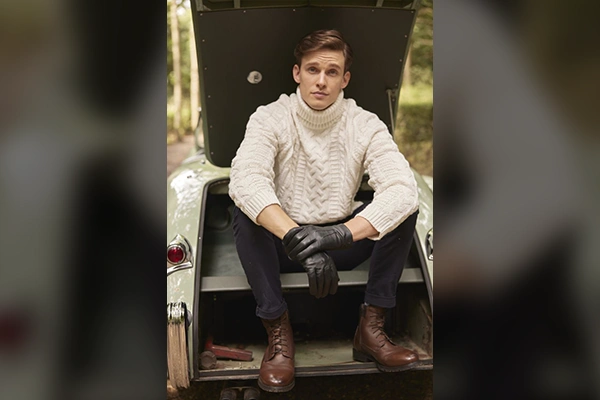 Gloves are a crucial winter accessory. It might be tempting to wear those fingerless gloves that look so stylish in summer, but a proper pair of leather gloves will help you ward off the winter chill every time you leave the house.
The viscerally satisfying qualities of the soft leather are only matched by its versatile way to wear this pair with anything you own! For those of you who want a little edge in your look without sacrificing functionality, a pair of black or brown leather gloves are an excellent addition to any men's winter outfits
Wool Socks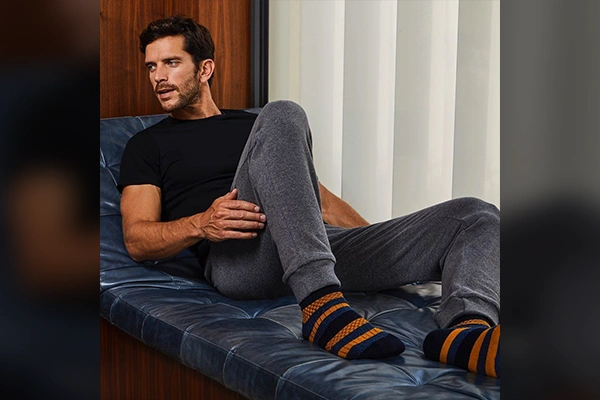 Warm, fluffy, and cozy – wool socks are a great way to keep your feet warm while adding a touch of color to any fall-winter outfit. They're especially handy during the colder months when regular foot coverings like polyester and cotton socks won't work. It's naturally antimicrobial so there's less risk of giving off a foul odor.
Choose from a wide range of colors and patterns. You can go overboard with color and funky patterns over the festive period or when opting for a casual look. Shades like brown, gray, black are a good choice for a formal ensemble: versatile enough to go with most wardrobes while standing out just enough.
FAQs:
What are the colors for winter 2021?
When it comes to experimenting with colors especially in winter clothes most men are a little hesitant. This is why for 2021 too classic colors like black, white, gray, tan, and brown are still the main colors of winter outfits. However, to cater to Gen-Z, colors like pink, green, and yellows are also coming into the limelight.
What kinds of pants should men wear in winter?
Black denim jeans are a classic item that you should never be without. It's a good idea to keep a pair in your wardrobe at all times, as they look good with almost anything and can be dressed up or down depending on the occasion. Likewise, selvage denim is another timeless pant option that will always suit any man. For more warmth in winters try corduroy trousers, flannel trousers, cargo trousers, and wool trousers.
What are the fashion trends for winter 2021?
Carrying on from the last several years of winter men's style winter jacket obsession still is on the rise. Varsity jackets, knitted polo shirts, sweater vests, trench coats, and windbreakers are also all set to be big this season. Earthy tones such as camel, and brown will also be key. If you want to try out something new this winter, faux leather pants are making a comeback too.
Wrapping Up:
Building a well-rounded winter wardrobe is a tricky task but it's good to have all the basic men's essentials in your wardrobe even if you don't want to go the extra mile by owning everything that is trending. Mix and match from all the men's winter fashion essentials discussed here to roll out a new look every time you step out. However, it's not a bad idea to pick something unique and unconventional from the racks to be a little experimental and creative with your winter outfits.