Winter is hands down, the best season for men's fashion. Summer just restricts your clothing too much. Yes, there are incredibly stunning outfits that only work in summer, but the number and variety of them is dwarfed when compared to the winter selection.
Sure, winter has its limitations as well, but they are not as restricting. You are free to choose whatever you want to wear for the most part. The thing that makes winter fashion so unique, though, is the ability to don layered outfits. Even if it's something as simple as a leather vest over a t-shirt, layers almost always look fantastic.
What Does Layering Mean?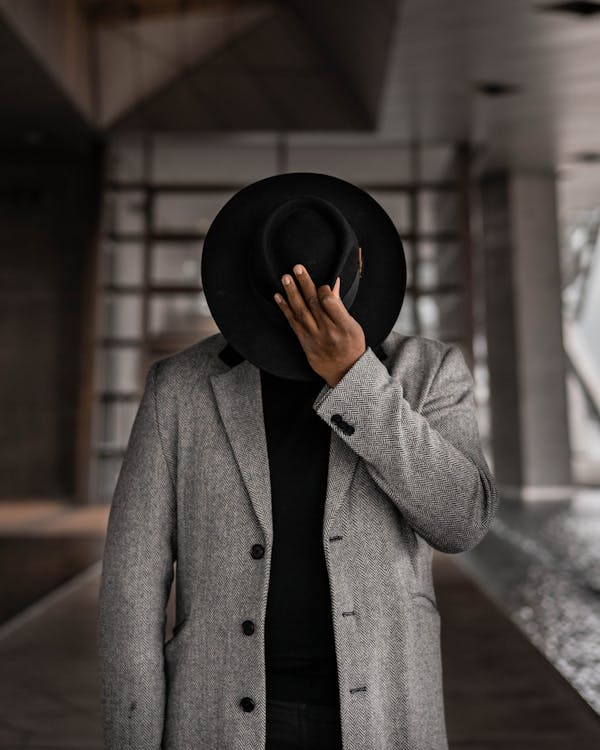 Layering, in terms of men's fashion, refers to wearing a number of items on top of each other. This technique is mainly used on items for the upper body but can apply to other stuff like tucking your pants inside a pair of high-top shoes.
The initial appeal of layering was pretty obvious. It helped us stay warmer and better insulated. Two winter jackets on top of each other are better at warming us up than one jacket. But, the fashion potential of this technique became apparent quickly.
Today, almost all types of men's winter fashion integrate layering different types of clothing to some extent. The level of layering ranges all the way from; just wearing your favorite leather jacket on top of any and every outfit to having clearly defined rules on what goes with what and in what order.
Men's Winter Fashion That You Should Know About
There are many winter fashions trends that come and go every year—some last for a season while others fizzle out in a few weeks. Then there are trends that have been at the top of men's winter fashion for decades. They will also stay there for the foreseeable future. So, what are these everlasting trends, and how can you improve your fashion sense with their help? Let's find out.
Preppy Style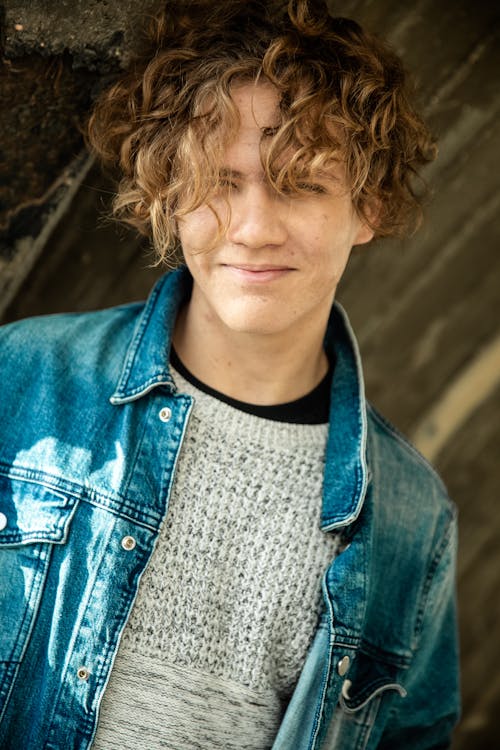 Layering a handful of different clothing items to craft one coherent outfit can require a lot of time. You can spend hours mixing and matching unique textures, colors, and styles for something that you're going to wear for just one day. But the thing is, none of this effort is necessary. You can get ready in no time by sticking to preppy-style winter outfits.
Preppy style in men's fashion refers to a way of dressing that minimizes the prep time while retaining a well-put-together look. It is not black magic or rocket science; all it is is a way of combining different items that just work with one another without any hassle.
Things You'll Need
To start your time-saving journey, you need a few pairs of jeans, a couple of chinos, woolen sweaters, and a handful of nice coats or jackets. These coats are the focal point of these outfits, so make sure to pick the right ones. Something along the lines of a peacoat should work flawlessly.
A Few Examples
Now that you have all of the necessary ingredients, just mix them together. Wear your sweater over a shirt. The shirt can be anything from a t-shirt to a formal shirt. Now wear a corduroy jacket or a coat on top of the sweater. Combine these layers with a pair of matching jeans and a pair of high-top sneakers. That's it. That's all you have to do to look sharp. How long did that take? Not even ten minutes.
If, on the other hand, the weather is not that cold, you can lose a layer while following the same style. All you have to do is wear a sweater over a button-up shirt alongside a pair of navy-blue jeans. Finish the outfit with a pair of brown leather boots, and you're dressed to impress.
Semi-Formal
Now preppy outfits are great and all, but you can't wear them to an occasion that calls for semi-formal attire. A simple tuxedo can't keep you warm in winter. What do you do? Well, fear not, as men's winter fashion has plenty of semi-formal outfits for you to try.
Options available to you
The first step in wearing semi-formal clothing in winter is understanding that suits can be made from all kinds of materials. A bunch of materials is warm enough to carry you through the initial and final weeks of winter. Winter business suits, for example, are thick, and their three-piece design ensures excellent insulation against the cold.
If you want to go a step further than business suits, then swap out the suit vest for a sweater or a cardigan. Keep everything else the same, and you will immediately feel the increase in warmth. You can then take a step further and swap out the suit jacket for a warm topcoat. Trench coats are also an option, but a significant number of people consider them to be business casual rather than semi-formal.
Business Casual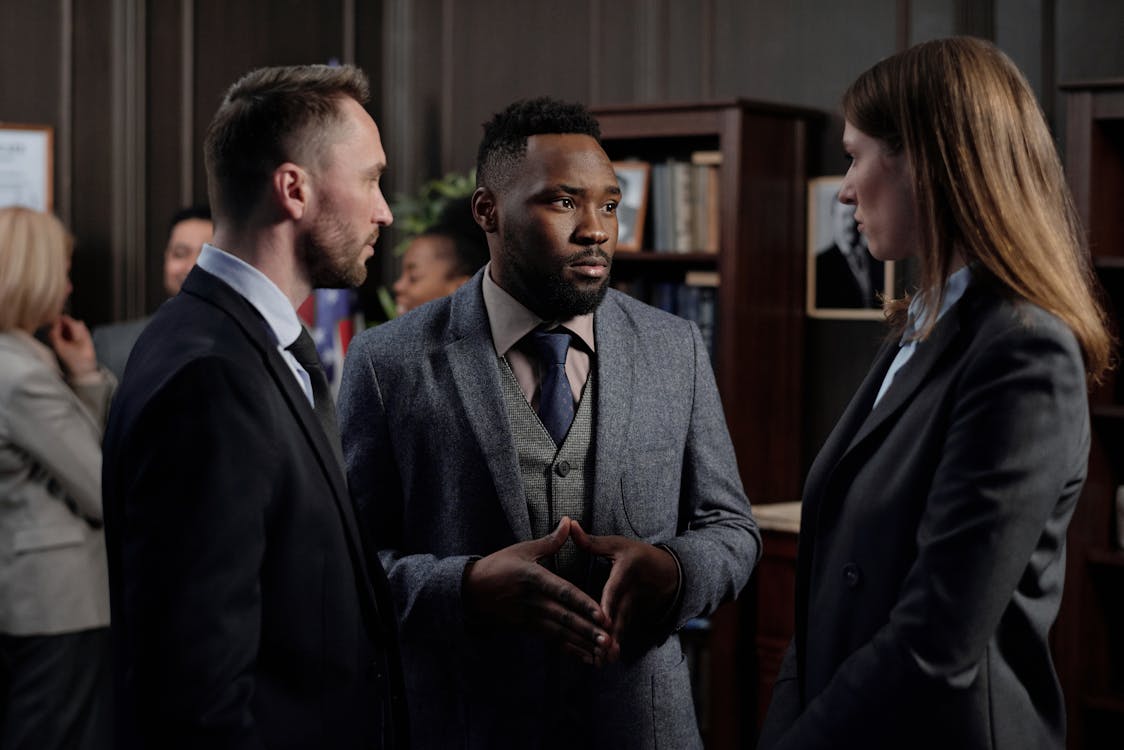 Business casual refers to wearing clothes that are comfortable and warm while also looking neat. Business casual is creative and fun but is almost always dress code compliant. Lucky for us, most workplaces do not have a very strict dress code, so there is a ton of room for creativity and personal flair.
A few examples to get you started
Let's start our business casual journey with something simple. Wear your normal office pants, shirt, tie, and shoes. Now put on a cream or brown shawl collar sweater on top of it. Congratulations, you're now the most well-dressed man in the whole office; It's that simple.
Taking things up a notch, you can try replacing your shirt and tie combo with a turtleneck. Now wear a woolen blazer on top, and you will look like you mean business. Just make sure that ties are not mandated in your workplace before trying out this outfit.
Another great option is to dabble into the denim world, but not to go further than the dark side. So, a pair of dark blue jeans with a collared shirt and a charcoal blazer is all you need to look polished to the core.
One last thing, accessories like scarfs can elevate an already good outfit to heights no ordinary men's outfit can reach.
Smart Casual
Smart casual is the middle ground between full-on casual and "formal" clothing. (Formal here refers to situations that require you to dress professionally, not actual formal clothing, which has a strict dress code). Smart casual clothes can be worn to a party, as well as business dinner, without looking out of place at either of these places.
Ideas for smart casual outfits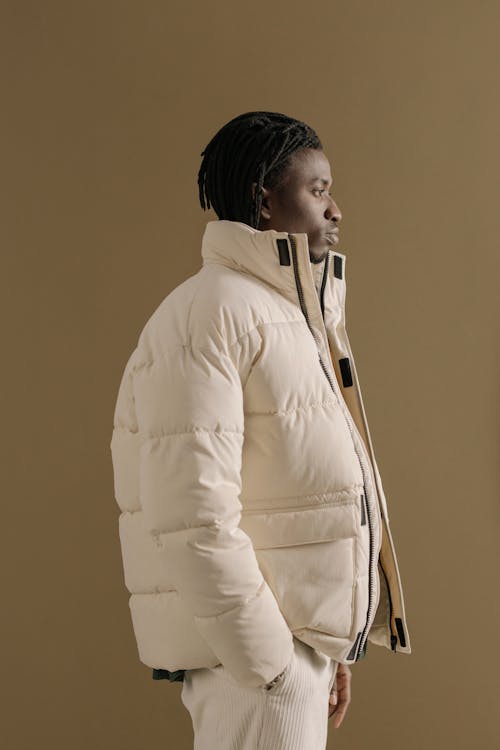 Smart casual clothing is essentially a blend of items from both sides of the spectrum. So, an appropriate example would be a collared shirt and tie with a pair of jeans, leather boots, and a leather bomber jacket. You can increase the warmth/comfort of this outfit by adding a sweater over the shirt. But any quality bomber jacket should be enough for most situations.
Another fantastic smart casual outfit would include a t-shirt and peacoat over a pair of navy-blue jeans. The star of the show for this outfit is the woolen scarf that is worn like a tie around the neck. You can also use almost all of the different types of leather jackets for a similar effect. You can even wear bright or vibrant colors as part of your ensemble.
Pure Casual
Casual is all about convenience and a comfort-first approach to clothing. It excludes anything that looks good, sure but is also not very comfortable. You might think that this is the same in all styles, but no. If you're going to a formal event, you cannot wear a formal suit, no matter how uncomfortable you feel in it; no other options.
Casual comfort-first outfits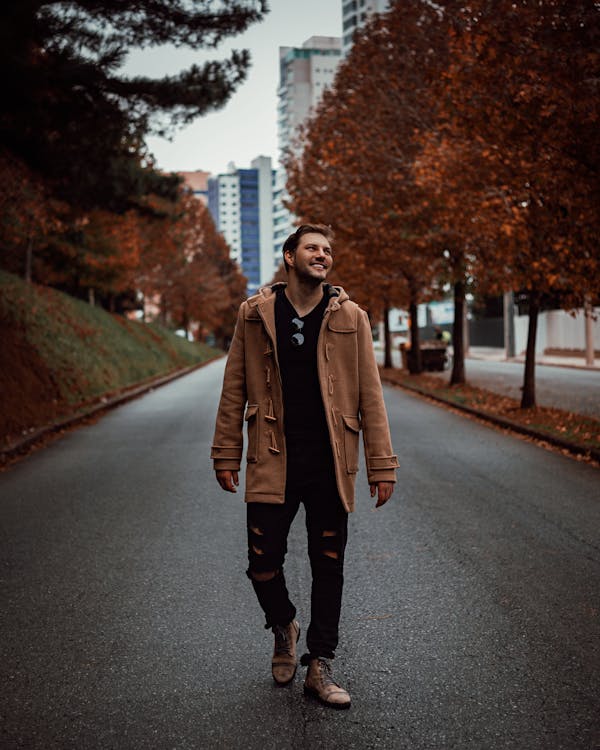 There are so many possible casual outfits, and a lot of them are so good that explaining a couple as an example would be a disservice to the greatness of the rest. So instead, we'll talk about the things that you need to craft a casual outfit. Luckily, mixing and matching clothing until you find something you like is the best way to approach casual style.
So, the first things you need are some nice cozy jackets. A leather jacket works great for this purpose. Parka jackets are also a great, lesser-known contender for this spot, so are the down jackets.
Once you have a jacket, look for pants like chinos and plaid. Denim works fine for most people, but it isn't mandatory. One of the most important parts of a casual outfit, though, is the shoes that you decide to wear. Low-top sneakers are a great compromise between style and long-term comfort. If all else fails, high-tops are still there to cozy up your feet.
Streetwear
Street style clothing is by far the most distinct type of winter outfit on our list. At its simplest, streetwear is all about expression and personal flair. No clothes are off-limits, and no outfit is forbidden. You have full reign to choose whatever you want to mix and match.
You can make yourself look rugged with militaristic functional clothing, or you can mellow out with a fluffy oversized jacket. Whatever you decide to wear, there is just one rule; only wear what you like. Craft your own outfit with a leather shirt, sweatpants, tactical boots, or whatever you want.
Streetwear encourages adding your own personality to your outfit as no other style does. You can be a rainbow man or an all-black ninja; it's totally up to you. Experiment with different combinations, and you will eventually find something that you'll love till the end of your life.
That's it.
This marks the end of our mini winter fashion list. There are loads more styles out there. But honestly, this is all you need for any situation that you might find yourself in.
How should classy men dress in winter?
Winter clothing for classy men is, honestly, easier than fans of streetwear or casual. Peacoats, trench coats, woolen blazers, scarfs, woolen hats, and many similar items are the perfect building blocks for quality classy outfits.
Do colorful clothes look good in winter?
They do, but if you want your attire to look neat or polished, staying away from vibrant colors as your main hue is necessary. You can, however, still use colors as accents in scarfs, hats, gloves, sweaters, and socks.
How should winter jackets fit?
Most winter jackets, unless intentionally oversized, should fit snugly while also providing adequate freedom for movement. One thing to remember when buying winter jackets is that you'd be wearing them over multiple layers of clothing. So, anything that perfectly fits you with just a t-shirt on might cause issues when worn over a shirt and a sweater.
Final words:
Winter provides an excellent opportunity for men to dress their hearts out. With so many styles and options to choose from, settling on one particular style can be a bit difficult. So, why not let this winter season be your experimental phase? Try out everything, and eliminate anything you don't like. You'll have a personally curated list of winter outfits by the end.