The world of men's fashion is relatively unpredictable, all things considered. There are the tried and tested classics like the suit or the leather jacket, and the fashion meta tends to remain the same. But, every once in a while, a new item rises to the top and challenges our understanding of what it means to be fashionable.
One such item that has been causing ripples, nay waves in men's fashion, is the denim shirt. Let's take a look at what to wear with a denim shirt and how you can incorporate it into your daily clothing. But before we look at the possible outfitting options, we need to understand what denim shirts are.
Denim Shirts
When the topic of denim comes up, most people think of a pair of blue jeans. This line of thinking is correct, but not in the context of a shirt. Sure, the denim shirt is technically made out of the same material. However, it is much thinner, lighter, and softer than the denim used in making jeans. This slenderness allows denim shirts to be just as, if not more comfortable, than traditional cotton dress shirts or even woolen flannels. There are also zero compromises on the classic denim texture or look.
Now that we know what a denim shirt is, let's answer the question of what goes with a denim shirt.
Ways to Wear a Denim shirt
Someone unfamiliar with the stuff might assume that a denim shirt doesn't leave much room for innovation and creativity. This, luckily, is entirely false. In fact, denim shirts are super flexible and offer a metric ton of outfitting options. Whether you're after a Bad boy look or something a bit sophisticated, a denim shirt has got it all. Here are a few of the most notable options.
Denim Shirt + Jeans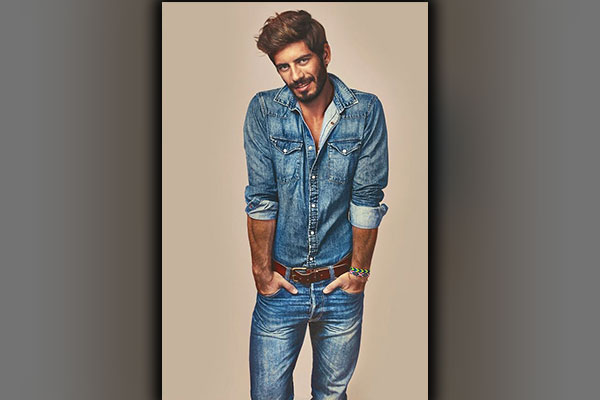 Starting off our list is the world-famous Canadian tuxedo, aka denim on denim. You might find people in the fashion industry that advise against this look. Some say it's too dull, while others claim it to be over the top. The reality, however, is that a denim shirt looks better with a pair of jeans than any other type of pants.
One thing to keep in mind when rocking this look is to maintain contrast. You can achieve it by wearing different colors, like a black pair of jeans with a blue denim shirt. Alternatively, you can use different shades of the same color to create a clear border between the shirt and the jeans. An excellent example of that would be a light blue denim shirt over a pair of navy blue jeans.
Pair it with Shorts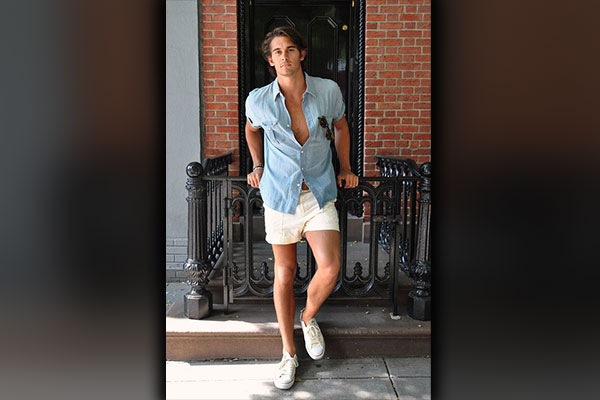 Not everyone is comfortable with wearing shorts out in public. But, if you are completely fine with it, then a denim shirt will make a great addition to your wardrobe. Combined with a light-blue denim shirt, especially the short-sleeved one, a pair of shorts makes for a killer summer outfit.
You aren't limited by the type of shorts either. Whether you prefer chinos shorts, cargo shorts, or dress shorts, a denim shirt will definitely create a remarkable look without much effort on your part. This way, you can stay relaxed and comfortable without spending hours putting together a nice outfit.
Shorts are also brilliant for a preppy style, in which you dress up enough to look well put together while keeping your preparation times as low as possible. The next outfit option on the list, however, is even better for this look.
Shirt as a Jacket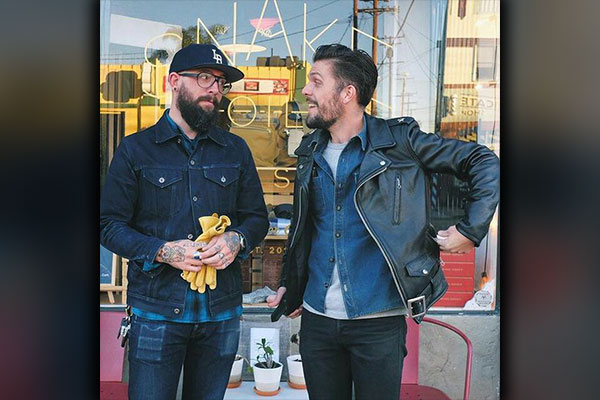 Imagine you don't own a denim shirt. A standard outfit for you would be a pair of jeans with a typical t-shirt, and that's it. This is an amazingly quick outfit that looks flawless on most occasions. However, you can spruce up this style by a significant margin just by using your denim shirt as a jacket.
If you've ever looked up things to wear with a denim jacket, then you've seen this denim over t-shirt combo. The only difference is that you're not supposed to fully open the front buttons of your denim shirt like you would with a jacket. So instead, opt for a half-closed half-open style with the t-shirt peeking through.
Denim under a Blazer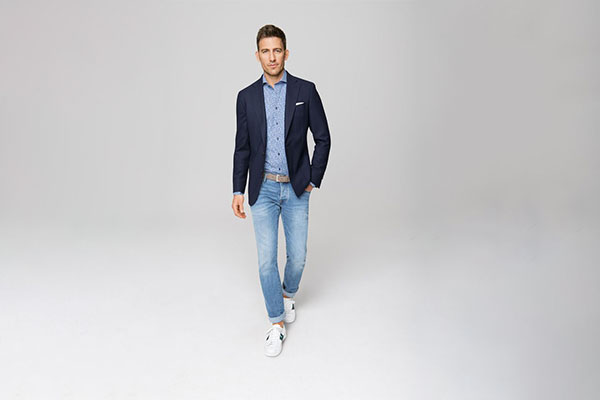 Let's get professional and talk about formal clothing and how denim shirts are revolutionizing them as well. Yes, the denim shirt isn't going to take the spot from a traditional cotton dress shirt completely, but it is getting shockingly close. The truth of the matter is, denim shirts look flawless under a nice blazer and jeans combo.
If you still associate denim shirts with jeans, then you might be forgiven to think that such a shirt would look absurd under a casual blazer. In reality, though, the textured fabric and soft feel of a denim shirt make it the superior under-blazer shirt for a lot of people.
If you want to take this attire a step further, you can introduce a tie into the mix. Keep in mind, though, that only a slim-fit denim shirt will look good with a tie under a blazer; anything a bit loose or with a larger collar will look clunky and unkempt.
The Smart-casual Approach
There is an extensive casual dress code for men, and denim shirts are definitely a significant part of it. You want to be dressed sharply, but not all the time and smart casual is the way around this.
At first glance, the smart casual might appear extremely similar to the previous style, but it is different. First and foremost is the intent behind the outfit. In smart casual, you are not dressing up to look sharp and well fitted. Instead, you want to be comfortable while maintaining a professional, well-dressed appearance. The best way to explain this style is with an example.
A fantastic smart casual outfit would be wearing a denim shirt over a pair of dress pants. That's it. That's all you have to do to look dandy with a denim shirt. If you want additional style points, however, you can integrate a woolen sweater into your outfit. The choice of the type of sweater is entirely up to you, as V-neck, vest, and button-up all look equally stylish. Some even say that jeans are business casual, so they are also a contender in this style.
With a Leather Jacket
It is often said that a leather jacket is the single most universal item of clothing a man can buy, and it is undoubtedly true in the case of denim shirts.
Classic black and brown leather jackets look dapper with the denim shirt and provide a nice contrast in colors, as well as the visual texture of the outfit—even colorful ones like a red jacket work surprisingly well with blue and grey denim shirts.
Streetwear
Last on our list is an outfit that takes heavy inspiration from the street style side of men's fashion. The key to unlocking the full potential of this particular style is to be confident in your selection. This might sound a bit cheesy, but it is true.
Pair your denim shirt with cargo pants and red shoes, but only if you think this combination works. Why not go for a monotone outfit with a black denim shirt, black jeans, a white hoodie, and a pair of white sneakers. Top it off with a pair of colorful sunglasses.
There are literally infinite possible combinations in this style, and you'd have to find most of them by yourself. Just keep experimenting with new varieties, and you might stumble upon the outfit of the decade. The only thing to keep in mind is to add at least a hint of color to your outfit, and don't be afraid to mix and match contrasting, even clashing hues.
FAQ
What pants do you wear with a denim shirt?
Denim shirts are compatible with almost every pair of men's pants. You can wear them with dress pants, jeans, woolen pants, sweatpants, plaid pants and many more. You have endless choices. However, just because you can wear almost any pair of pants doesn't mean you should. Some pants like jeans and dress pants integrate significantly better than, let's say, cargo pants.  
How do men wear denim shirts in the summer?
Denim is not hot, despite what the rumors may lead you to believe. The lightweight material of the shirts, in particular, is highly breathable. But, if you do want to maximize your summer denim shirt enjoyment, then opt for short-sleeved, loose-fitting denim shirts alongside a pair of shorts and your favorite flip-flops.
How long should a denim shirt be?
While the exact length of the shirt depends on your personal preference, the ideal length is just below your hips and past the waistband of your jeans. 
What's the difference between chambray shirts and denim shirts?
You can categorize both of them in the same section, but they are essentially different fabrics. While the denim used for shirts is thin and lightweight, it is still nowhere near the breathability and softness of chambray. Denim is also a lot sturdier and can handle a lot more abuse before giving up. The best way to settle the chambray shirts vs. denim shirts debate is to enjoy both. Both of them have their own pros and cons and can simultaneously co-exist in a man's wardrobe.
Is it OK to wear a blue shirt with jeans?
Yes, it is absolutely fine to wear your blue denim shirt with a pair of blue jeans, Canadian tuxedo style. The only thing that can ruin this outfit is if you wear the exact same color for both the jeans and the shirt. Just ensure that you have some contrast between the two, and you should have a killer outfit at your disposal. 
Can I use a denim shirt as a jacket?
You absolutely can. You can wear your denim shirt on top of t-shirts and even other cotton shirts. If you do have plans of wearing your shirt as a jacket, then make sure to buy one with a loose-fitting so that you don't look cramped when another shirt is between you and your denim shirt/jacket. You can also wear something like a leather green jacket on top of your denim jacket for added style and cold protection.
Final words:
Denim shirts as a fashion item are a relatively new phenomenon, but they are already an essential part of every man's wardrobe. The outfitting potential on the table is unmatched by any other type of shirt.
Keep in mind, though, that these are only a few of the most notable styles you can achieve with a denim shirt. Covering every single possible style would require hundreds of pages and thousands of words.
So, go out, and find your own style. Adapt an existing standard, or craft something entirely unique, something created by you, for you.